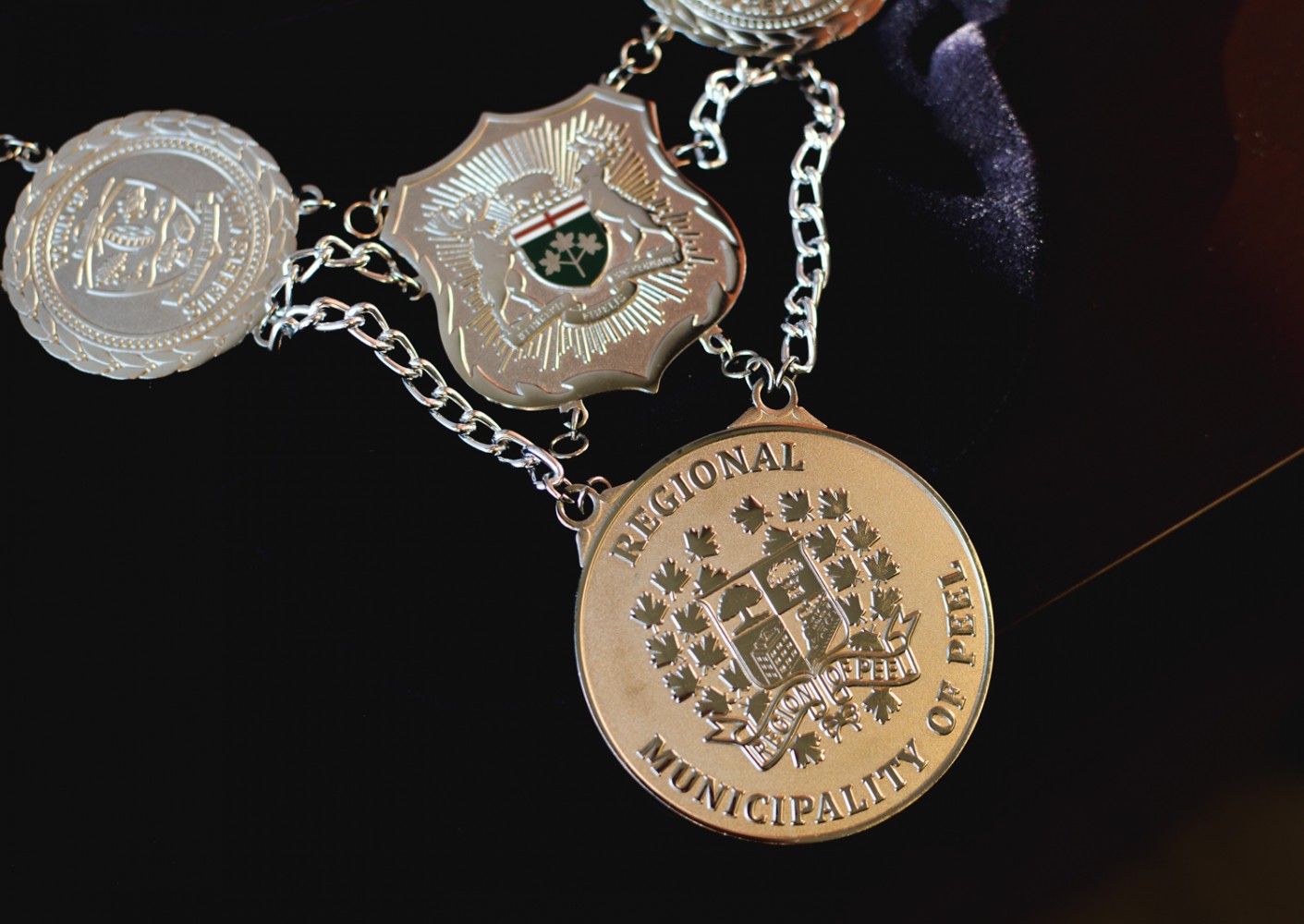 Photos by Mansoor Tanweer/Joel Wittnebel
Chair and top bureaucrat make case to province for saving Peel Region
Peel Region chair Nando Iannicca said in a January interview that when the advisors conducting a review of regional governments in Ontario get around to looking at Peel, they should see it as a system to be emulated, not broken apart.
Earlier this month he took that stance to a meeting with Ken Seiling and Michael Fenn, the two men appointed by Premier Doug Ford to undertake the complex review.
In a message to regional staff, Peel CAO David Szwarc, who attended the meeting on Feb. 8 along with Iannicca, said that "overall, the meeting was positive."
"The chair and I demonstrated the region's efficiencies and how we effectively deliver our services. We are confident that both advisors understand the inner workings of municipalities, having enjoyed long careers in municipal politics, also working in various municipal administrations," Szwarc wrote. "Going forward we anticipate more discussions with the province, as well as public consultations."
The message said Iannicca believes the region offers a model "other municipalities should follow."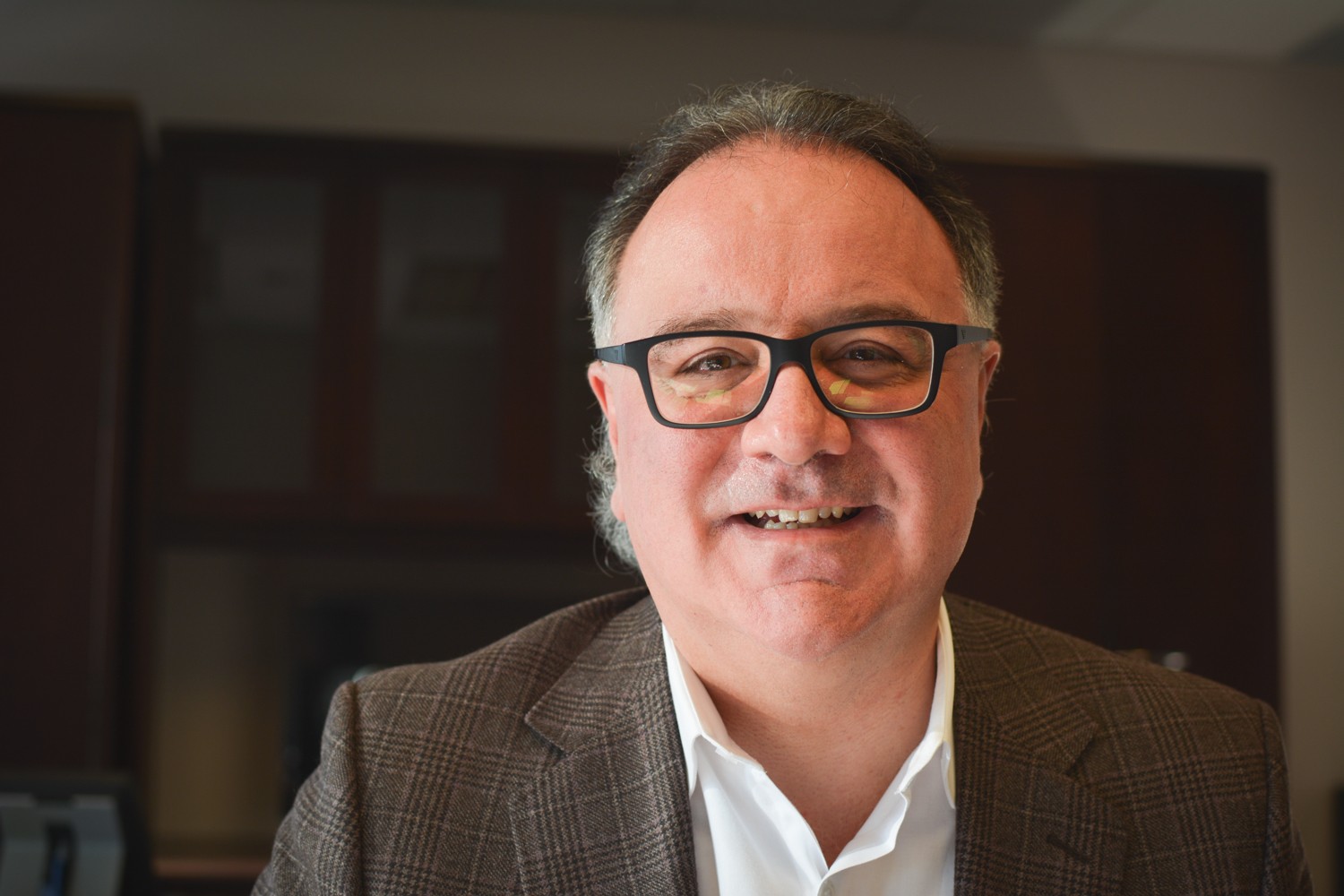 Regional Chair Nando Iannicca
"During the review, we are moving ahead with work as planned. The direction I have received from council is that our work does not stop while the review is underway."
Iannicca did not respond to a request for comment by the time of publication.
As announced in January, the Progressive Conservative government is undertaking a review of eight regional municipalities, including Halton, York, Durham, Waterloo, Niagara, Peel, Muskoka District and Oxford County. Simcoe County and its lower-tier municipalities will also be included.
It's not entirely clear what the government's long-term intention is in undertaking the review.
"The regional government model has been in place for almost 50 years in Ontario, and we are taking steps to ensure that regional governments are working efficiently and effectively," states a release from the province.
"Our government is committed to improving the way regional government works and we will be looking at ways to make better use of taxpayers' dollars and make it easier for residents and business to access important municipal services," said Steve Clark, the minister of municipal affairs.
While Iannicca has previously said he welcomes the review—"I think they're on the right path for a whole list of reasons," he told The Pointer—it's clear the desire is to keep the Region of Peel together.
Other GTA municipalities are also pushing back against any move by the province to force change at the local level. Last week, both the Burlington and Oakville councils passed motions urging the province to leave Halton Region as is.
According to the motion from the Town of Oakville, 97 percent of residents are satisfied with the quality of regional services, and 81 percent were content with the town government.
How successful municipalities will be in fending off any recommendation from the Ford government is yet to be seen, as there are also strong voices pushing for change.
In Peel Region, it's no secret that Mississauga Mayor Bonnie Crombie wants to pull her city out to form a single-tier municipality. It's a move that was championed by her predecessor Hazel McCallion.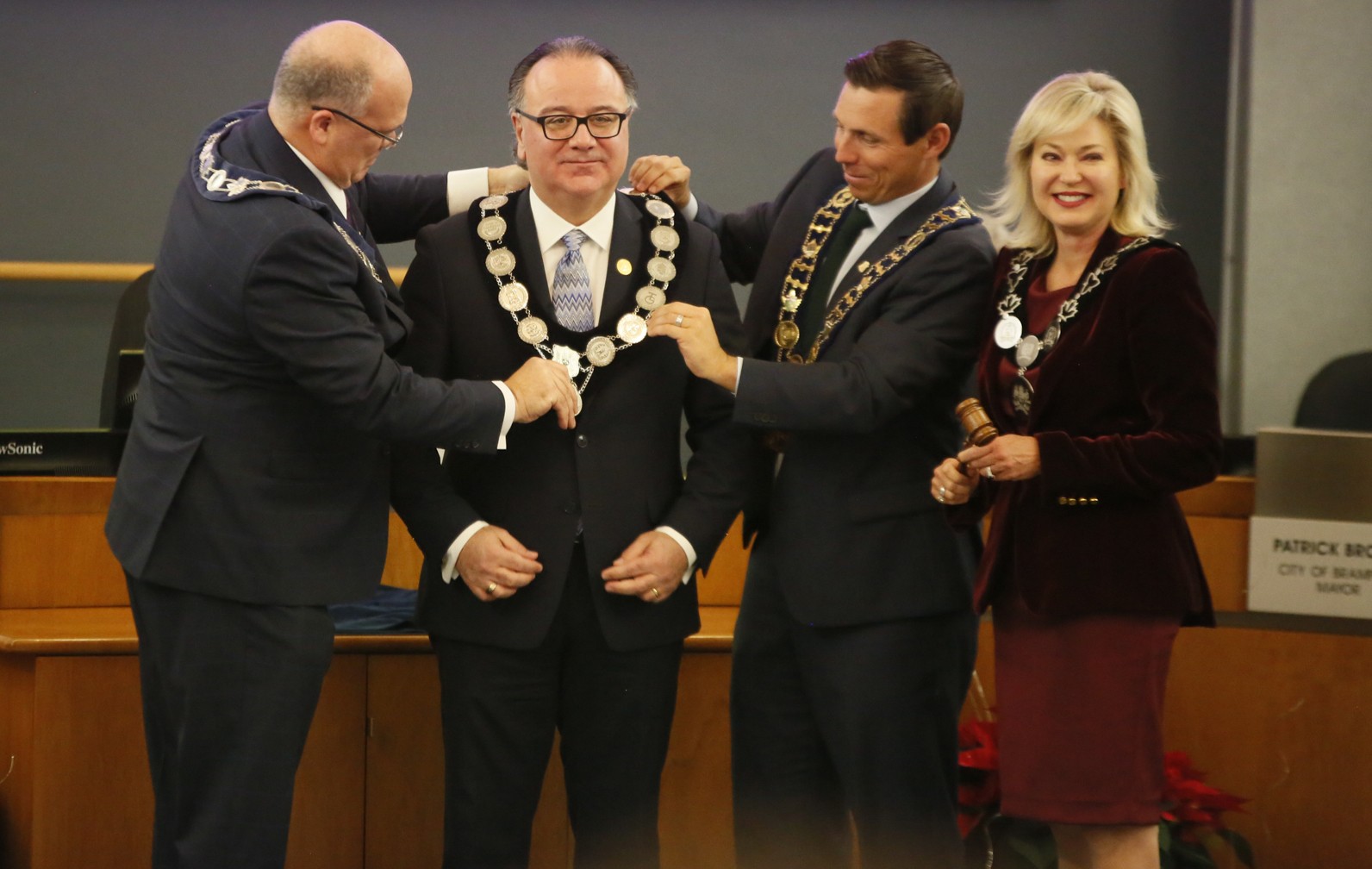 Peel's mayors Allan Thompson, Patrick Brown and Bonnie Crombie along with regional chair Nando Iannicca after he was appointed to the role.
"I have been clear for a while that it's time to re-evaluate Mississauga's relationship with the Region of Peel and whether or not it makes financial sense for our City," said a statement from Crombie released after the announcement of the review.
As Ontario's third largest city, Mississauga should be able to "control its own destiny" as a single-tier municipality, Crombie said.
"For a large and growing city like Mississauga, there is no way that two levels of government are more effective and efficient than one," she said, adding that she would be sharing her opinions on what works and what doesn't within regional governance with the provincial reviewers. "As the largest tax base in Peel, we must ensure our taxpayers' hard-earned money goes towards our City building priorities, including breaking gridlock and maintaining aging infrastructure."
That view clashes with Iannicca's, whose position as chair will no doubt be a defining factor in any discussions about a possible "Mexit" from Peel.
Iannicca has previously said his 30-year career as a Mississauga councillor will not get in the way of a fair discussion on the issue.
"I welcome their input to discuss the very things you and I have been discussing," he said.
Experts have told The Pointer that if Peel Region were to break apart, it wouldn't be difficult for Brampton and Mississauga to stand on their own, although untangling issues such as shared water infrastructure would be a challenge.
Brampton has argued in the past that it would be unfair for Mississauga to break off from the region now, since Brampton and Caledon have both helped subsidize Mississauga's growth with their tax dollars. Brampton and Caledon would both see stiff tax increases should Crombie get her wish to pull Mississauga out of the region.
It's been estimated that a divorce from Mississauga could cost Brampton an extra $19 million and Caledon $6 million annually.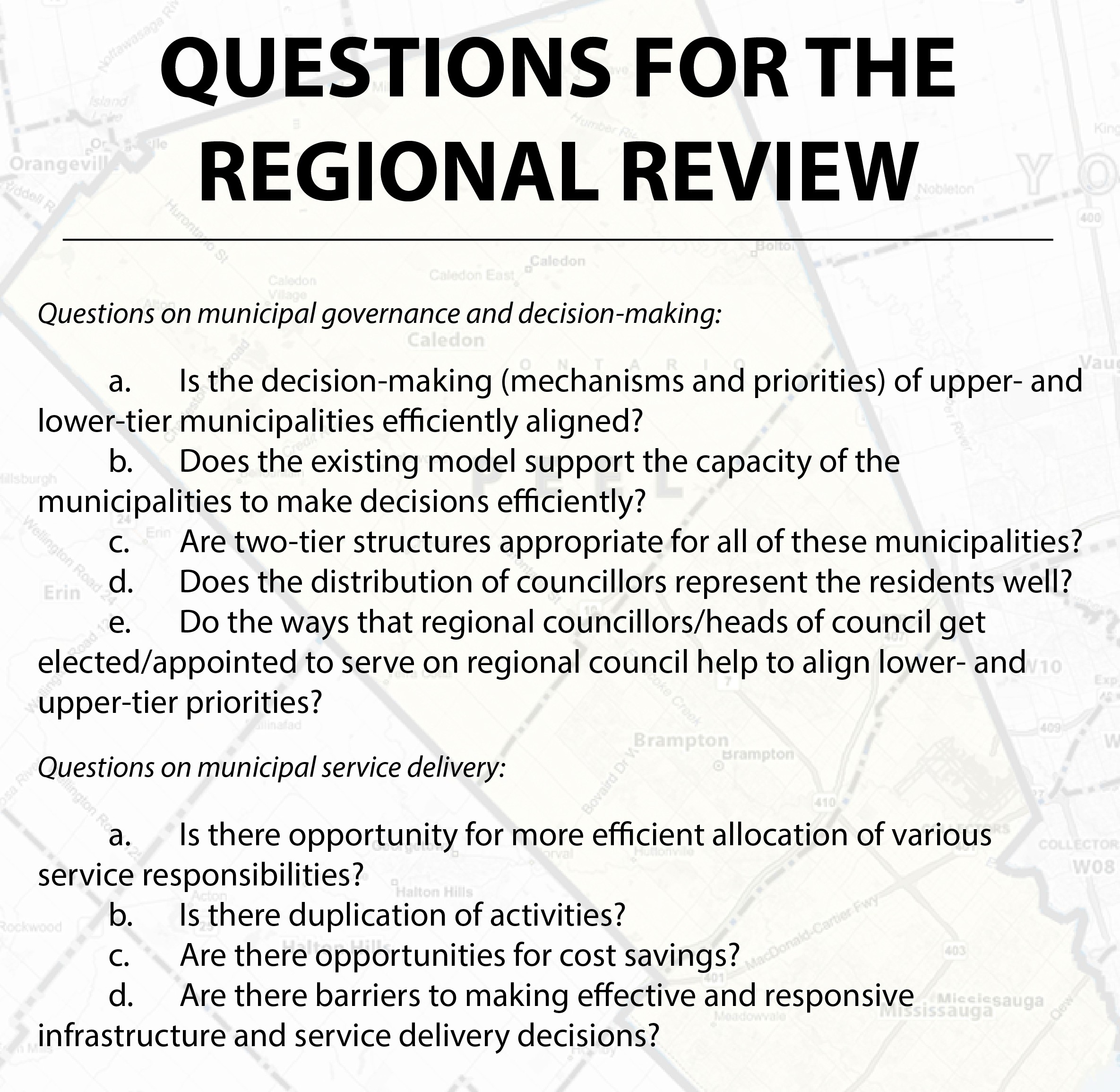 Property taxes could rise in Caledon by 13.3 percent and by 7 percent in Brampton, already stretched by sharp tax increases.
However, Mississauga makes a compelling case for secession from the region. If the city were to leave, Brampton's neighbour to the south might see a reduction in its costs. According to figures from 2003 (the most recently available), the municipality claimed it would save $32 million annually by restructuring services, such as policing and wastewater, delivered by the region, and could reduce annual overall property taxes by 6 percent if it did not need to subsidize development in the neighbouring municipalities.
Any recommendation from the provincial advisors is still some time away. The pair are continuing to meet with politicians, stakeholders and the public throughout the spring.
Email: [email protected]
Twitter: @JoeljWittnebel
Submit a correction about this story