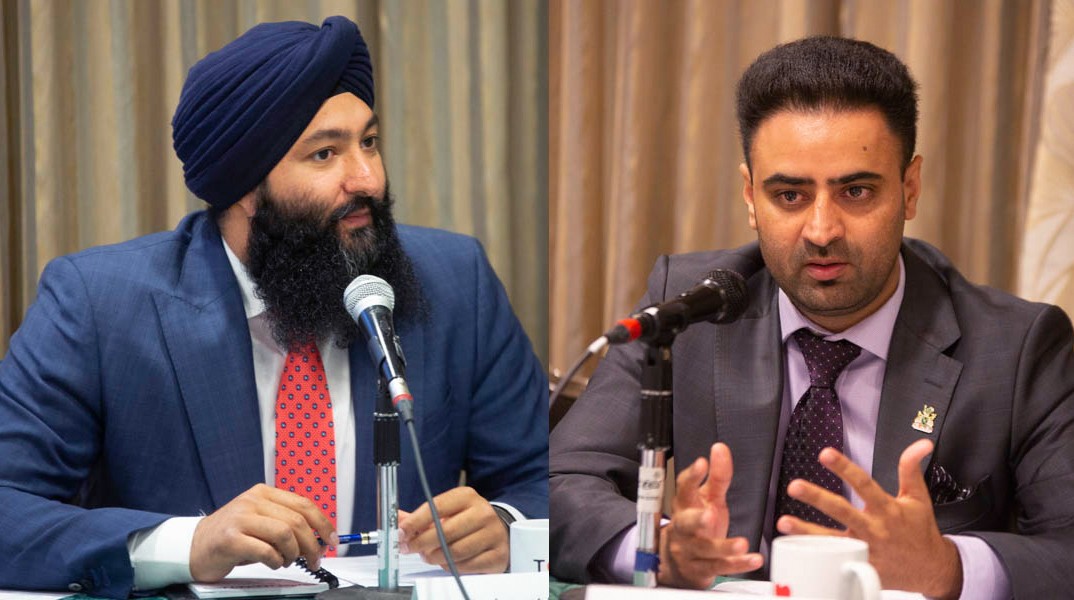 Photos by Mansoor Tanweer
Memorable day in Ottawa and DC reminds us that the toughest trial is in the court of public opinion
Not all days are created equal. Some become seared into the collective consciousness. Some are like Feb. 27, 2019. Fix that date in your mind. Circle it on your calendar. It will soon be memorialized by historians in two countries linked by an 8,891-kilometre international border.
Canada and the U.S. are now connected by this day, on which two people, both lawyers, testified before the court of public opinion.
One is headed to jail as a convicted felon; the other sits in political purgatory as a backbencher in the Liberal government in Ottawa.
Not so long ago, both were major players in their respective governments.
The man, Michael Cohen, was the personal lawyer to the president of the United States, Donald J. Trump.
The woman, Jody Wilson-Raybould, was a star cabinet minister in the Justin Trudeau government. Not only was she attorney general and justice minister, but the first aboriginal person to hold the title. She represented everything that was inclusive and diverse and truthful about the Trudeau Liberals after they took office in a stunning upset win in the 2015 federal election.
Yet, while they spoke on Wednesday — Wilson-Raybould before the Commons justice committee in Ottawa and Cohen before the House oversight committee in Washington — it was truth on trial.
Their testimony made for compelling theatre and jacked up midday TV ratings, but also shook the very foundations of two well-regarded democracies.
Let's start with Wilson-Raybould. The Pointer weighed in last week on Privy Council Clerk Michael Wernick's testimony before the justice committee that the Trudeau government did not inappropriately lean on Wilson-Raybould during her time as justice minister and overseer of the SNC-Lavalin portfolio. Furthermore, Wernick said, she wasn't picked on when she was demoted in cabinet; it was simply a general shuffling of the deck chairs. Business as usual. Her decision to leave cabinet and sit as the member from Vancouver Granville was hers and hers alone.
In light of her testimony Wednesday, anyone who believes that also thinks Wayne Gretzky was just an okay stickhandler during his Hall of Fame–worthy career.
In Wilson-Raybould's opening statement, she said: "I experienced a consistent and sustained effort by many people within the government to seek to politically interfere in the exercise of prosecutorial discretion in my role as the attorney general of Canada, in an inappropriate effort."
If that didn't get the attention of Trudeau, this surely did: she detailed a meeting with him in which the prime minister said that as a member of parliament from Quebec, he was concerned about the issue of SNC-Lavalin jobs in the province and asked her to "help out" with the case.
She recalled asking the Prime Minister: "Are you politically interfering with my role as attorney general?"
Hell, no, he said, we just need to find a solution to this problem. His intent was as pure as a spring-fed mountain lake. On Wednesday, it got more polluted. After she spoke, he said he completely disagreed with the thrust of Wilson-Raybould's testimony.
Wilson-Raybould also described a conversation with Wernick, Canada's top civil servant, who told her the Prime Minister wanted to "find a way to get it done, one way or another." The discussions were "treading on dangerous ground," she added.
This contrast between what she said and Wernick's testimony has not gone unnoticed by voters.
The Conservative Party has gained a substantial lead on the Liberals as the SNC-Lavalin affair makes Canadians suspicious. An Angus Reid Institute poll put Andrew Scheer's Conservatives seven points ahead of Liberals: 38 to 31 percent — and that was delivered a day before Wilson Raybould's startling testimony. The report said a majority of respondents (66 percent) believed the scandal points to a deeper wrong in the Prime Minister's Office.
A Globe & Mail story that kicked off the controversy said, in effect, that Trudeau tried unsuccessfully to pressure Wilson-Raybould into authorizing the use of a newly established feature in the Criminal Code (passed as part of a Liberal omnibus bill last summer) to address charges of fraud and corruption against the Quebec-based engineering firm. SNC-Lavalin was charged in 2015, following a long RCMP investigation, with using bribery to get business in Libya a decade ago.
The company lobbied hard against the charges and hoped to move the case to a deferred prosecution agreement to avoid criminal convictions. Its reason: so it could keep bidding on rich government contracts.
SNC said it had changed its evil ways, embraced a new ethical code of conduct, and installed a progressive board of directors. There were watchdogs everywhere.
It's clear that a criminal conviction would be bad for business, for Quebec, and for Canada, as well as the re-election prospects of the federal Liberal party as the country heads into a fall vote.
When the bid for remediation failed, the company headed back to trial, and SNC-Lavalin put up a challenge in federal court. The case eventually fell at the feet of the new attorney general, Wilson-Raybould.
When she seemed hesitant to move towards remediation, the political walls closed in on her. It appears the Trudeau Liberals cleverly seized on the opportunity when cabinet member Scott Brison decided to resign his Treasury Board post in January, prompting a cabinet shuffle. Out went Wilson-Raybould from justice and — surprise, surprise — in came David Lametti, who seems more accommodating to the idea of overriding the earlier decision to send the case to trial and moving toward remediation.
During her midweek testimony, Wilson-Raybould stayed on-message, using terms such as "veiled threats," political and partisan," and highly "inappropriate" to describe what she found herself facing from her party. In one memorable line from her testimony, she said, "I explained to him [the PM] the law."
The Cohen testimony was also Shakespearean in its attempt to ruin a president the witness once claimed to hold in such high esteem that he would take a bullet for him. The fixer is now fixated on bringing the world's most powerful man to justice.
Cohen described himself as Trump's "fool," and during the seven-hour back-and-forth between Republican and Democratic lawmakers — which was followed by hours of closed-door testimony before the House intelligence committee on Thursday — he said he was basically the lead liar for one of the world's most prolific liars. According to the Washington Post, Trump has publicly spoken more than 8,000 big fat untruths during his two years in the White House. Cohen's testimony slowly unspooled a smorgasbord of criminality and bad behaviour.
The former fixer's mea culpa came after a decade of playing Trump's Iago. In one startling admission, he said he had used his bully-boy tactics 500 times to intimidate foes of the president.
The son of a Holocaust survivor, he said he was pushed onto the road to redemption by many sinister moments from the Trump presidency: his calling media the "enemy of the people," his reference to marchers at a Charlottesville white supremacist rally as "very fine people," and dozens more.
But the walls truly came tumbling down for Cohen after his Manhattan office was raided by FBI agents, who found a great haul of evidence that led to multiple federal charges, including tax evasion. His co-operation with the feds is now complete. He has been interviewed seven times by special counsel Robert Mueller in the Justice Department's look into Russian meddling, and he continues to talk to the Southern District of New York, which has Trump Inc. in its crosshairs.
The alleged crimes of Trump's businesses and SNC-Lavalin run parallel in the sense that both are being revealed by credible witnesses who know, up-close and personal, the corruptive elements of influence-peddling. This at a time when elected officials increasingly behave like minions for their masters, who in turn serve money and power.
Wilson-Raybould's testimony was stunning for one reason: She did exactly what she was supposed to do. Instead of acting on behalf of corporate interests and misguided motives by her party, under pressure to violate every principle of the government's responsibility to the rule of law, she quit the game. She said no to them and yes to Canadians. Yes to justice. And yes to the people who put her in a position of authority to protect them—not the likes of SNC-Lavalin or the party elites currying favour with the rich and powerful.
Watching U.S. Republican politicians choke down every ounce of pride, responsibility and independence they ever had while ignoring the wrong done by a "racist, a con man and a cheat," as Cohen described him — not to mention a sexually predatory and possibly treasonous chief executive — is beyond pathetic. They have flushed their good names, their legacies and the only thing any of us really have — our reputation — down the toilet in allegiance not to flag, fellow Americans or family, but to their political party — and the orange-faced reality-TV nightmare currently leading it.
Brampton faces a similar if smaller dilemma. Its two Progressive Conservative MPPs, Prabmeet Sarkaria and Amarjot Sandhu, give the appearance of not giving a damn about the city and the livelihood of the beleaguered voters who sent them to Queen's Park. On every issue facing Brampton residents — the ongoing healthcare crisis, possible cuts to primary education, crippling car insurance rates, the dire need for university funding, smart growth policies to help the city move prosperously into the future and more — these two pawns have been missing in action.
Wilson-Raybould has reminded us of the reason the privileged few among us are sent to govern on our behalf — one of the highest honours imaginable.
It's time Brampton voters prepare to remove Sandhu and Sarkaria from office for making a mockery of their singular responsibility — to protect the people who put them in power, not the powerful who don't care about Brampton, including our premier.
Wednesday was almost a purification ceremony for Cohen as he unburdened himself of years of stored-up strain. In his opening statement, there was plenty more colourful language as he dissected the president's character flaws. He also came prepared for the Republican apologists for Trump who refused to believe him, bringing along corroborating evidence, including a $35,000 cheque signed by Trump that he said was paid to him as part of the payback, made in installments during the campaign and presidency, for hush money that went to porn actress Stormy Daniels.
While the testimony on both sides of the border was riveting, and consequential, it was also constructive: it showed that the narrow beam on which fair jurisprudence and capitalism balances is often too thin to support the crooks and the weighty expectations of the public.
The prime minister continued to insist his party did the right thing in its treatment of Wilson-Raybould because it was looking out for the best interests of workers in Canada.
Wilson-Raybould has now hired her own counsel, while Cohen had his lawyers sitting behind him, nodding as he delivered his testimony. While the latter preps for jail time, and his testimony could lead to the impeachment of the president, the Canadian case looks to have sparked a constitutional crisis, says former Ontario attorney general Michael Bryant. Many legal scholars agree.
Cohen warned the Republican critics not to fall into the trap he had, of throwing their lot in with a crook like Trump. Wilson-Raybould tried to play keep-away from Trudeau and the higher-ups in the party during her time in justice.
While Cohen has lost almost everything — his licence to practise law, his freedom, his money, and his name — Wilson-Raybould seems to grow in stature as the political scandal plays out.
That can't be said for Trudeau. An exclusive Forum Poll conducted for the Toronto Star and published this weekend said 57 percent of Canadians felt the SNC-Lavalin scandal had "worsened" their opinion of him. Some 59 percent said the scandal will affect how they vote in the fall election.
Elijah Cummings, Democratic Party chair of the oversight committee, gave a stirring address at the end of the session with Cohen, in which he thanked the witness for his honesty. He said Americans would be talking about his testimony 200 years from now, and historians will measure it as a seminal moment in the fight for truth and justice — both in short supply under Trump. He urged Cohen to remain steadfast in his contrition and pursuit of personal betterment. The disgraced lawyer teared up and bowed his head.
Wilson-Raybould also offered up an emotional moment when she said: "I was taught to always hold true to your core values and principles and to act with integrity. These are the teachings of my parents, my grandparents and my community. I come from a long line of matriarchs, and I am a truth teller in accordance with the laws and traditions of our big house. This is who I am and this is who I always will be."
Trudeau was the shiny new thing when his party swept to a majority win in 2015. He promised to bring a more diverse group into cabinet, one that reflected Canada's changing demographics. And he delivered. It remains 50 percent women. And at one time, Wilson-Raybould represented the gold standard for inclusion: an Indigenous woman, called to the bar in 2000 and later elected Regional Chief of the Assembly of First Nations, a position she held until 2015.
But the Trudeau crowd has fallen into the trap of putting political expediency ahead of justice. They also forgot that the court of public opinion is a much tougher place to operate than the one that will eventually rule on SNC-Lavalin's corruption case.
There was a bittersweet symmetry at work on Feb. 27: two lawyers coming before the public while their nations watched and measured their words. In the end, each told the blunt truth — and left with their dignity intact.
The same can't be said for those who questioned their sincerity. Each may get their comeuppance on election day.
Submit a correction about this story