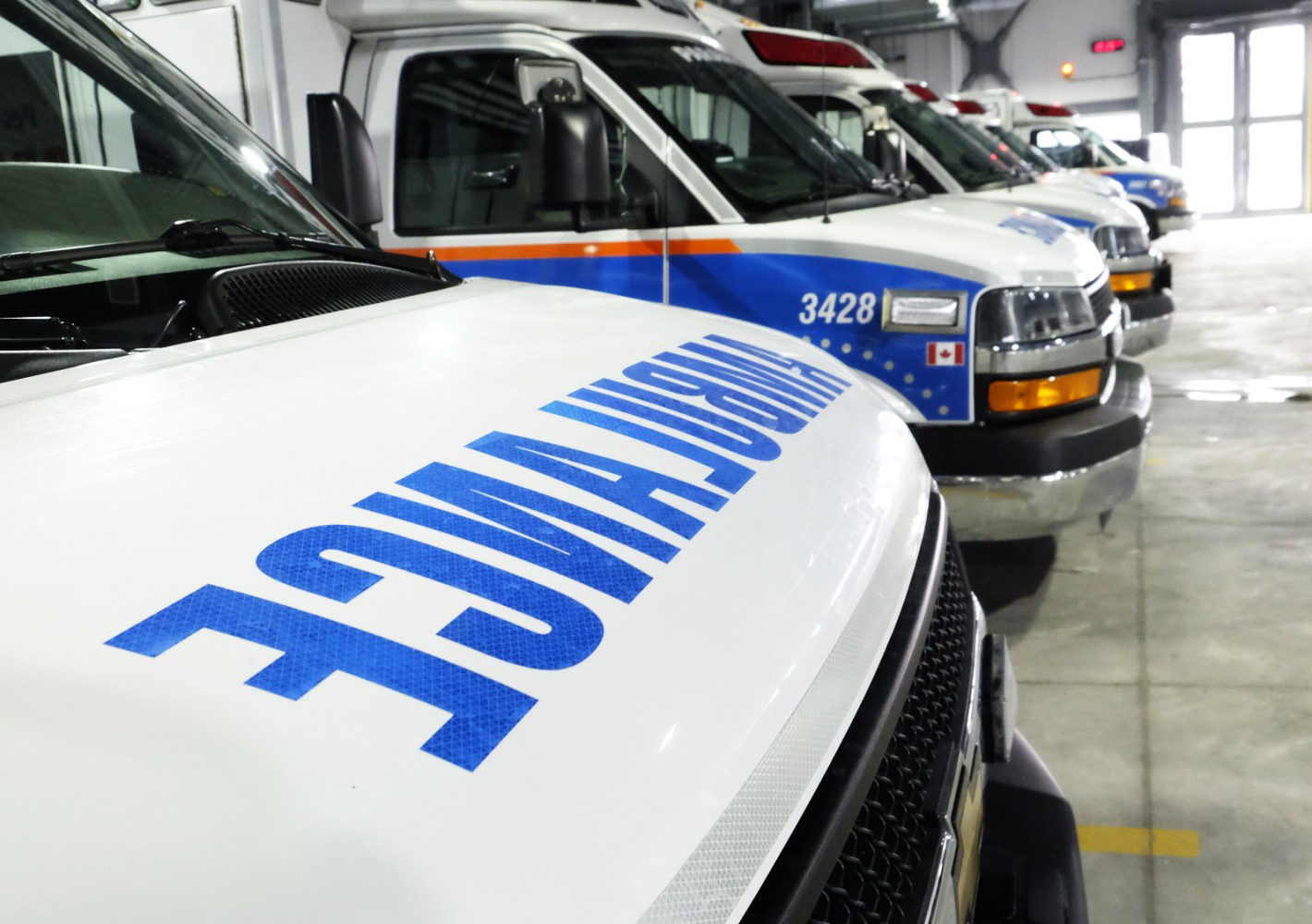 Photos by Mansoor Tanweer
Review of new paramedic deployment deferred despite calls the new system may leave Caledon residents vulnerable
Peel Region council voted Thursday to defer a decision on bringing in an outside consultant to review the new paramedic deployment system in Caledon, disappointing residents advocating for a return to the old system.
Nancy Polsinelli, the region's commissioner of health services, said a staff report on the merits of the framework is coming in June, which prompted Caledon Councillor Jennifer Innis to ask to defer the motion. "I think that it's a little too premature for this to be done without having that information come back to us," Innis told council.
Fellow Caledon Councillor Ian Sinclair, who'd brought the motion for a third-party review forward, opted to have it come back at a later time. "It's been ...12 years since the initial consulting recommending the system we have now," Sinclair pointed out. "It would be high time we had outside consultants come in again and take a look at entire system to see if the original assumptions in the original recommendations still held true."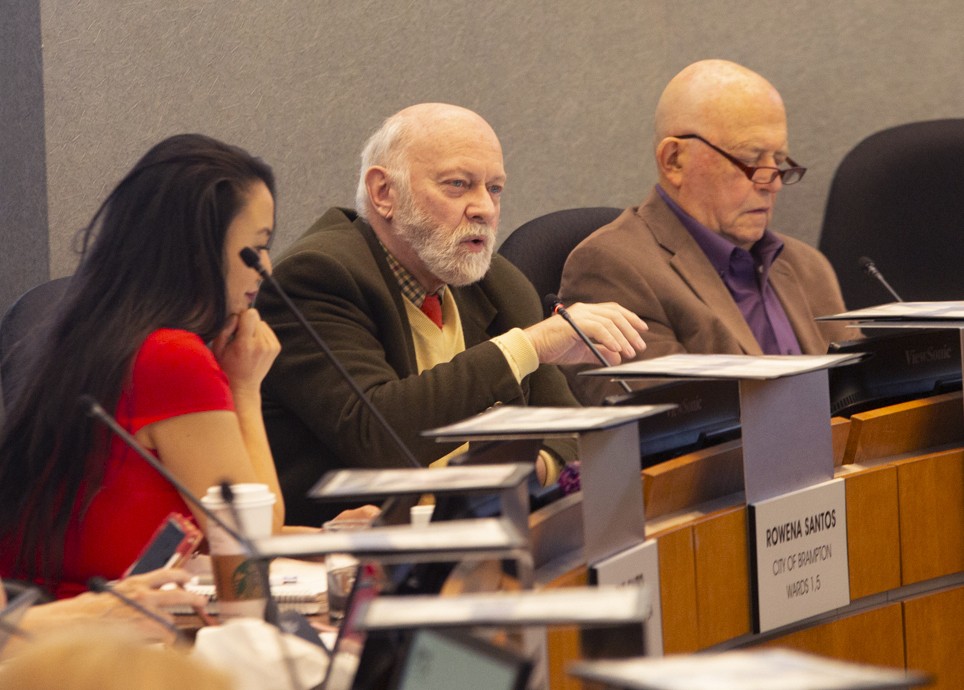 Caledon Councillor Ian Sinclair
Kate Hepworth, president of the Caledon Village Association, left the proceedings disappointed and told The Pointer, "as soon as anyone speaks, you know exactly where it's going, because this is very reminiscent of Sept. 13."
That was the day last year that Hepworth approached Regional Council to ask to turn the Caledon East satellite station into one where paramedics report directly, as it had been before changes were made to the deployment system. Then-councillor Barb Shaughnessy had asked for a pause in the transition to the new system to consult further with the public, but the motion was defeated.
The paramedic model has been a sore point in Caledon for some time now. A 2006 report by Health Analytics recommended a divisional model, whereby smaller satellite stations would supplement larger reporting stations in Brampton and Mississauga. Paramedics in Peel report for duty at those reporting stations, collect their ambulances and drive them to the satellite stations, where they await emergency calls.
The report said Caledon should, in contrast, maintain a stand-alone model where EMS personnel assigned to the town would begin their shifts, maintain their trucks and await calls at stations north of Mayfield. In June 2007, regional council adopted the recommendations of the report.
As of Jan. 14, 2019, the hybrid model followed for more than a decade was changed. The Fernforest Divisional Station and Headquarters on 1600 Bovaird Dr. in Brampton is now the reporting station for paramedics assigned to Caledon. That means paramedics have to report for duty and collect their trucks in Brampton, then make the 30 km drive north to a station now downgraded to satellite status.
Paramedic Chief Peter Dundas justified the change as a streamlining of behind-the-scenes logistics. At stand-alone stations, EMS personnel have to take responsibility for maintaining and supplying their trucks. That duty has been moved to specialized crews who clean and inspect the trucks as well as maintain their supplies.
"The [new] model brings efficiencies, where paramedics aren't having to do the technical type work for the vehicles and they can be focused on what they do best, and that's caring for the people," Dundas told The Pointer.
Paramedic Chief Peter Dundas
But residents and members of the paramedics union have raised concerns that the new model could endanger lives. "It is very important to have paramedics starting and stopping in the area in which they are going to be working in because it provides for simpler, easier deployment," Carol Murray, vice president of OPSEU Local 277, the paramedic union, told The Pointer.
Murray said the geography of Caledon weighs heavily on her mind. The rural community accounts for 56 percent of Peel Region, a huge area to be covered by paramedics deploying to Caledon from Brampton. In the old model, according to Murray, paramedics "don't have to drive through an area prior to getting to an emergency call."
Residents and town officials feel the changes were made without proper consultation. Murray said that there "was consultation," but that occured in 2006, "with all the stakeholders that had an opinion on it, or should have had an opinion. I don't believe 'Joe Citizen' was given an opinion back then."

Hepworth wonders "why there was no discussion, why there was no acceptance of people sitting at a table other than 'Chief Dundas wants this in place, this is my baby, I want it done.'"

Polsinelli has said there was consultation with the public on the recent change, pointing to a series of online and print ads designed to inform the public about what was happening. Those ads appear to have been a response to ads placed by the paramedics union that said "paramedics are leaving Caledon." A video was also released "to support helping the community of Caledon understand deployment … because it can be very complicated," said Polsinelli.

The region also hosted education sessions in community centres, which mainly consisted of booths set up in the hallways of hockey arenas in Bolton and Inglewood.
Two other reports were accepted without discussion at Thursday's meeting. One was to update council on upgrading the region's ambulance dispatching services, in part by upgrading to a new computer-aided dispatching system.
The report said data shows a great discrepancy between "dispatched calls" and "assessed calls." What that means is that calls involving difficulty breathing in 2018, for example, numbered in the region at 23,000. However, only 6,374 calls were actual difficulty-breathing cases, meaning 73 percent of the calls were over-triaged.
A different update said that between 2016 and 2018, the number of calls rose from 115,09 to 136,800 calls, roughly 10,000 additional calls each year. The staggering growth in population could be contributing to the increase in call volumes, a point not lost on Sinclair.
"Take a look at the vast growth in Peel and whether there is any way of controlling the call volumes we're having, and they are really increasing dramatically. That is a big concern for keeping a lid on costs while maintaining a high level of healthcare and safety," Sinclair said.
Email: [email protected]
Twitter: @mansoortanweer
Submit a correction about this story