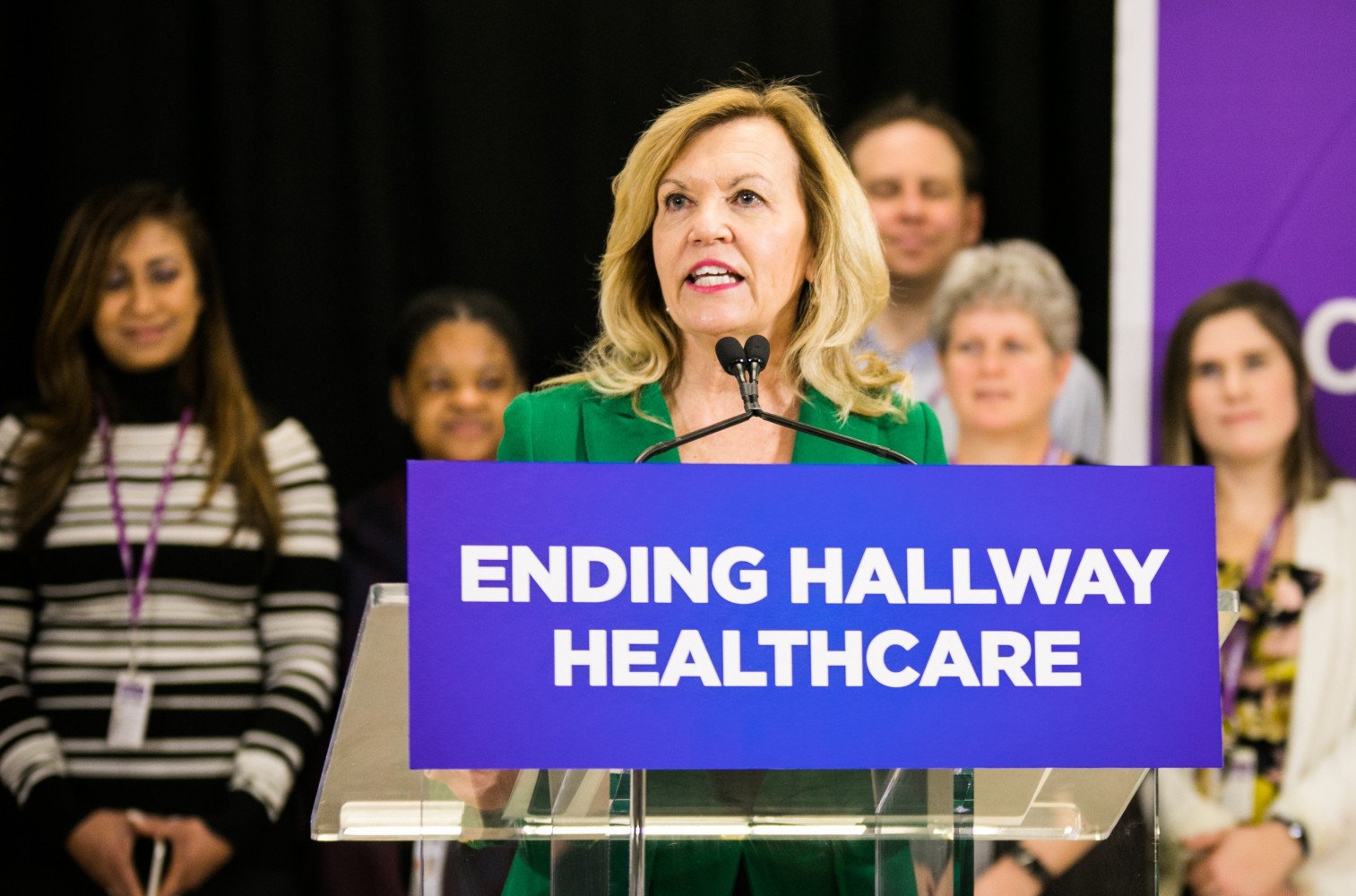 Photos by Mansoor Tanweer/Government of Ontario
Local MPPs express concern for Brampton as PCs push massive reforms to health care
The war of words over massive healthcare reforms in Ontario has begun.
Introduced by the PC government earlier this week, the shift toward a "super agency" model to coordinate care delivered by local "health teams" is being billed as a shift toward a more patient-centred healthcare system and a step toward ending hallway healthcare in Ontario.
Opposition MPPs believe it's nothing close to that, and say the plans open the door to privatization, leaving frontline healthcare providers to continue trying to do more with less.
"This bill throws open the door to unprecedented levels of private, for-profit health care. This means our health care dollars will get drained from frontline patient care to generate profits for private companies," says Sara Singh, MPP for Brampton Centre and deputy leader of the opposition. "People in Brampton should be very concerned about the massive health care changes Doug Ford and his government have plotted behind closed doors."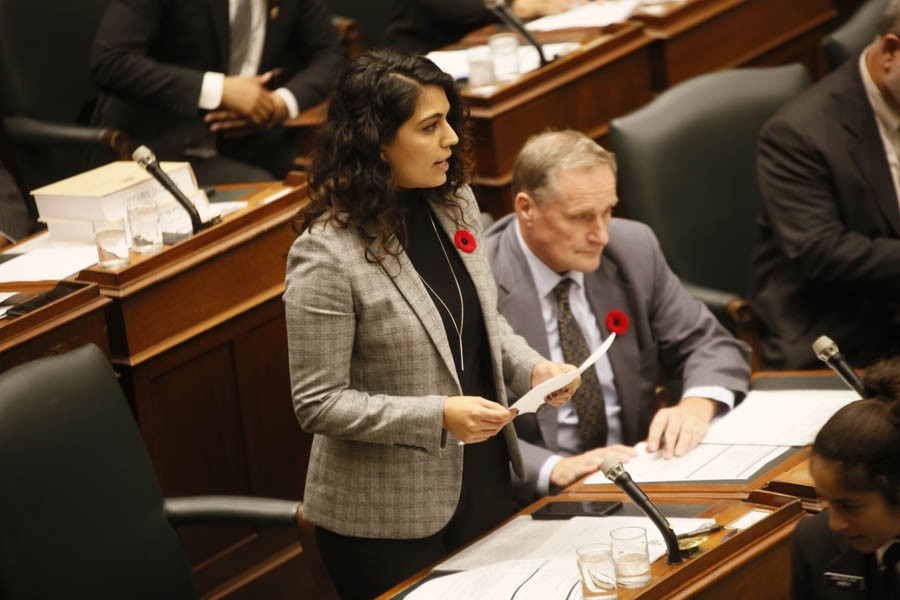 Brampton Centre MPP Sara Singh
The provincial New Democrats have been ringing alarms about the threat of privatization ever since they released a leaked version of the draft bill Health Minister Christine Elliott introduced in the Legislature Tuesday afternoon. The leaked bill included some of the major details included in Bill 74, the People's Health Care Act, most notably the shift toward a "super agency" that would absorb many of the existing province-wide agencies responsible for coordinating various types of health care across the province.
The transition is expected to take several years to complete, Elliott said at her press conference Tuesday. A technical briefing from the province noted that the Local Health Integration Networks (LHINs) which coordinate care in various geographic regions around the province will remain for at least three years after this super agency, known as Ontario Health, takes shape. After that, they will be amalgamated into five regional agencies to carry out a similar function.
Information released by the province notes that Ontario Health, along with bringing together the LHINs, will also absorb the functions currently carried out by Cancer Care Ontario, Health Quality Ontario, eHealth Ontario, Trillium Gift of Life Network, Health Shared Services Ontario, and the HealthForce Ontario Marketing and Recruitment Agency.
Since the draft bill was leaked earlier this month, Elliott has vehemently denied that it signals a desire on the part of the Progressive Conservatives to increase privatization of health care in Ontario — a point she reiterated Tuesday.
"One thing I do want to make very clear is our government's commitment to the fundamental right of Ontarians to universal access to a publicly funded system of health care. To me, that is part of what is being a Canadian and being a very proud Ontarian," she said.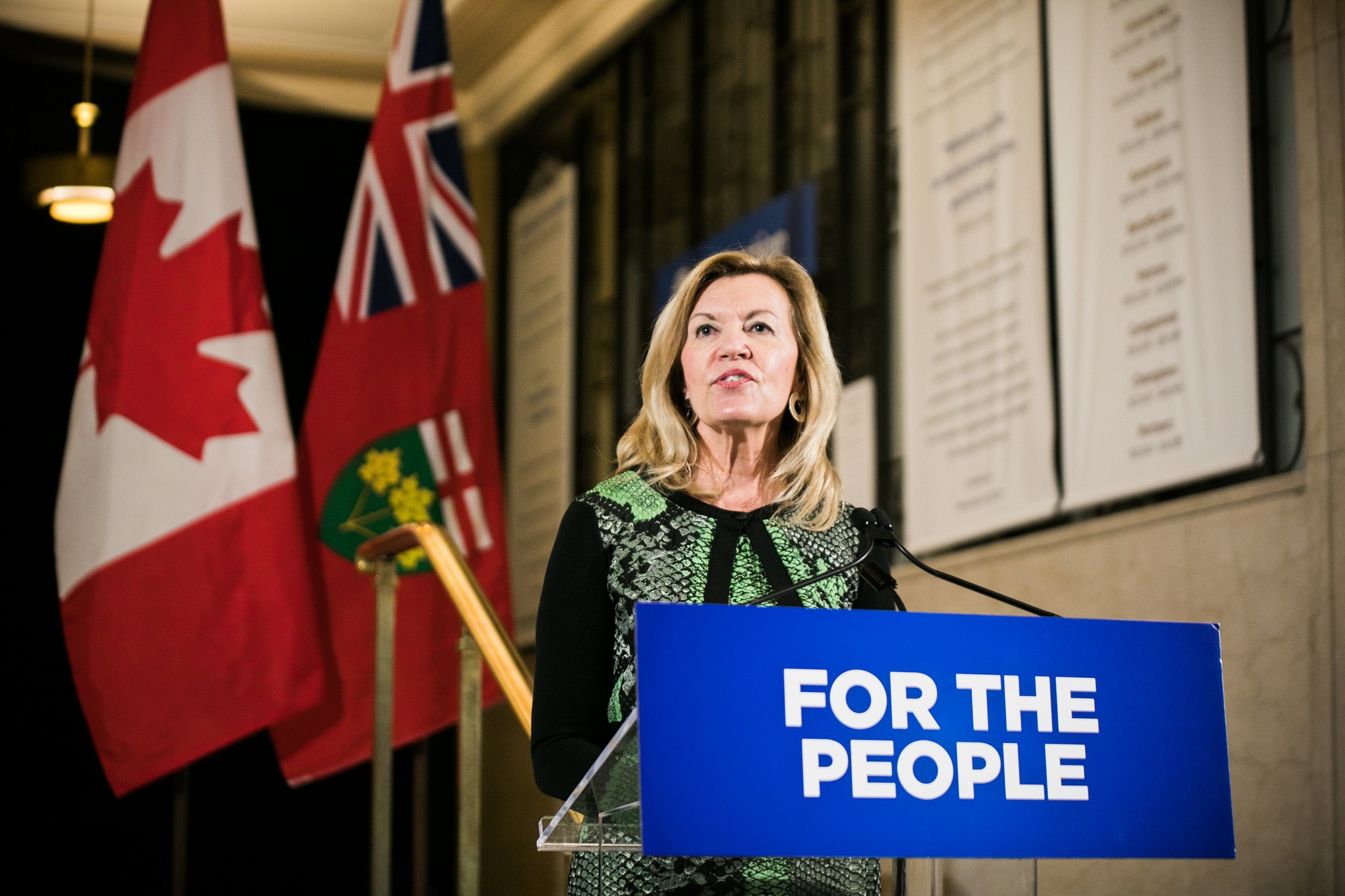 Minister of Health Christine Elliott
Her words did not stop Singh from pressing the issue in the Legislature, where she pointed out that the government's hired consultant, Dr. Rueben Devlin, who delivered a report earlier this month on the state of health care in the province, has yet to make any recommendations for reforming the system, yet the government is pushing ahead with what critics are calling some of the biggest healthcare reforms in 50 years.
"This government is prepared to move forward with their disastrous plan that will carve out parts of our health care system to for-profit interests that they know will leave patients lost in the shuffle," she said. "I think we all know that privatization can happen in different ways. We know that it can happen when public dollars are siphoned off to for-profit private operators, padding their profit margins rather than going towards those public health care services that everyone in this province deserves."
Elliott suggested the privatization fears are part of a "misconception" fuelled by the Opposition. She said the bill will fix problems in a system she describes as "siloed and fragmented."
"(This legislation) concentrates on strengthening our public health care system. That's what it's all about. It's to put the patient at the centre of our health care system and connect the patient to their care," Elliott responded. "There is no element of privatization in this plan. It is about making sure the people continue to have access to our publicly funded system of care, and they will continue to pay for their care with their OHIP cards."
Brampton West MPP Amarjot Sandhu, responding to questions about privatization through a spokesperson, repeated lines that appeared to be cribbed directly from the province's recent report on hallway healthcare.
"The fact is that Ontario's health care system is on life-support," the statement reads. "The health care system is facing capacity pressures today, and it does not have the right mix of services, beds, or digital tools to be ready for a growing and rapidly aging population with more complex care needs. That is why we are building a public health care system centered around the patient and redirecting money to frontline services."
The 400-word statement from the PC member repeats many of Elliott's talking points, saying the changes will give people "access to faster, better coordinated public health care where it is needed, when it is needed." Brampton is not mentioned once.
Sandhu did not respond by the time of publication when asked to comment more specifically on the impact of the changes for the city he represents, or on the government's failure to include the city in the new funding made available recently for hospital and long-term care beds.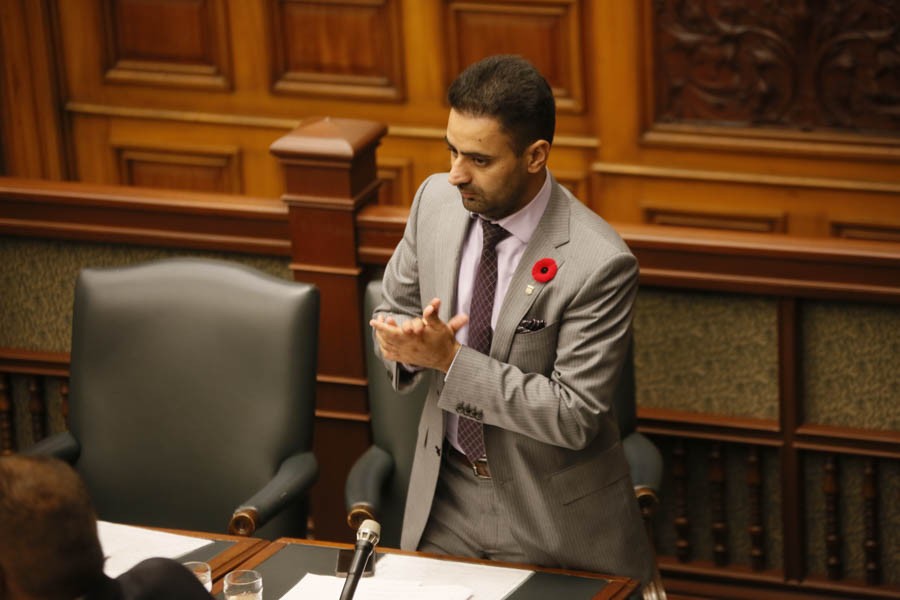 Brampton West MPP Amarjot Sandhu
The PCs campaigned on a pledge to end so-called hallway healthcare — a term that was popularized in Ontario following revelations about the impact of bed shortages at Brampton Civic Hospital. Elliott referred to that promise Tuesday, saying the government is taking it "very seriously."
But the pledge has not led to any extra investment in Brampton.
Between April 2016 and April 2017, 4,352 patients were treated in hallways and other makeshift spaces at Brampton Civic, according to an internal memo written by the CEO of the William Osler Health System that released by the Ontario NDP.
Yet, when the PCs announced a $90 million infusion of cash in October to add capacity in hospitals across the province to cope with the coming flu season, Brampton was left out.
"I'm also very worried about how this will impact patients in Brampton — especially because of how stretched health care services in our community already are," Singh said. "Bramptonians know all too well that Brampton Civic Hospital is terribly overcrowded … Frontline health care professionals in our community are doing their best, but they are run off their feet. They need more support from this government, not less."
The William Osler Health System, which includes Brampton Civic, was hesitant to speculate on what the potential changes could mean.
"Osler is continuing to review the legislation to better understand implications and opportunities for the hospital and the health care sector," said a statement from spokesperson Cara Francis.
Singh claims that actions by consecutive governments have led to the dire situation the province finds itself in. The Liberals neglected Brampton and "have left our health care services barely hanging on," she said. And the Conservative government that preceded the Liberal reign fired thousands of nurses and closed numerous hospitals.
"We need every single dollar of health care funding to go directly to frontline care. Brampton families need the government to expand our public health care and invest in it. We don't want Doug Ford slashing open holes in it," Singh said.
The potential impacts are also being reviewed by other local health stakeholders.
Peel Public Health, a unit already on fragile ground due to years of chronic underfunding from previous governments, doesn't anticipate any direct effect, but there could be consequences down the line.
Staff members are analyzing the bill, according to Scott Fry, a spokesperson for the region. "Public Health is not mentioned in the Bill. While there are currently no direct impacts anticipated, Public Health works with numerous partners who will be impacted should the Bill be passed," he said in a statement. "We are committed to working within the new structure to provide exceptional public health services to the residents of Peel. We will continue working collaboratively with the Central West and Mississauga Halton LHINs during the transition."
Email: [email protected]
Twitter: @JoeljWittnebel
Submit a correction about this story