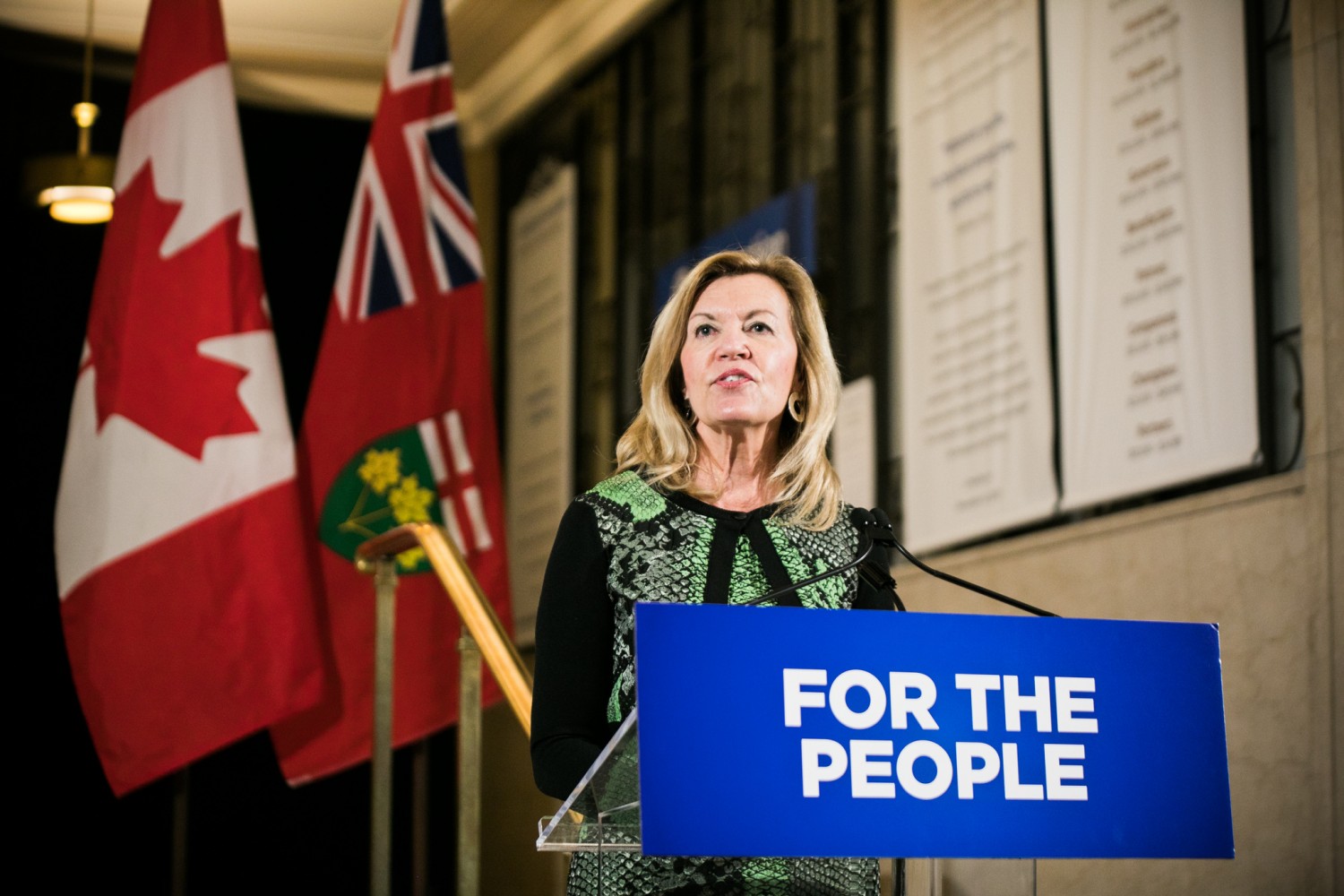 Photos from Government of Ontario
Local hospital system moves foreshadow PC overhaul of Ontario health care
The provincial government has announced an extensive overhaul of the healthcare landscape that will see all of Ontario's LHINs and six dedicated healthcare organizations rolled into one super-agency, Ontario Health. The government also plans to introduce new Ontario Health Teams that will bring local providers together to streamline care. Some of that work may already be underway in Peel Region.
The PC announcement comes weeks after a leaked draft bill was made public by the NDP, laying out many of the details Health Minister Christine Elliott announced in a press conference Tuesday morning.
Elliott was visibly energetic while describing the details of the proposed plan, which she billed as a challenge to the status quo. She introduced the bill into the legislature Tuesday afternoon.
Elliot said that consolidating the system and handing power back to the frontline providers, to create plans that work for them and their communities, will drastically ease the issues of inefficiency and poor service delivery that have plagued Ontario for decades.
"Too much time and attention is spent on maintaining a siloed and fragmented system, and far too many people believe it is the patient's or the family's job to navigate this complicated system during what is already one of the most traumatic and stress-filled times of their lives," she said. "Ontarians want their elected officials to put down their polling and finally pick up the mantle of healthcare leadership in Ontario. We are past the point of policy tinkering around the edges that simply shifts capacity problems from one end of the system to the other."
During her time as an MPP, and as Patient Ombudsman under former premier Kathleen Wynne, Elliott said, she spoke with thousands of advocates and frontline care providers about how to fix a system in need of "transformational change."
The path forward for the PCs is to bring local providers together to form what they are billing as Ontario Health Teams.
Hospitals, mental-health providers, nurse practitioner clinics and the like will come together under this new system to form a team and create a service plan to be pitched to the province to provide "community based care" that is "unencumbered by bureaucracy." If their plan is deemed suitable, the team will be given the moniker of an Ontario Health Team and some level of funding — not outlined in Elliott's remarks — to assist in providing services. A release from the province states simply that "Ontario Health Teams will be funded and held accountable for improving patient experience and people's health."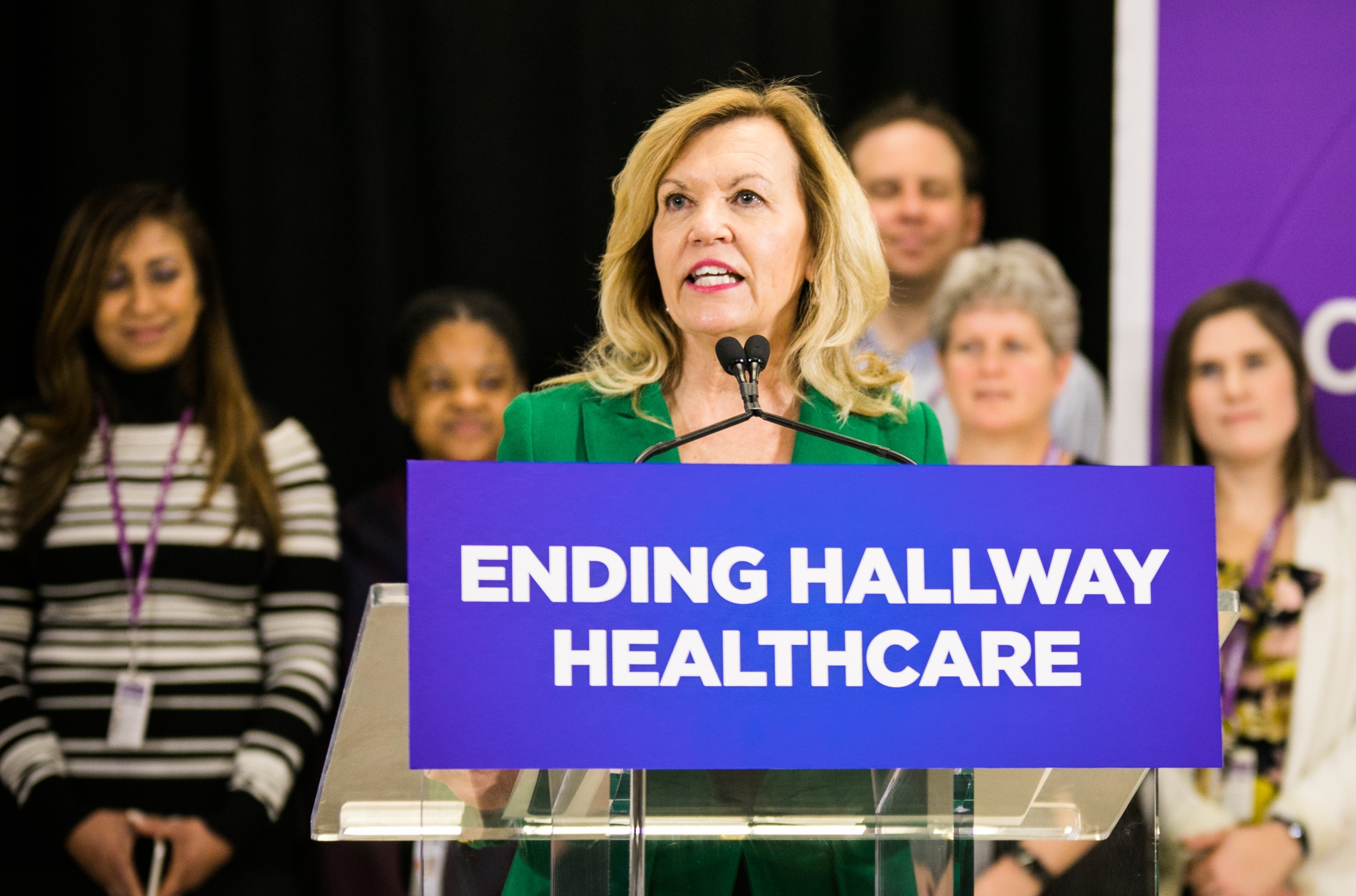 Minister of Health Christine Elliott
Through this model, Elliott said, these local teams will be able to introduce new technologies, opening up services such as online booking for appointments, virtual chats with healthcare providers, and easier access to personal medical records. More information on the Ontario Health Team process, including how interested groups can get involved, is scheduled for release in early March.
While Elliott admits it will take years to roll out this process, there will be no change in service delivery for Ontarians, and people will continue to visit their family doctor or healthcare provider as they always have.
"We have worked very hard to ensure that, as we are transitioning into this new system, patients will be protected and continue to access healthcare services as they always have," she said.
If the plan comes to fruition, the government expects there to be approximately 30 to 50 of these local teams, each responsible for roughly 300,000 people, depending on geography.
This approach may be good news for health advocates in Peel, especially inside the William Osler Health System, which has already been angling toward this type of service delivery in the years ahead.
"Patients want to be meaningfully involved in designing the services they receive and be a strong voice in informing their healthcare decisions. They want to experience smoother transitions as they move across the system between health service providers," reads a joint statement from Jane McMullan, chair of the William Osler board, and Dr. Brendan Carr, the president and CEO, attached to the organization's 2019-2024 strategic plan, released late last year. "Working closely with system partners, Osler is committed to improving access to services and creating a more coordinated healthcare network to better serve the needs of our communities."
Osler did not respond to a request for further comment in time for publication.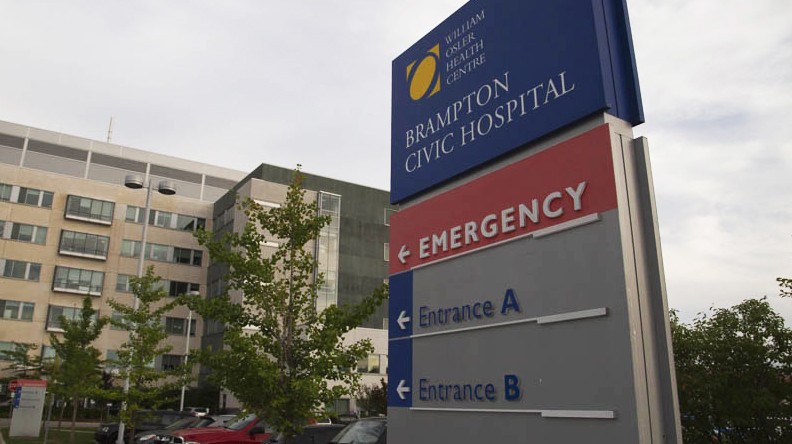 The announcement also confirms that the government plans to form a new super-agency to coordinate provincial healthcare. That idea was a keystone of the bill leaked by the NDP, and immediately ignited fears that the PCs were looking to privatize portions of the Ontario system. That was a claim Elliott has always denied, and one she denounced again during her announcement.
"One thing I do want to make very clear is our government's commitment to the fundamental right of Ontarians to universal access to a publicly funded system of healthcare. To me that is part of what is being a Canadian and being a very proud Ontarian," she said.
That might seem great news for Ontarians who will continue to pay for their healthcare by simply flashing their OHIP card. However, the reorganization could mean trouble for those who work inside the system.
Information released by the province notes that Ontario Health will conglomerate a number of existing organizations, including reorganizing the 14 Local Health Integration Networks (LHINs), and bringing together Cancer Care Ontario, Health Quality Ontario, eHealth Ontario, Trillium Gift of Life Network, Health Shared Services Ontario, and HealthForce Ontario Marketing and Recruitment Agency.
"Each of these agencies also has a full senior management team and back-office support, and over time some of this work has become duplicative. To achieve true integrated and coordinated care, Ontario is proposing to streamline the important work of these health agencies so it can be performed more effectively and collaboratively, provide more value for tax dollars and enable people to work together instead of in silos," says the release from the province.
Elliott repeatedly avoided answering questions from reporters about this statement and its clear indication that there could be layoffs once the super-agency is formed.
"The reality is, to build a patient-centred system of care that we so fiercely believe is necessary, we must enable collaboration and coordination from top to bottom, and that includes looking at how best to structure our agencies," she said. "It's the right thing to do. If we are truly serious about finally building a healthcare system centred around you and your family, we need to roll up our sleeves and put in the hard work to get there."
When pressed, Elliott said that this is not to be looked at as a "financial exercise."
"I think we have to look at this as a rearrangement, but rearranged around the patient," she said, noting that many people will be required to work inside the new Ontario Health agency, though the new organization will take over the administrative functions for the LHINs and six agencies listed.
She refused to acknowledge that there would be layoffs as a result of the shift.
"I did not say anything about that; what I did say is that it's going to be a local reorganization of how care is delivered, not within the LHIN structure, but within the Local Ontario Health Team structure," she said.
The PCs campaigned on a pledge to end so-called hallway healthcare, and it was a promise Elliott referred to Tuesday, saying the government is taking it "very seriously."
That promise has not led to any extra investment into Brampton, where the term "hallway healthcare" first came into popular use in Ontario.
Between April 2016 and April 2017, 4,352 patients were treated in hallways and other makeshift spaces at Brampton Civic Hospital, according to an internal memo written by the CEO of the William Osler Health System and released by the Ontario NDP.
Yet, when the PCs announced $90 million in October to add capacity in hospitals across the province to cope with the coming flu season, Brampton was left out.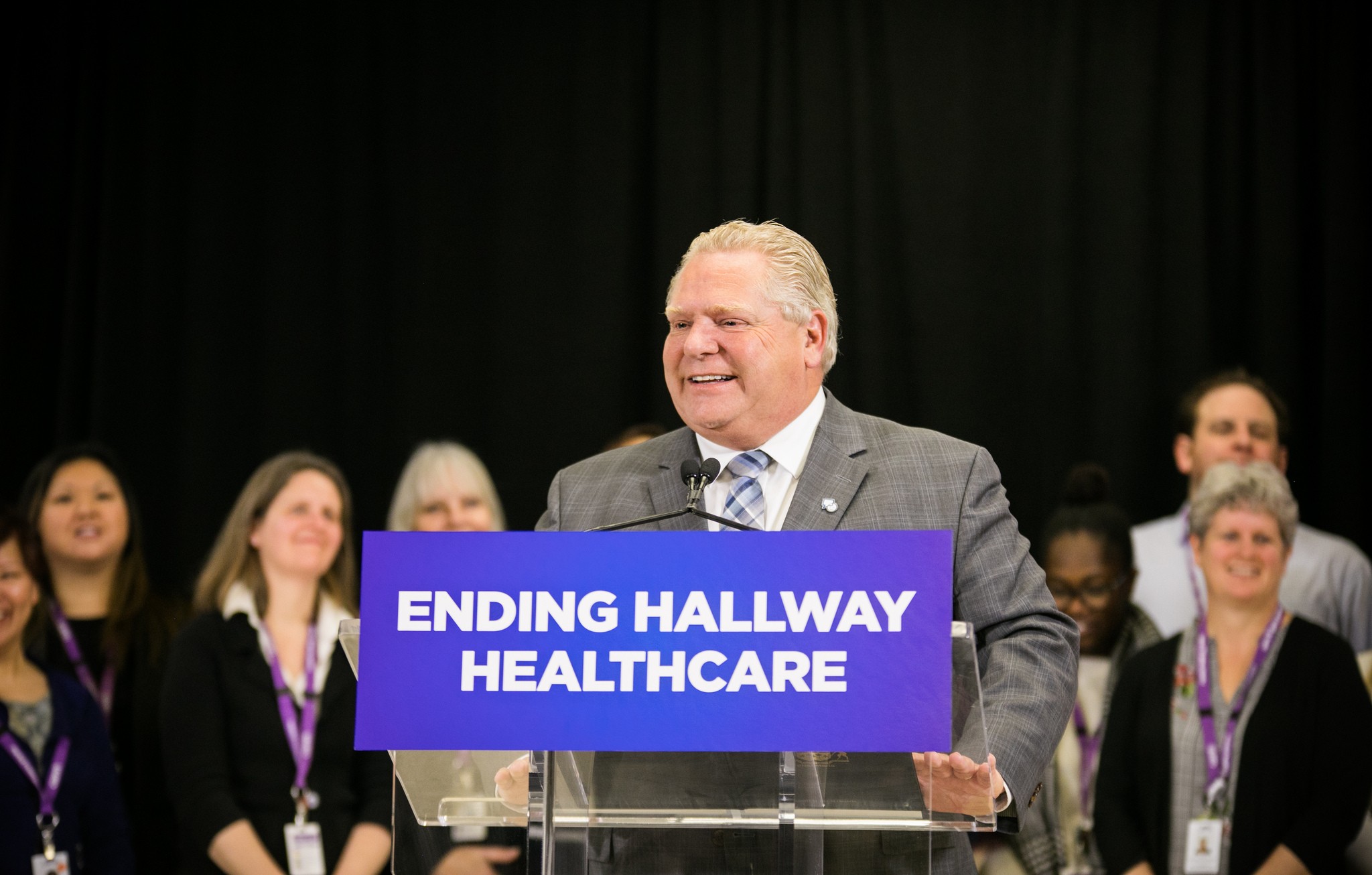 Premier Doug Ford
The move toward a more coordinated approach to service delivery falls in line with a recent report from Premier Doug Ford's Council on Improving and Ending Hallway Medicine.
Released earlier this month, the report explains that more work needs to be put into creating clear paths for patients to navigate the complicated system and employing alternative technologies and services to help address the capacity issues.
"As currently designed, the health care system does not always work efficiently," the 35-page document states. "A lack of early intervention and prevention is contributing to more patients becoming ill. All of these challenges are connected to the problem of hallway health care."
While the evidence suggests the Ontario Health Teams approach fits within existing literature, especially with the plans of the William Osler Health System moving forward, the plan has already drawn the ire of several advocacy groups.
"It been created in secret behind closed doors with a plan to drive it through the Ontario Legislature and begin implementation at breakneck speed," said Natalie Mehra, executive director of the Ontario Health Coalition, when the early draft of the bill was leaked earlier this month. "It is the blueprint for the creation of a super bureaucracy that is charged with facilitating mega-mergers, service movement, transfers, closures, privatization: essentially restructuring on steroids. The evidence from past experiments that were much smaller in scope [is that they] cost billions of dollars, taking money away from care that will never be recovered. Ford's plan will be enormously costly, destabilizing and damaging just when we need a government that will rebuild not destroy public health care."
In a tweet today, the Ontario Health Coalition continued to criticize the "super agency" process as being "undemocratic and secretive."
Email: [email protected]
Twitter: @JoeljWittnebel
Submit a correction about this story