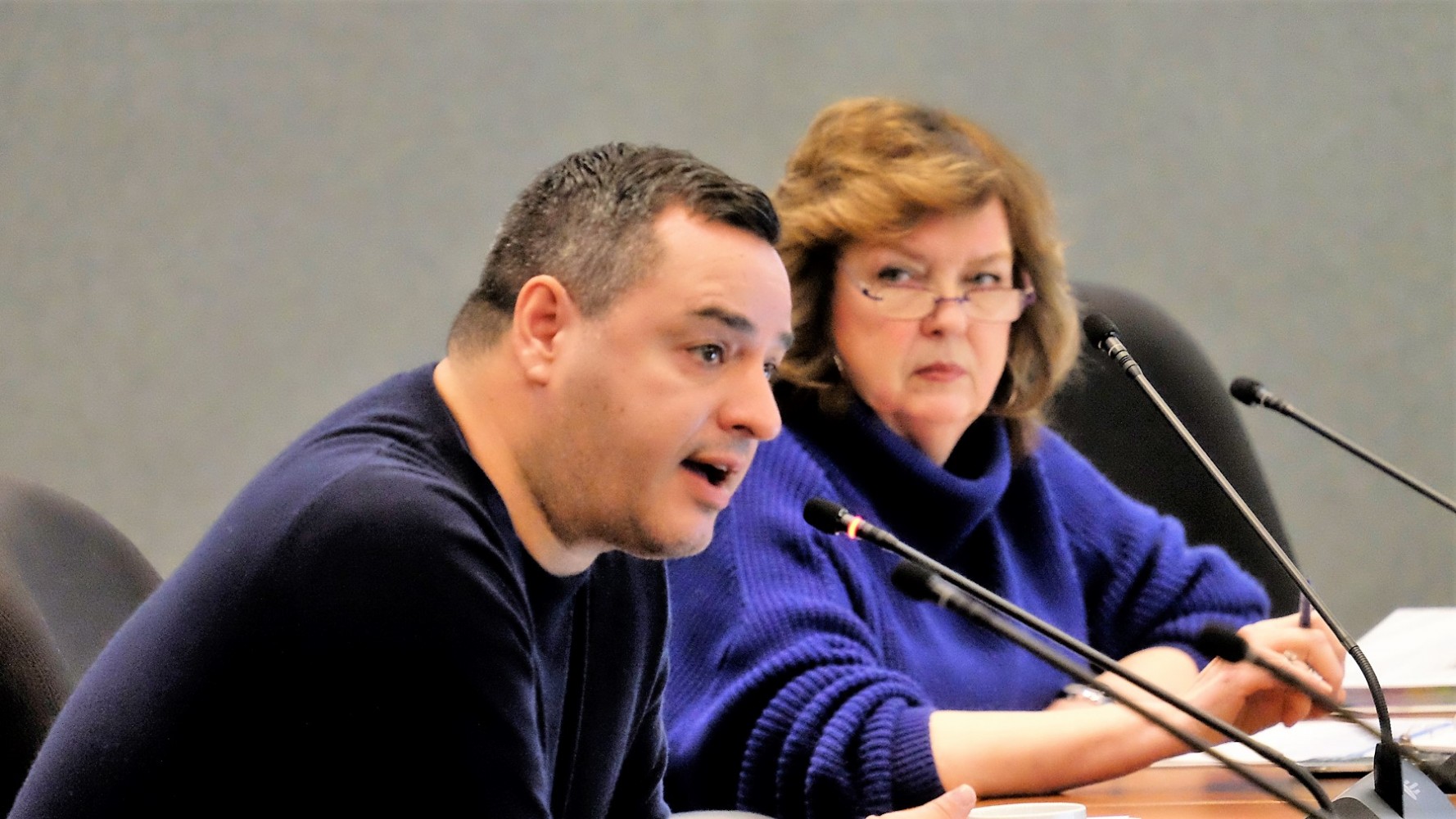 Photos by Mansoor Tanweer and Joel Wittnebel
Sparks fly at inaugural meeting of region's Strategic Housing and Homelessness Committee
(Clarification: An editor inserted information in an earlier version of the story stating the Region of Peel plans to have an additional 75,000 affordable housing units between 2018 and 2028. The plan states that 20,000 affordable housing units for low-income and middle-income earners will be brought online between 2018 and 2028, and an additional 55,000 market-rate affordable housing units will be brought online for middle-income earners and above.)
The agonizingly slow pace of building affordable housing units in Peel Region and antiquated systems for tracking people who need them led to a tense exchange between frustrated councillors and staff at the inaugural meeting of the new Strategic Housing and Homelessness Committee on Thursday — followed by a decision to look into one potential stopgap: removing development charges on basement apartments to encourage more of them to be built.
As Director of Housing Services Aileen Baird delivered a presentation that laid out the priorities for her department in the coming year, Mississauga Regional Councillor Carolyn Parrish took issue with a number of talking points.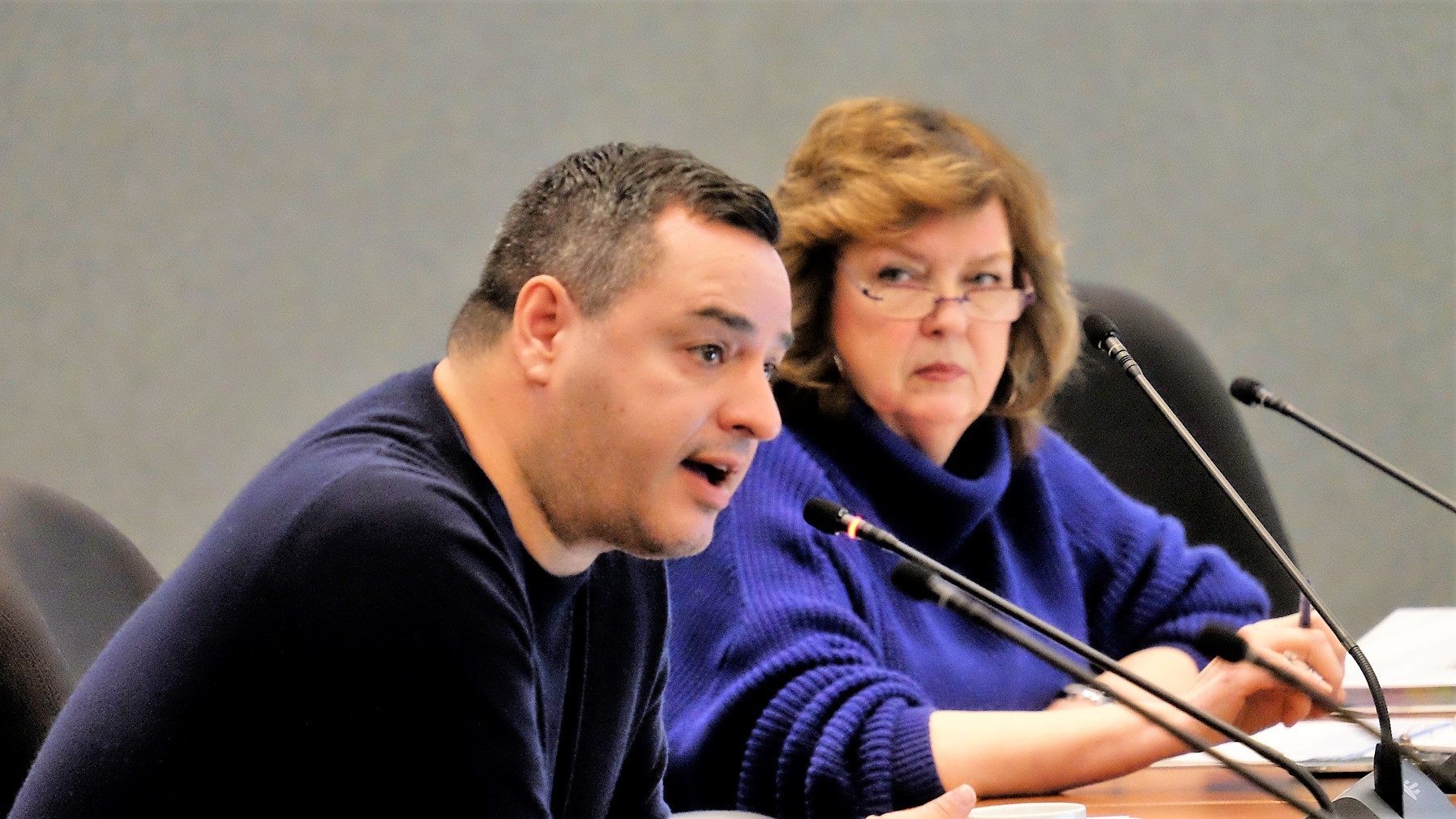 Regional Councillors Martin Medeiros and Carolyn Parrish
"I just want to check my hearing. Did you say, from 2001 we've built 1,700 units?" Parrish asked Baird, incredulous that so few had been built over 18 years.
"Yep, the exact number is 1,742," Baird replied. That's a tiny fraction of the 2,000 affordable housing units for low and middle-income earners Regional staff claim will be built each year till 2028 under a plan they have publicly established for more than a year. The plan, called Home For All, 2018-2028, says overall 75,000 units will be brought online in that ten-year period, 20,000 for low and middle-income earners and an additional 55,000 market-rate affordable housing units for other middle-income earners and above. Parrish seemed puzzled by how staff could have publicly presented such lofty goals to council in the past, when in reality only a very small percentage of that target has been built each year since 2001, on average.
"Yeah, I saw that," she responded. "I'm shocked. I've always believed the money for building units was up here [at the region] and we've spent four years in Mississauga meeting once a month, talking about things like client censuses. Why are we hiring a consultant to give us information on why people are homeless and why people can't afford their rent? We already know all that," Parrish replied sharply.
One of the items detailed in the staff presentation was the need for a client census to "better understand our clients, their core housing needs and the barriers they face to securing stable, suitable housing they can afford." Baird responded to Parrish, "As much as we do have a lot of information, to your point, on our homeless population, there's a lot of information gaps on our centralized [housing] wait-list and we feel it's critical to fill those gaps so that we can design a new pathway and start to divert people away from the wait-list. That is the big information need that this is designed to fill."
Parrish revealed that Mississauga is moving to encourage developers to build more basement apartments, one facet of the housing situation that has become increasingly common in Peel. "We [Mississauga] are going to take [development charges] on basement apartments out of our DC bylaw," Parrish told councillors.
"If the region does the same thing, that's $40,000 the developers save. That's people moving in and constructing houses with finished basements that are safe and clean and ready to be occupied."
Parrish said the motion to get rid of development charges on secondary units happened in a closed-doors education session of Mississauga City Council, but she'd received permission from the city manager to reveal it publicly.
"First of all, we have 33,000 illegal basement apartments, that we guesstimate, in Mississauga. The trouble with those apartments is they probably don't have the safety features that they need," Parrish told The Pointer.
"You're also going to get people who might not have been able to afford the house, but now they know they've got $1,000 of [monthly] revenue that will come from the basement. So you are more likely to catch the younger-people income bracket that we are always worried about."
Secondary suites, both legal and illegal, are a common fixture in Brampton as well. The lack of affordable housing stock in the region and high cost of owning or renting a home have prompted many homeowners to convert their basements into living spaces that can be rented out to people desperate for housing they can afford.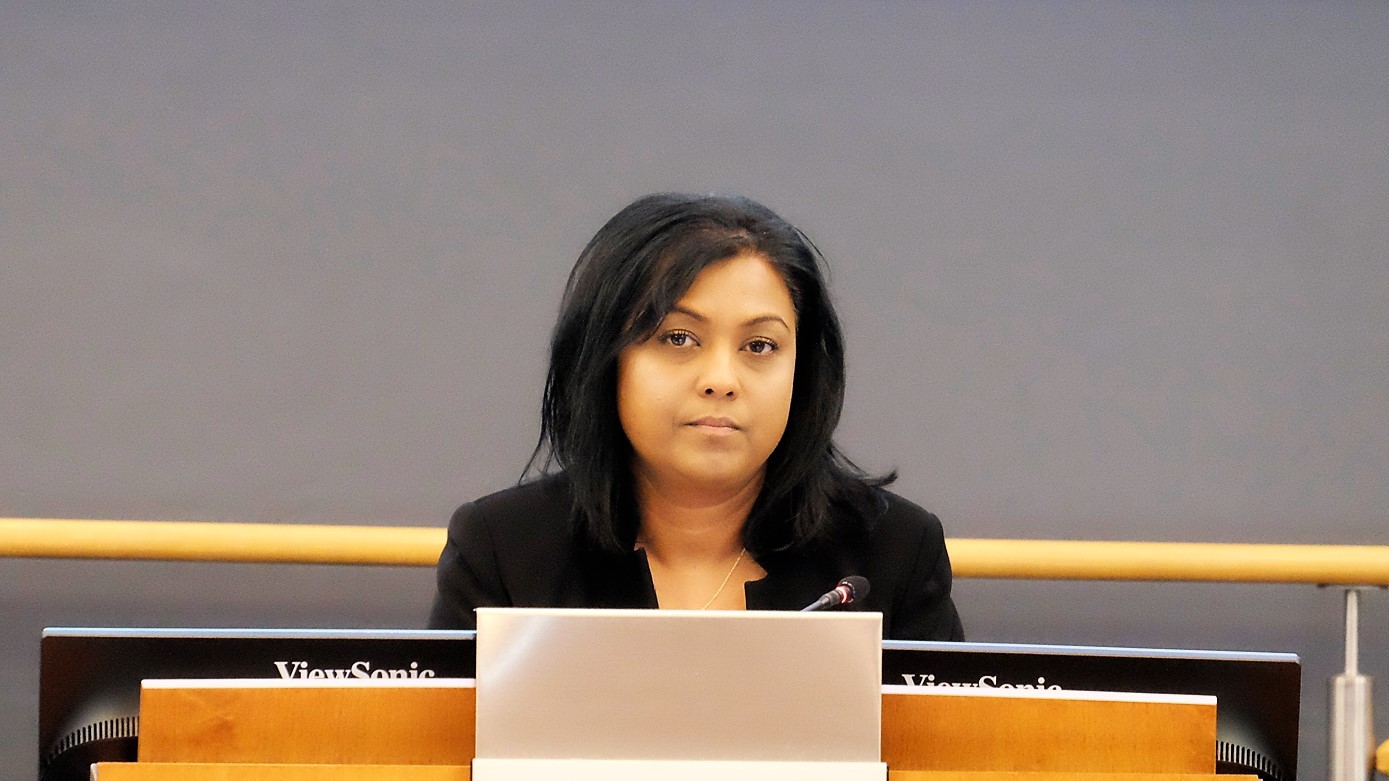 Regional Councillor Annette Groves
Responding to the idea of an audit, Caledon Councillor Annette Groves, who was unanimously elected to the chair position at Thursday's meeting, told The Pointer, "we already know what the wait-list is. We already know how many people are on the wait-list. We need to figure out how we're going to build more of these affordable housing … Some of these people have probably died."
"I like what the region is doing to look at incentivizing things, and with the developers and Councillor Parrish's suggestion with the DCs on the basement apartment … that will help quite a bit," she added.
The committee directed staff to look into the feasibility of removing development charges region-wide on secondary suites.
Regional chair Nando Iannicca asked staff what is being done to make it easier for homeowners to rent out unused space in homes as a partial solution to the shortage of affordable housing. "There are 1.5 million empty bedrooms [in the GTA]. Probably the only place in the world where that happens," Iannicca said in committee.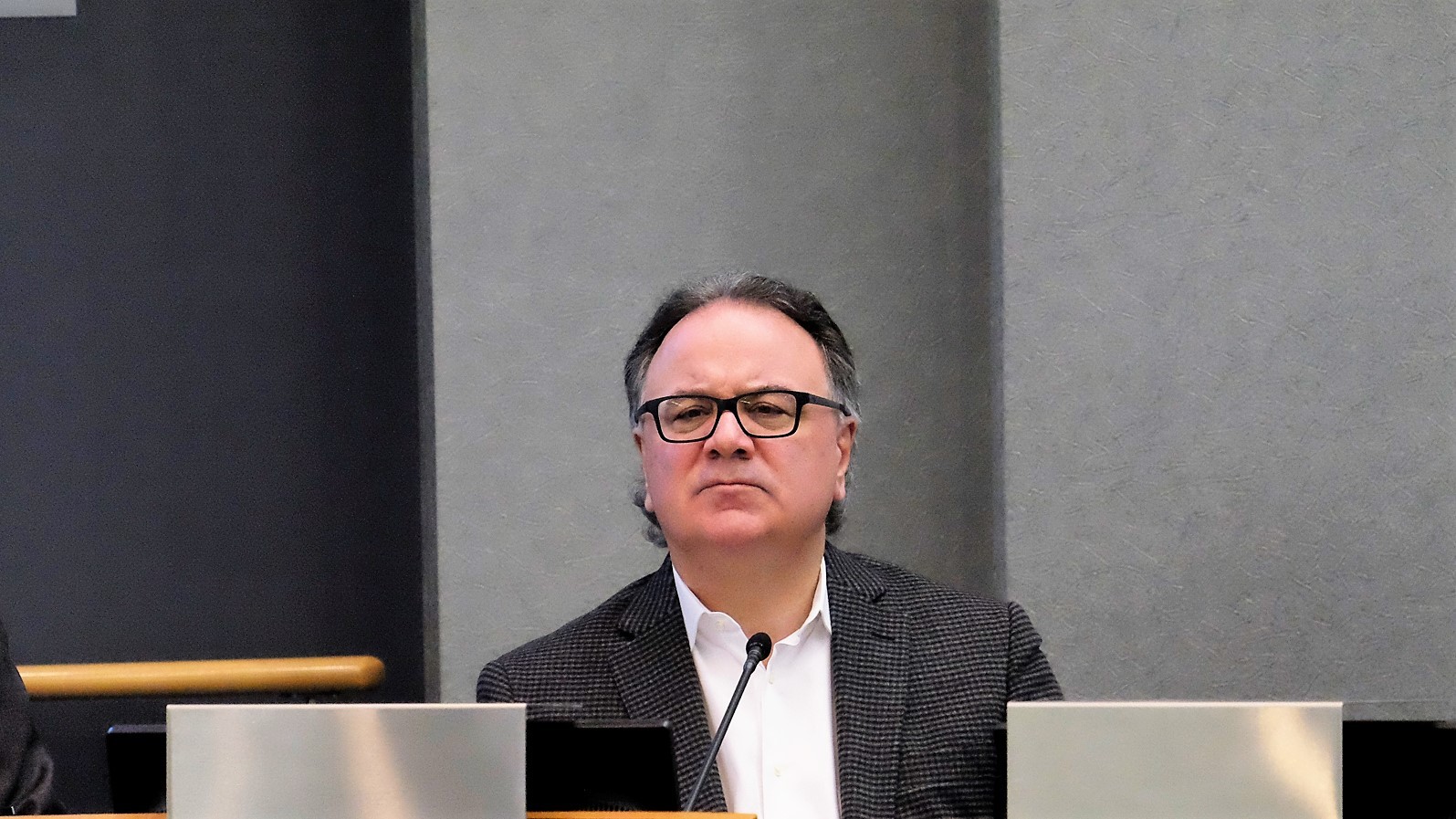 Regional Chair Nando Iannicca
"My question is this ... What are we finding out what about that and its practical application? Is that making a dent at all?"
"We feel there are real opportunities to do more … . So absolutely we'd like to understand what powers we have through our bylaws and policies to better leverage those empty bedrooms and other opportunities in the private stock," Baird responded.
At one point during the exchange between councillors and staff, it was also revealed the region was using old-fashioned methods to keep track of those who are on the wait-list. "Right now, we don't know who's on our wait-list," Commissioner of Human Services Janice Sheehy admitted to Parrish.
"If we had that information we [could] divert people away from the wait-list and use the units that we have in a better way to help those who are truly in need."
Sheehy said "part of the budget request that was just approved was for new technology in order to manage the wait-list. We did not receive the technology that we needed from the province when this whole service was downloaded. So at the moment it is a very paper-based system."
In the '90s, the federal government under Jean Chretien froze funding that was going to the provinces for new public housing projects. Ontario chose to download the costs onto the municipalities in response.
Mississauga Councillor George Carlson, who says the issue of homelessness and affordable housing is close to his heart, demanded to know if the "paper-based system" is being replaced with an electronic one.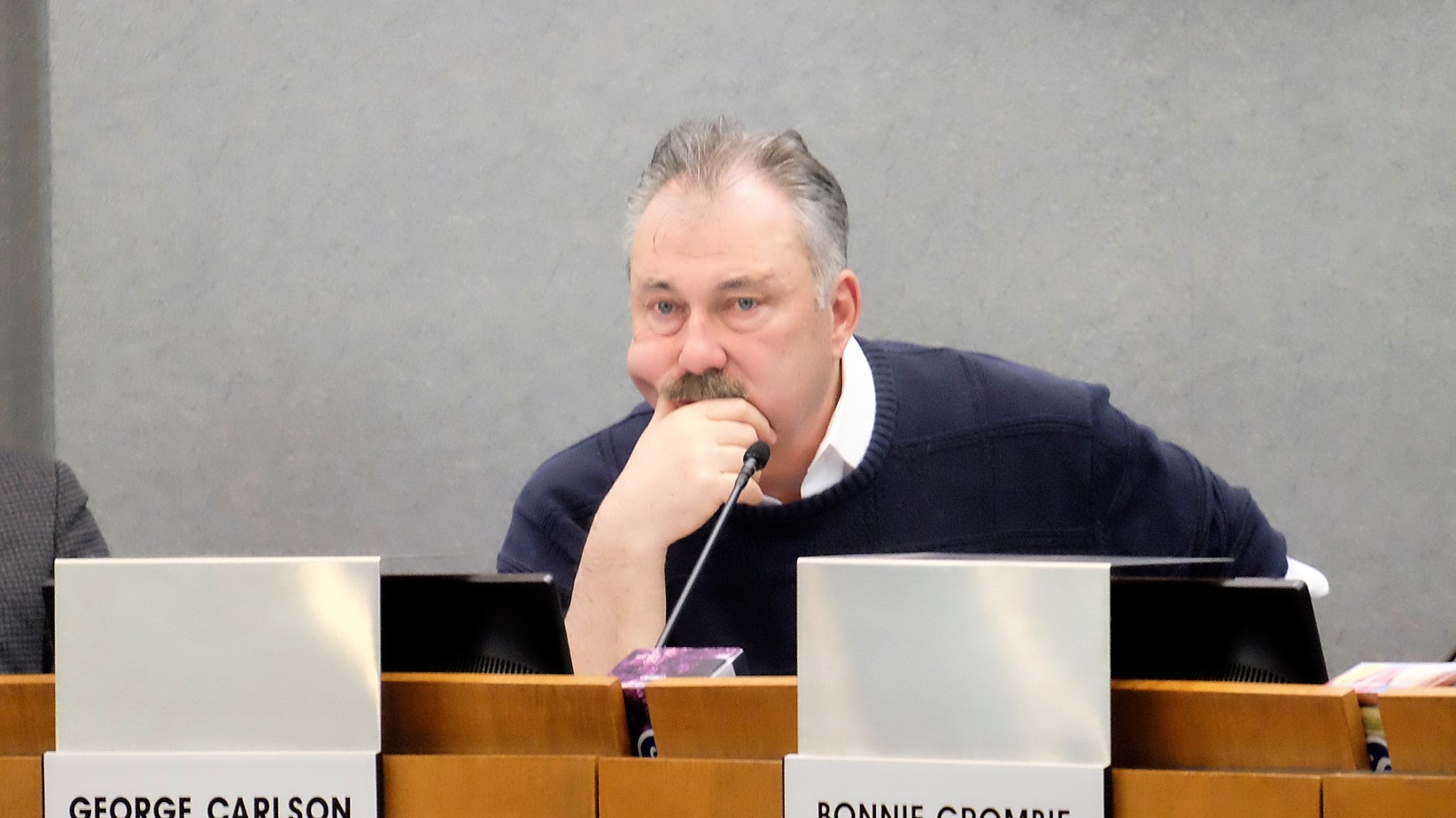 Regional Councillor George Carlson
"The programs that are used to track people, they must be off the shelf by now. It's been 20 years — do we have an index card box somewhere? Surely there must be some company that makes a thing that separates out the needs, how many kids, who's got a disability … tell me we're buying it from some firm in Sweden or something," Carlson said, eliciting laughter.
"This is really about transforming how we deliver service so that we get away from our sort of siloed program approach. Right now, there is this program for this need and this program for another need, and they all have eligibility criteria. Part of the reason why we don't have complete information on our clients is because of that," Baird replied to Carlson.
This year's approved regional budget set aside $2.7 million in affordable housing incentives as part of a pilot program. That is less than 1 percent of what Toronto (with a population roughly double that of Peel) is offering developers in that city's incentive program, some $280 million.
Increases in that overall budget have been marginal as well. Between 2017 and 2019 there has been a $5.4-million, or 4.9 percent, increase in the overall budget for affordable housing, from $110 million to $115.4 million.
"We don't actually have much money because our tax base … the property tax and such is a limited tax," Carlson told The Pointer. Property tax on the average Mississauga home assessed at $479,000 is $4,438. "Half is going to the school board, so the region and the city are splitting the other half. So, what are you going to buy for $1,300?" Carlson said.
Email: [email protected]
Twitter: @mansoortanweer
Submit a correction about this story