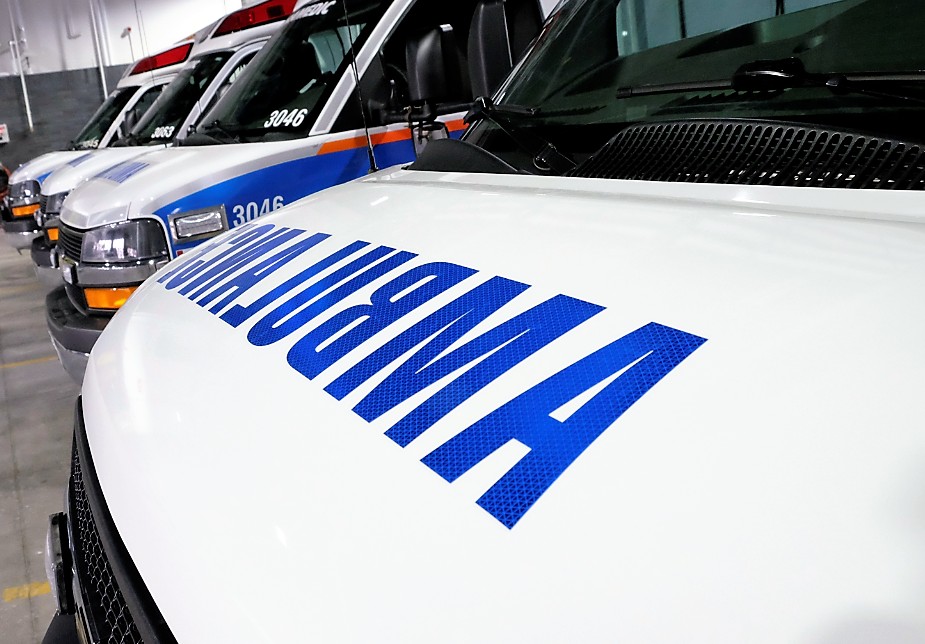 Photos by Mansoor Tanweer
Residents, paramedics union and region clash over changes to EMS deployment
Last September, the gradual phase-in of Caledon's new paramedic divisional and deployment model was almost at its halfway point, with residents already raising concerns.
Kate Hepworth, president of the Caledon Village Association, implored council that month to retain the Caledon East Station as a reporting station, so that paramedics assigned to the area would not have to begin their shift at the 1600 Bovaird Dr. station in Brampton.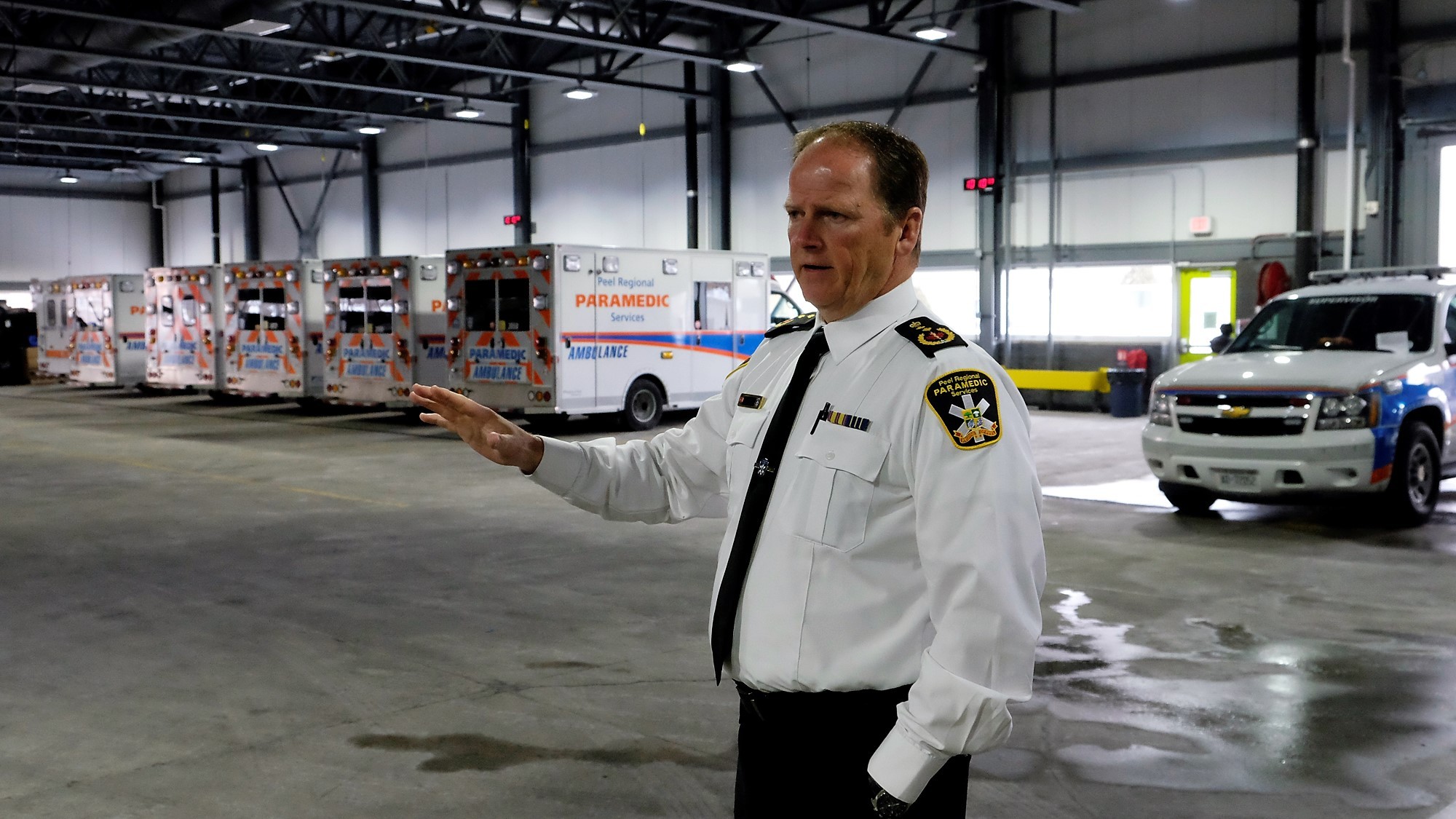 Deputy Paramedic Chief Brian Gibson at a deployment station
Hepworth and other residents are anxious about changes they worry could increase response times, potentially putting lives at risk. EMS coverage in general across Peel Region's largest municipality, which is even bigger than Toronto, could suffer, they worry, while possibly drawing ambulances away from other municipalities to make up for service gaps, creating a domino effect of poorer emergency service in parts of Brampton.
Caledon Councillor Barb Shaughnessy agreed with Hepworth, floating a motion to pause the phase-in until staff could report back after "a review of the effectiveness of the model in Caledon, including consultation with the local municipality."
Though the motion got support from from fellow Caledon Councillor Annette Groves and Brampton councillor John Sprovieri (he has since retired), it was defeated. Residents hoping for sober second thought and more consultation were disappointed.
Changes to the existing divisional model, officially implemented on Jan. 14, involved dividing Caledon into two geographical districts. The stations were changed from stand-alone facilities — at which EMS workers reported for duty, received their ambulances and deployed to emergencies — to satellite stations.
Under the new deployment plan, paramedics assigned to Caledon report for duty at the headquarters on Bovaird Drive, where they are issued their vehicles and drive to the satellite stations. Many residents, as well as the paramedics union, feel the changes were made without proper public consultation.
"I would say to you that there was consultation," Carol Murray, vice president of paramedic union OPSEU Local 277, told The Pointer. "The consultation happened in 2006 with all the stakeholders that had an opinion on it, or should have had an opinion. I don't believe 'Joe Citizen' was given an opinion back then, just so you know."
A 2006 report by American data analysts Health Analytics recommended a hybrid model of service be adopted in Peel Region. Brampton and Mississauga would adopt a divisional model, where medics deploy from reporting stations to satellites, and Caledon would keep its stand-alone facilities independent from the division.
The now-defunct regional Emergency and Protective Services Committee recommended the following year that council adopt Health Analytics' findings and form policy accordingly.
Council approved those recommendations and went with the hybrid model.
It's not clear when the shift from that model took place, after former Caledon mayor Marolyn Morrison moved that Caledon's service system remain intact.
"I don't know how it happened," said Councillor Groves, who has been in Caledon and regional politics for 14 years. "Out of the blue our stations that we built, one in Caledon East and the one we're building in Bolton, have now become satellite stations," he told The Pointer.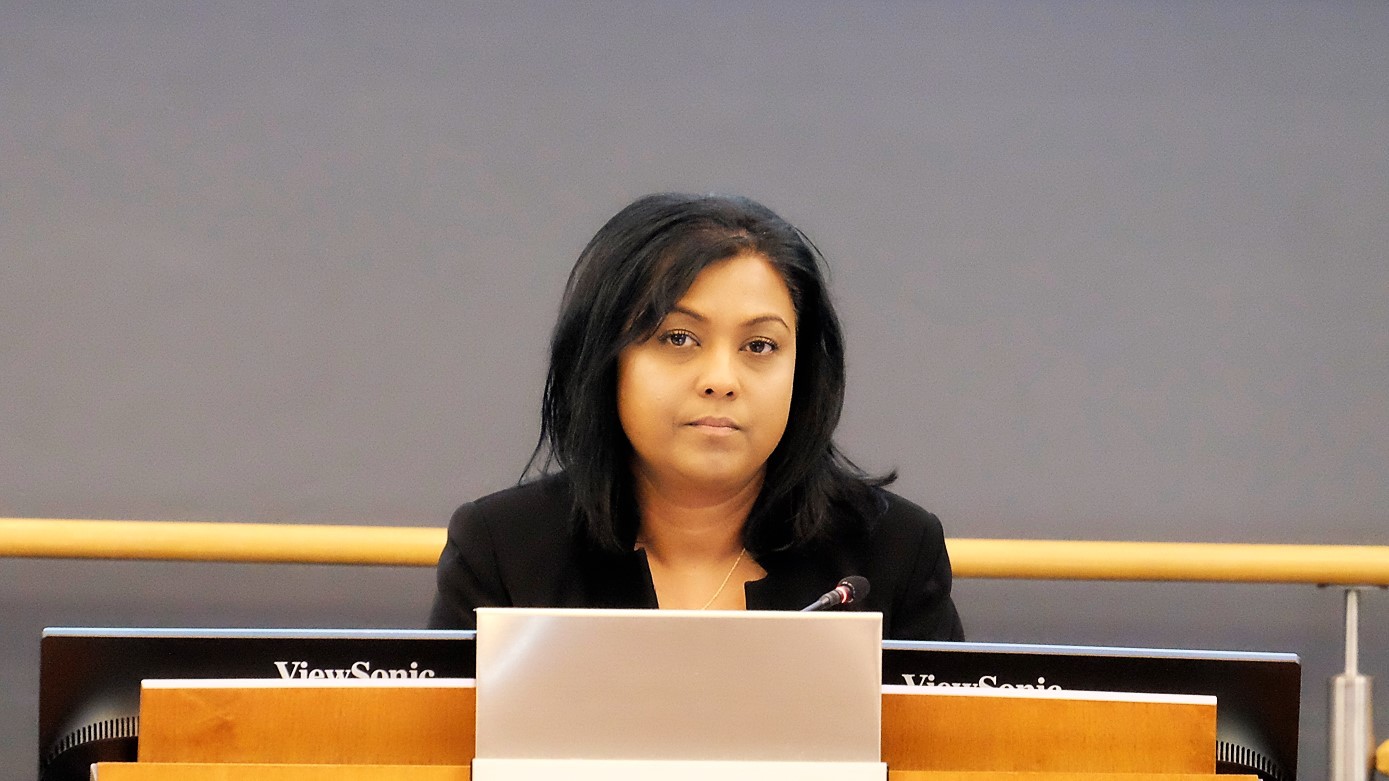 Regional Councillor Annette Groves
"So there was complete disregard for that resolution Marolyn Morrison put forward that Caledon remains the same."
Nancy Polsinelli, the region's commissioner of health services, disagrees that there was no public consultation about the new framework and points to several efforts by the region to inform Caledon residents. "In September, council directed us to do resident education and we certainly have done that and will continue to do that," Polsinelli told The Pointer.
She said communication included building a "myths or facts" piece on the Peel Region website — made in response to a union website page that declared "paramedics are leaving Caledon" — and a video "to support helping the community of Caledon understand deployment, divisional … because it can be very complicated."
Peel also ran counter ads in local papers to allay fears of residents worried about paramedics leaving the town.
There was also a boots-on-the-ground effort to get the word out. Polsinelli said five public education sessions took place in January, held in recreational centres and hockey arenas in various parts of Caledon.
The Pointer attended two of these, at Albion Bolton Community Centre and the Lloyd Wilson Centennial Arena, with Polsinelli present. The events basically consisted of paramedics present with their equipment, tables and posters in a hallway. At both locations, protesters angered by the changes gathered near the entrance of the parking lot.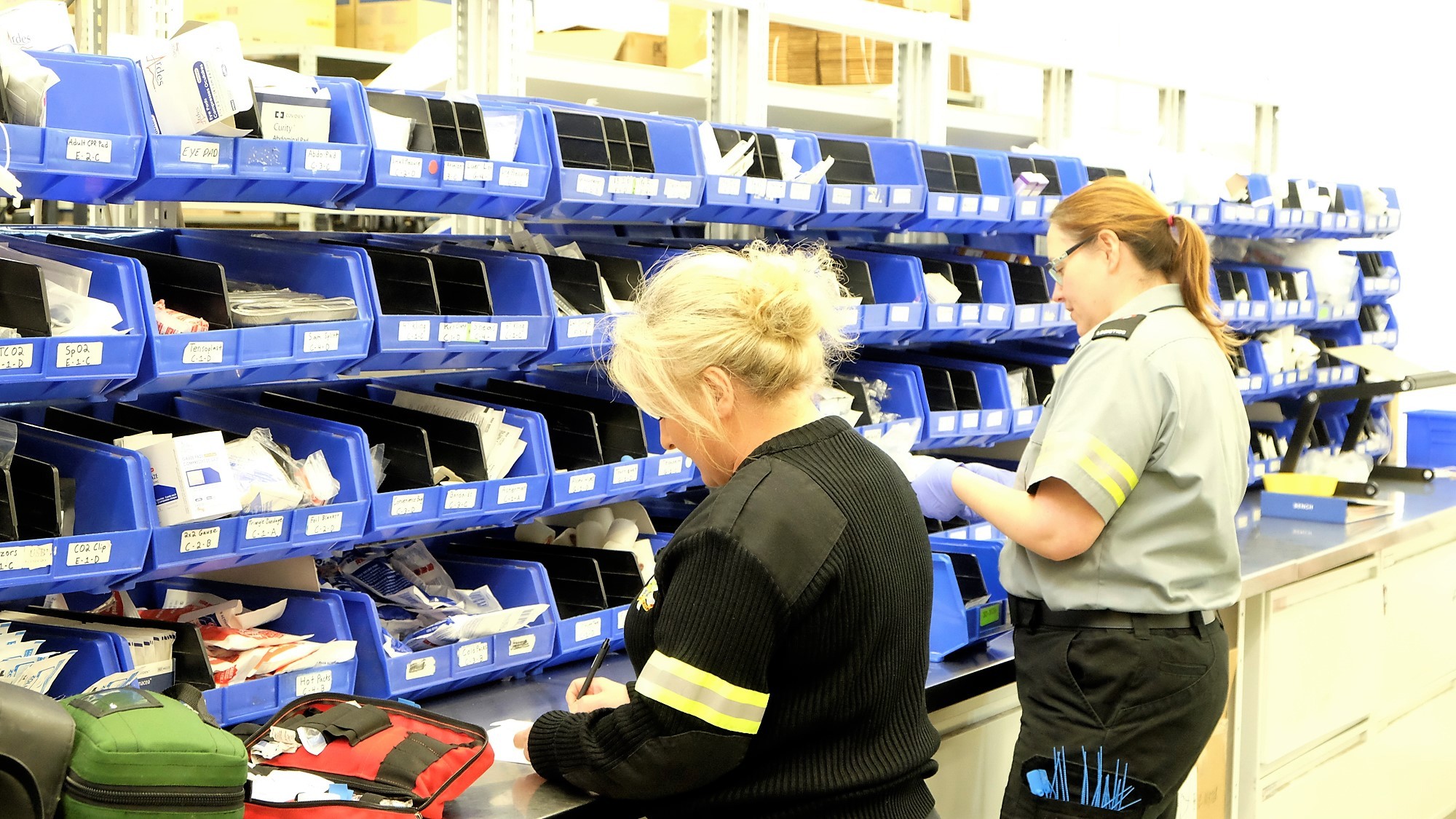 Under the new deployment model staff prepare ambulances for shifts, freeing crews to focus on EMS work
Groves was present at the education session at the Albion Bolton venue and objected to the region's methods of informing the public. "They didn't tell them (the public) the setup of the meeting. People were expecting, as I was, [to be] in a meeting room," Groves said, "because that is how you hold meetings. Not in a hockey arena … (or) in the hallway at the entrance where you're in people's way."
Scott Fry, a public affairs associate for the region, contends the format was the best way to inform residents as fully as possible.
"If we had done that town hall (with a speech from a podium), people would not have had the chance to … look Nancy in the eye and ask their individual questions," said Fry.
"We thought this was a [more effective] approach and it was based on our experience with public consultations in the past."
Email: [email protected]
Twitter: @mansoortanweer
Submit a correction about this story