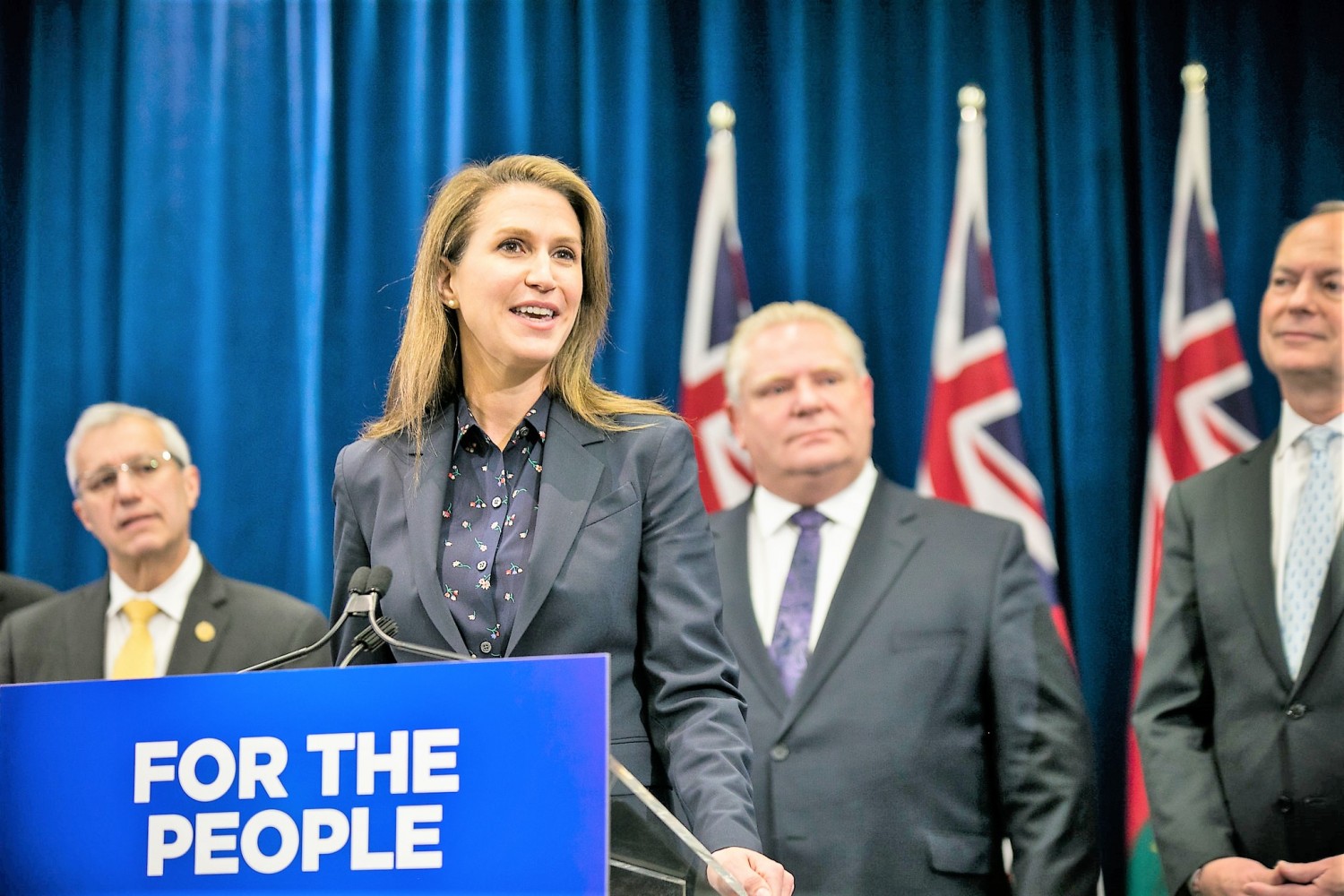 Photos by Mansoor Tanweer/Government of Ontario
Ontario PCs to reduce penalties for police misconduct and narrow oversight of officers
After years of rampant misconduct within Peel's police force the PC government is calling earlier moves by the Liberals to increase oversight an attack on policing. The province now wants to reduce penalties for police misconduct while shrinking the size of Ontario's watchdog regime.
In a news conference Tuesday at Halton Police headquarters in Oakville, Attorney General Caroline Mulroney and Community Safety Minister Sylvia Jones announced their government will be introducing new legislation to overhaul police oversight regulations. The move follows sweeping police-oversight reforms passed under the Liberals last year under Bill 175, the first such update in 25 years, which was supposed to take effect last summer. The legislation was widely hailed by many criminology experts, criminal-justice professionals and community groups as a progressive step by Ontario to protect the public against misuse of police power.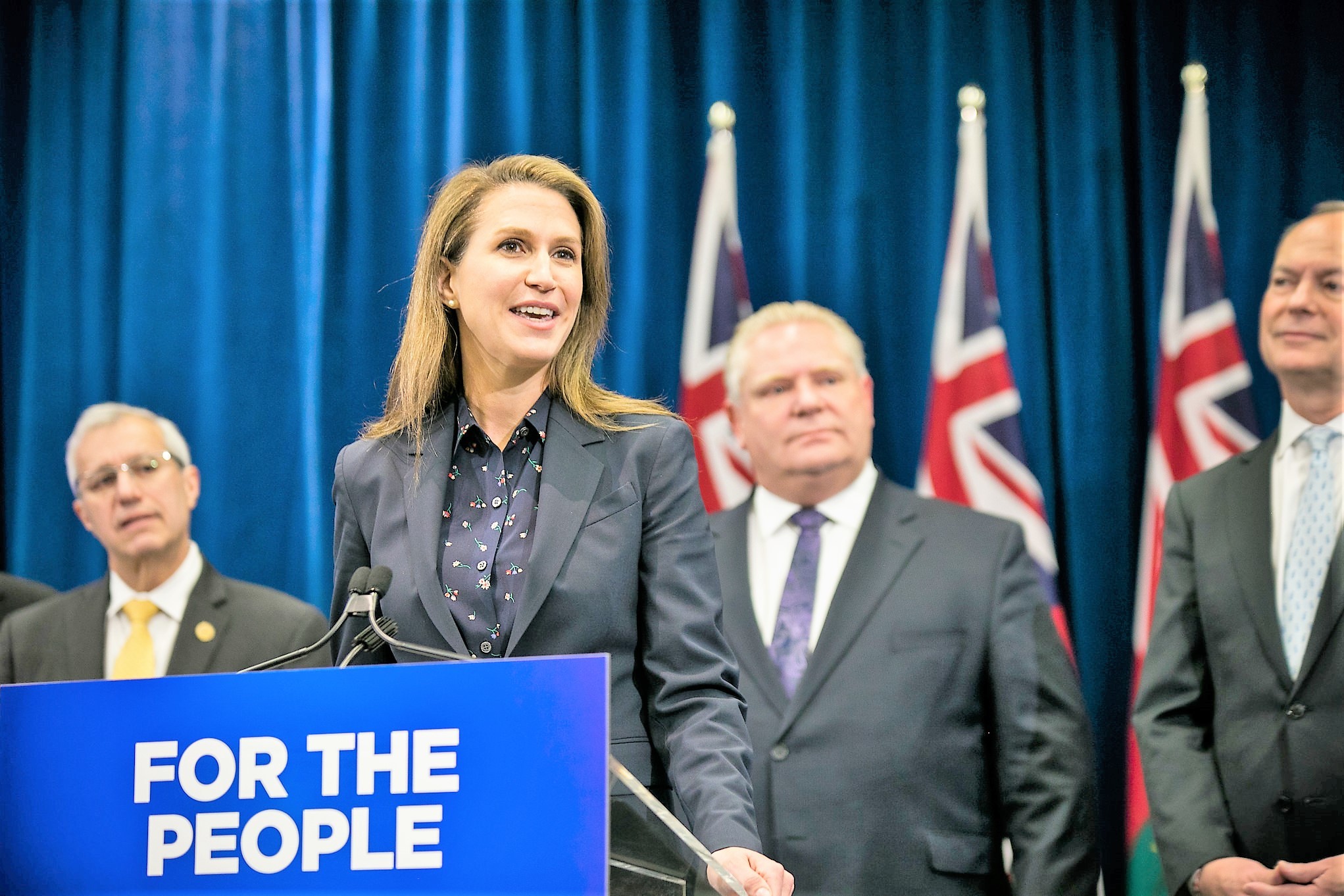 Attorney General Caroline Mulroney
But the PCs, immediately after winning June's election, suspended Bill 175 before it was implemented, calling it an attack on policing.
On Tuesday, their own plans were announced.
"Police will no longer be treated like they're guilty until proven innocent," Jones told the media. Mulroney echoed that and elaborated on how this relates to cases of serious injury or death when a police officer is involved, which automatically triggers involvement by the Special Investigations Unit. "If a police officer tries to stop a suicide attempt but is unsuccessful, he or she is treated like a suspect ... If a police officer responds to a violent crime, tries to perform CPR but is unable to save the life, he or she is treated like a suspect. This is not what the SIU should be doing."
The legislation, titled the Comprehensive Police Services Act, 2019, would curb the scope of the SIU's work. Under Bill 175, had it been implemented, the SIU would have enhanced power to investigate interactions between police and civilians that resulted in serious bodily harm, death or allegations of sexual assault. The Liberal bill also widened the focus of the Office of the Independent Police Review Director and the Ontario Civilian Police Commission.
Under the proposed new bill, the SIU would investigate only if the the bodily harm or death occurred through police use of force, a vehicle pursuit, or after reports of a weapons discharge. The proposed law would also eliminate the Ontario Civilian Police Commission in favour of a single organization, the Independent Police Review Director, handling complaints made against police.
Created under the Police Services Act, the OCPC can direct a police force to comply with standards if complaints and other information arise that show a particular police department is not operating under the rules set out under the Act. The commission can conduct inquiries to investigate police forces or individual officers when complaints warrant such action.
It's unclear how such oversight would be carried out under the PCs' proposed legislation if the OCPC is eliminated.
Penalties for non-cooperation with SIU investigations into police conduct will also be reduced. The Liberal framework allowed for fines of up to $25,000 for a first offence and $50,000 thereafter. A jail sentence of up to one year was also an option.
The PCs are looking to reduce that to $5,000 for a first offence and $10,000 for a second violation.
A news release from the Ministry of Community Safety and Correctional Services characterized Bill 175 as "broken" and says the province's intent is to "restore respect for police officers."
"Bill 175 was the most anti-police piece of legislation in Canadian history. It was a disaster. It actively undermined policing efforts. And it undermined public confidence and trust in the work police do," Jones said in the release.
Mulroney added further context when she said in the advisory, "When we were elected one of our first orders of business was to pause implementation of Bill 175, so that we could fix it in a way that continues to ensure oversight — but does so in a way that is balanced, respectful and fair.
"Our legislation, if passed, will focus investigative resources where they are needed, on criminal activity, within a police oversight system that will ultimately help build safer communities on a shared foundation of restored trust and accountability."
Mulroney, in her own words, acknowledges that trust has been broken. By pointing out the need for "restored trust" the Attorney General appeared to be acknowledging what has been happening in places such as Peel.
Over a recent five-year period, 640 officers in the force were disciplined for misconduct and a further 60 were disciplined for major misconduct such as sexual assault. Those figures were alarming, considering that those 640 officers represented about 35 percent of the force at the time, though former chief Jennifer Evans, who left the force in January, claimed only 2 per cent of the force had been disciplined.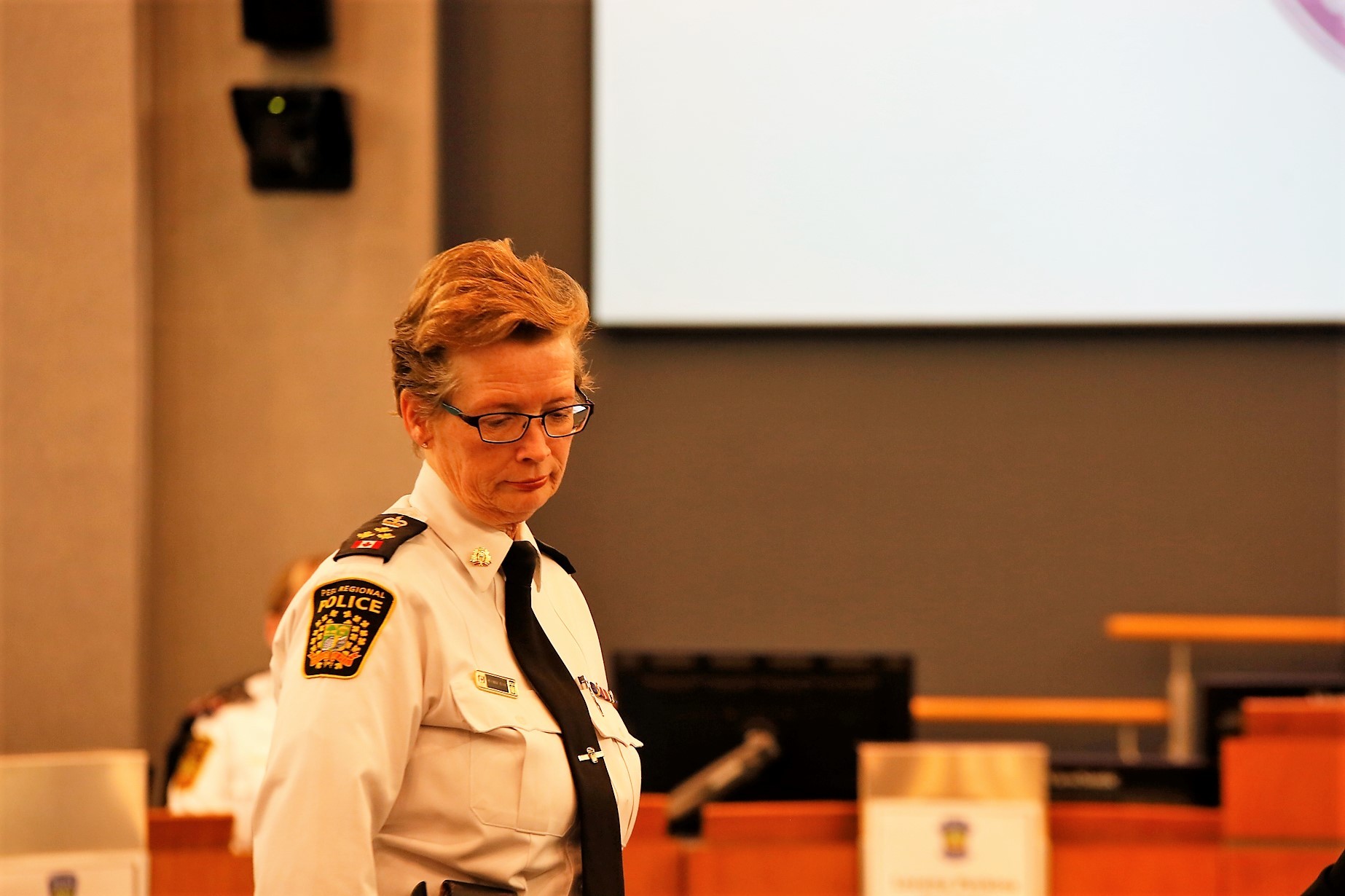 Former chief Jennifer Evans
Evans herself became the focus of controversies, including an investigation by the Office of the Independent Police Review Director into her handling of investigations into a series of murders involving members of a Mississauga family, Bill, Bridget and Caleb Harrison, that were bungled by Peel police, as well as a civil case in which Evans is named over her actions after an innocent bystander was shot in her kitchen by a stray bullet fired by a Peel police officer in 2015.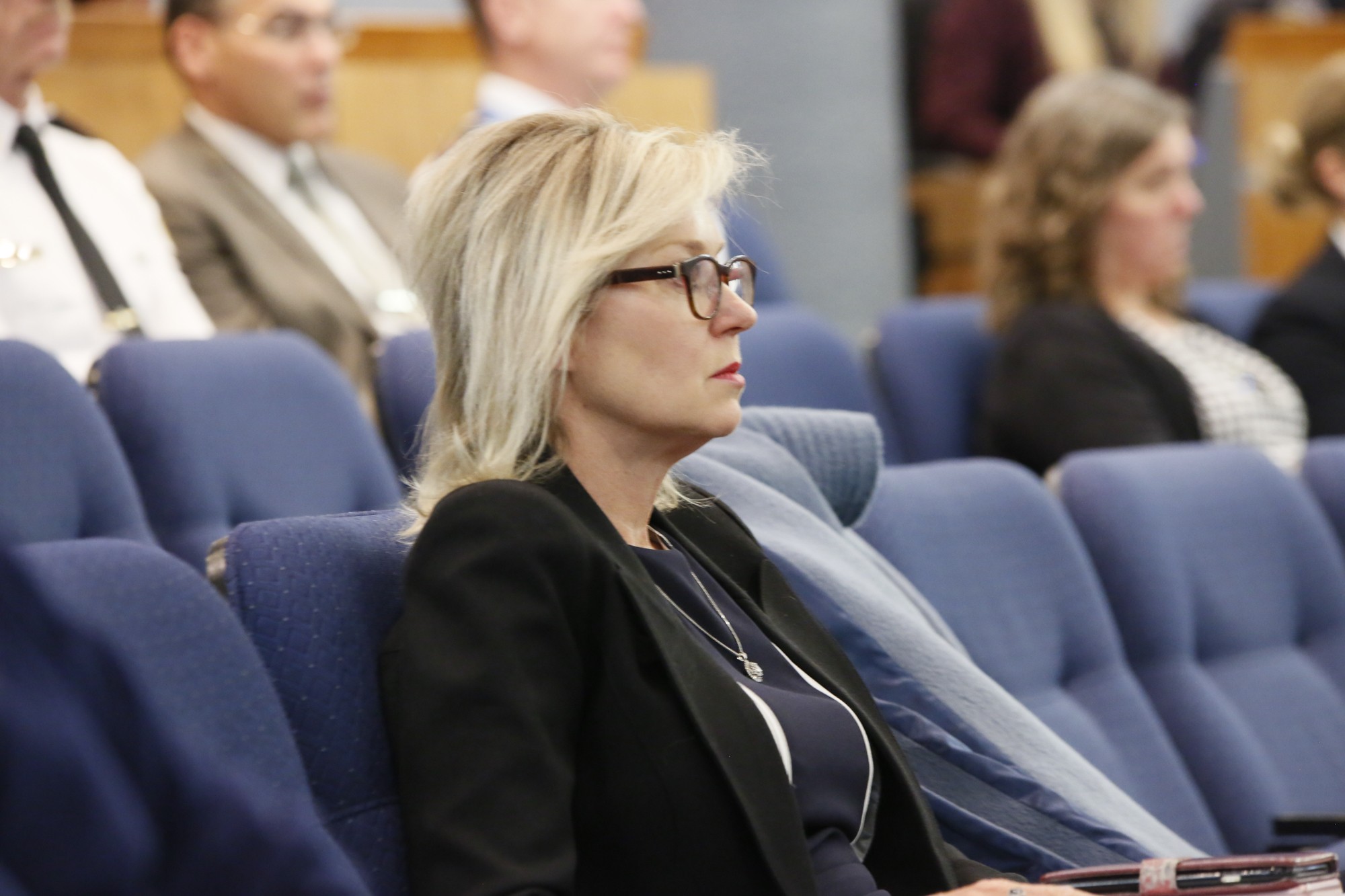 Mississauga Mayor Bonnie Crombie at a Peel Police Board meeting
It was the Peel Police Services Board, which is responsible for local police oversight, that last summer authorized the OIPRD probe of Evans's handling of the Harrison murder investigation. Evans announced her resignation shortly after the board's move. The Pointer reached out to Mississauga Mayor Bonnie Crombie, a member of the board and frequent critic of police conduct for her response to the province's proposed bill. (Brampton Mayor Patrick Brown, who also sits on the police board, was unavailable because he is out of the country on a personal trip to India.)
In a statement emailed Tuesday, Crombie's spokesperson Nicole McInerney said, given that the bill was just introduced, it would be "premature to comment in detail at this time" and that Crombie would be reviewing it in her capacity on the board. "She does however welcome the Minister of Community Safety and Correctional Services' comments that the government will not be bringing back street checks."
Crombie, during her non-consecutive terms on the board, has been a vocal critic, specifically criticizing the controversial police practice of street checks (carding) which tended to target young black men in Brampton and Mississauga. She, along with former Brampton mayor Linda Jeffrey, voted to urge Evans to suspend the practice of street checks in Peel in 2015, but the chief refused to comply.
Crombie said at the time she felt "strongly that we were stepping on people's human rights and freedoms. The street checks were targeting particular demographics — largely the black community." Evans drew a barrage of criticism from municipal and provincial officials and residents for her staunch support of the practice. The province's oversight regime, which was to have been strengthened under Bill 175, provided a complaints process to challenge police conduct and practices such as carding, to ensure policies and legislation were being followed. It's unclear how these complaint mechanisms to keep police in check will operate under the new government's proposed legislation.
The long list of claims of misconduct levelled against Peel police includes the case of 30-year veteran Craig Wattier, who pleaded guilty to breach of trust for watching child porn videos while on duty, and that of Mark Androlia, a 40-year veteran who was charged with money-laundering and fraud, among others.
More recently, Peel Regional Police Association president Adrian Woolley, a 17-year veteran officer who heads the police union, was charged with impaired and stunt driving after being caught speeding on the QEW by the OPP. The Pointer reached out to Woolley to seek his response to the PCs' proposed legislation. Woolley did not respond.
Email: [email protected]
Twitter: @mansoortanweer
Submit a correction about this story