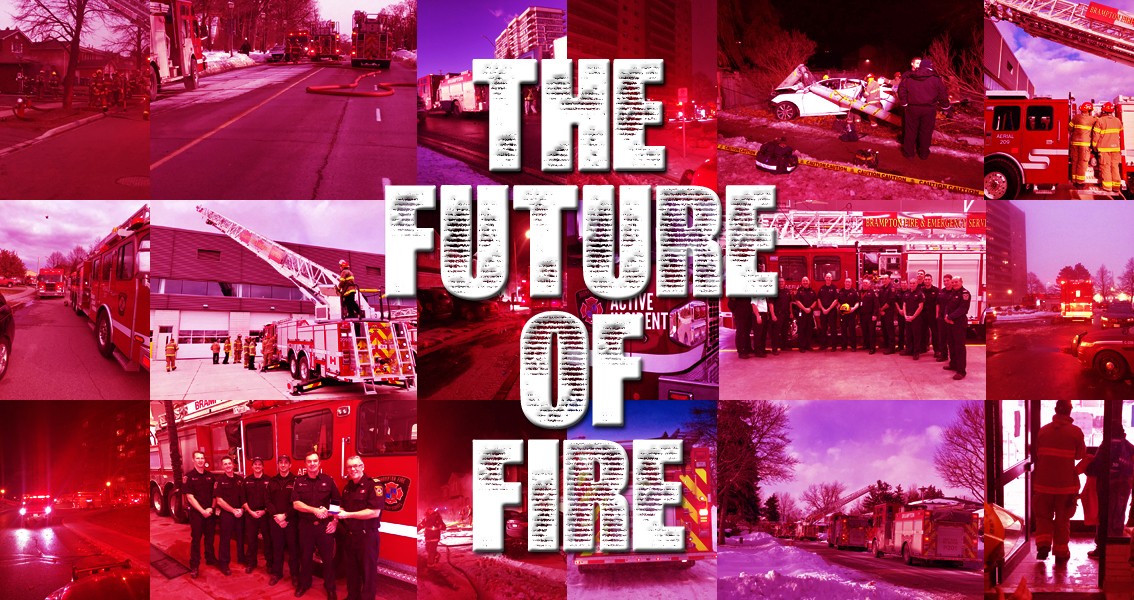 Photos by Joel Wittnebel/Twitter/City of Brampton/Graphics City of Brampton
The Future of Fire: Adapting to protect a growing city
A spark surrounded by darkness, then silence.
The smoke hovers inside the electric panel like a wraith, coiling in on itself in blueish-black twists, waiting for a burst.
The current continues to arc, jumping from wire to wire.
Another spark, like a firework, spits apart into several more, again, and again.
Another pause, as though the fire-to-be is undecided about whether it wants to ignite.
Elsewhere in the building, hundreds of tenants lie asleep in their beds, unaware of the growing menace waiting to come alive in the building's 11th-floor electric panel.
The smoke churns and churns, curving and coiling. Then another spark and the flames burst into life in a neon halo of orange, yellow with a bright blue core.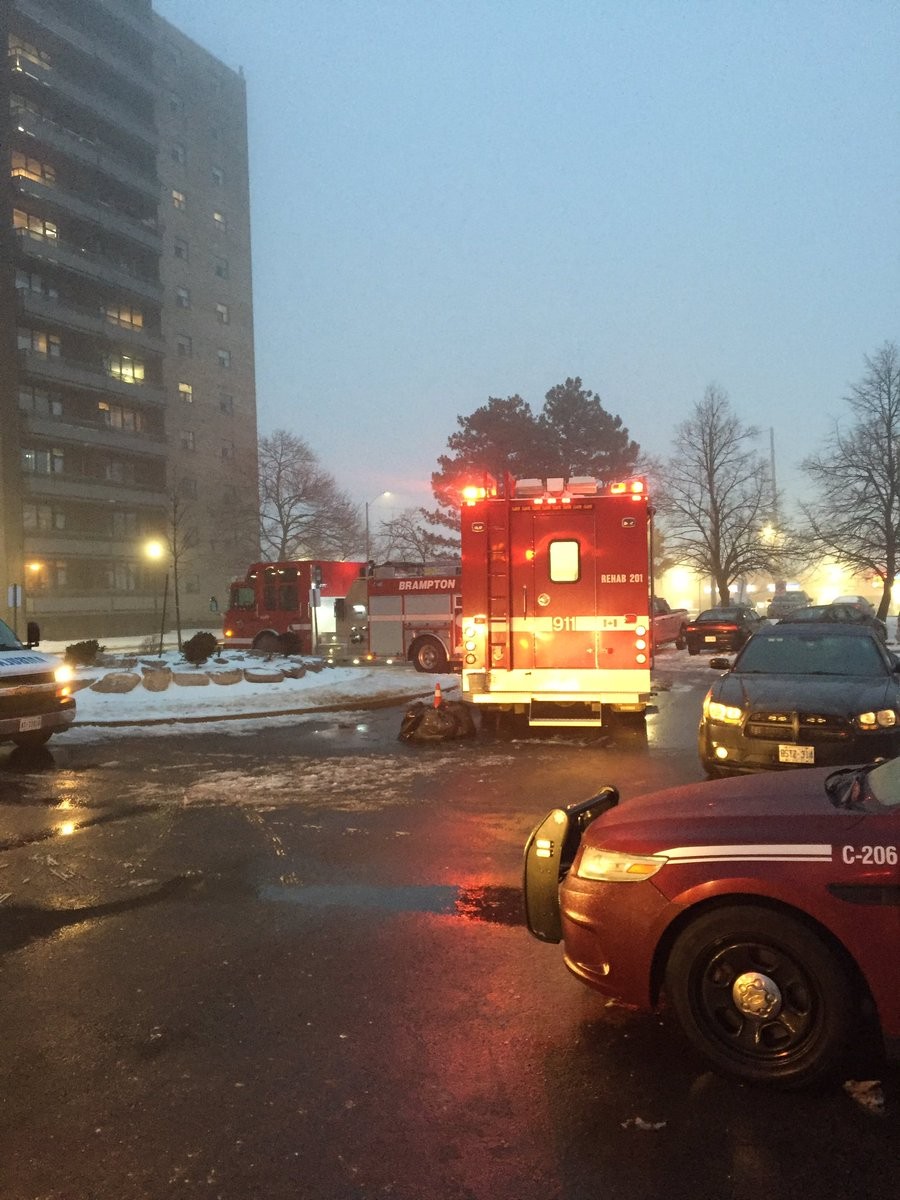 Thankfully, this particular phantom of flame didn't cost any lives. It did, however, push hundreds of tenants at 165 Kennedy Rd. South out into a frigid winter night on Feb. 7.
The sirens of the Brampton fire department ripped apart the silence at 3:30 a.m. as rotating red and white lights streaked through the streets.
On scene, smoke billowing from the upper floors appeared darker than the night sky.
The trucks slammed into a stop, and firefighters spilled out onto the salt-crusted pavement and went to work.
Like a NASCAR pit crew, every member of the team has a role; every step is calculated, and every move has been choreographed and trained hundreds of times in advance.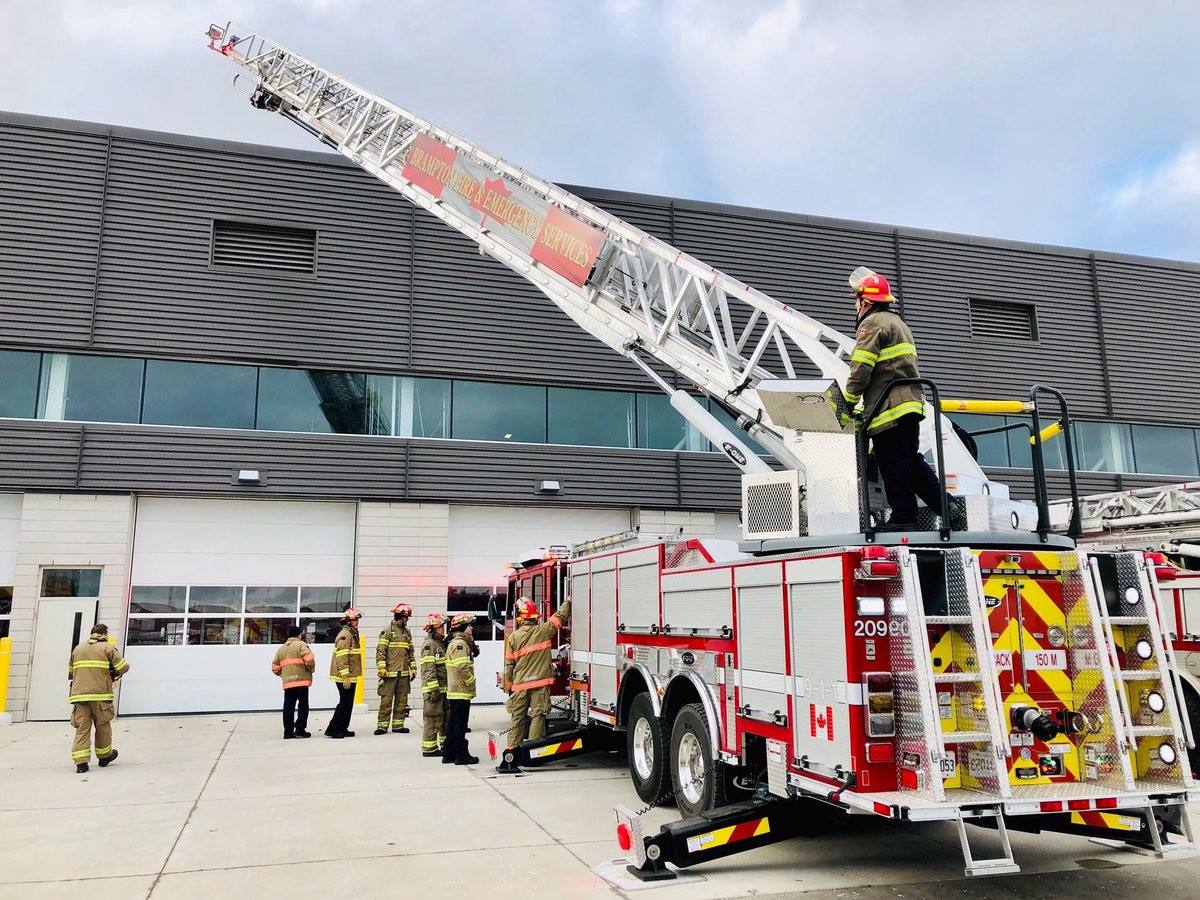 "They know what they're supposed to do," says Brampton Fire Chief Bill Boyes. "They're able to achieve it quicker, and ultimately it leads to the community being safer, the fire going out faster, and hopefully [fewer] lives lost as a result."
At the scene of a fire, things can change in an instant. One spark, one gush of air and the face of the fire can change, roaring back to life with renewed force. It requires firefighters to perpetually adapt, remain in constant communication with one another, and make split-second decisions that can affect the safety of their fellow firefighters and those they are charged with rescuing.
It's a microcosm of the situation facing the city of Brampton and its more than 300 firefighters, chiefs and captains.
Brampton's population growth rate, 2.5 times the national average, means not only more citizens to protect but also a larger area to protect and many more homes where fires could start. Cultural practices involving the widespread use of fireworks, whether to celebrate Victoria Day or Diwali or just a random night of revelry, pose heightened concerns. While sprawling subdivisions present challenges, Brampton will soon need to start growing upwards, in more dense communities that require bigger and more specialized response.
Brampton firefighters will be dealing with more people at one address, meaning new risks and challenges when they get the call.
Decisions made by the city and fire service will have ramifications for how well firefighters will be able to protect the growing city.
---
The growing burden
The apartment blaze on Feb. 7 was one of thousands Brampton Fire will respond to in 2019. If the trend of recent years continues, the number of incidents will be higher than in 2018.
Over the past five years, annual calls to Brampton Fire have risen by more than 20 percent, from 20,478 in 2014 to 24,745 in 2018.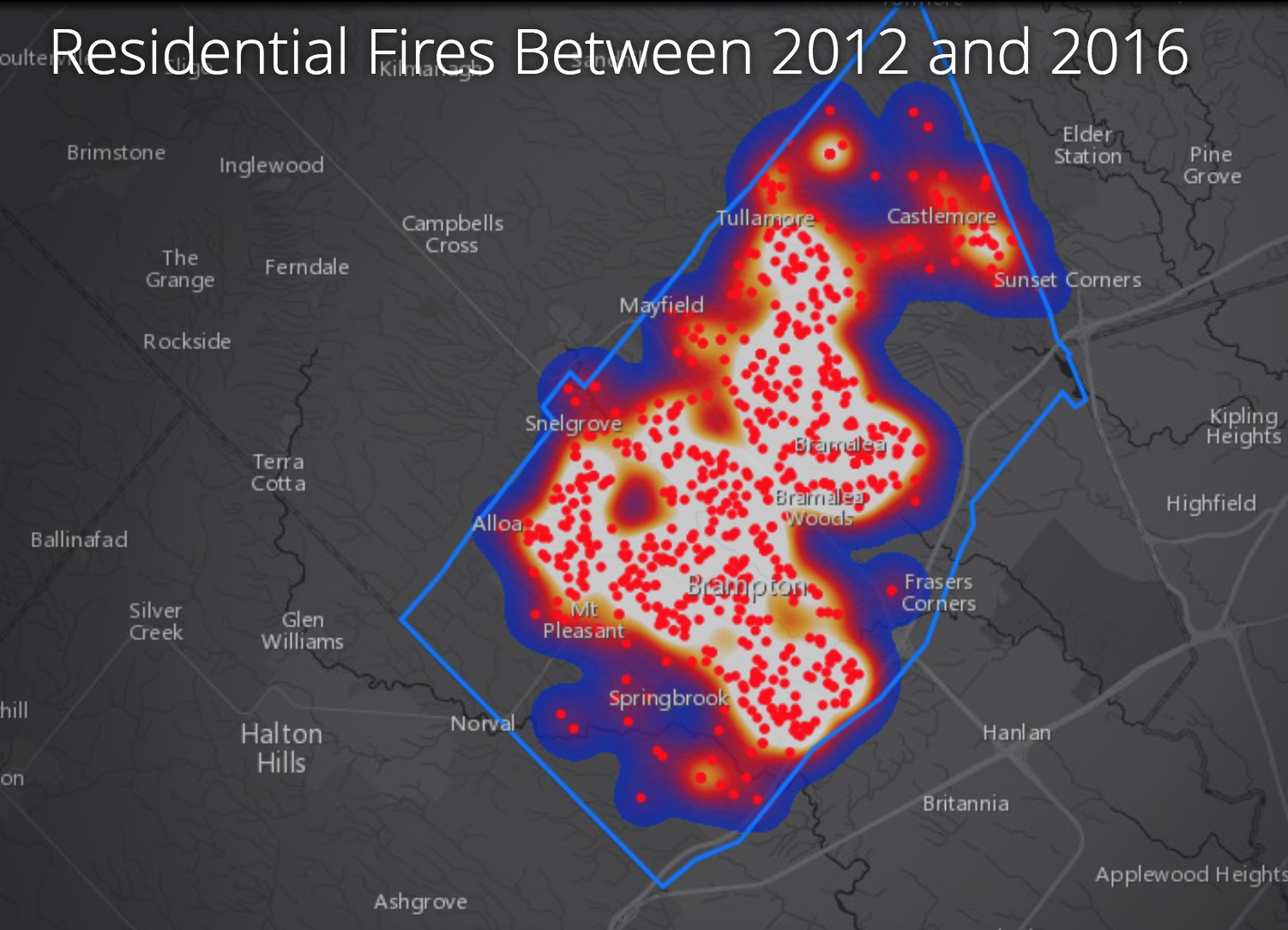 "We do see, as a growing city, we are going to have a growing number of emergency responses," Boyes tells The Pointer.
Despite increasing calls, the four-platoon fire service maintained a sterling safety record for 2018, with zero fire fatalities across the city. That significant accomplishment followed one of the worst years Brampton had seen for fire deaths, with five in 2017.
That doesn't mean the fire department isn't facing challenges, with more buildings and more traffic, making it difficult to get to fires quickly.
Under the National Fire Protection Association standards, known in the business as NFPA 1710 guidelines, fire departments are meant to have a complete response to a call — including fire suppression, medical, and special operations — within 384 seconds, 90 percent of the time.
In Brampton, the fire department is meeting this standard only 78 percent of the time, a slight improvement from recent years, when it hovered in the mid-70s.
One of the biggest time-sinks for the department, one many drivers in Brampton could sympathize with, is traffic.
"Going north and south isn't quite as bad, but going east and west in our city is horrendous," says Paul Lecompte, president of the Brampton Professional Firefighters Association. He adds that, at times, trucks are also running with fewer than the recommended number of firefighters aboard.
The city's growth means firefighters must not only deal with traffic but also drive longer distances. Boyes says areas in the northeast and northwest of the city are particularly challenging to get to quickly.
"There are some areas of the city that will take us a little bit longer to get to now," he says. "We do have plans to make sure that as the city grows and people move into those areas that there will be fire stations distributed throughout the city so we can get as close as possible to that 90th percentile benchmark," he says.
In the department's 2017 strategic objectives, securing properties for four new fire stations to add to the current 13 was listed as a priority, and 2018/2019 plans include beginning construction on Fire Station 214.
The $5.4-million station is to be built in the area of Bovaird Drive West and Chinguacousy Road.
Further stations are planned for the Heritage Road and Sandalwood Parkway area, near Countryside Drive and Goreway Drive, and near Mississauga Road and Williams Parkway.
As things stand, Boyes says he's pleased with the response times his department is maintaining.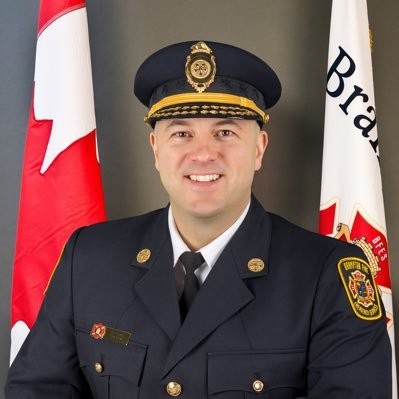 Fire Chief Bill Boyes
"We always aim to do better, but I am happy with where we're at," he says. "We're going to keep working, we're going to keep planning for the future, we're closely monitoring the growth, and if we see any changes in the growth or development in the city, we'll make sure we go to council and ask for any additional resources that may be required."
Following his election in October, Mayor Patrick Brown made it clear that he intends to keep the city's budget tight, with plans to impose a tax freeze for 2019. Boyes is aware that going to council with additional asks can be a challenge.
"It's something that we're always cognizant of," he says, adding that his department maintains a strong, successful working relationship with council.
As the fifth largest fire department in Ontario, Brampton Fire operated with a nearly $65-million budget in 2018. According to the 2017-2019 operating budget overview for fire and emergency services, that number is expected to grow to over $70 million for 2019.
There are also plans to hire 42 full-time firefighters at a cost of $3.3 million, along with eight additional support staff.
As the union president, Lecompte says staffing always remains a concern. "Obviously, as local president, I would love to see enhanced resources."
But he says the firefighters union and city staff maintain a good working relationship. That sunny outlook follows a period of serious discontent between the union and city that culminated in the union filing complaints at the labour board about unfair labour practices.
---
Adapting to a changing environment
Fires are in constant flux. The licking orange flames move and react like nothing else in nature.
They can be unpredictable, and every situation is different.
Getting a good handle on trends and patterns, and sharing information with the public, can mean the difference between life and death in certain situations. The role of the modern firefighter is much more than clinging to the back of a speeding truck and rushing into a burning building. At times, the title of fire educator may be more fitting.
"When I talk to new recruits or people that are thinking about aspiring to the fire profession, I do tell them that one of their major roles here will be educating and connecting with the public," Boyes says.
In fact, fire suppression — actually fighting a fire — is the last line of defence. Public education is the foundation of a firefighter's work.
In a city the size of Brampton, expected to grow to over 1 million people by 2040, this foundation needs to be tailored. Wide public education campaigns being run by Brampton Fire range from efforts to ensure every building has working smoke alarms to programs targeted at young children. But sometimes the message falls flat. Targeted campaigns that reach into problem areas for certain types of fires can give the fire service more bang for its buck.
Brampton Fire is attempting to do just that, using new data analytics tools to chart recent fires in Brampton and pinpoint trends in specific areas of the city.
"One size does not fit all, and we know that we have different challenges in different places, so we have to do something different from a public education perspective," says Boyes.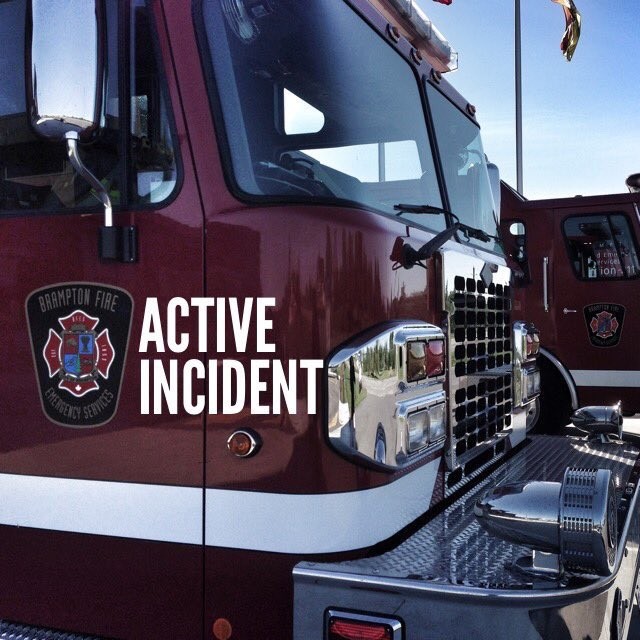 The study found three areas that were "hot zones" for fires: the Armbro Heights neighbourhood has had 77 fires since 2012, the City Centre area has had 95, and Brampton West has had 75.
Of those fires, between 30 percent and 40 percent were the result of unattended cooking. That statistic provides a cue for Brampton Fire to concentrate public education in those neighbourhoods on reminding people not to leave the kitchen while cooking.
"We're really trying to target that message to where it's needed and also in a way that it will hit home with people," Boyes says.
The hope is that using data analytics in this practical way will help reduce future fires in these areas.
---
Preparing for the future
Modern construction trends have complicated the process of fighting fires.
Lightweight construction means that houses are more susceptible to fire, that they're consumed faster when a fire starts, and the risk of a collapse comes much quicker than previously planned for.
Lecompte says firefighters used to have about seven to nine minutes before a fire "flashed" — the moment when heat becomes so high inside a room that the entire space essentially combusts into flame. Today, firefighters are lucky to get four minutes before that happens.
Along with changes in home construction, furniture has changed. It's less likely now to be made of solid wood, and more likely to include a lot of synthetics, glues and other combustible materials that contribute to fires burning faster and hotter.
"That forces us to really change our training and our tactics on how we fight those fires," Boyes says. "So to be able to train and do that consistently on a constant basis is so key. And to be able to do that in the city of Brampton with our crews on duty on a regular basis is critical."
Training goes on constantly. Whether it's training for high-rise apartment fires, basement fires, ice rescues, or car extrication, firefighters are always learning.
In Brampton, only select parts of that training can be done in the city. To learn certain skills, firefighters have to go elsewhere to train. With the city growing so fast, the department knew that this needed to change.
Enter the fire campus.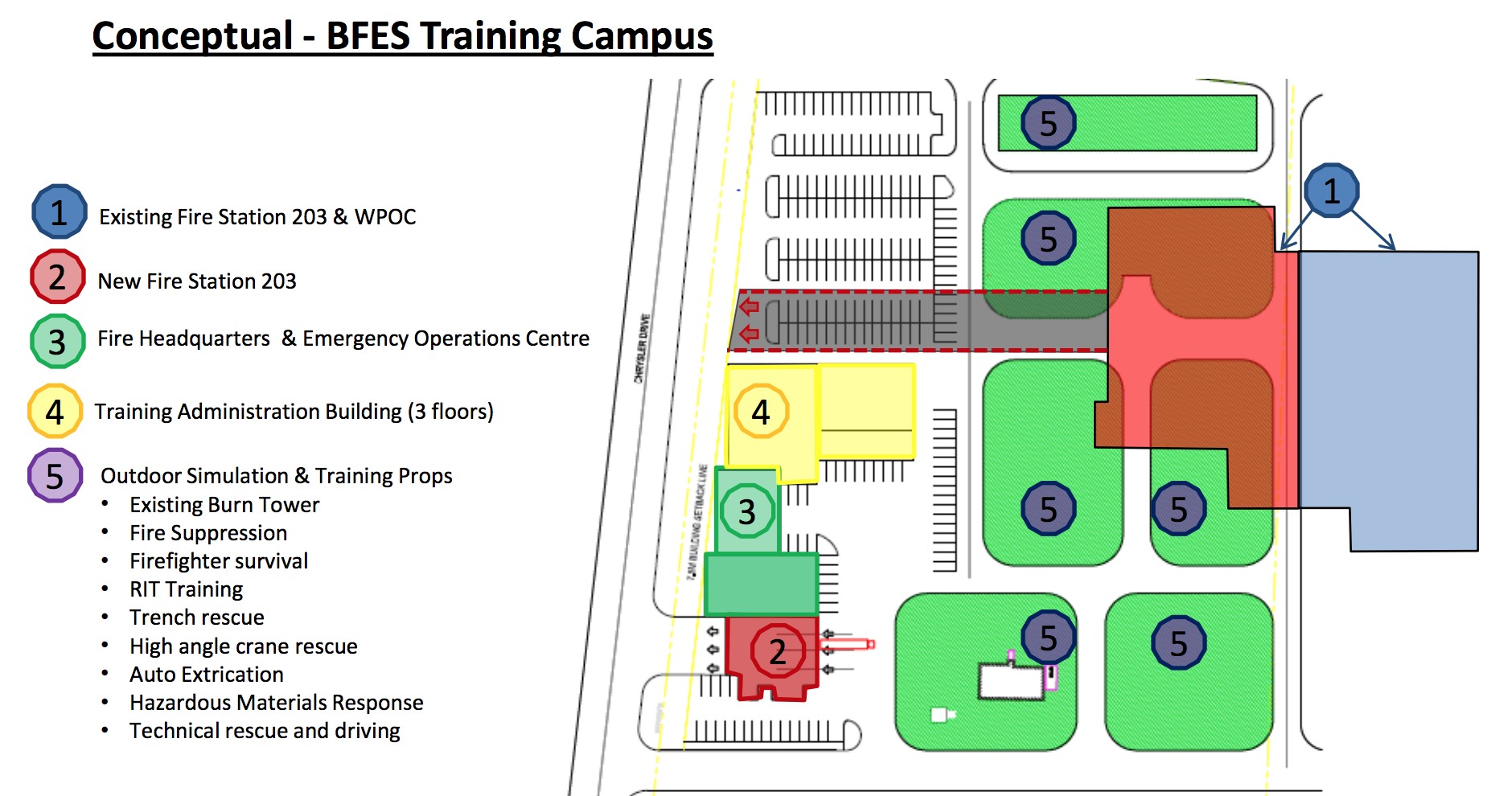 Approved by council in 2018 and currently in the design phase, the facility will allow Brampton firefighters to train for various scenarios year-round within the city.
Currently, the facility is in the design phase, Boyes says, and it's expected to take two to three years to construct at the 425 Chrysler Drive site of Fire Station 203.
Once completed, the campus will include the existing burn tower, an area for confined-space training, an auto extrication area, hazmat area, and a driving course.
"It's going to be an area where we can house all of our training activities," Boyes says. "It will really be important to centralize our operations and help us prepare for the future and allow us to really be that future-ready facility and operation."
---
Answering the call
Many of the residents of the early February high-rise fire were back in their homes that evening, but some had to be housed in temporary accommodations due to water and smoke damage.
While it was a stressful night for many firefighters, with zero fatalities and few injuries it could be considered more or less a successful operation.
Despite the hardships of the job — being drenched in water in on a freezing winter night at 3 in the morning, for example — many of those firefighters would not have chosen to be anywhere else.
"It's almost a calling, more than a career," Boyes says.
Having a dedicated and caring crew of firefighters, with the needed investments and continued training, contributes to keeping the city safe.
Boyes say his role allows him to protect a city he loves. He started his career here, then left in 2014 for a job with the Barrie fire department. But by 2017, he was back.
"It was so difficult to leave here. I maintained so many close connections with the people here. So coming back, it's a great opportunity. I really have a passion for Brampton and making this city safe," he says. "I'm proud of the work our firefighters do. They do so much for the community, and I think that we have one of the most innovative and progressive fire departments in the country. I'm very proud to lead it and be a part of the team."
It's a passion that is sure to be tested in the years ahead, as Brampton faces the numerous "big city" challenges that come along with growth.
Email: [email protected]
Twitter: @JoeljWittnebel
Submit a correction about this story