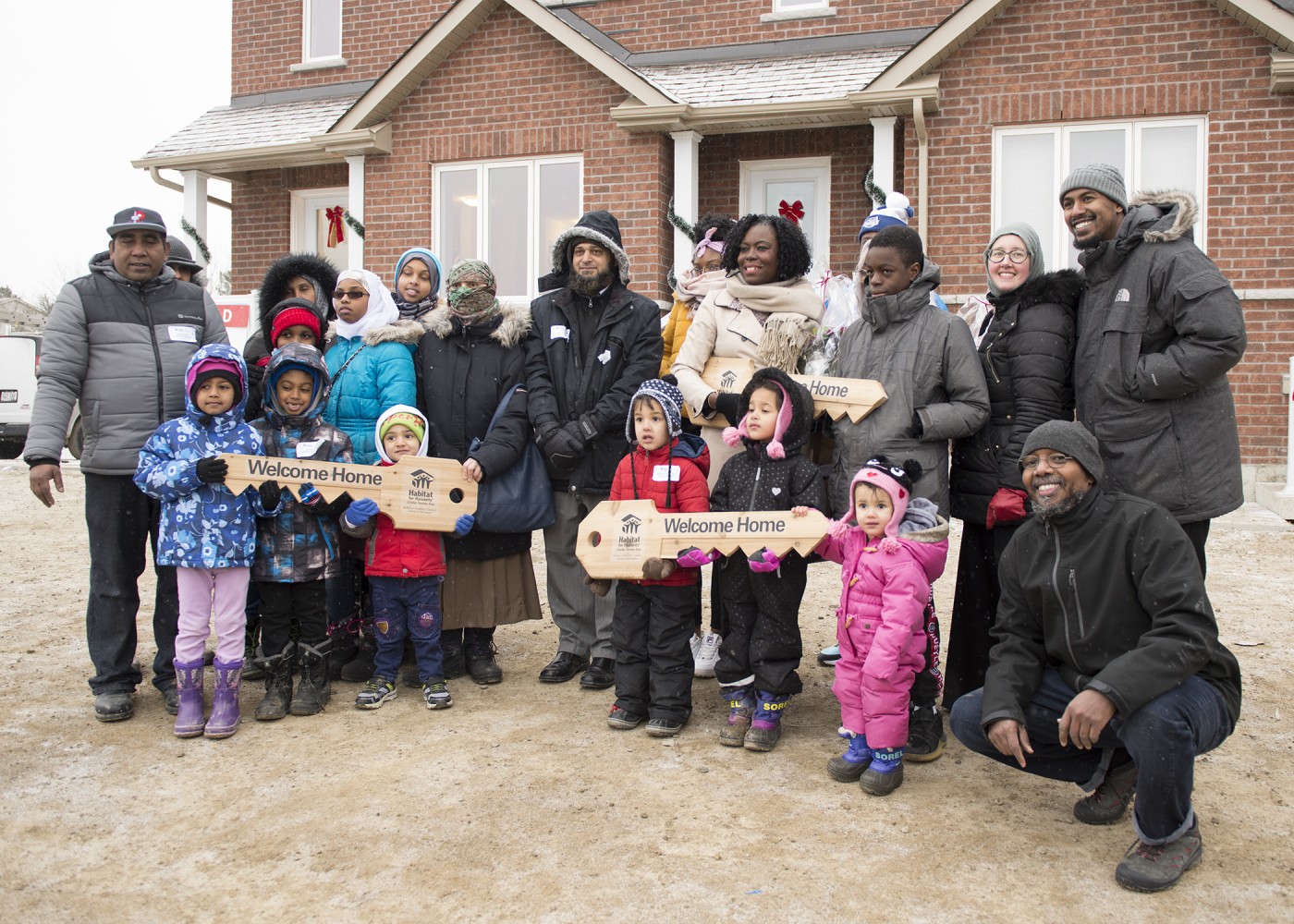 Photos by Rick Drennan
Facing crisis, Peel wants new developments to have a mandatory number of affordable housing units
The six-year wait for affordable housing in Peel Region, already among the longest in the province, has only grown longer recently, The Pointer has learned. And there seems to be little money in the regional budget to address the issue.
Peel is calling on the province to provide new funding and regulatory changes to support affordable housing programs and build new units for lower-income residents.
Data from the region shows that hundreds of residents have been added to the waitlist for subsidized housing in recent months. Last June, there were 13,597 households in Brampton, Mississauga and Caledon on the waitlist, with an average waiting time of about six years. Since then, that number has grown to 13,726.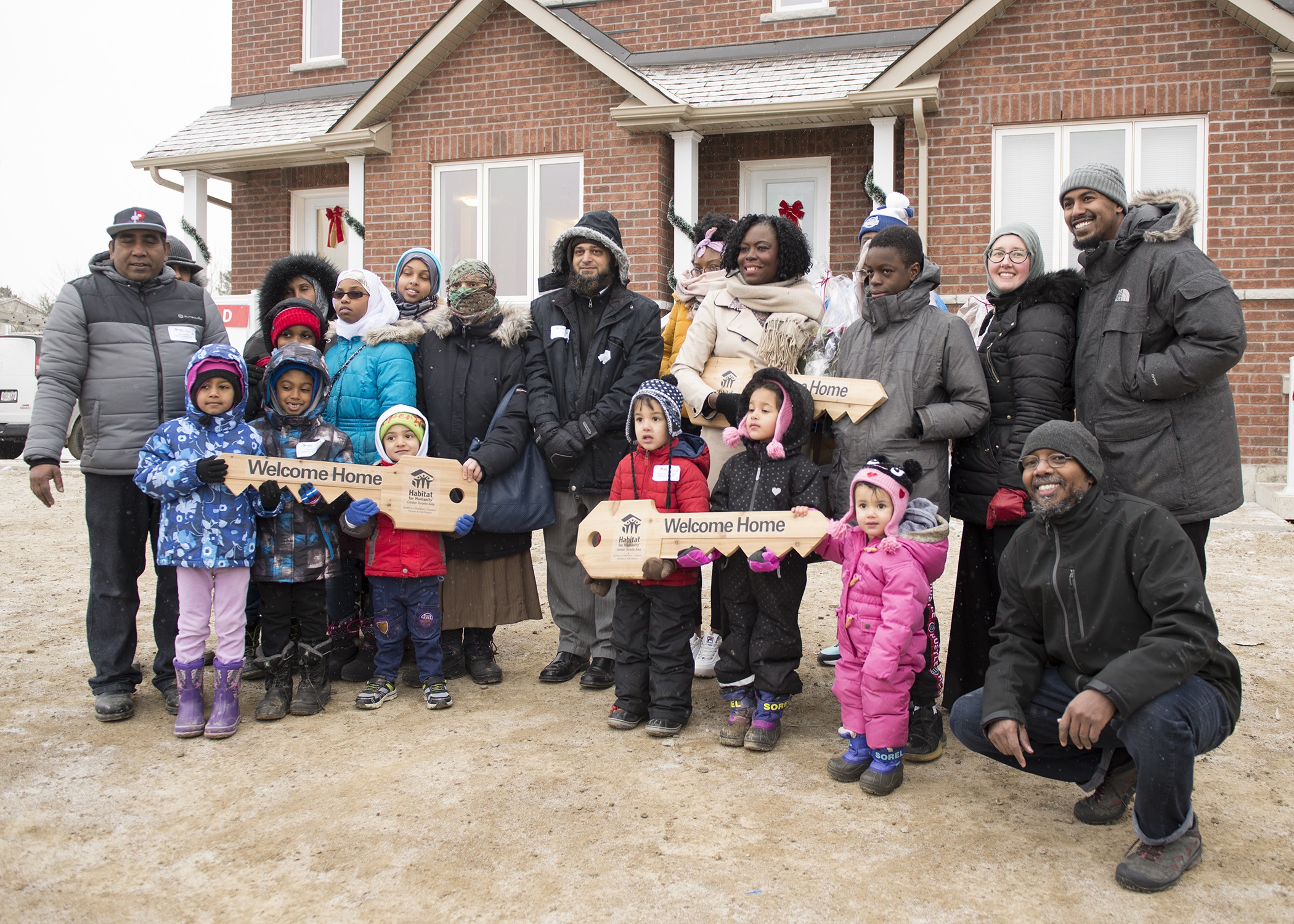 In December, Peel families on the affordable housing wait list moved into new Brampton townhomes constructed by Habitat For Humanity.
Rapid population growth, with a growing proportion of lower-income residents, is putting pressure on the region's social supports.
A 2017 report from United Way found that more than half of the region's census tracts are now considered to be low-income on average. The report highlighted that growth in social services (education, health and housing) was lagging far behind the surge in population.
Peel Region did little to address the affordable housing crisis in the recently approved $3.8-billion budget for 2019.
Homeowners are seeing an increase of 6.5 percent more on their water utility bill and 2.7 percent more for the region's share (about 40 percent) of the overall property tax bill. (That amounts to an overall 1.1 percent increase on the property tax bill once the city and education taxes are added.) The utility increase and the rise in the region's share of the tax bill are above the current rate of inflation in Ontario, which sits at about 2 percent.
But little of that increase will address affordable housing, and a staff report suggests the region is putting its energies into seeking help from the province. In response to the PC government's "Increasing Housing Supply in Ontario" consultation process, announced last November and concluded on Jan. 25, regional staff created a list of 33 key recommendations for the province to consider. A Housing Supply Action Plan is supposed to be released in June.
"In communities all across Ontario, people are struggling to find housing they can afford," Steve Clark, Minister of Municipal Affairs and Housing, said in a press release announcing the consultations. "We're taking action to help create more housing faster, give people more choice and bring down housing costs."
Among the mechanisms being requested, Peel hopes the provincial government will provide financial incentives to developers to construct purpose-built rental housing. It asked for the reinstatement of a rebate program that existed under the former Liberal government which was scrapped. The program, available to developers willing to construct rental housing, drew strong interest, the report says.
The region also asked for funding for the Peel Second Unit Program, development of Community Improvement Plans, and to assist the region's work with local partners to make use of underutilized land to increase the housing supply. It wants the province to change the rules for how money from the National Housing Strategy is distributed, and share with municipalities revenues from the Non-Resident Speculation Tax to address affordable housing needs.
"The province should support and ensure funding mechanisms are structured to provide for the many opportunities for incentives and tools that could play a role in promoting affordable housing," the report says.
Peel wants to take inclusionary zoning one step further and make it mandatory to use legislation introduced by the Liberal government in 2018.
This allows municipalities to require a certain number of affordable units in developments of 10 units or more. The region recommends that the province consider making inclusionary zoning tools mandatory around the Greater Golden Horseshoe.
The need for more affordable housing in Peel is hardly news to local councillors. Mayor Patrick Brown expressed concerns about the issue after the regional budget was approved. He said that while the problem keeps coming up, there's little action.
According to numbers from the region, between July 1, 2017, and June 30, 2018, 11,568 households received housing subsidies, and 903 households on the waitlist moved into housing.
"In Brampton there is a real eagerness of city council to do something to actually make an impact. A lot of people talk about homelessness, but the follow-through is what's been lacking for so long," Brown previously told The Pointer.
The approved budget offers $2.7 million in incentives to developers to build affordable housing in the region. Toronto, with about twice the population of Peel, devoted more than 100 times as much — about $280 million in incentives — to developers for building affordable housing.
There are 48 providers of affordable housing in Peel, all managed by the region. The system includes more than 13,000 units, including 150 apartment buildings, townhouses and housing complexes. Since 2012, the region has added 1,000 new units to the system and 965 are currently in development — but that's far from enough to fill the need.
According to Peel's housing and homelessness plan, titled "Home for All," the region wants to develop 2,000 affordable housing units annually. It's not clear how many units the $2.7 million will assist in creating, but under existing planning targets, the region hopes to build 20,000 new units by 2028. This includes 10,000 units for low-income households and 10,000 private rental and ownership stock for middle-income households. Currently, the region's capital plan for housing supports includes $510 million. However, it's clear those dollars will not be enough.
"We can only meet these targets with ongoing community, private sector and federal/provincial government involvement and funding," says Jennifer McLaughlin, the region's manager of strategic policy, programs and performance, housing services.
Emergency housing services are also seeing little in the way of increases in the 2019 budget, a concern brought into focus as the GTA was slammed by a severe winter storm this week.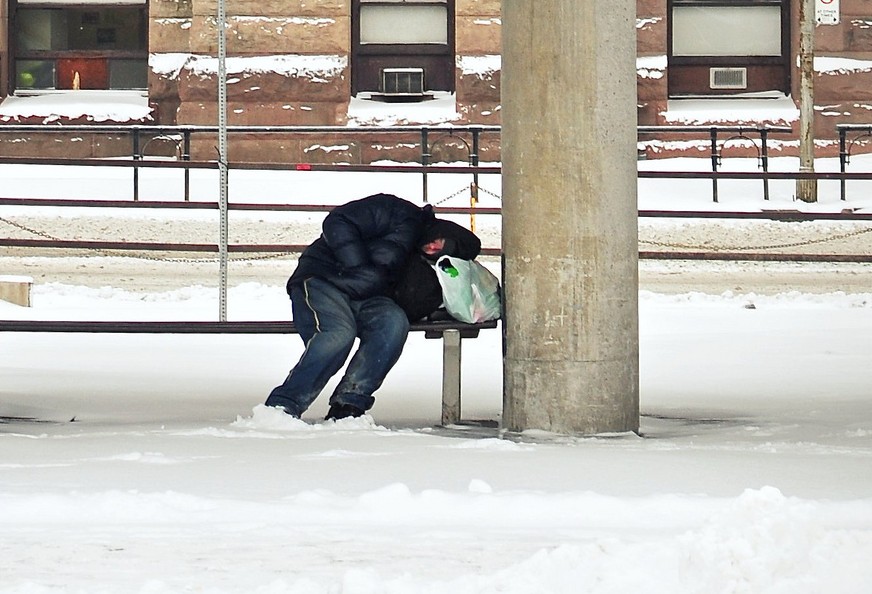 There will be no increase in the number of shelters in the region for 2019. The budget allocates $14 million for a permanent youth shelter, but that is to replace the temporary Brampton Queen Street Youth Shelter. This means that in a city of more than 600,000 people, there will still only be 150 shelter beds. By comparison, Toronto has more than 7,000 and can accommodate about 9,000 people in shelters during extremely dangerous situations such as the recent polar vortex weather.
Over the next year, the region will be strategizing about new ways to address the affordable housing crisis in Peel. As part of the Home for All plan, 2019 will see the region testing a new housing incentives pilot program, designed to encourage non-profits and the private sector to build affordable units. The region will also be doing consultation for a Housing Master Plan, described by McLaughlin as a "long-term plan for housing development based on need."
Email: [email protected]
Twitter: @JoeljWittnebel
Submit a correction about this story