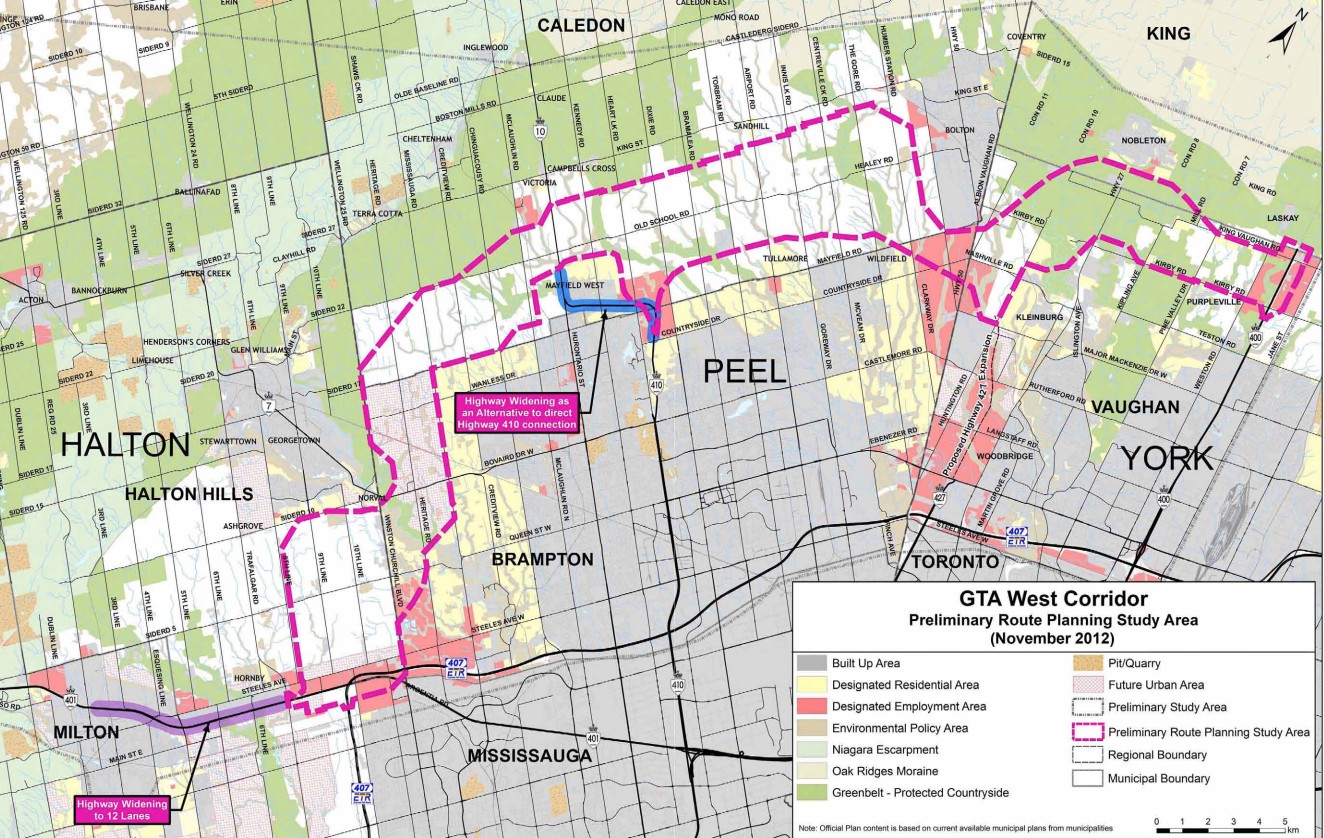 Photos by Mansoor Tanweer/Graphics from the Province of Ontario
Is the GTA West Highway good transportation planning or a gift to developers?
The GTA West Corridor, a massive highway project the provincial Liberals poured years and millions into researching before cancelling the environmental assessment altogether, is back on the table — and with it, concerns that an "open for business" premier is about to help his developer friends regain the jackpot they were denied by Kathleen Wynne.
The highway, expected to go west from Vaughan through Caledon, then arc south-west, skirting the edge of Brampton on its way toward the 401/407 between Mississauga and Milton, would pass on or near the edge of protected areas: the provincial Greenbelt and the Oak Ridges Moraine.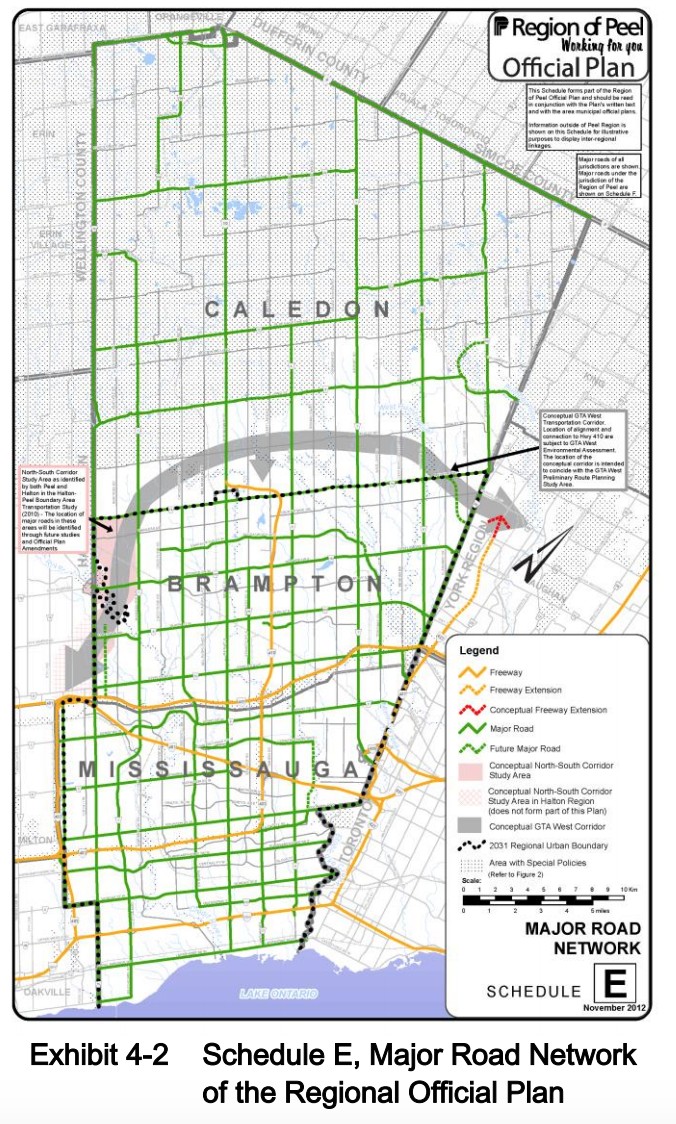 Before its suspension in 2015 and the cancellation of its Environmental Assessment (effectively killing the project) in 2018, it drew plenty of criticism as a backwards step in a new era of transport alternatives, compact smart growth and environmental protection.
Now, the PC majority government has reversed course, making it clear through Doug Ford's campaign, the fall economic report and recently through Transportation Minister Jeff Yurek that it's reigniting the EA and getting the highway back on track.
It's been touted as a necessary step toward alleviating congestion on existing GTA highways, boosting commerce and jobs by speeding the movement of goods and services through the region. But it's also been described, openly, as a doorway to opening up significant lands for residential and commercial development — including a lot of agricultural land currently being held by developers and speculators looking forward to cashing in.
In an opinion article published in several GTA newspapers last August, Dave Wilkes, president and CEO of the Building Industry and Land Development Association (BILD), a lobby group for developers, wrote: "The GTA Corridor West was not just a proposed highway. It was a means to unlock both commercial and residential land for development."
He lamented the cancellation of the highway. "Something must be done to improve traffic congestion in our region." While Wilkes may care about traffic congestion when he's sitting in the grind that is rush hour on Highway 401, his association is a highly visible lobby group that advocates for what benefits developers. Its activities commonly involve pressuring governments to open up lands for residential and commercial building.
Premier Doug Ford's cozy relationship with the development industry has been a flashpoint for public concern. Notably, ahead of last June's provincial election, a video was released showing him promising developers at a private meeting in Markham that he will open up a "big chunk" of the protected Greenbelt for development. Captured in the leaked video, Ford tells a group of men that after talking to some of the "biggest developers in the country" it was their idea and his as well: "Give us property and we'll build and we'll drive the costs down." After a considerable backlash, Ford retracted the statement before the election and noted he would not open up the Greenbelt, which because of its watersheds and other important ecological features is protected by provincial legislation — a sore point for developers who have already assembled lands in and around the protected areas.
Ford was set to give developers a boost with Schedule 10 of the proposed Bill 66, which would have given municipalities the power to override provincial protections on sensitive lands by enacting "open for business" bylaws. Following another public outcry over his latest attempt to give developers what they want, the government backpedaled on the proposal, saying those clauses would be removed from the draft bill.
Schedule 10 may be no longer, but the GTA West Corridor could be viewed as an even bigger prize to the development industry players looking to build in and around the large corridor. It would open up massive swaths of agricultural land that have been in limbo for years, triggering sprawling development to the edge of the Greenbelt and possibly beyond. It would go against recent amendments to provincial growth legislation enacted to curb sprawl and create a much more compact, transit friendly urban footprint across Southern Ontario.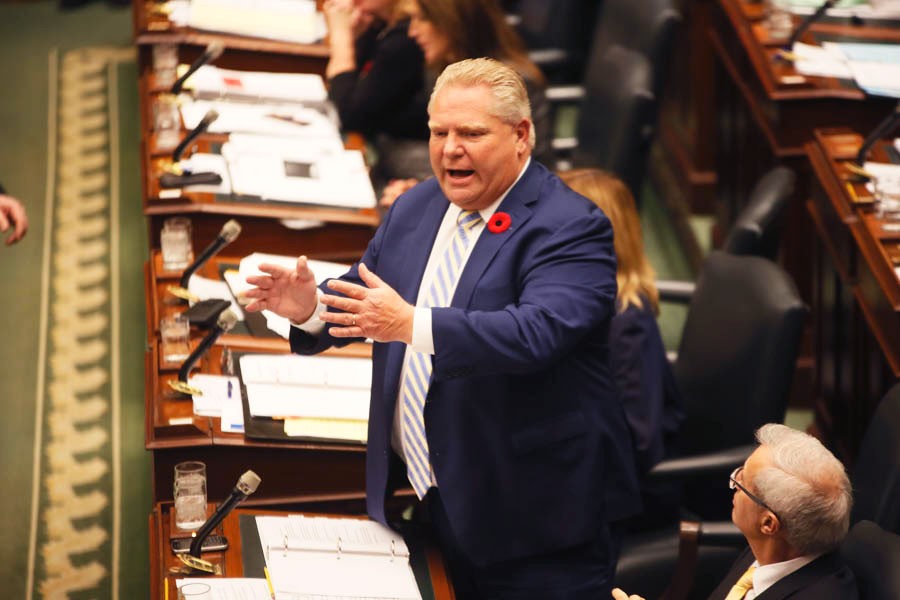 Premier Doug Ford
The facts on the ground haven't changed much since the original EA was cancelled. While it's unclear how much the new study will rely on the proposed routes — research and findings from the previous work done between 2007 and 2015 — the same voices are returning to argue about whether its power to alleviate traffic and spur economic development would outweigh the multibillion-dollar price tag and damage to protected areas, while actually compounding traffic congestion by encouraging the use of cars travelling greater distances.
The decision to reissue an EA was detailed in a speech by Yurek at the annual Ontario Road Builders Association convention last week. He explained that as part of the government's plan to reduce the provincial deficit and "find efficiencies," it intends to free up funding for the "projects that matter most."
"And that certainly includes our transportation priorities," he told the convention. "We will re-start the Environmental Assessment for the GTA West Corridor. The EA will identify and address transportation needs in the corridor through York, Peel and Halton Regions."
While those words drew a strong response on social media, it wasn't the first time the Ford government had made that pledge. The 2018 Economic Outlook and Fiscal Review released by the PCs in November also promised to re-start the project.
Comments are pouring into social media platforms opposing the resurrection of a project many in the northern reaches of Peel Region thought was gone for good.
Wildfield resident Dan O'Reilly tells The Pointer his family has owned land in the area for generations and the proposed highway, as previously routed, would cause major disruption, and not just for him.
"It's going to rip through farmland, it's probably going to rip through communities, disrupt the lives of people," he says. "It's just nonsense."
O'Reilly says he's spoken with other residents who are worried and has encouraged them to write letters and get involved in the fight against it.
However, grassroots organizations will be up against opposition from within their elected municipal councils, including Brampton Mayor Patrick Brown. Brown said in a release that he's pleased with the news, appearing to quote from the province's economic outlook document.
"With a significant increase in the population in these three regions, we need to examine the long-term transportation planning requirements in the area and provide better linkages between the urban growth centres," he states. "The movement of goods and services is very important to our city and region. Getting product to marketplace is integral for creating an environment that is open for business, and I welcome this announcement."
The response is in line with Brown's push to improve Brampton's economic foundation by supporting the growth of industry and business in the city. However, for a city intent, at least on paper, on developing a cohesive, integrated network that focuses more on alternative forms of transportation — as outlined in the Brampton 2040 Vision — it's unclear how a new major highway aligns with the city's plans. Previously, Brown said Ford's intention to push Schedule 10 of the proposed Bill 66 was not a good move, indicating it went against smart growth policies.
But Brown's support of the highway falls in line with that of his predecessor and the previous stance of the city outlined last year.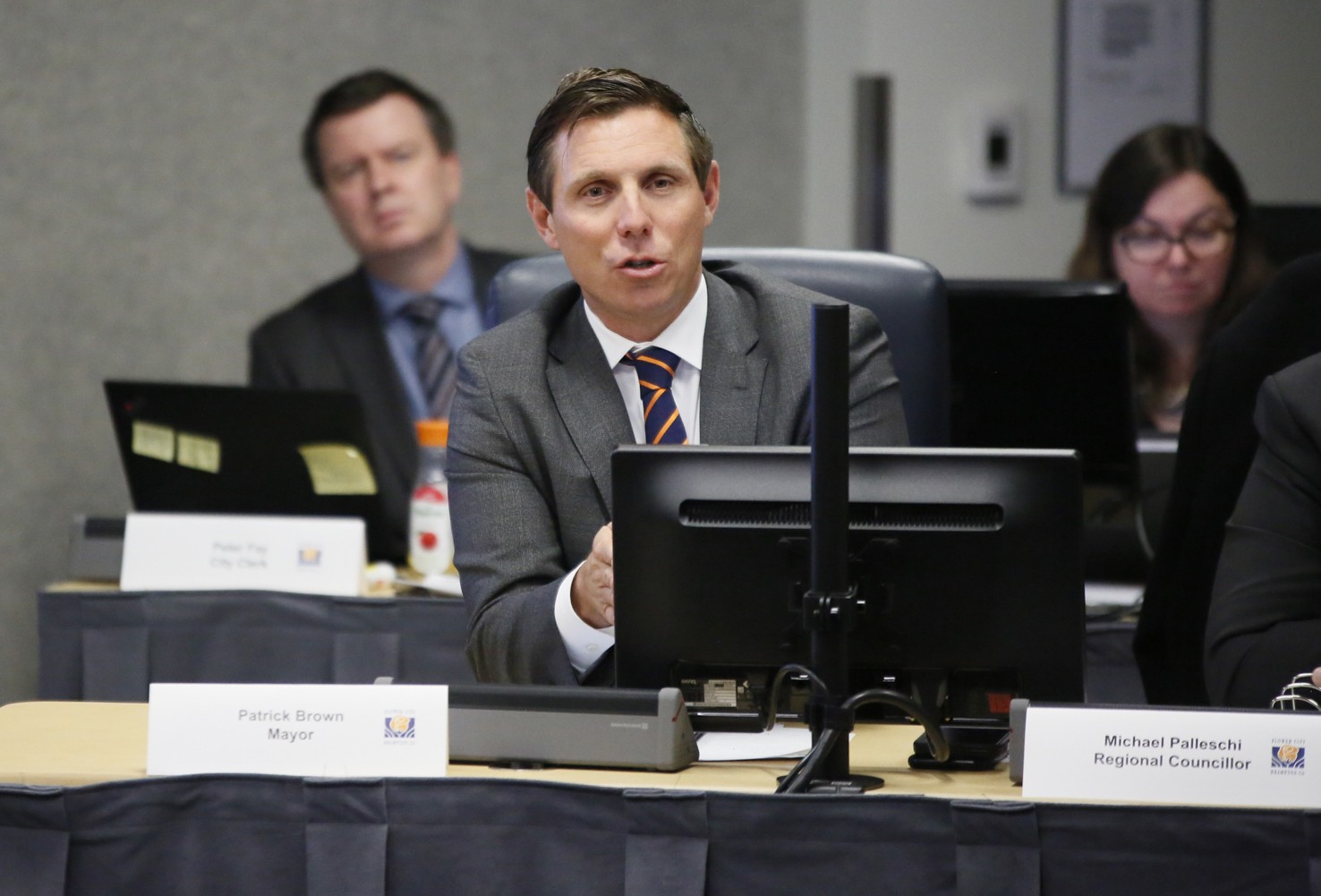 Brampton Mayor Patrick Brown
Former mayor Linda Jeffrey raised the issue only months before losing the October election to Brown, bringing a request from the City of Brampton to restart the EA process to the annual convention of the Association of Municipalities of Ontario (AMO).
"Without the GTA West Corridor, regional and local transportation infrastructure will be significantly strained in the future. This would impede the ability of Brampton to attract and retain employment affecting the City's potential for economic growth," the city's document stated at the time.
Builders argue that new areas need to be opened up for development to relieve pressure on the housing supply and subsequent skyrocketing prices. But critics of the development industry — supported by provincial data contained in the previous government's long-range growth plan — say that's simply untrue; that there's plenty of space for needed growth within current urban boundaries through 2032, and that allowing development outside those areas only invites sprawl and spiralling infrastructure costs.
O'Reilly says building more highways is not the forward-thinking approach the GTA and the province needs. The province's own environmental plans call for more focus on alternative transportation that reduces greenhouse gas emissions.
"It's just outdated technology," O'Reilly says, noting that building more highways will not reduce congestion, only encourage more cars on the road. "Focus on improving public transit, GO train service," he urged. "For some reason, the mayor and most of the members of Caledon council are in favour of this [highway]."
Not all of Caledon council, though. Councillor Annette Groves, in Caledon's Ward 5, has come out strongly against the highway. She sees no need for the highway to pass near Bolton in her ward, destroying farmland and adding more heavy trucks to local roads.
"It's going to rip through farmland, it's probably going to rip through communities, disrupt the lives of people...It's just nonsense."
Dan O'Reilly, Wildfield resident
---
"We, the people, and myself as the councillor in Bolton, we see this GTA West Corridor as a means of having the so-called 'freight village' that Mayor (Allan) Thompson wants to bring to Bolton," she says. "We don't want it, we don't support it. Our community is tired of taking what the rest of Caledon doesn't want and dumping it into Bolton."
The GTA West Corridor, she adds, "is going to bring the type of businesses that the community doesn't want. It's going to bring the type of business that doesn't employ our residents or can't afford to employ our residents."
Thompson is a big supporter of the highway and entered into a $9.4 million purchase agreement with a developer to sell his family land along the proposed corridor for the highway, before the EA was cancelled in 2018.
Opponents of the plan point out that the development industry, a powerful force in Peel and York regions, with members who are major individual contributors to many local and provincial election campaigns, is well aware of the potential that lingers in fallow ground along the GTA West Corridor.
Email: [email protected]
Twitter: @JoeljWittnebel
Submit a correction about this story