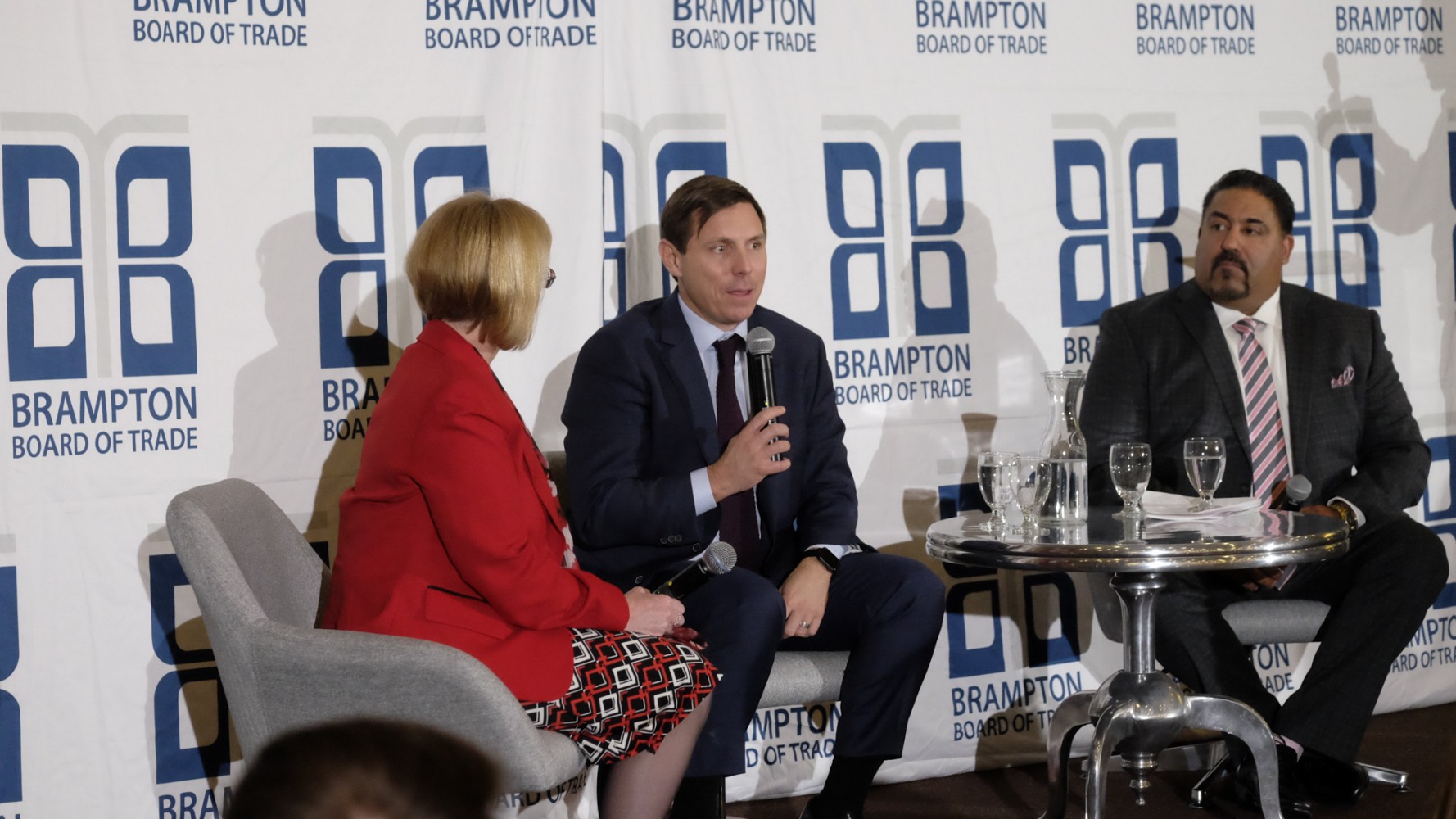 Photos by Mansoor Tanweer
Updated: Foreign investment main theme of Mayor's State of the City address
(Clarification: This story clarifies that Brampton Mayor Patrick Brown did not say India and Turkey will be the focus of the city's FDI initiative. They might be two of the countries that the city will engage among many others once a plan is formalized.)
With a new year comes new challenges, but an old solution is being floated to boost Brampton's economy and bring jobs here. City council, staff and the Brampton Board of Trade were all present for this year's fifth annual State of the City address on Tuesday. Foreign investment, an idea used by the last two mayors, was the focus of Patrick Brown's strategy for economic development.
Many of Brampton's and Peel's business leaders and politicians watched as ideas were presented to grow the local economy and bring good jobs for residents of Canada's ninth largest city. Turkey's Consular General, Erdeniz Sen, listened as Brown talked about a new foreign investment strategy.
In an environment of economic uncertainty, Sen's attendance at the address provided a glimmer of what Brampton's business community can expect: more and more focus on foreign investment, as Brown and the Brampton Board Of Trade, which hosted the event, said they are both courting outside investors to look at Brampton as a possible base of operations.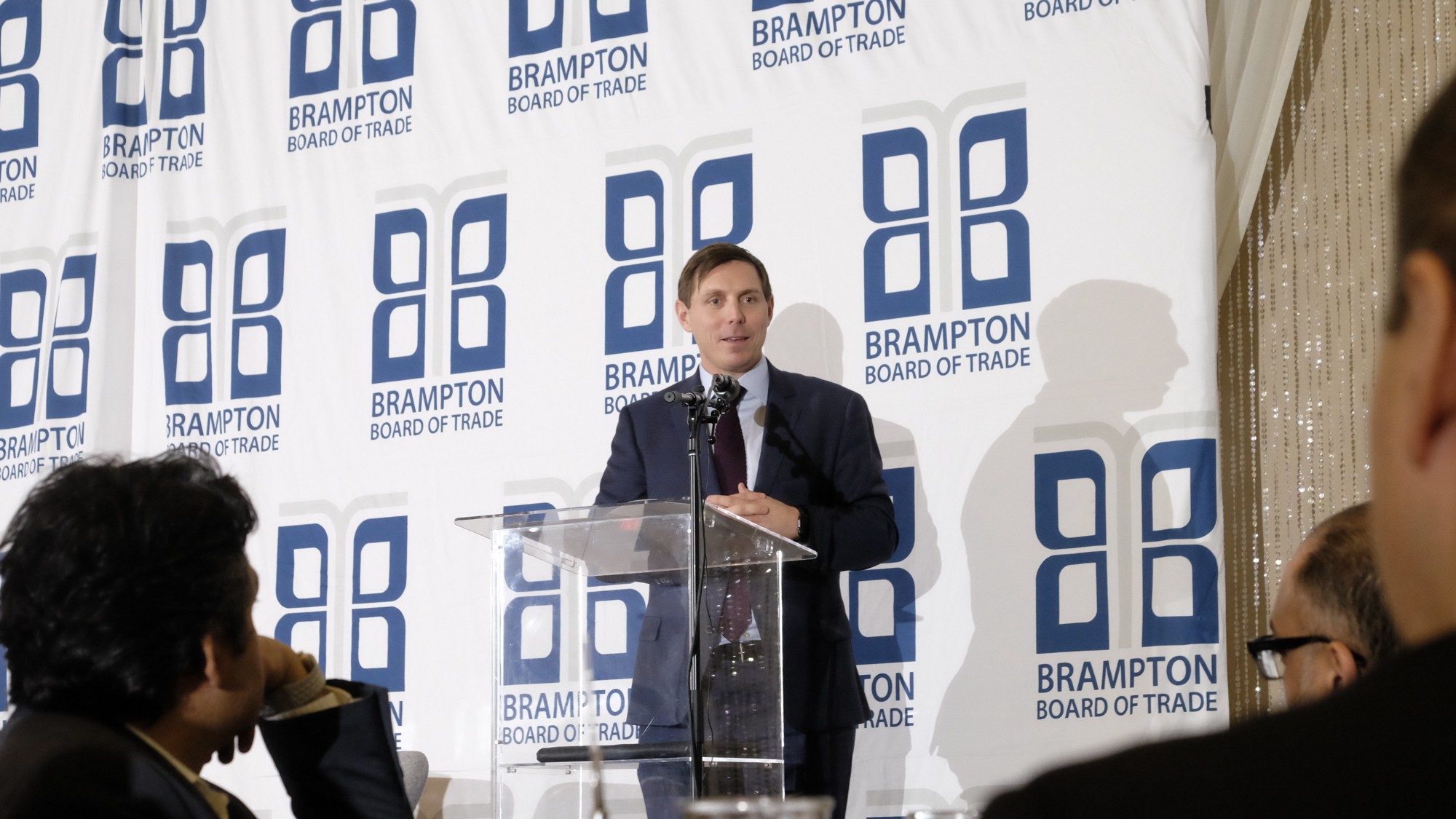 "We've never had a Foreign Direct Investment initiative. We've had friendship arrangements, we've had politicians travelling. We've never had a formal Foreign Direct Investment initiative," Brown told The Pointer, after his address.
The first step toward Brampton's FDI initiative was passed during a committee of council meeting on Jan. 30. Staff were asked to report back by April of this year with a work plan for the FDI including: Structure, "costing, resourcing and implementation plans, and a requirement for an annual cost benefit analysis report."
Brown was short on details about what the FDI initiative would entail, saying instead that the public should wait till April when the report on the initiative will guide the course of investment strategies in the city.
"I've had very encouraging meetings with our consular offices. It is very clear that they are looking for municipalities where they can take people visiting. I've been very encouraged by our consular offices. They seem to have a real interest in Brampton right now."
The city as well as the BBOT are looking at potential markets they would like to tap into to foster growth in Brampton. Brown was asked about India and he said he would be travelling there "on his own dime," but clarified on Wednesday that right now there is no plan to visit the country as part of the city's FDI initiative, which has yet to be formalized. He stressed that many other countries could be a priority depending on where opportunities exist.
The big prize is convincing a foreign company to establish an operation here in the white-collar sector, which would create jobs for Brampton's highly educated workforce while contributing much needed expenditures in the local economy and boosting the city's flagging commercial property tax base. But landing one of these companies is not an easy task, with immense competition for foreign investment all around the world. One of the first things foreign companies look at is a city's transportation infrastructure, something that Brampton can't really brag about.
But some of the foreign investment and trade infrastructure for Brampton businesses have already been established.
The BBOT told The Pointer this past fall that it encourages Ottawa to invest in the foreign trade commission service and in technology for trade-enabling infrastructure at our borders and airports. It also processes certificates of origin and other critical export documents. Each month more than 200 export documents are authorized for Brampton businesses, and that allows products to be shipped around the world. The Board has established business facilitation agreements with chambers and trade councils in Turkey, Pakistan and India.
Foreign trade missions are nothing new for the City of Brampton. Former mayor Susan Fennell took a trip to India in January of 2013. She was joined by former councillors John Sprovieri, Gael Miles and Vicky Dhillon. The trip became well known less for Fennell's successes while on the trade mission — there were few — but more for her questionable expenses she wracked up while abroad.
Her successor, Linda Jeffrey, continued the tradition and sought a working relationship with the United Arab Emirates in January of 2017. She was looking to connect with Emirati companies in the health industry specializing in medical equipment and treatment. She also visited Israel a year earlier with former premier Kathleen Wynne's delegation, touting the excursion as a foreign investment mission to help create a major healthcare hub in Brampton.
However, her trips yielded little for Brampton. In the summer of 2017 Jeffrey said, "Over the past two years, Brampton has seen significant growth in the health and life science sector."
Her suggestion that the health sector was already a significant growth industry in Brampton which, according to her, employed over 12,000 people in 800 companies, was questioned, as the numbers included things such as doctors' clinics and retail pharmacies.
Jeffrey failed to bring foreign investment into the city as she repeatedly touted her plans to turn Brampton into the Silicon Valley of the north, something that critics said was smoke and mirrors with next to nothing to support her claims after four years in office.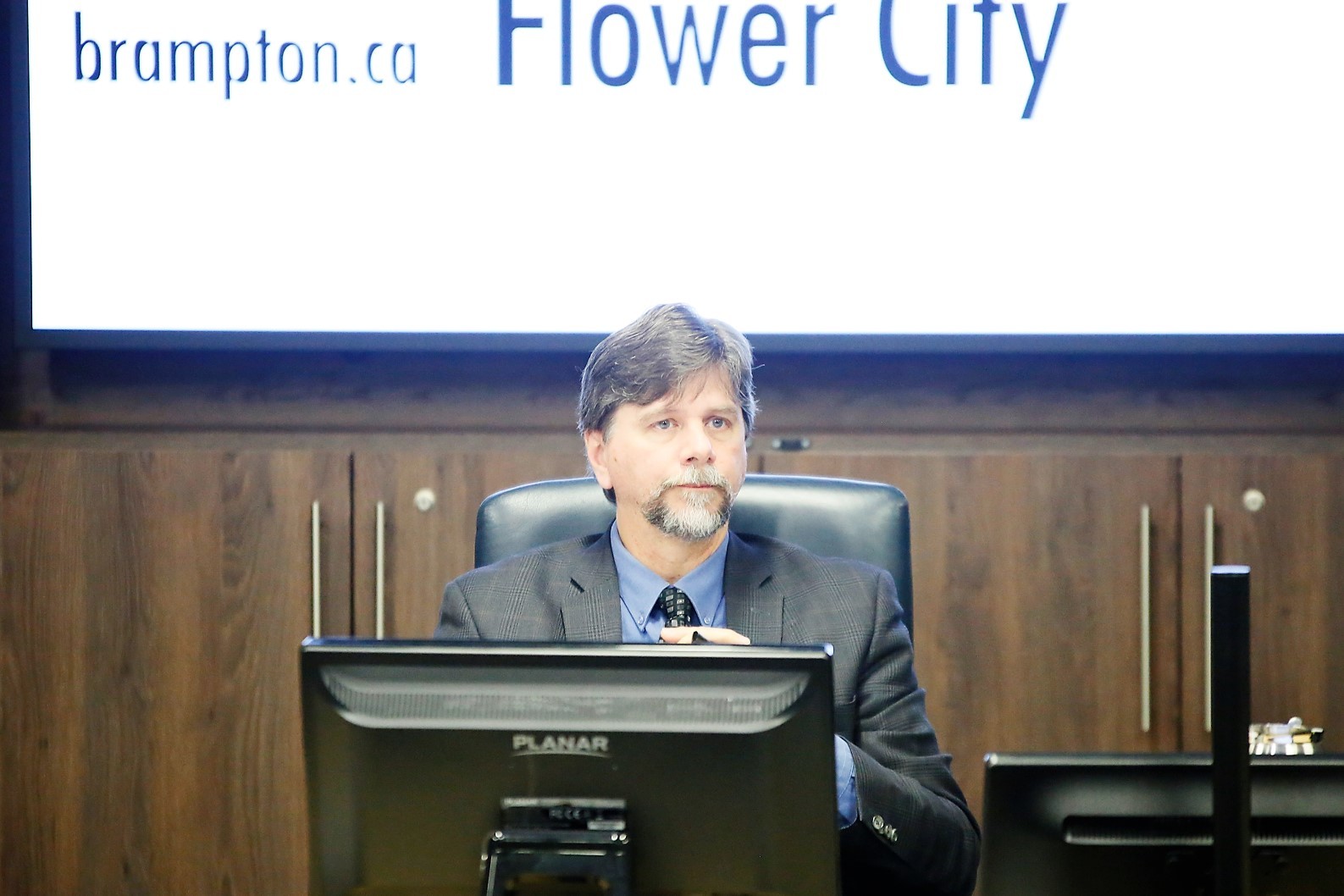 Councillor Jeff Bowman
While foreign trips have a legacy of being little more than expensive boondoggles in Brampton — with talk of potential and positive conversations overseas that seldom produced results — Councillor Jeff Bowman says he is optimistic about the new efforts underway to encourage foreign investment, but it may be a little too early to talk about specifics.
"We always did that (foreign trade missions) before. I mean Linda went to Israel, we've had trips to Boston and places like that. But not as clearly focused as what's going to happen," Bowman told The Pointer.
"I don't think there's any clear timeline, we've got the economic master plan, we've got the transportation master plan, we've got the 2040 vision. We just got to put them all together now."
While Brampton's job growth remains steady and the city's manufacturing sector remains strong, anxiety about whether the good times will last still prevails in Brampton. The loss of the Oshawa General Motors plant, which will close at the end of the year, has left many workers wondering if the Fiat Chrysler assembly plant here, which employs about 3,800 people, will be next. Employment in the city is increasing but at a much slower pace than previous decades and commercial tax revenue has been steadily shrinking.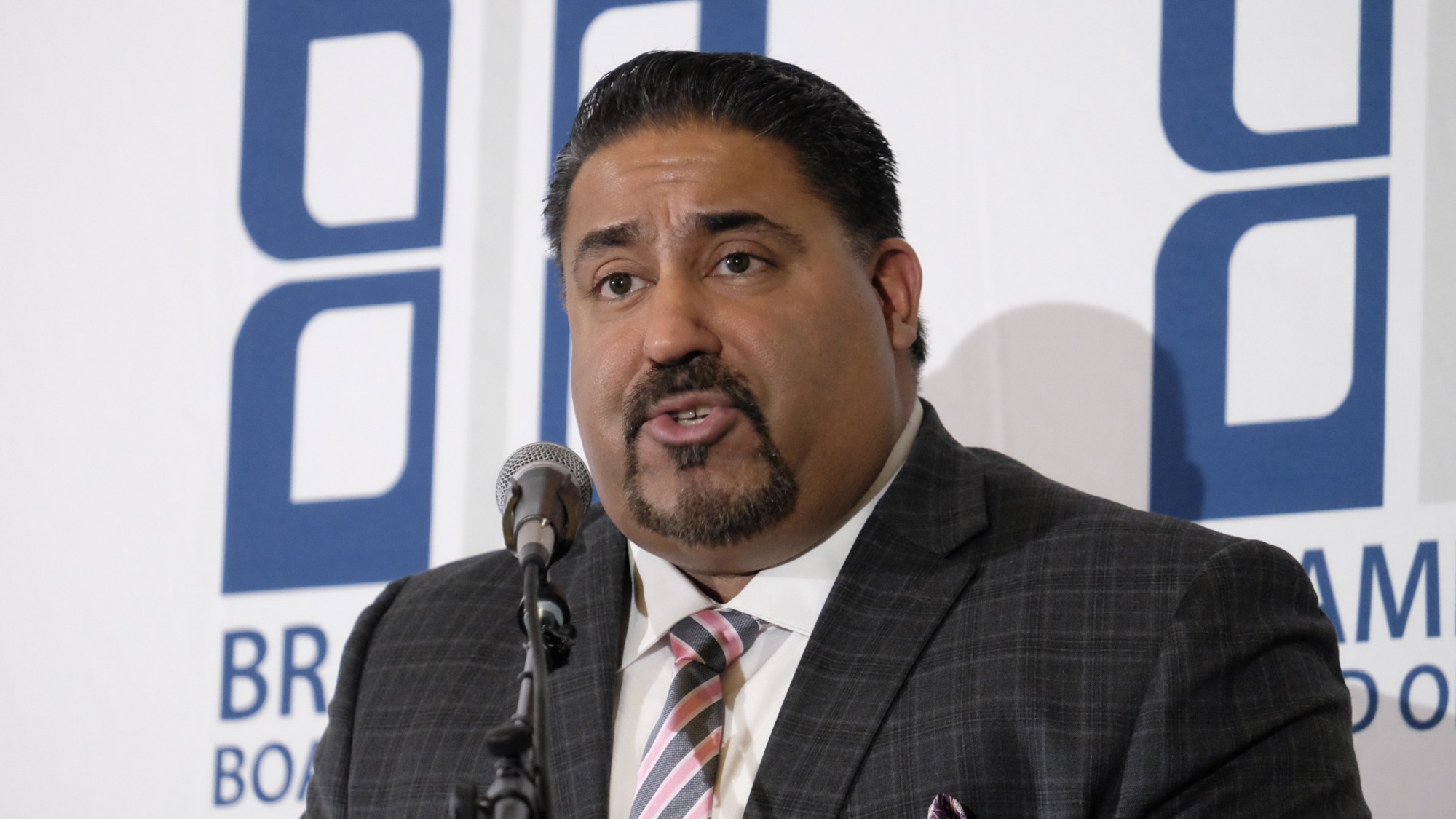 Brampton Board Of Trade Chair Manpreet Mann
The city's emphasis toward warehouses and distribution centres is adding strain to the economy as large, mostly automated, complexes like the Amazon plant are not strong income generators. Bowman lamented the diminished money generation of the warehouse industry in Brampton. "Canadian Tire, for example, is fully automated. So you've got these acres of land dedicated to machines moving boxes around."
"The biggest challenge that any business in Brampton runs into is cash flow. It could be a restaurant that is starting up or a machine shop or whatever; having the cash flow to sustain the business," said Manpreet Mann chair of the BBOT.
The Pointer asked Mann what he believes is needed to keep Brampton businesses in the city and not be attracted away by other markets, while bringing new companies here.
"One of the things is transit. Transit is a big issue. We have to invest in infrastructure and transit to move people around so that it is easier for them to go and get to work. That's one of the things that we have to address."
Email: [email protected]
Twitter: @mansoortanweer
Submit a correction about this story