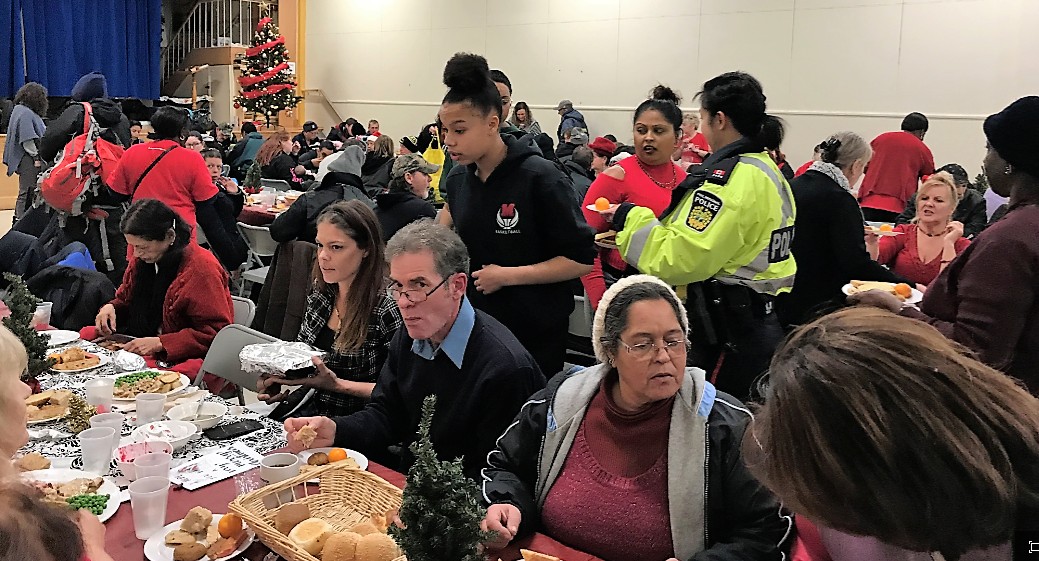 Photos by Rick Drennan/Courtesy of Regeneration Outreach Community/Chris Dowswell
Gimme shelter
Every morning at breakfast time, a great migration of souls come together at a church in downtown Brampton. This is a metaphorical watering hole where they come to drink some real human kindness.
Most are financially broke, or irreparably broken in body and spirit.
They gather at 156 Main Street North, in the bowels of the Grace United Church for a daily meal served by staff and volunteers of the Regeneration Outreach Community.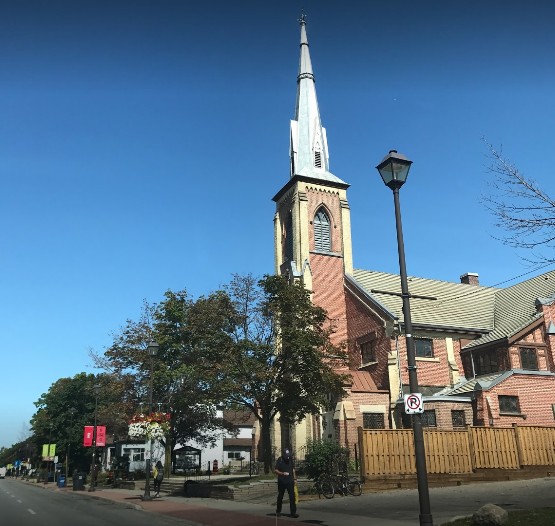 For many, this is the last connective tissue to a society that has mostly shunned them. They have been enclosed by a surround of force that isolates many in our world. Some are drug dealers, drunks, schizophrenics, petty thieves, former CEOs, and other once-productive people in society who were married with kids and owned a five-bedroom home in the 'burbs, before, sometime in the past, their lives came unglued – driven by a financial setback, the loss of a loved one, a catastrophic cultural divide under their parents' roof, predatory landlords, racism, infrequent employment options, escape into drug or alcohol abuse to keep at bay the forces pushing in on all of us, or a violent and abusive relationship. For the indigenous, it might have been the legacy of separation from family as their kin were forced into a residential school to have the "Indian" knocked out of them.
It doesn't matter anymore. They have ended up here, in the basement of a church, wolfing down a much-needed meal, and clinging hard to the last shreds of their humanity.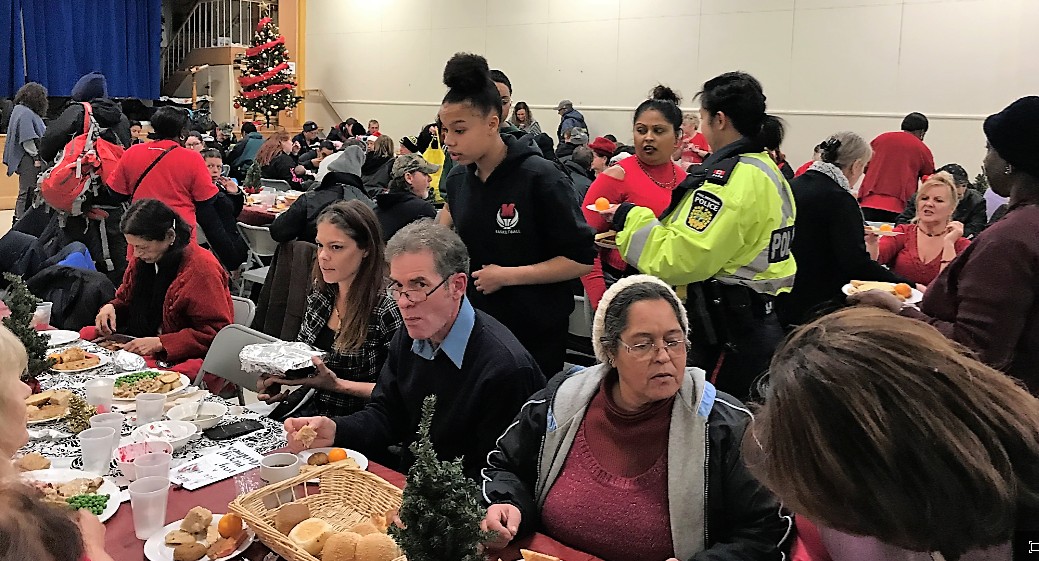 Regeneration is a living room for those without a living room, says its executive director Ted Brown. It's centred on the relationships and ways to care and meet the practical needs of the marginalized – those living in extreme poverty. Its promise of a breakfast program seven days a week and 365 days a year, ensures guests (yes, these men and women are called "guests") get a hot and nutritious meal at least once a day.
Regeneration had a number of homes before Grace United Church stepped up in 2011 and offered a long-term lease. Brown has been here since the offices officially opened on the third floor.
Since then, it has seen tremendous growth, adding several new programs and services in order to meet the growing needs of the community. What used to be a four-day breakfast offering has multiplied into several life-giving programs so that struggling people can build hope and do it on a full stomach. It now serves meals to about 130 people each day. "We want to help people stay alive," says Brown, simply.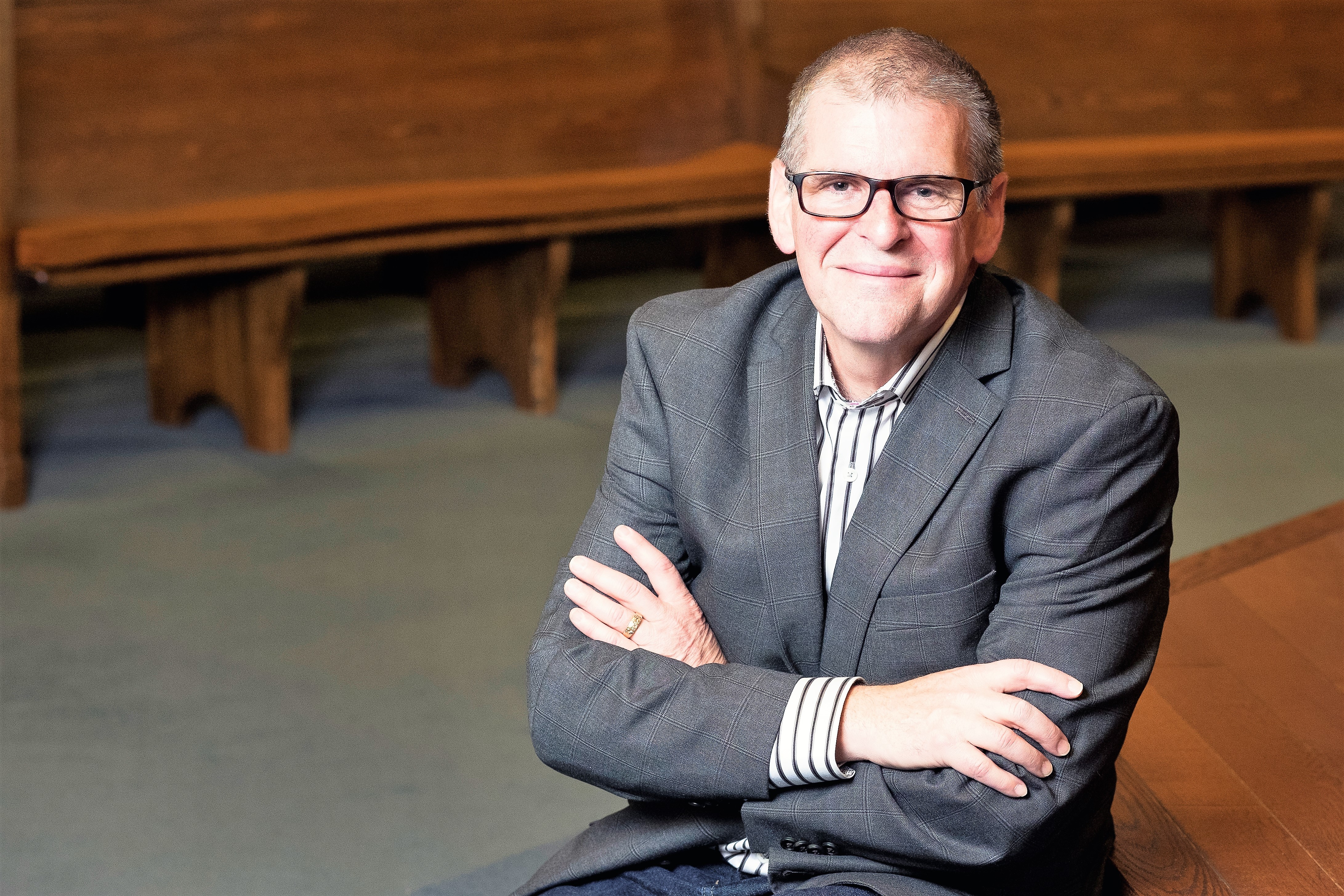 Ted Brown
He admits some guests will never climb out of a hole that has been dug by serious mental illness. But others do respond and move forward. The key, says Brown, is not to give up on any of them because they are God's children.
Yes, Brown is an ordained minister with the Pentecostal Assemblies of Canada who served with Kennedy Road Tabernacle for 30 years. He worked for years as a junior high school and outreach pastor as well. Brown has lived in Brampton for 32 years and leans on his religious underpinnings to give him the motivation to run Regeneration, and give solace to those that need a hand-up. He says a guest's spiritual needs can be met with a simple gesture, like a cup of coffee and a listening ear.
While breakfast is the staple of the program, lunch is served Mondays and Wednesdays, and essential care – ID clinic, clothes, hygiene, and healthcare services – complete the package. Daily prayer and a weekly fellowship meeting are open to guests as well, and the long-term goal is to equip participants with the skills and knowledge needed to improve their lot in life.
Brown and others in his spiritual space don't pay attention to what the local governments aren't doing, as homelessness and affordable housing continue to be ignored by elected officials and staff in Brampton and the Region of Peel. The area has the longest wait times for affordable housing in the province and it has become crystal clear to people like Brown that there is little interest among local officials to fix a problem they said would be fixed more than a decade ago. Instead, he will continue to do work the so-called leaders won't do.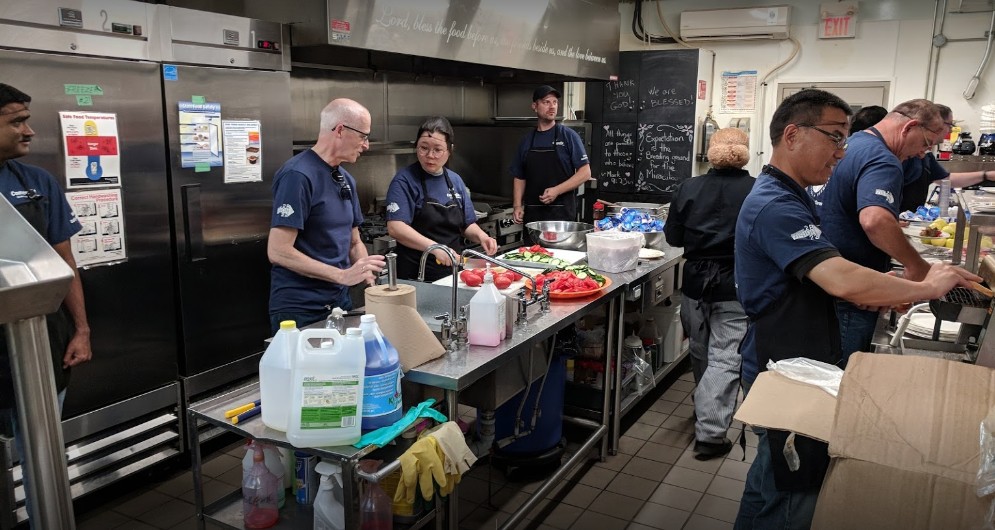 Sure, there are disruptors, and when participants spill into the streets and get out of line – petty crime, sleeping where they shouldn't, using drugs or abusing alcohol in the open – the program has tight rules to address their public conduct.
Brown is ably assisted by a talented team that includes Angela Tenthorey (volunteer and retreat coordinator), Carol Grey (chef), Jenna Dewsbury (program manager and social services worker), Bruce Dodds-Hebron (procurement coordinator), Dan Gibson (chaplain) and Natasha Van Gurp (housing worker). The nine-member board features business leaders and even a psychotherapist.
All the guests have a story to tell, some more searing than others. One was the daughter of a gang member who, at a young age, watched as her father was killed in front of her. It killed something inside of her, too, and over time, she acquired a taste for drugs. Or, more accurately, drugs offered a taste that cured a pain from which she could not escape. Her downward slide became her only activity, until she ended up at Regeneration.
Others grew up locked in their rooms, or suffered sexual abuse, or had their self-image destroyed by parents who verbally assaulted them. The reasons that lead to an internal breakdown are complex, and Brown and his staff don't play judge or jury, unlike many others in our society. The goal is to heal broken souls, and help them re-find a love for life. "So many people try to mask their problems with drugs and alcohol," says Brown.
Last week, one of the guests actually died, briefly, of a drug overdose, but was revived by staff after given Naloxone – a fast-acting miracle drug that reverses the effects of an overdose from opioids such as heroin, methadone, and fentanyl.
Life-and-death incidents like this one pop up from time to time, and Brown's staffers are professionally prepared. Still, it's often a shock, and as overseer, he has to worry that staffers don't get overwhelmed by the challenge. He monitors their emotions as closely as they do the guests they serve.
Brown says Regeneration is a response to the hyper-growth of Canada's ninth largest city, now bloated to over 600,000. "We are a big city and we now face big-city problems." The shelter system run by the Region of Peel is, sadly, laughable. In a city this size there are two official shelters, with only 150 beds and over-worked staff trying to cope with a system that is chronically over-burdened and filled to capacity, while regional officials tell The Pointer all is well. That they have the situation under control.
With more people filtering in each day, some with extraordinary needs, Regeneration is a vital connector that links them to volunteers (777 at last count), staff, politicians (those that want to help), medical facilities, therapists and police. The reverse also takes place. A special four-hour retreat program taps into 15 regional high schools (3,000 students), and they get to see and help with the challenges faced by men and women living in the margins. Playing even a small part in their survival, is both raw and real, and a unique life lesson.
Over the past six years, 30 different officers from 22 Division have dropped by in a community-based effort to close the gap between them and those they often deal with on the streets. Regeneration is often first to attend to those with addiction issues or suffering bipolar disorders or schizophrenia. The next might be police, and the government-supported healthcare community.
Brown estimates the median age of guests is 58. He wants to emphasize that Regeneration is not a glorified soup kitchen, even though one of its main functions is to feed the hungry. It's a landing pad for those in need, a place to feel warm and comfortable and surrounded by friends. Many of its guests are desperately under-housed, or in a lot of cases, homeless.
Brown talks of one man, a former CEO, who made the climb out of the hole. He now offers help so others can do the same. Stopping guests from falling back into self-abuse through drug and alcohol abuse is the goal, even if seldom met.
Regeneration narrows the gaps in our world: hunger, growing income disparity as the wealthy lobby for policies that worsen the imbalance, the lack of affordable housing and the addiction issues that often go untreated, fueled by criminal drug-syndicates who prey on the growing number of the desperate.
The mental health crisis is real, and growing in Brampton and Mississauga. These cities receive the lowest funding for mental health and addictions issues compared to 13 other jurisdictions in Ontario, according to a spokesperson at the Canadian Mental Health Association for Peel-Dufferin. The Central West LHIN, which includes Brampton, spent $33 on mental health and $6.10 on addiction per person. In comparison, Toronto Central spent over $100 per person on mental health alone. This historic inequity is the biggest barrier in providing adequate mental health services in Peel. But local politicians have been unable or unwilling to correct the chronic unfairness. Meanwhile, their residents, many of whom have slipped too deep into the cracks to vote, suffer.
Regeneration assists, but it can only do so much, especially with its limited finances, and non-guaranteed assistance from the Region of Peel, federal grants that are also year-to-year and agencies of the provincial government, primarily the Trillium Foundation. In 2017 Peel provided almost $325,000, Trillium gave $8,725, other grants totalled about $35,400 and donations and fundraising brought in just over $485,000.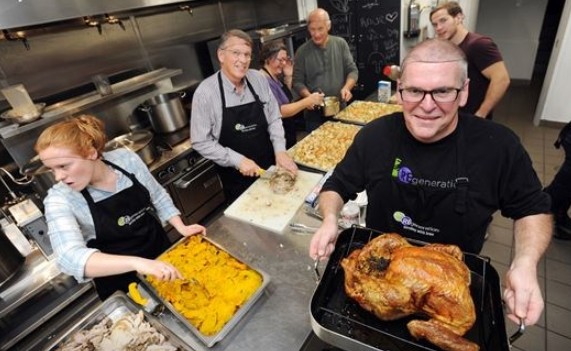 The money comes from three pots: a community investment fund (a two-year grant) that covers administrative costs; a partnership strategy to help with homelessness and based on yearly grants (that money runs out in April), and a combination of donations and fundraising, like the 8th annual Coldest Night of the Year Walk, held February 23rd at Century Gardens Recreation Centre (340 Vodden Street East). Last year, CNOY raised $100,000 and the goal this year is to pull in an extra $20,000.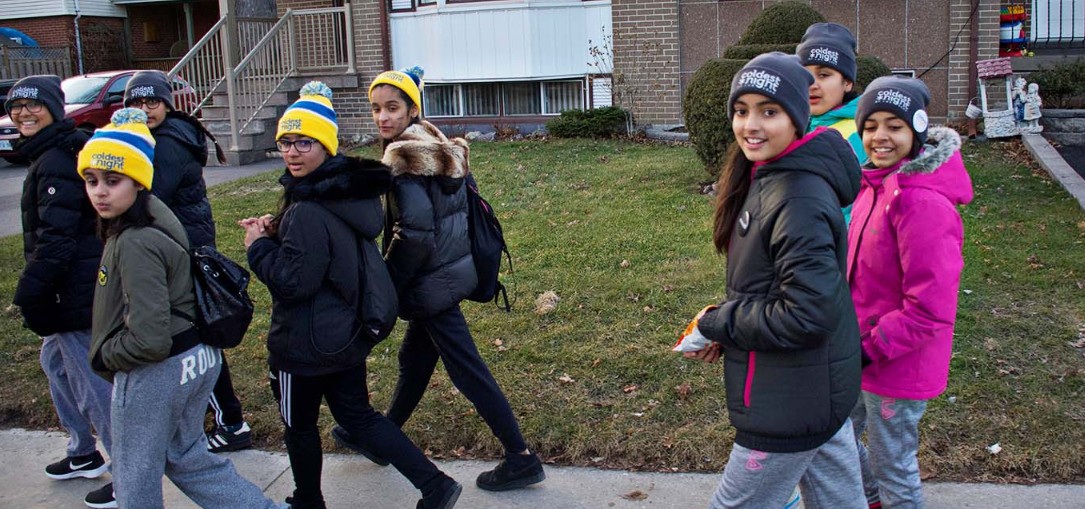 People from the community are involved in this family friendly event, including Peel Regional Police, Starbucks, Das Bretzel Haus, plus a number of churches. The hope is for more sponsors and participants. Walkers get a chance to stop at the downtown Dairy Queen for free ice cream, while Starbucks provides hot drinks and snacks, and Little Caesars hands out Crazy Bread. Last year approximately 450 took part, and visitors can sign up at cnoy.org/location/brampton. Funding from the cash-strapped City of Brampton is a pittance, and Brown spends an inordinate amount of time filling out forms just to receive a few thousand dollars.
While starting each day with a hot meal sounds like a small gesture, it helps fortify the guests for the challenges they wake up to every morning, and last week, that challenge ratcheted up.
The winter weather that skipped past southern Ontario for weeks, came storming back, in all its ugly ferocity. Temperatures have plummeted to -22 Celsius with wind chills in the -30 to -40 range.
In this severe arctic weather, living dangerously on the streets, in the back of old cars, or abandoned homes, or in under-heated rooming houses or apartments in the downtown core, became more difficult. Finding shelter was a life-and-death struggle.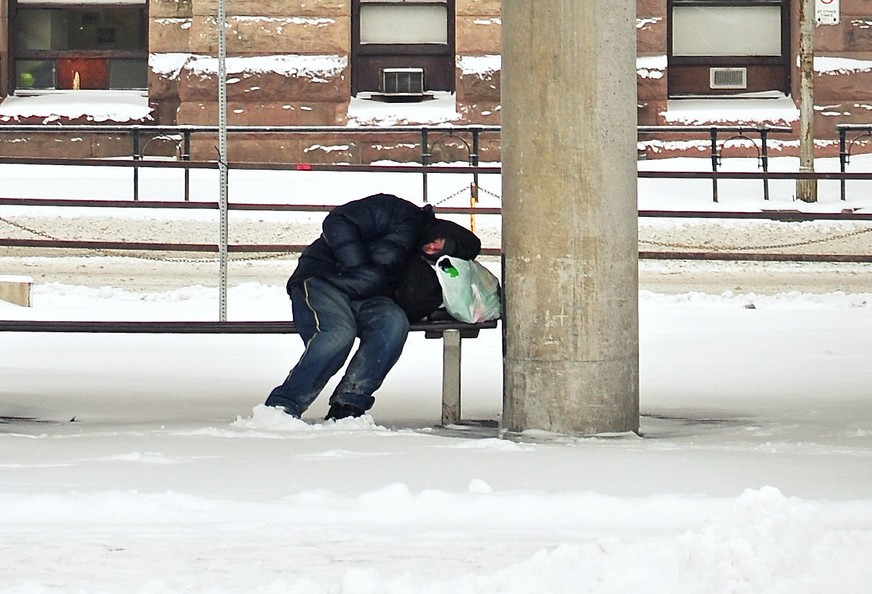 Regeneration is constantly connecting people to the agencies that offer further support. One of its core functions is to find housing or encourage people to get into a shelter. It does its best to provide bus tickets when people need to get to the isolated shelters that are located far from the centre of the city. Brampton has one men's shelter, and one temporary youth shelter in a converted motel; both have been at capacity, filled to the brim during the frigid spell. Women are sent to a co-ed shelter in Mississauga. If Peel's facilities are overflowing, its woeful shelter system relies on other supports, sometimes outside the region.
A day in the life
It's early morning in Brampton, and the sun has been up for an hour, but it seems frozen in place, and casts down so little heat it's hardly worth having. The temperature has dropped dramatically and outside, many of the people migrating to Regeneration are hanging around the front door of Grace United, or standing on the sidewalk or alley beside the church. They are pulling down toques and stomping their feet to stay warm, and puffing hard on a cigarette, smoking them right down to the butt. They are in various stages of disrepair – hair loose and unwashed; coats open and hanging; and smoke being exhaled into the frozen air. Many stare blankly at the half-spent winter sky. A light dusting of snow has fallen, but it's light because it is so cold. Some make eye contact with each other, others don't bother. Finally, word leaks out that breakfast is served. The people butt out and pile down the steps. They follow the smells of a hot meal which awaits them.
Regeneration's offices are located on the third floor of Grace United. The breakfast is prepared in the kitchen below, on site by a chef on staff. She is assisted by about 10 volunteers who help prepare and serve. People have to sign in to get their food, but no other information is needed. Volunteers serve them at a counter.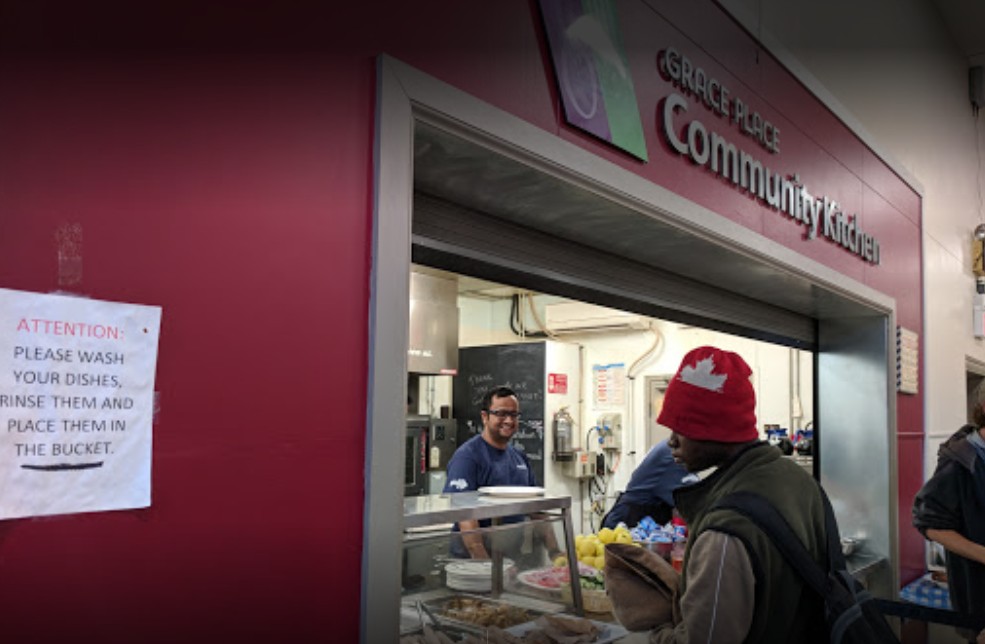 The challenge here is not to sentimentalize their plight, or boast about the care offered by volunteers and staff. This is an everyday reality of life on the streets, and it's writ large every day at Grace United.
Brown says the influx of new people into Brampton, ensures programs like Regeneration become even more critical to that small percentage in desperate need. They often arrive here trailing behind unrelenting struggles with drugs, alcohol, or mental health issues.
---
Today's world is saturated by two extremes: the have-nots and the never-have-enoughs. Last week, this stark divide played out real time in Brampton and Davos, Switzerland. While the financial and political elites convened in the Swiss Alps for the World Economic Forum, the daily struggle to provide for the poor continued at Grace United.
It's this striking divide that caused Oxfam to release a survey showing that between 2017 and 2018, a new billionaire was created every two days. Eighty two percent of the wealth generated last year went to the richest one percent of the globe's population, while the 3.7 billion people who make up the poorest half of the world saw no increase in their wealth. The report stated:
· Billionaire wealth rose by an annual average of 13 percent since 2010 – six times faster than the wages of ordinary workers, which have risen by a yearly average of only 2 percent.
· It takes just four days for a CEO from one of the top five global fashion brands to earn what a Bangladeshi garment worker will earn in her lifetime. In the US, it takes slightly over one working day for a CEO to earn what an ordinary worker makes in a year.
· The 12 percent increase in the wealth of the very richest contrasted with a fall of 11 percent in the wealth of the poorest half of the world's population.
The World Inequality Report 2018, showed that between 1980 and 2016 the poorest 50 percent of humanity captured 12 cents in every dollar of global income growth. By contrast, the top 1 percent received 27 cents of every dollar.
Oxfam calls for governments to ensure our economies work for everyone and not just the fortunate few. The absurd bloat of the mega-rich, matched against the lack of funding for a program to help the poor and homeless in Brampton, isn't lost on another man with the surname Brown. In his inaugural speech after taking office, new Brampton mayor Patrick Brown said there is a vital need to address poverty and affordable housing in Peel. During the campaign, he announced his hope to introduce a minimum percentage of new housing development to be allocated to affordable housing standards. That means developing a housing strategy to encourage fair and neighbourhood-sensitive development of rooming houses, basement apartments, and underground suites aiming to bring together the "underground community" of illegal housing units into the open.
The mayor has seen this startling stat: in 1980, only 2 percent of those living in Peel region were housed in areas considered low income. Today, it's more than 52 percent. At Regeneration, it is higher still, and many are simply homeless.
The other Brown, says the vacancy rate for bachelor apartments in Peel, where popular sprawling subdivisions have squeezed out most other forms of housing, is zero, and the number for one-bedroom lodging is 1.3 percent. For those who can even afford a room for rent, there is a discrimination against the type of people that frequent the Regeneration program.
One problem is they are often illiterate, or have no identification, not even a basic birth certificate. Regeneration offers that service to them. Without ID there is no chance to find a place to stay or apply for a job.
In mid-September of last year, new Premier Doug Ford started dismantling the Basic Income anti-poverty pilot programs running in four cities: Hamilton, Brantford, Kawartha Lakes and Thunder Bay. He will complete the job this year. This is the type of program that might ease the burden on those that tap into Regeneration.
Ted Brown is worried that government belt-tightening impacts first, and most harmfully, on those that need it most, the poorest.
When Winston Churchill visited the slums in Manchester as a young member of parliament, he couldn't help but quip, "Fancy living in one of these streets, never seeing anything beautiful – never eating anything savoury, never saying anything clever?"
Regeneration is, in a small way, changing that. It serves up savoury meals for the poor and provides a set of tools to improve their lives at the street level.
Brown and his staff remain committed to saving lives, or just improving them slightly, to offer warmth and food. The positive stories of those who use their time there as a bridge to remake their lives are shared widely on various platforms and by Regeneration itself. It all starts by putting a good meal in their stomachs.
The meal on Christmas day is a virtual banquet. Staff and volunteers (so many, some had to be turned away) spare nothing. Over 200 were served the past season, and Brown says the grateful response from guests is emotional. Guests were given gift bags on Christmas Morning (120 bags this season). There are also activities leading up to the Christmas meal – baking, movie day, and making gingerbread houses. The mornings free up time for scripture-reading and reflection for anyone who wants to join in. There is a church service once a week, on Friday mornings.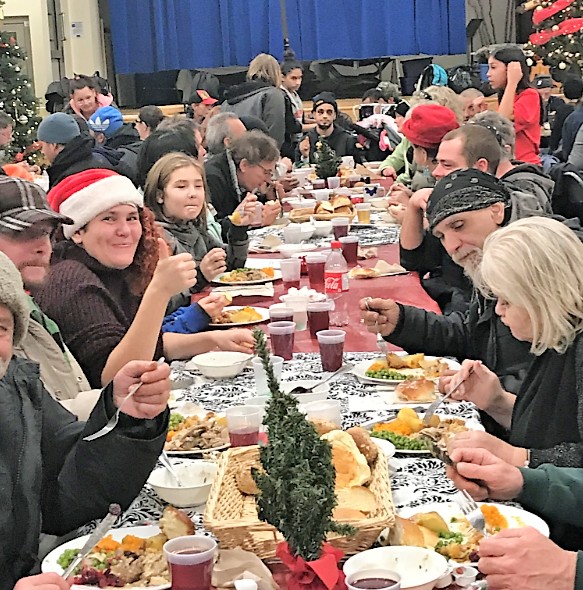 Ted Brown would like to extend the franchise, and offer more meals, and even expand programs. Regeneration is a work in progress.
Bramptonians have responded in kind, giving generously of their time. But the need is great, and work carries on.
The people who start their day with a meal at Regeneration are virtually invisible to the rest of the community. Those who stand in front of Grace United and smoke their cigarettes see a line of traffic pass by them each morning on their commute to work. Some in the cars avert their eyes, or never see the human beings there, or the unfolding daily drama.
There's been a mixed response from downtown retailers. Some are supportive and donate money or food, while others hate how these guests migrate downtown, looking for a hit, or a shot of booze. Others panhandle for loose change, or leave behind empty bottles, needles, syringes, condoms, and much worse, human excreta. The lack of housing options is troubling, and getting worse. Regeneration offers a stop-gap home to the homeless. Its programs offer them a chance at redemption, a path to a new life.
This hope for their own redemption starts simply enough: early each morning Regeneration's guests migrate to the local church, drawn in by the tantalizing aroma of fresh cooked bacon and eggs, and the smell of hot coffee.
Submit a correction about this story