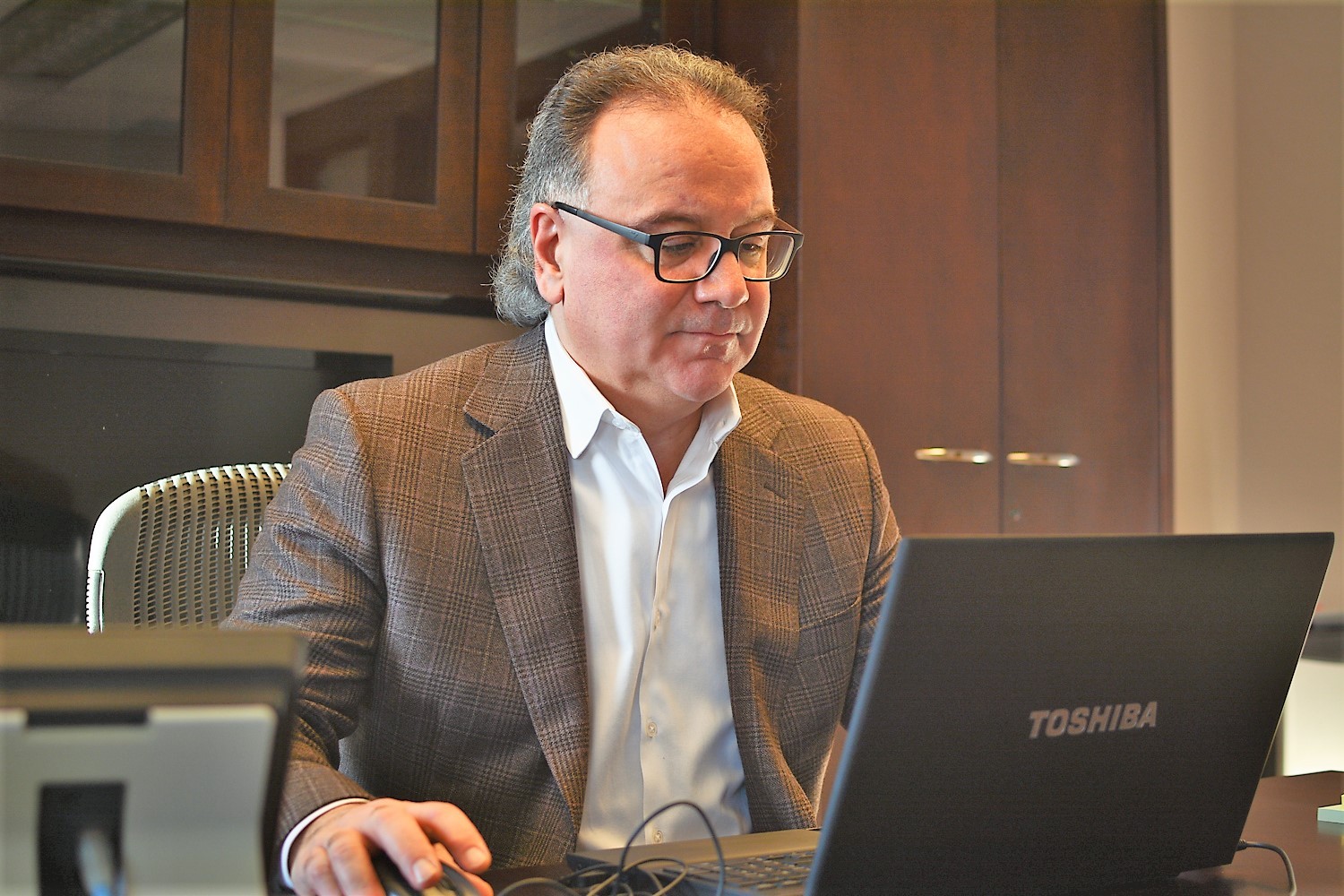 Photos by Joel Wittnebel and Mansoor Tanweer
Peel works just fine, and let's keep it that way, regional chair says
As the province embarks on a consultation process to study the current model of regional government in Ontario, regional chair Nando Iannicca says they should look no further than Peel Region, signalling his willingness to keep Peel whole.
"I welcome the review, I think they're on the right path for a whole list of reasons," Iannicca tells The Pointer. "The key is let's move forward, let's have a discussion on what works well and I'm going to be arguing the Region of Peel works very, very well."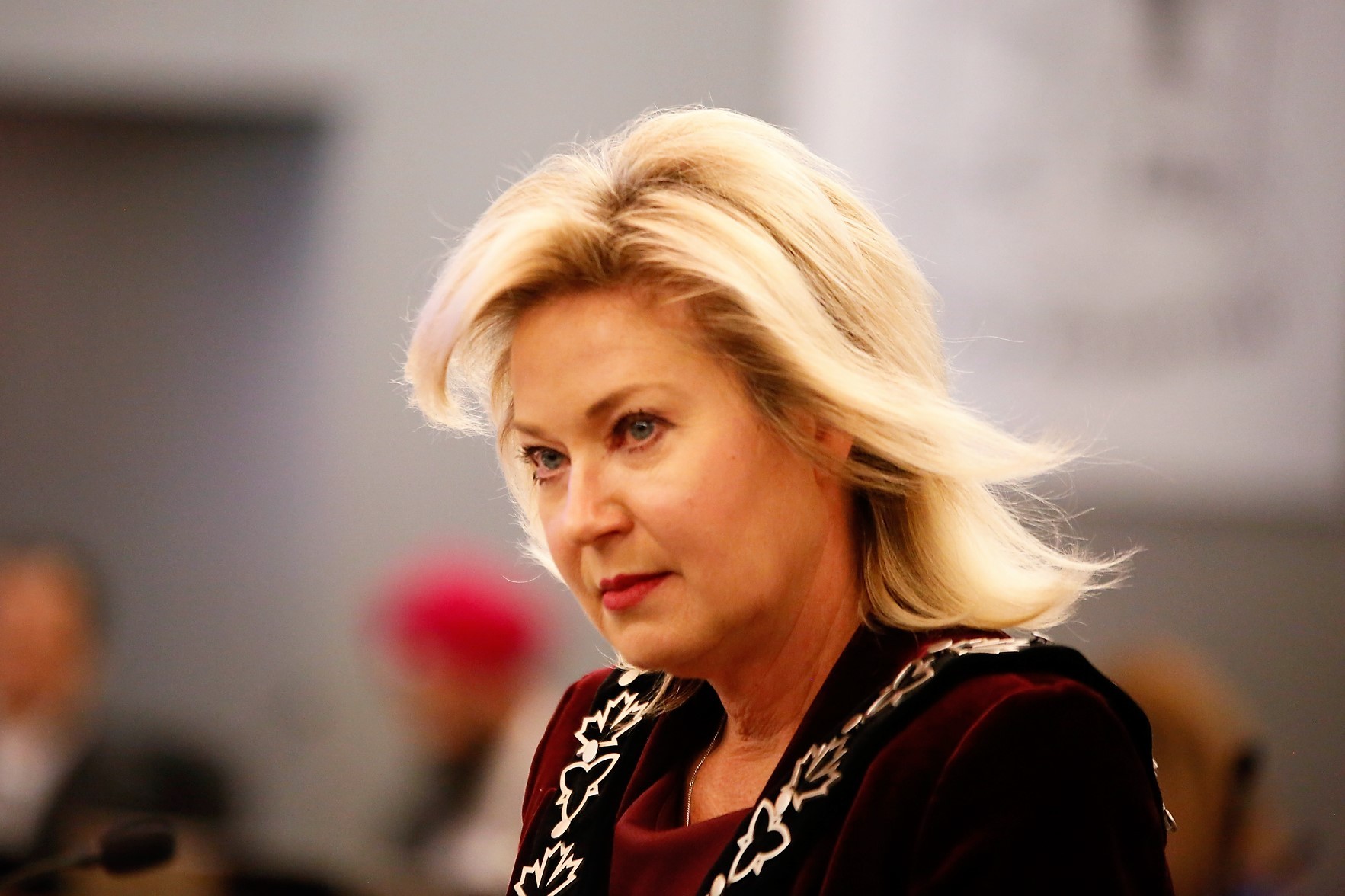 Mississauga Mayor Bonnie Crombie
That's not what Mississauga Mayor Bonnie Crombie wants to hear. She helped Iannicca get his new job when she led a group of Peel Region councillors who voted in December to make the former Mississauga councillor the new chair of Peel. Crombie's number one goal at the regional level is to get Mississauga out of the two-tier system and become a stand-alone municipality just like Toronto. Right after Iannicca was voted in as chair by regional council on Dec. 6, Crombie said, "I believe in single-tier government… . It's vital that we get this right." After Iannicca got the job, largely thanks to her, she said, "He's the right choice at the right time."
Or is he? Will he do the bidding for Crombie and McCallion, who has pushed to make Mississauga a single-tier city for decades? Or will Iannicca consider the provincial review of the regional governance model as a way to make the existing system, with Mississauga in it, even stronger?
The review, initially made public this past summer, was officially announced by the province earlier this month and is being billed as the study of a system that has gone unreviewed since regional governments were formed in the 1970s. Michael Fenn and Ken Seiling, the former chair of Waterloo Region have been appointed as special advisors to the review.
"The regional government model has been in place for almost 50 years in Ontario and we are taking steps to ensure that regional governments are working efficiently and effectively," states a release from the province.
The review will include Ontario's eight regional municipalities (Halton, York, Durham, Waterloo, Niagara, Peel, Muskoka District and Oxford County). The County of Simcoe and their lower-tier municipalities will also be included.
"Our government is committed to improving the way regional government works and we will be looking at ways to make better use of taxpayers' dollars and make it easier for residents and business to access important municipal services," stated Steve Clark, the minister of municipal affairs, in a press release.
The advisors will be working with the province to explore key areas of the municipal governance and service model in order to find efficiencies, methods to make municipalities "open for business" and areas to cut red tape and eliminate any duplication of services.
With the rapidly growing province, and Peel Region's hyper-growth in particular, the review may not be a bad idea, Iannicca says.
"We would welcome the exercise as it relates to us to see if we can even do better," he says.
In Peel Region, it's no secret that Crombie wants desperately to pull her city out, to form a single-tier municipality. It's a move that was championed by McCallion, now special advisor to Premier Doug Ford, since the '80s.
Hazel McCallion
Now, with Iannicca, a former Mississauga councillor for 30 years at the helm of the region, Crombie may finally have the political clout to make the move a reality, especially if backed by a recommendation from the province.
While no potential outcomes are noted by the province there are a number of questions set up to guide the review process, all relating to the municipal governance model and service delivery including:
- Is the decision-making (mechanisms and priorities) of upper- and lower-tier municipalities efficiently aligned?
- Are two-tier structures appropriate for all of these municipalities?
- Does the distribution of councillors represent the residents well?
- Is there opportunity for more efficient allocation of various service responsibilities?
- Are there barriers to making effective and responsive infrastructure and service delivery decisions?
Despite his past connections, Iannicca says he is not at all concerned with Mississauga councillors attempting to push him in one direction or the other.
"I welcome their input to discuss the very things you and I have been discussing," he says.
The complex nature of pulling apart Peel's governance structure would come with a laundry list of complications and intricate questions.
First, what would such a model look like?
"That's where I think it starts to crumble," Iannicca says. "A lot of people have not thought this through."
Pulling apart Peel Region would also raise the question of what happens with Caledon.
Regional municipalities were initially set up to support rural municipalities with infrastructure needs and development. If the region were to break apart with Brampton and Mississauga becoming single-tier municipalities, Caledon would either be left to fend for itself, or amalgamated into Brampton, which would heavily burden the country's ninth largest city as it would have to, effectively, subsidize Caledon's future growth.
"Peel quite clearly is different than all the other regions," says Robert Williams, a professor at the University of Waterloo and expert in municipal governance, noting that Brampton and Mississauga would more than likely be able to survive as single-tier cities, but Caledon remains a question mark.
However, the larger problem is the division of currently existing services with Peel Region handling a number of infrastructure items, including some roads and sewer/water lines, as well as services like policing and EMS.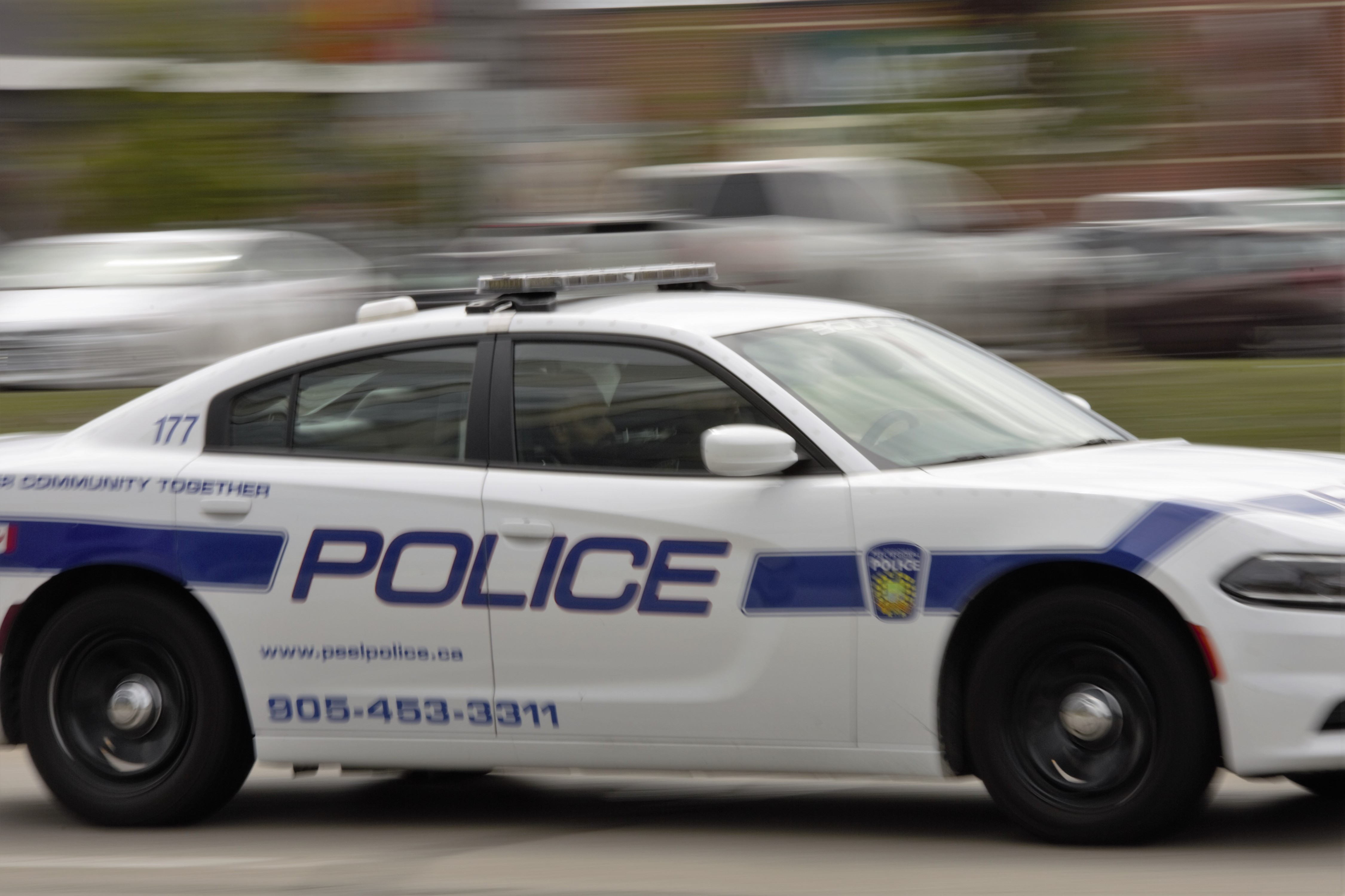 "A government would have to absorb everything that is now done by the upper tier," Williams says.
It also raises the question of development. Over the last 40 plus years of Peel Region as an upper-tier municipality, a large share of Brampton tax revenue has gone to support the booming development in Mississauga, the build-out of which is now almost complete.
If the region were to break apart now, Brampton would have paid into the region for decades to help Mississauga grow, but would now receive no help in return, just as it begins a period of rapid population increase and development, as the city's population is expected to go from about 600,000 currently to more than 900,000 by 2041.
"(It's) a fundamental concern," Iannicca says, noting that Caledon would probably be hit the hardest if the region is dismantled.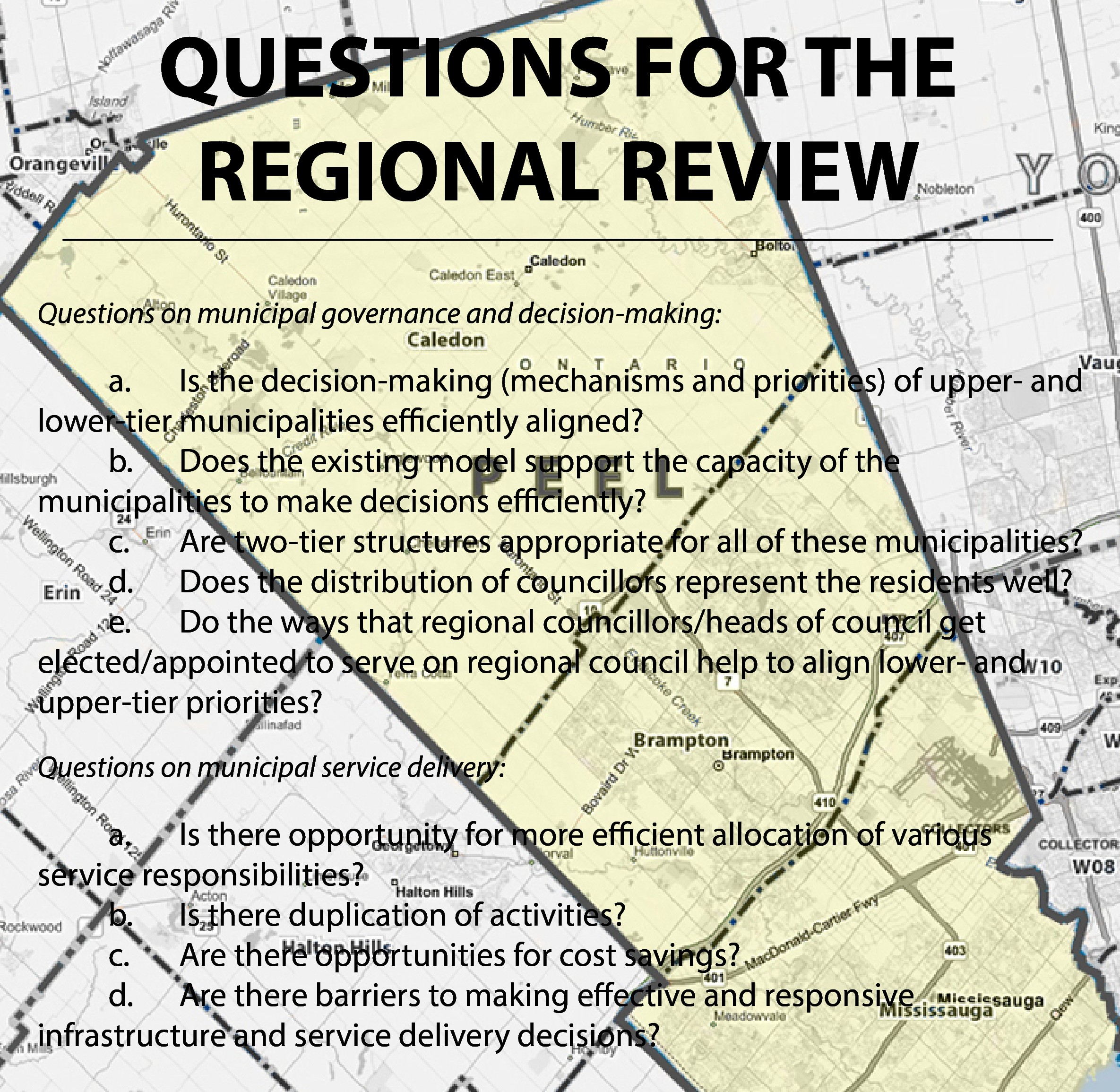 With the review focusing on reducing red tape and helping make municipalities "open for business", Iannicca says that most of the heavy lifting should be done by the province, as many delays in a variety of processes vital to economic growth are a result of provincial regulations, not municipal.
"We have a lot of problems, structurally, in the system, and my argument to the premier is you should fix the 80 percent that fall into your bailiwick," he says. "In fairness to this premier as well, I think he gets that… . "We're all in this together and a better mouse trap works for everybody."
Submit a correction about this story