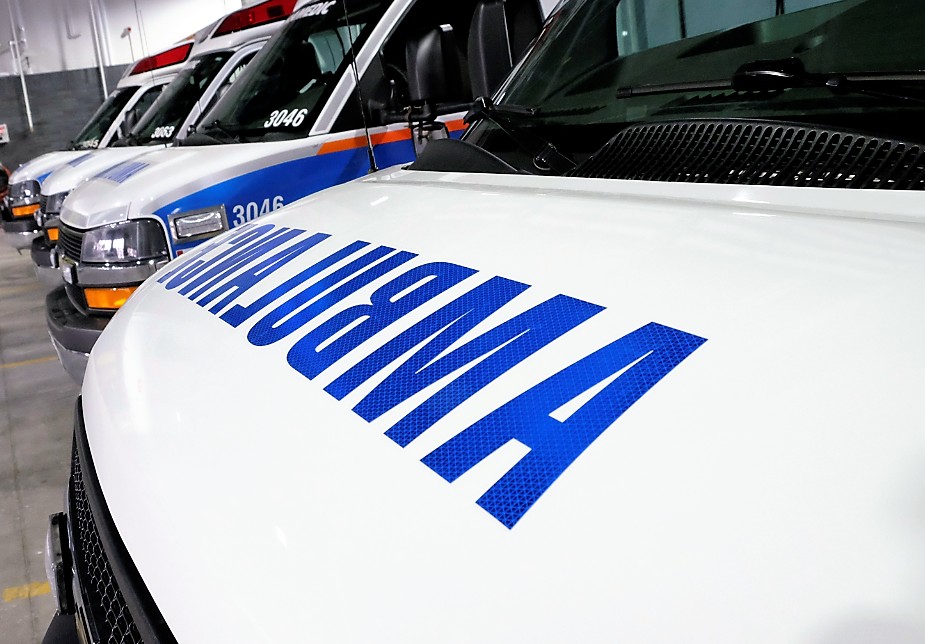 Photos by Mansoor Tanweer
New system for Peel Region's paramedic deployment could put lives in danger, union says
Much like its Scottish namesake, Caledon is known for verdant hills, serene waters and its expansive horse country. The sea of tranquility that greets an outsider may give one a sense the mostly rural community of 67,000 residents is, for the most part, happy with its services.
Very little news from the town of Caledon crosses south over the border at Mayfield Road. Yet this town has been ground zero of a long and exhausting battle over a basic, but vital emergency service.
The vice president of OPSEU Local 277, the paramedics union, believes that a new way of deploying ambulances creates a service gap that puts the lives of residents in Brampton and Caledon in danger.
A 2018 a report by the Region of Peel shows that Caledon experienced a 263 percent increase in emergency call volumes between 2007 and 2017. By comparison, Mississauga experienced a 52 percent increase and Brampton saw 83 percent more calls in the same time period. The increased demand across the rapidly growing region has meant increased response times, in some cases.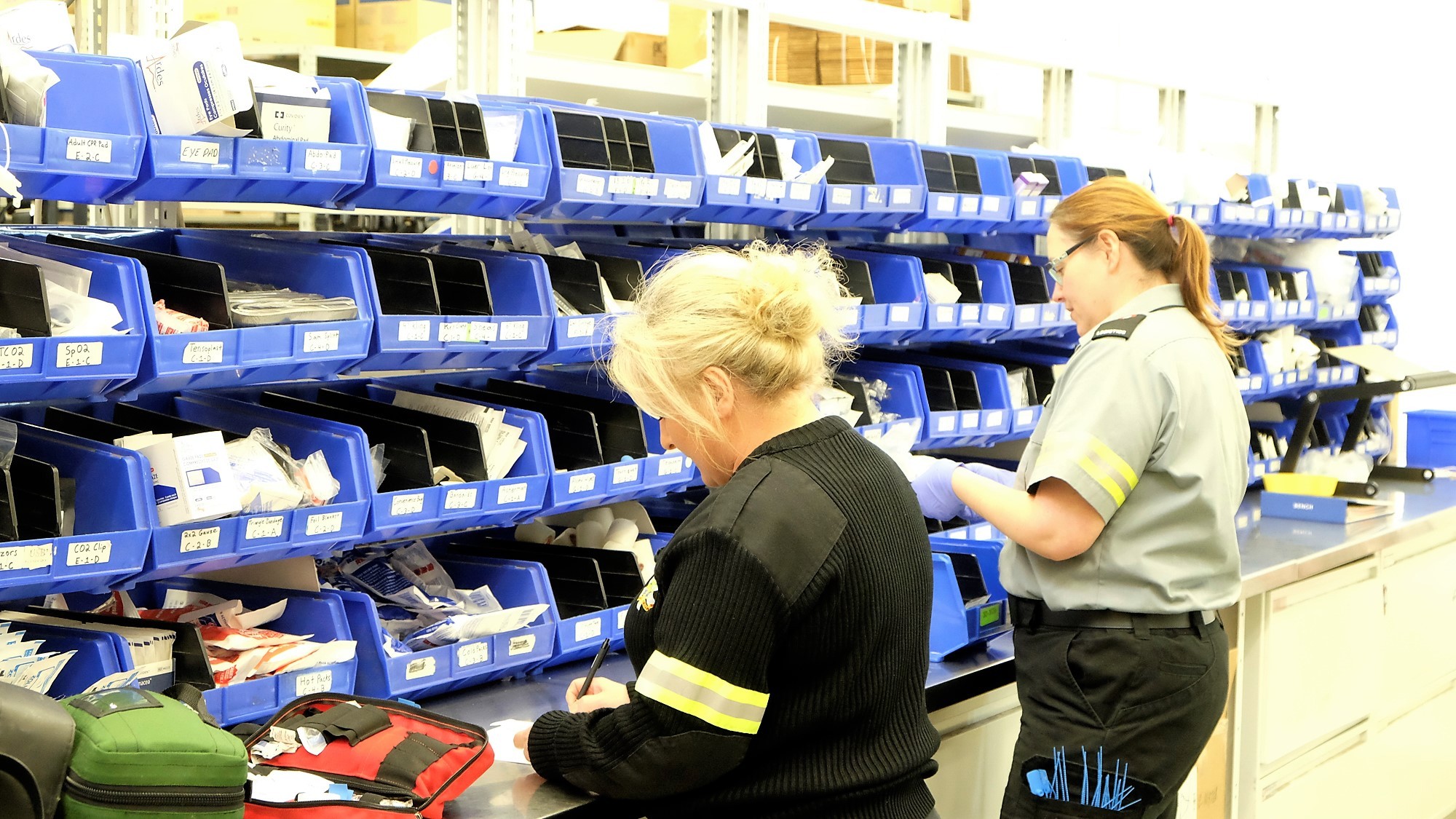 Staff at the Fernforest station get supplies ready for ambulance crews.
With the rapidly changing need for the critical service across the region, a fight has continued over paramedics, the safety net all citizens fall back on incase a freak accident, unfortunate condition or medical scare suddenly compromises their health. On Jan. 14, a new deployment model for ambulances and the professionals who operate these mobile hospitals went into effect in Caledon.
Some fear it will result in poorer EMS coverage for both Caledon and Brampton.
The old system established four stand alone stations across the largely rural community where paramedics reported for duty, maintained their ambulance trucks and waited for their next call.
In the new system, those trucks have been moved to the Fernforest Divisional Station and Headquarters on 1600 Bovaird Drive in Brampton. Personnel are now expected to report for duty at the headquarters and drive their trucks north for anywhere between 20 and 30 kilometres to their assigned station in Caledon.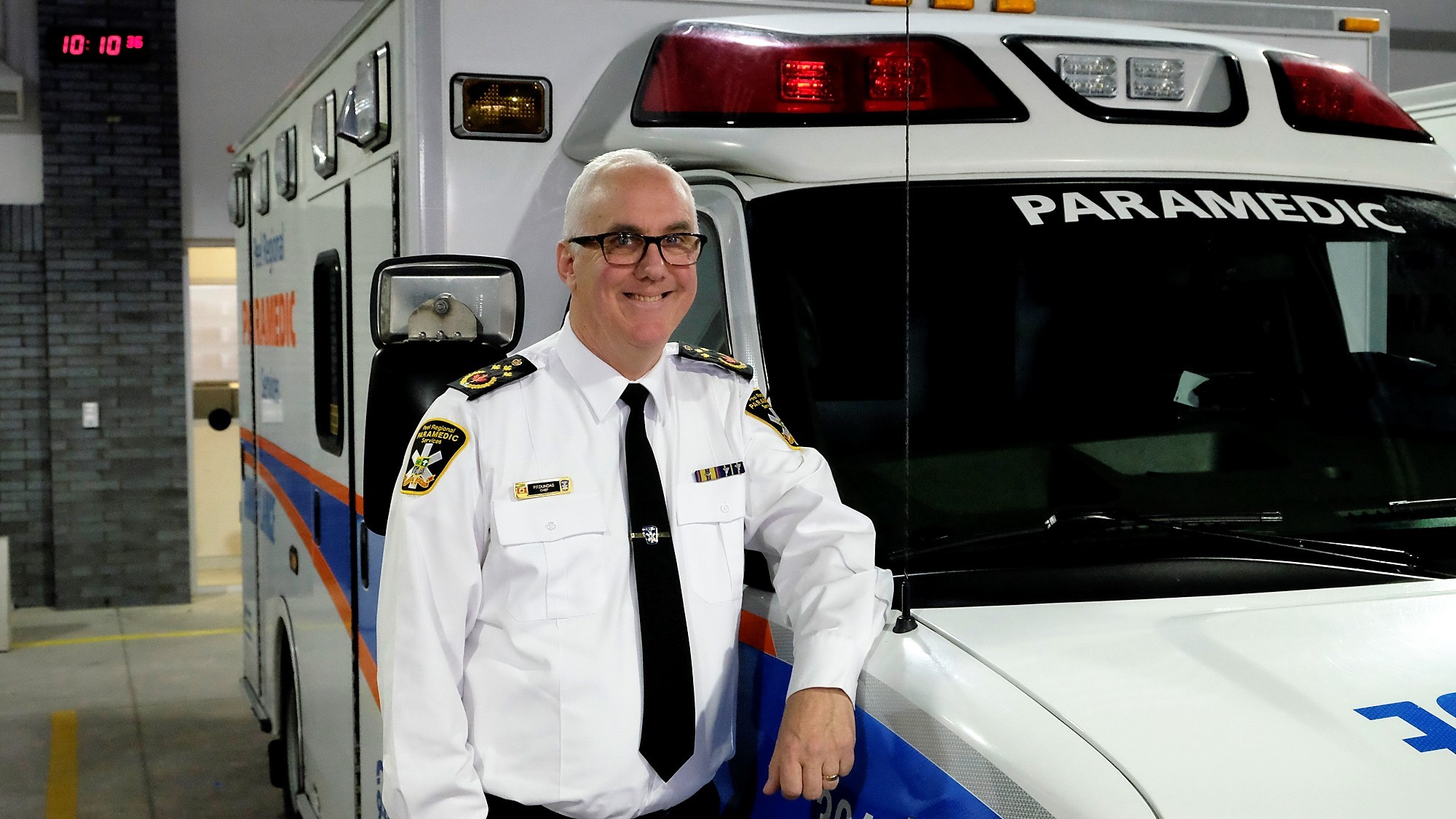 Paramedic Chief Peter Dundas
Peel Regional Paramedic Service Chief Peter Dundas told The Pointer the old stand alone system put the responsibility of vehicle and equipment upkeep on the crews themselves, which took away from their ability to focus on providing paramedicine to the public.
"The [new] model brings efficiencies where paramedics aren't having to do the technical type work for the vehicles and they can be focused on doing what they do best and that's caring for people. [In the old stand alone system] The ownership of inventory, maintenance, cleaning etc. was all done by paramedics. It takes a lot of time," Chief Dundas told The Pointer.
"Peel is one of the busiest systems in Ontario. We're expected to hit, maybe, close to 150,000 calls this year. We have to be responsive and ready in the community."
Deputy Chief Brian Gibson gave The Pointer a tour of the Fernforest Drive facility. During a particularly quiet period, two maintenance staff were on hand to ease the extra burden logistics and maintenance placed on paramedics.
"Deployment of ambulances and paramedics throughout our region is virtually unchanged from what it was prior to Jan. 14, to what it was afterwards. We constantly move our resources… During the days where the call volume is low and the resources are high, we deploy them to ensure that we have optimal coverage," Gibson said.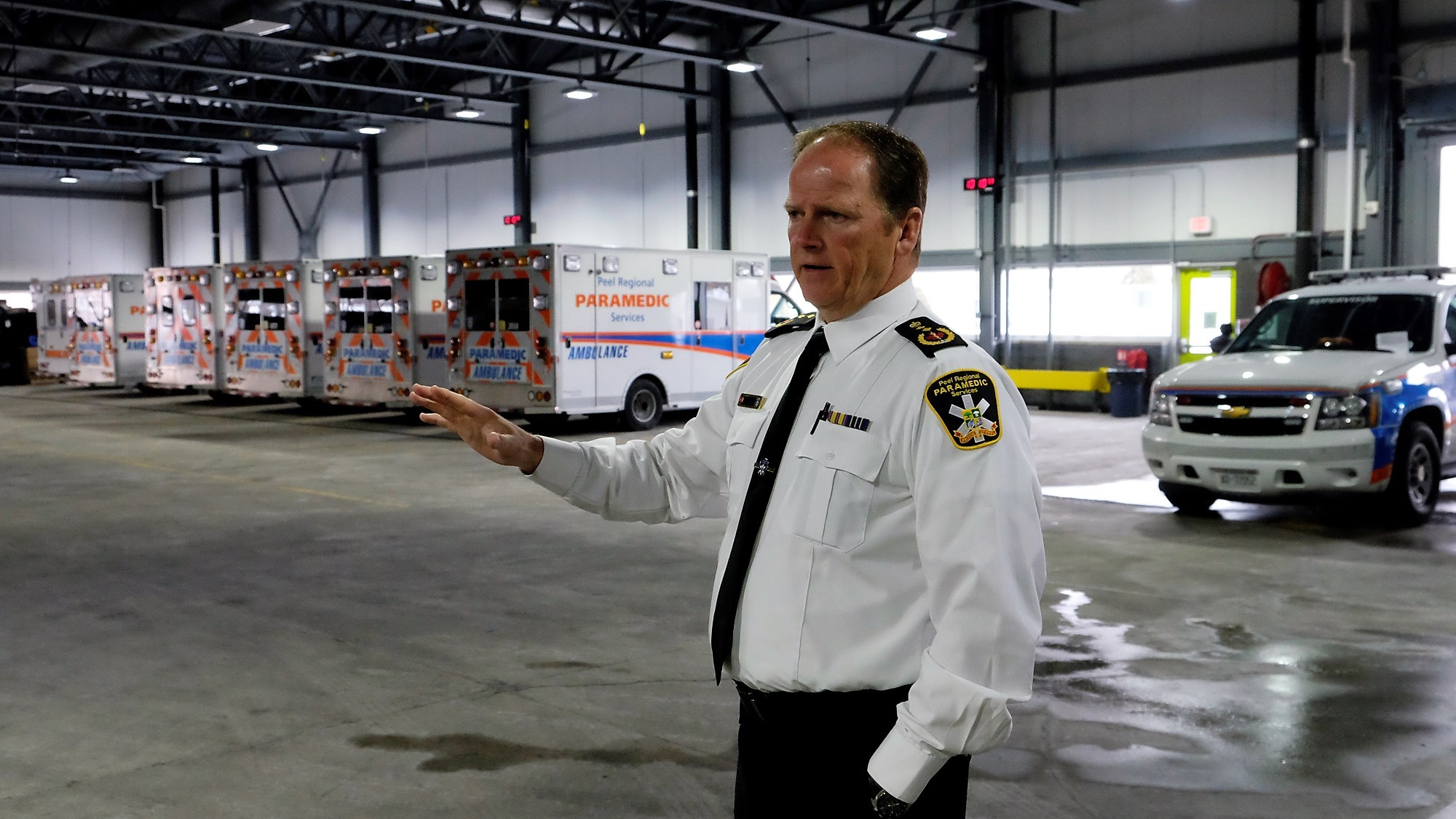 Deputy Paramedic Chief Brian Gibson
At first glance it seems that the region's EMS crews would likely appreciate the freedom to focus more on delivering emergency health care to the people of Caledon. But that is little consolation to Carol Murray, vice president of OPSEU Local 277, the paramedics union. She believes that this new way of doing things creates a significant gap that, in a worst case scenario, puts the lives of Peel residents in danger.
"It is very important to have paramedics starting and stopping in the area in which they are going to be working in because it provides for simpler, easier deployment; because they don't have to drive through an area prior to getting the emergency call," Murray told The Pointer.
"So you are losing that coverage in each area, each geographical area, in the Region of Peel for much, much longer because they've got to get to that area before they're actually covering. You multiply that by 70 plus trucks (ambulances) a day and that ends up being a decrease in coverage."
Murray explained that when one coverage area in the system is overly strained, resources have to be pulled from other areas, which can significantly increase response times in emergency situations.
In the days leading up to the implementation of the new service model, Chief Dundas attempted to allay the fears of the crews working under him by introducing the "pilot program". In an emailed statement to Peel's EMS, he announced a new policy where the first two trucks of the day, which leave at 5:30 am, bound for Caledon will remain "out of deployment" until they cross the border at Mayfield Road. This means the crew of those ambulances will not be on duty until they are inside Caledon town limits.
"This will further prioritize paramedic coverage in Caledon with the larger system. We will evaluate this pilot through our deployment working group to determine its effectiveness," reads the email.
The bulletin, which was leaked to local press, did little to mitigate fears. The union's executive believes the pilot project forces paramedic crews to ignore calls from Brampton and Mississauga while they are en route to Caledon, creating one service gap to cover another.
Murray, as well as others, saw this and were deeply worried because "obviously it would be a concern for anybody to drive through an area and drive past calls in order to staff another area."
Dundas, seeing that paramedics in general would not want to ignore a call, amended the pilot program so that "out of deployment" crews will still have the flexibility to respond to code four calls. Murray and the union executive agree with the amendment. A code three call, which can't be covered by "out of deployment" crews is any urgent but not life-threatening call. Those can include simple fractures or flu like symptoms. A code four, which ambulances outside a coverage area can cover for, also known as a lights and sirens call, is a serious life-threatening emergency such as difficulty breathing, chest pains or trauma.
"It is not a service gap. They [paramedics] are going to be able to respond to the life threatening calls. Out of deployment would mean that they don't get put into postings to provide coverage or respond to lower priority calls," Dundas said, responding to concerns that classifying crews as "out of deployment" represents a service gap.
But for Kate Hepworth, who is the president of the Caledon Village Association, that is still not good enough. The retired dispatcher, along with her CVA colleagues, have been outspoken about the issue and would feel better knowing that Caledon had a more robust EMS system in place.
"Our population base is growing with all the developments that we have going in… You're bringing in 1,800 people here, 2,000 there…. Are all these people coming in 100 percent health?
"All these people are coming with who knows what? Maybe there are families bringing their parents to live with them. All these people may need emergency help," Hepworth told The Pointer while visibly frustrated.
Hepworth's fear is the new divisional model, with Peel divided into four districts rather than the previous three and including the new deployment model, is going to create an increase in code yellows, which means ambulance shortages in one area require EMS crews to be pulled from another area.
Her concern arises from the 2018 report that showed the dramatic increase in EMS demand across Peel, including Caledon's 263 percent increase in emergency call volumes between 2007 and 2017.
"When the district goes below five vehicles available for calls in the district, not just Caledon…. They go into what is called a code yellow... . So in a code yellow, now you are really looking to pull from other districts all within the Region of Peel."
On Sept. 13 2018, Hepworth delivered a delegation to Region of Peel Council to offer an alternative solution to the new deployment plan.
Instead of Caledon crews reporting to the Fernforest Drive reporting station, she recommended that "the Caledon East Station become a reporting station. Caledon East is central in Caledon and would keep vehicles, for the most part, in Caledon."
She ended her speech pleading with council to give the deployment plan a second look to "make sure we are doing what is right and not just signing off on a plan that does not fit."
Chief Dundas, who sat directly behind Hepworth in the council chamber, responded by saying, "Caledon will always have a form of coverage in Caledon because of the geography of the rural community."
"We also work closely with our union on deployments, our paramedics and our dispatch centres to make sure that it works and everybody understands how it deploys the resources."
What followed in council was a motion by Caledon Regional Councillor Barb Shaughnessy to put a pause on the new plan so that staff could consult with community stakeholders and report back on its merits. The motion was defeated with only Shaughnessy, Annette Groves and former Brampton councillor John Sprovieri voting for it.
For Hepworth and Murray, the defeat was more of the same; council moving ahead with changes without proper consultation.
"I still don't understand to this day why there was no discussion, why there was no acceptance of people sitting at the table other than 'Chief Dundas wants this in place, this is my baby, I want it done'."
Submit a correction about this story