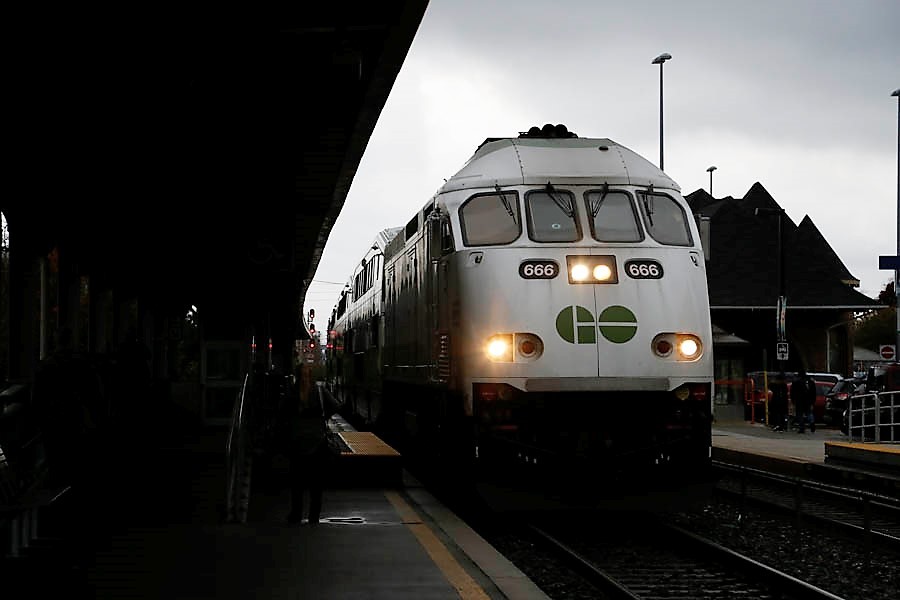 Photos by Mansoor Tanweer/Government of Ontario/Twitter
Cancelled 4:50 express GO train from Toronto to Brampton is coming back
After a furor over dangerous crowding and long delays, Metrolinx will bring back the 4:50 p.m. express train service to Brampton two weeks from now.
The popular express run on the Kitchener line will begin running again on Feb 13 from Union Station in downtown Toronto. According to the Metrolinx announcement, "this is a new train that will add 1,000+ more seats during your busy afternoon commute."
"We are running a new train to offer this service, giving customers over 1,000 more seats during their afternoon commutes compared to today," the press release said. A Metrolinx spokesperson told The Pointer that minor changes to the recently implemented schedule will be made public shortly. A new schedule launched at the beginning of the year changed the timing and frequency of trains on the Kitchener line. Metrolinx and the provincial government said the move would increase overall service on the line by 25 percent.
But when the new schedule launched, chaos ensued. Photos and videos were shared on social media showing dangerously crowded platforms and passenger cars, as a result of the cancellation of the 4:50 train and the extra demand because of more onboarding along the line.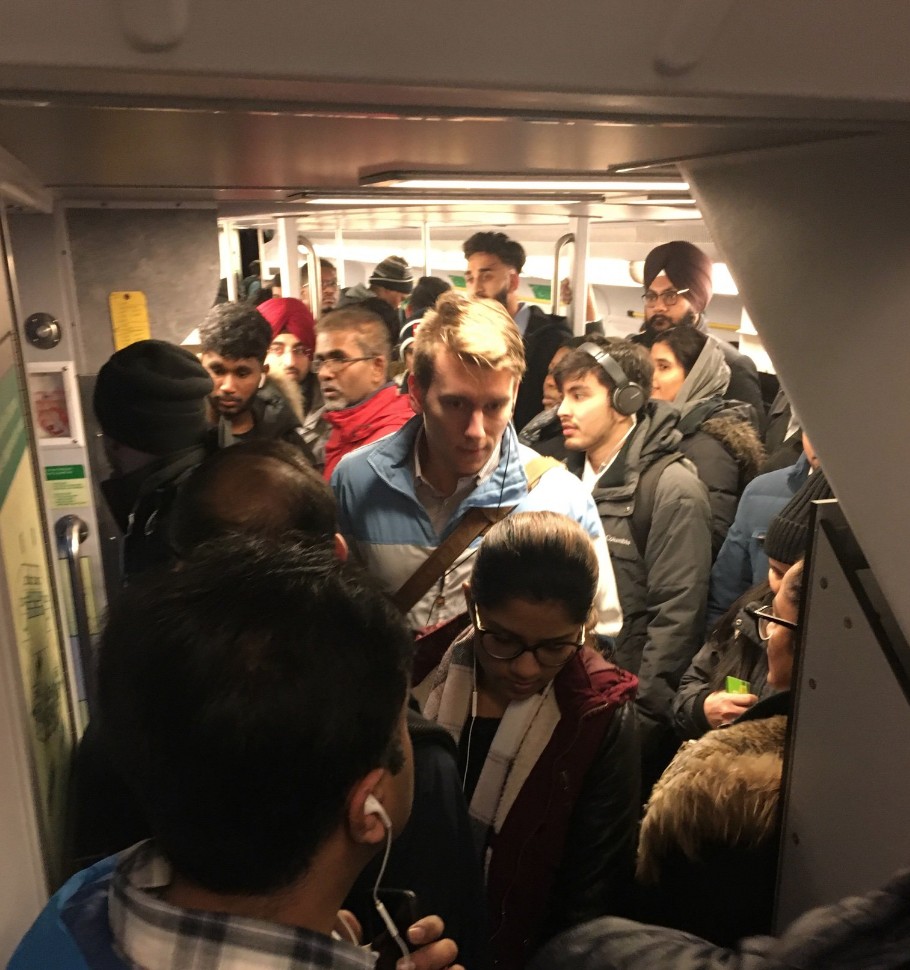 Twitter post of Brampton GO train commuters after the 4:50 express was cancelled.
Accompanying Monday's twitter post and news release was a video statement by Metrolinx president and CEO Phil Verster. It suggests that consumer anger played a large role in the agency's backpedal on its controversial decision.
"We listened to our customers very carefully. As Minister Yurek has requested from us and as customers are telling us, the 4:50 express service is a crucial service for our customers," Verster says at the top of the video, referring to Transportation Minister Jeff Yurek.
The video takes a contrite tone as Verster acknowledges the videos and photos from earlier this month showing dangerously overcrowded platforms.
"I want to just apologize to our customers for their stress on Jan. 7 and 8 as we introduced new service. We are going to make much better preparations this time around to make sure everyone understands what trains have changed in size, length and platforms."
Verster ends the video by thanking customers for their patience. Verster's apology follows a mea culpa by Yurek, who had touted the 25 percent increase in service on the Kitchener GO line in December but was forced by a deluge of negative attention — spurred by overwhelming anger expressed on social media — to admit mistakes had been made.
"Usually there is issues when a new line gets started; usually people get used to the schedule. However in this instance it didn't turn out as well as they [Metrolinx] had planned," Yurek said in response to the backlash. Metrolinx "actually turned an express line into a milk-run line," he said, a rare public criticism from a transportation minister about the agency he oversees.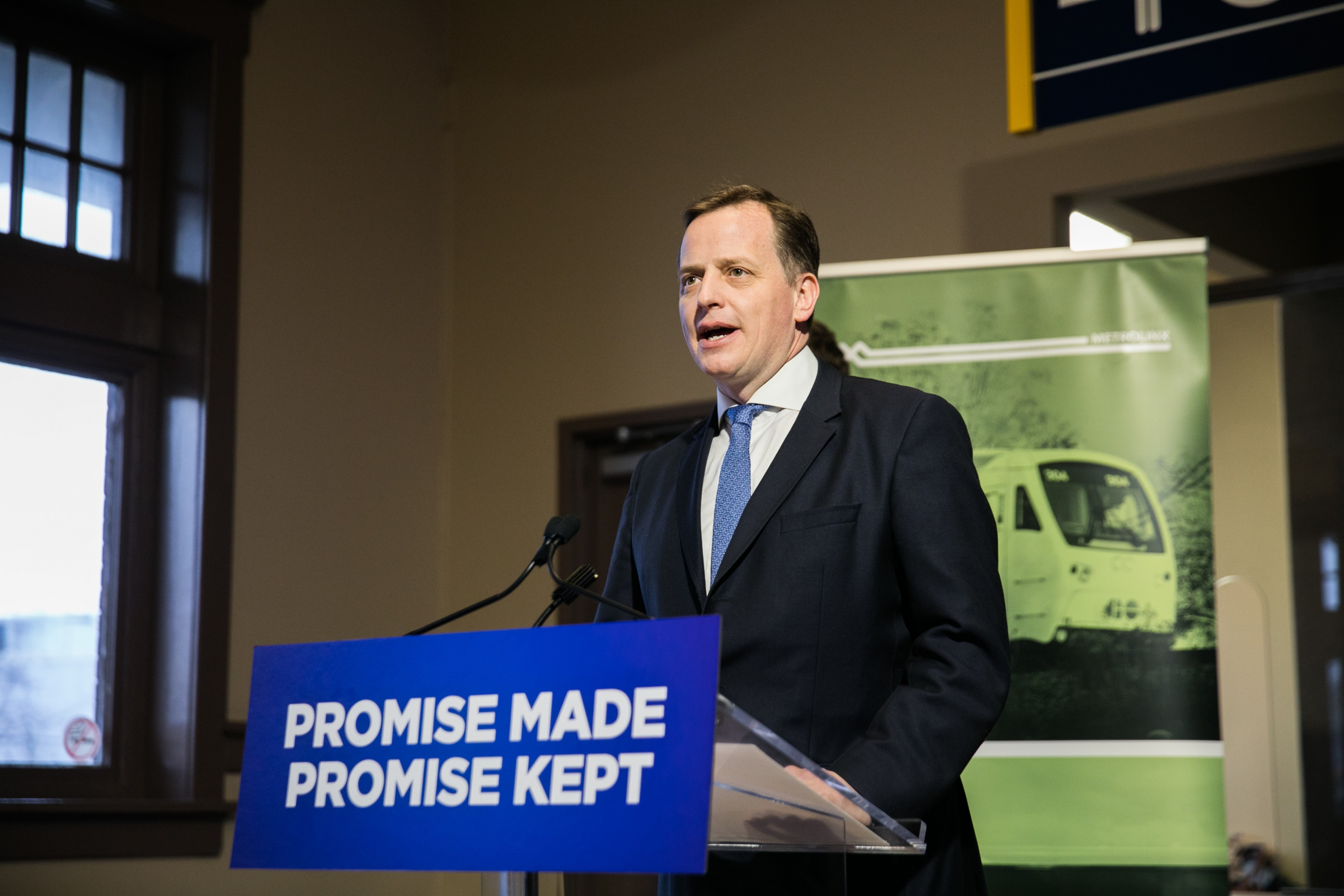 Transportation Minister Jeff Yurek
Yurek may have been hinting at a reinstatement of the express line in his apology last week: "Unfortunately, this didn't work out as well as had been planned. I apologize to the riders of the Kitchener Line, but we're making amends and we're going to make sure that it's fixed in a timely manner."
Opposition voices were among those attacking the minister and Metrolinx on the issue. Brampton Centre MPP Sara Singh put out a statement on Twitter shortly after the service changes saying "images released yesterday of the dangerous overcrowding on the Kitchener Line are beyond disturbing."
The Ontario NDP called upon the Ford government to "fix the problem he made worse by immediately reinstating the 4:50 express GO train along the Kitchener Line."
Mayor Patrick Brown also called upon the provincial government to immediately bring back the late-afternoon express train popular with hundreds of commuters who travel daily from downtown Toronto.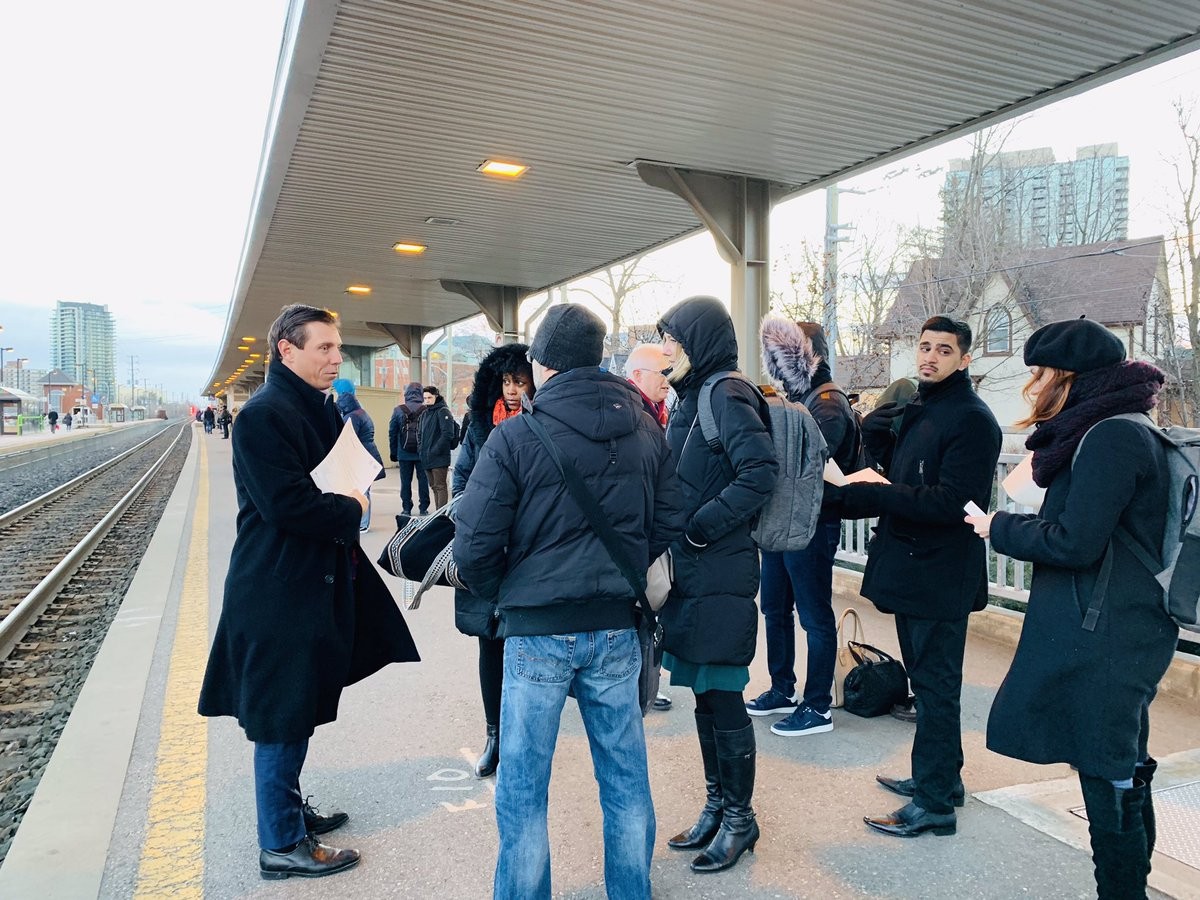 Mayor Patrick Brown talking to GO riders in early January.
Critics have said the PC government's plan for the service changes was a Band-Aid solution from the beginning, slapped together after Premier Doug Ford killed the previous Liberal government's plan to build a freight-train bypass that would have made all-day, two-way GO service to Brampton possible at last — something thousands of daily commuters in the city have wanted for two decades. The project had been underway for more than a year before Ford scrapped it, citing cost and claiming an "enhanced relationship" with CN, which shares the tracks, made the project unnecessary.
The schedule changes Ford's government imposed were supposed to bring relief to Brampton riders, but the results have illustrated just how poorly serviced the city is. The images of hundreds of daily rail commuters packed dangerously on platforms and inside passenger cars underlie the lack of service in a city experiencing explosive growth.
Submit a correction about this story