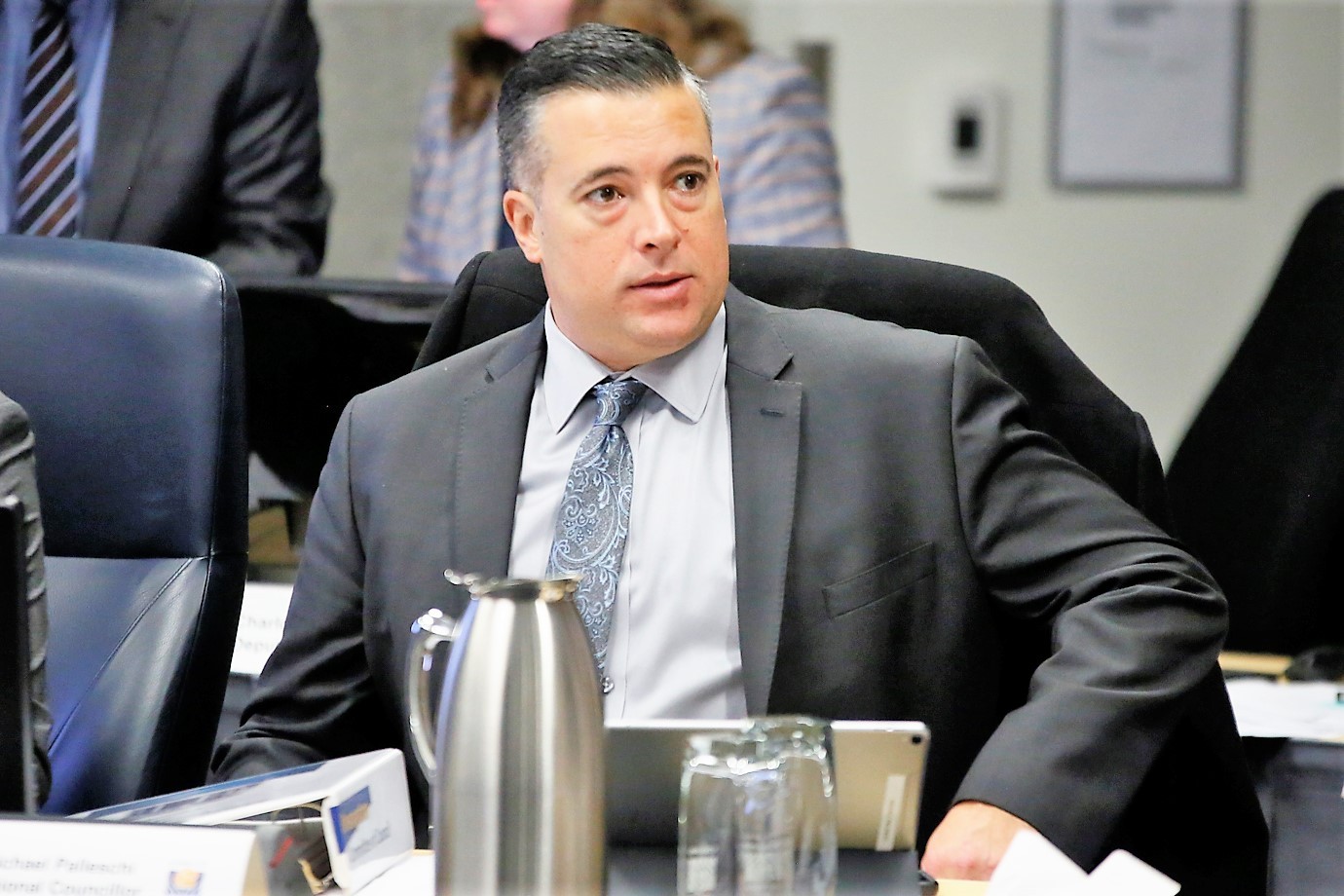 Photos by Mansoor Tanweer
Community safety will be a top concern for three Peel Region councillors chosen to fight the root causes of violence
The councillors who will lead development of the region's community safety and well-being plan have been chosen, marking a step forward in the fight against crime in Peel.
During Peel Region Council's regular meeting on Jan. 10, members approved a leadership team that includes one councillor from each of the region's municipalities to guide the creation of the safety plan this year.
Brampton Councillor Michael Palleschi, Mississauga Councillor Pat Saito and Caledon Councillor Johanna Downey will join the staff group that has already begun forming a larger panel expected to include academics, other experts and residents. Regional chair Nando Iannicca will serve as an ex-officio member of the committee, meaning he will not be directly involved, but can participate.
Palleschi, who chaired Brampton's safety advisory committee last term, volunteered for the position at the meeting and wasn't challenged for the spot by other Brampton councillors at the region. This despite the fact he was initially critical of the province's move last year to require municipalities to create these plans.
"We believe that the province has not fully considered how this requirement would affect a municipality's capacity to deliver on it and ultimately drive up costs," Palleschi told the province's standing committee on justice policy in March 2018 during consultations for Bill 175, the Safer Ontario Act, which heralded several changes to key legislation, including the new mandate, aimed at addressing crime and violence in a more systematic way. At the time, Palleschi called on the province to distribute grants to fund creation of the plans, instead of leaning on cash-strapped municipalities to pay for the initiative.
Now, Palleschi says that he's become more educated on the bill and it's accompanying regulations. He's always been supportive of the end goal of the bill, he says, only critical of the lack of provincial support to create these comprehensive plans, as cities such as Brampton face more and more funding challenges.
It's a facet he's still skeptical about. According to Peel Region, staffing and consultation to develop the plan will cost the region about $1.6 million in 2019 and $1.7 million in 2020.
"That's a big ask, so I want to be at the table and I want to make sure the funds are going to the certain areas that they can help and I don't want it to be something that ends up on a shelf," he said Monday, of the plan.
He admits the path forward is a complex one, but creating the leadership team, and the associated panels for experts and citizens is a good first step.
"We need the professionals (and community members) in the room to be able to have that open dialogue."
The new provincially mandated approach will mark a shift in the region's thinking about how to address a perceived rise in crime against the backdrop of one of the bloodiest years ever in Brampton and Mississauga (the only two cities patrolled by the region's police force; Caledon is policed by the OPP) which included a record number of shooting incidents and a near-record number of homicides.
In September, regional council approved shifting resources to put more uniformed police on the streets. There's been much criticism and discussion around what's seen as a shortage of police resources to tackle crime in the region.
But some experts who have already presented ideas to members of regional council and the police services board, which oversees the force, such as the Law Union of Ontario's Howard Morton, have made clear that more police officers won't help if they are not being deployed properly, if they aren't trained in sophisticated, modern crime-fighting techniques and if they don't help create relationships in the community.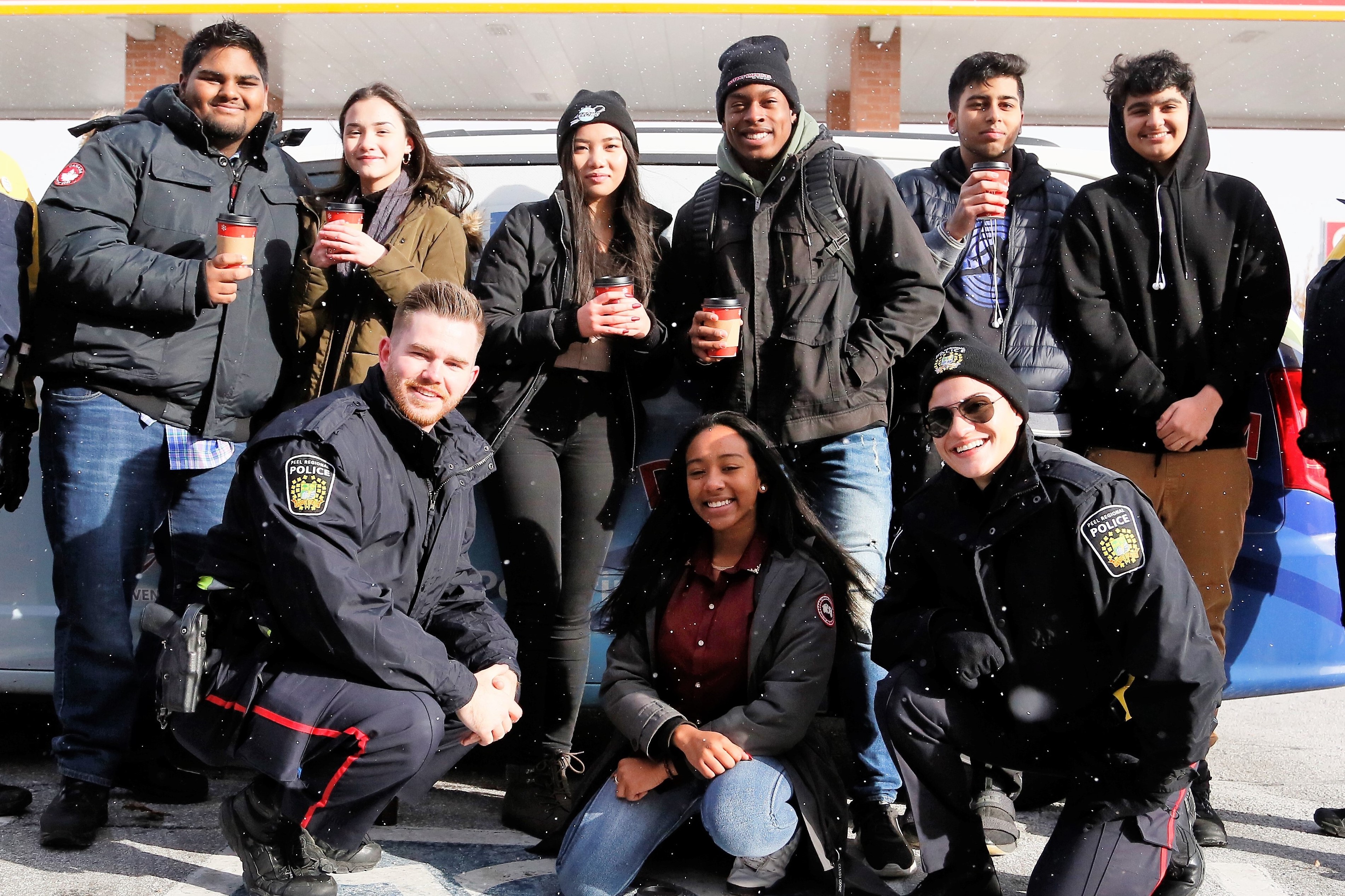 Peel police officers working with local youth.
The community safety and well-being plan could help with this last point. The initiative is more about diving beneath the surface and trying to find proactive ways of addressing the causes of crime and creating a safer community through partnerships, awareness campaigns, mentorship programs and youth engagement, all to bring the entire community together with the aim of keeping residents safe.
"Community safety and well-being is the ideal state of a sustainable community where everyone is safe, has a sense of belonging, opportunities to participate, and where individuals and families can meet their needs for education, health care, food, housing, income and social and cultural expression," according to a definition from the Ministry of Community Safety and Correctional Services.
The provincial definition is the north star for the region as it works at developing its own plan, which was the outcome of the approval of Bill 175 last March.
When Doug Ford swept into power in June, he pulled back on some of the more important changes under the bill, including improvements to police oversight. However, the requirement for municipalities to implement community safety and well-being plans by the start of 2021 remained in place.
"The work of the plan will really be to identify how can we enhance what we're already doing. How can this plan be an add-on to the great work that's already happening at both levels of government here in Peel?" Kate Bingham, an associate medical officer of health for the region, told councillors during her presentation on Jan. 10. "Identifying strategies that comprehensively address those root causes of these issues are needed to sustain and enhance a positive social and economic trajectory for our community."
Root causes include factors such as unequal access to education, income inequality, lack of employment and job security, and other social indicators.
"These factors operate at individual levels, family levels, the community level, and the greater societal level," Bingham said.
This won't be the first time the region has worked on addressing these issues. In fact, it already has comprehensive strategies and plans in place to deal with concerns such as housing and poverty reduction, two issues that are glaringly problematic in Peel, which has one of the longest wait times for affordable housing in the province and one of the highest rates of families living in low-income situations. Community organizations are working to address many of these root causes on a daily basis across Peel, council was told. However, data over the last decade suggest immense pressure in the region, with rapid population growth, a large number of newcomers arriving here and inadequate funding from the province, has led to circumstances getting worse for more and more Peel residents. Unfortunately, all of these pressures, over a prolonged period of time, can lead to higher rates of crime and violence, according to statistics.
The community safety and well-being plan differs from past approaches by the province, as it's meant to bring a range of disciplines, experts and community groups together under one umbrella with their elected officials to find solutions in a more collaborative approach by individuals and agencies more closely tied to the communities where problems exist.
"There are already many Region and community programs, services and initiatives that support the safety and well-being of the communities of Peel Region. The Plan will identify gaps and further opportunities and avoid duplicating work already underway," according to the regional report to councillors.
Bingham admits the plan is a "complex undertaking" and will require a lot of finesse to get it right. "It does require a dedicated, evidence-based, and focused effort to work conclusively with a very broad range of partners."
To date, pen has barely been put to paper on the plan. The extended leadership group met twice over the summer and agreed on a path for adding councillors to the group and a timetable for the work. Next steps will include forming an expert advisory committee and citizen advisory committee to contribute academic advice and local, lived experience. There will also be extensive public consultation.
The benefits of such a plan for Peel Region are clear. It could even result in cost savings.
According to data from the region, every $1 spent on public health initiatives for social development, especially aimed at youth, yields $5 in savings to the health system. Studies have also shown that for every $1 spent on programs geared at preventing youth crime and promoting positive social development, $25 is put back into the local economy.
Submit a correction about this story