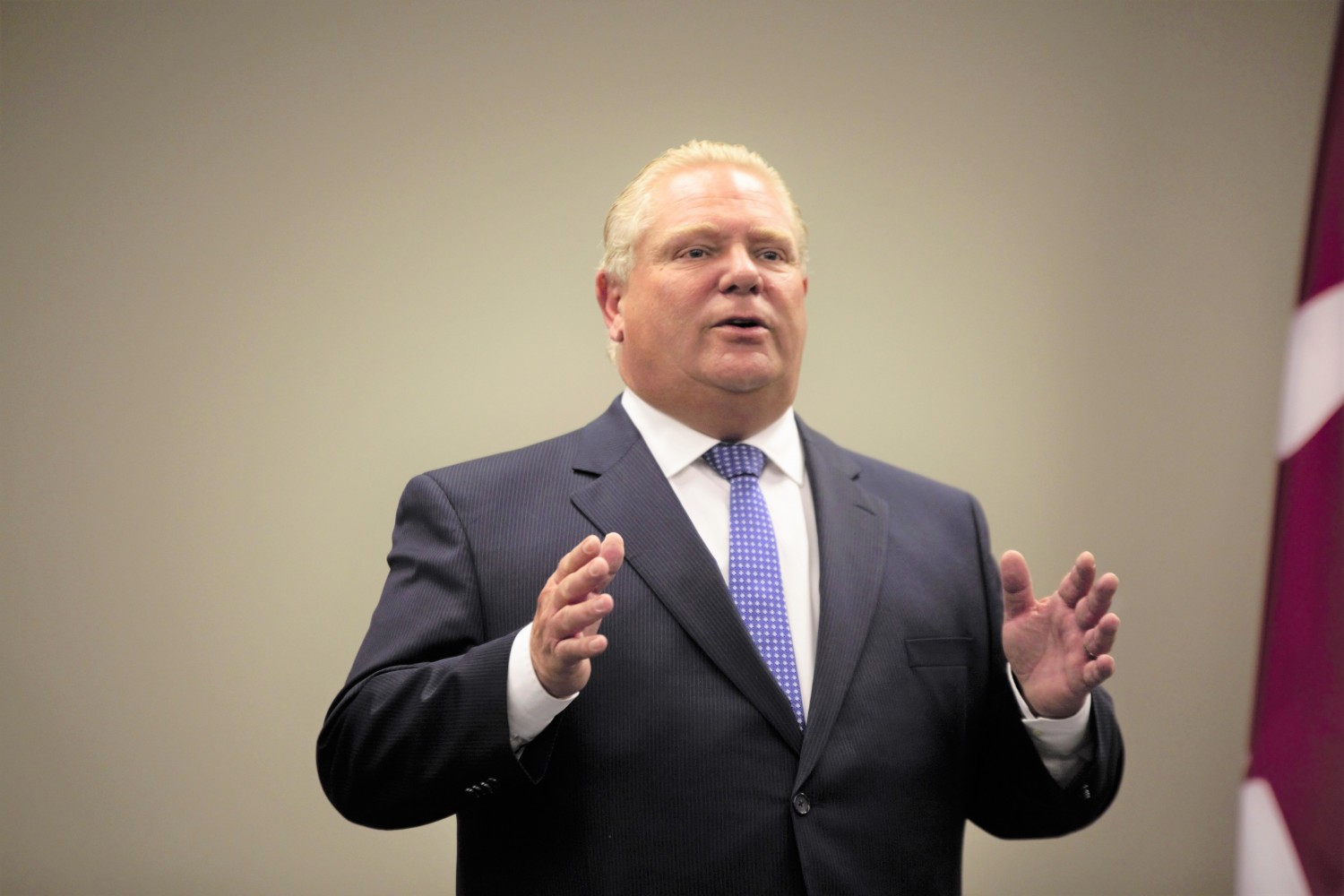 Photos by Mansoor Tanweer
Trudeau government denies cannabis shortage, lays blame on Ford as Brampton scrambles for answers
The federal government is denying widespread reports of a national cannabis shortage and blames Ontario's alarming reduction in cannabis distribution on Doug Ford and his government's flip-flopping on regulations to distribute the drug. Meanwhile, amidst the chaos, Brampton officials are scrambling ahead of a looming deadline to decide whether to opt in or out of cannabis retail stores.
In a statement to The Pointer late Tuesday, in response to a series of questions to the Prime Minister's Office about the chaotic rollout of legalized cannabis, the federal government said there is no cannabis shortage in Canada, despite statements made by the Ontario government. The Ford government is blaming its surprising recent decision to initially issue only 25 Ontario retail licences for marijuana shops on a supply shortage that, according to recent reports, is partly due to poor management by the federal Liberal government.
"Contrary to comments made by both Ontario's Finance Minister and Attorney General, there is not a national shortage of cannabis supply and inventories continue to exceed reported sales," wrote Marie-Emmanuelle Cadieux, senior communications advisor for Bill Blair, the minister of border security and organized crime reduction. "We streamlined the licensing of producers and are enabling increased production of cannabis with 140 licensed producers currently licensed, half of which operate out of Ontario. An additional 200 staff working to ensure a legal, quality-controlled supply of cannabis is available. Licensed square footage has increased from 2 million square feet to more than 14 million square feet."
The statement appears to be the first counterattack from the federal government. In December, provincial Attorney General Caroline Mulroney and Finance Minister Vic Fedeli issued a statement blaming Ottawa for bungling the legalization process, resulting in Ontario's decision to scale back the private sale of cannabis in 2019 — a move that is complicating Brampton's upcoming decision on whether to allow the stores at all before the Jan. 22 deadline to opt-out.
"It is the federal government's responsibility to oversee cannabis production and to provide a viable alternative to the illegal market by ensuring there is sufficient supply to meet consumer demand. Yet, we continue to see severe supply shortages across the country in legal, licensed recreational cannabis stores," stated Mulroney and Fedeli in their joint statement. "This is a national issue that demands an immediate response from Justin Trudeau and the federal government."
It's not only Ontario. Alberta has also reportedly complained that a lack of supply has prompted the province to restrict the distribution of cannabis. Alberta has reportedly stopped issuing licenses for retail stores and is rationing product among the 65 stores already licensed. By comparison, Ontario, with ten million more residents than Alberta, is now only going to allow 25 stores to open across the entire province, initially. It's a major departure from the original plan trumpeted by Ford and his government, to open up cannabis sales across the province in a free market with no cap on the number of retail stores, which is what he campaigned on during the spring election.
According to emailed statements from Cadieux, in the first two weeks of legalization, the provinces and territories combined to sell over 4,600 kg and litres of cannabis for recreational use. Despite these sales, approximately 52,000 kg and litres of finished cannabis products remain in the available supply inventory, Cadieux stated, and almost 110,000 additional kg and litres will soon be ready for delivery.
The federal spokesperson also fired back at the Ford government for squandering its time to prepare for legalization, abruptly changing course after taking office by scrapping former premier Kathleen Wynne's plan to sell cannabis through the LCBO and instead pursuing sales through a private market model.
"The Premier of Ontario focused his efforts solely on cancelling the existing system without having a viable alternative to replace it, and Ontario remains the only jurisdiction that required an additional six months to be ready. This sudden change, so close to legalization, caused what industry officials considered to be a 'rocky rollout' and what Toronto city councillors have said puts the city in a 'tough position'," Cadieux wrote. "While the government of Ontario continues to make excuses, the other provincial and territorial governments continue to make progress and can serve as an example for the former to follow in order to meet the demands of Ontarians for safe, regulated cannabis, rather than leaving many people returning to the illegal market."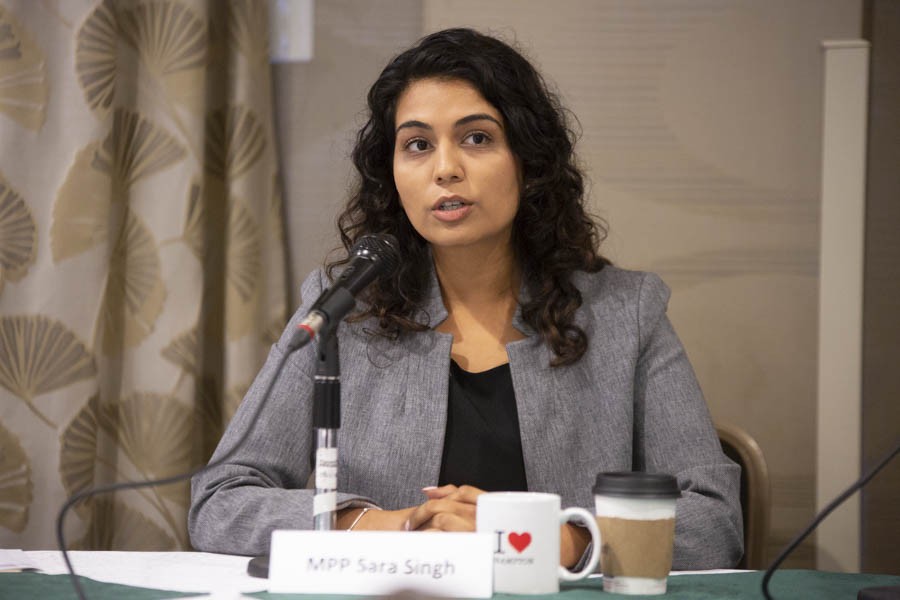 Brampton MPP Sara Singh
It's not just Toronto that's struggling with all the chaos at the two higher levels of government. Sara Singh, Brampton Centre MPP and deputy leader of the official opposition NDP, also criticized the approach taken by Ford's government.
"Doug Ford's cannabis plan has been plagued from the start by problems. The previous Liberal government's plan to open just 40 cannabis storefronts was an open invitation to the illegal cannabis market to operate in Ontario. Almost all communities would be underserved by such a small number of storefronts, and many communities wouldn't be served at all. But instead of offering Ontario something better, Doug Ford's plan to restrict the number of cannabis stores to just 25 is only going to make that problem worse," Singh said in an emailed statement to The Pointer Tuesday.
"What's clear to the people of Brampton and all Ontarians is that Doug Ford's cannabis plan has not done much more than let them down and help the illegal cannabis market thrive in Ontario. People deserve better."
Critics have said that, if there really is a dramatic supply shortage, illegal distribution could become rampant, as demand surges because cannabis use is now legal across the country. Some municipal jurisdictions, such as Peel Region, have considered bylaws to prohibit the use of cannabis in public spaces.
The latest twists in the discussion around legalized cannabis come as the Brampton council is grappling with whether to allow private retailers to sell the drug within the city's boundaries, while Toronto has already opted in and Mississauga has opted out.
Late in 2018, council received an initial report from staff that highlighted the results of a poll completed by Environics showing that 54 percent of respondents said they "strongly" or "somewhat" supported pot shops in Brampton, while 40 percent "strongly" or "somewhat" opposed them. Only 6 percent of survey respondents were undecided.
The results were slammed by Councillor Charmaine Williams, a vocal advocate for the "opt out" option, who claimed the commissioned survey results were not indicative of what she'd heard from residents during her campaign and that the poll did not go far enough to reach a diverse sample of the community.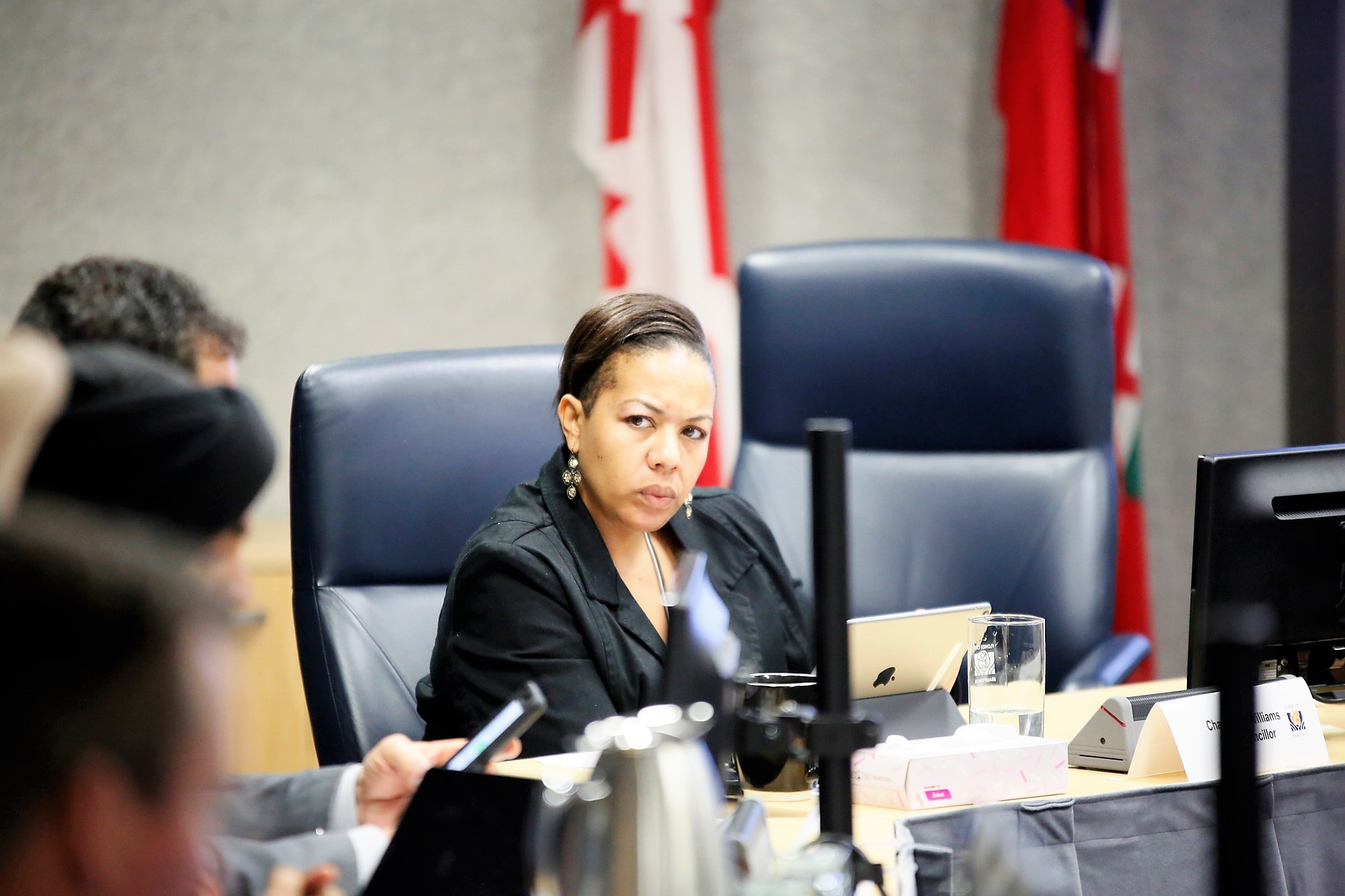 Councillor Charmaine Williams
It's not the first criticism of the city's attempts to gather public sentiment on the issue. After turning down the initial staff recommendation to opt-in and allow the shops to operate within Brampton, council has been looking for further comment from residents. In-person surveys are currently underway at community and recreation centres across the city, and a town hall is scheduled for tomorrow (Jan. 10) in the City Hall Conservatory from 7 to 9 p.m.
Residents have panned the city's efforts to get the word out on social media for not going far enough to accommodate the public or provide enough notice that opportunities are available to register opinions on the subject.
The lack of opportunity for public input has council running the risk of missing out on hearing certain views that may be critical to the populations they represent.
With an electorate that is 74 percent visible minorities, an array of personal and religious values may influence opinions on the subject. In particular, when it comes to intoxicants such as alcohol and cannabis, recreational use is prohibited for those of devout Islamic and Sikh faiths. With public discourse limited, it's uncertain whether these opinions will be heard and heeded by council.
"I've had a lot of people reaching out to me, and people are quite divided by this," says Councillor Harkirat Singh. "Many people who support cannabis do not like the current option being proposed by the province and believe cannabis should be sold through the LCBO. There is also concern that the minimum distance is only 150 meters away from schools. However, supporters point to the fact that only 25 retailers will get a license initially and that we could use the funding that comes with opting in."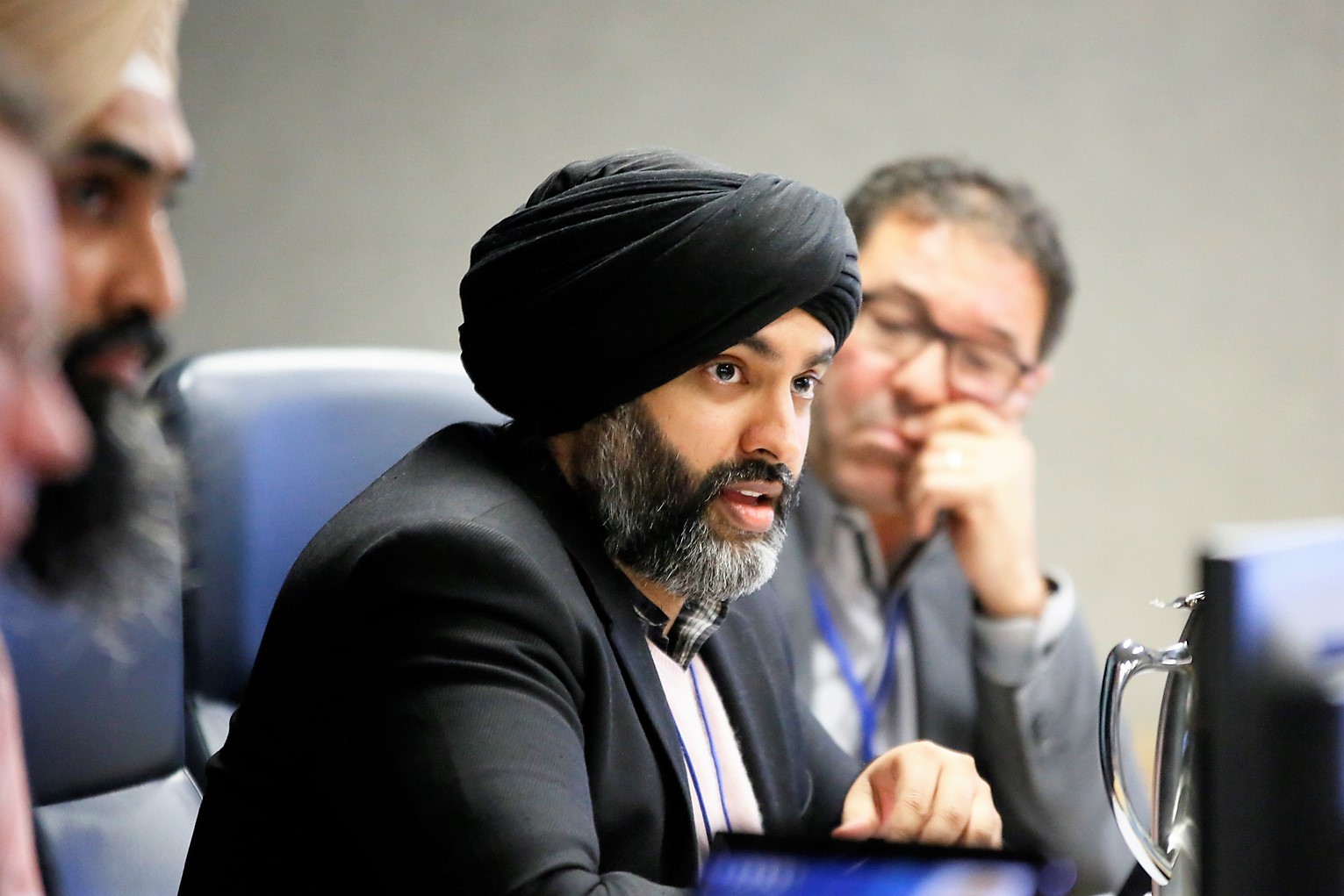 Councillor Harkirat Singh
Funding for municipalities to deal with the impact of legislation is slated to start flowing from the provincial government this month, initially splitting $15 million among all Ontario municipalities. An additional $15 million will be split among those municipalities that opt in to allowing pot shops within their borders. The amounts given to municipalities by the province will be based on population.
Councillor Gurpreet Dhillon says he's had people reach out to him on the subject, but, addressing the desire to represent as many opinions as possible, he said none have offered any specific religious or cultural reasons for their views for or against cannabis retail stores.
"We are engaging in a city-wide initiative to collect as much input from residents as possible. During the election I was also able to hear many of the different viewpoints and justifications for and against cannabis and will take all of these, plus staff's recommendations, into account before making an informed decision."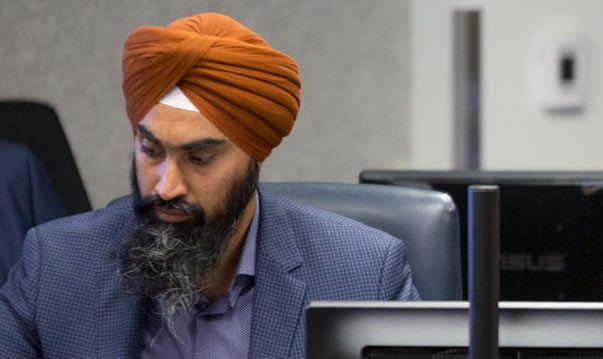 Councillor Gurpreet Dhillon
A final decision is set to be made during a special meeting of council on Jan. 21, one day ahead of the Jan. 22 deadline set by the province to make a decision.
Prior to that, city staffers are hosting in-person survey opportunities at community and recreation centres across Brampton, allowing residents to provide their thoughts on the potential presence of the marijuana shops in the city.
The Pointer attended the drop-in session at the Cassie Campbell Community Centre Tuesday evening. Some residents said they see the financial benefit to the city of opting in, others were strongly opposed, as the public seems clearly divided on the issue.
"I think they are going to make some money from taxes. Hopefully with money realized from taxes maybe they can put up social programs for kids and youths and even infrastructure for our citizens of Brampton," said resident O.B. Onyige.
Others feel that allowing the shops to open in Brampton could help to reduce crime in the city.
"I think that we should get on board. With only 25 stores opening up (it's) very likely we won't even get one, but we need to tap into the money there," said resident Dale Williams. "I really feel as though this is a really good opportunity now to reduce crime, because people can go to a store (instead of) waiting online, which they don't want to. Not being able to get it from a store, people are going to dealers."
The impact on criminal activity is a common pinch point in the argument, and just as Williams provided his comments during an in-person survey on Jan. 8, other residents came forward with the opposite view.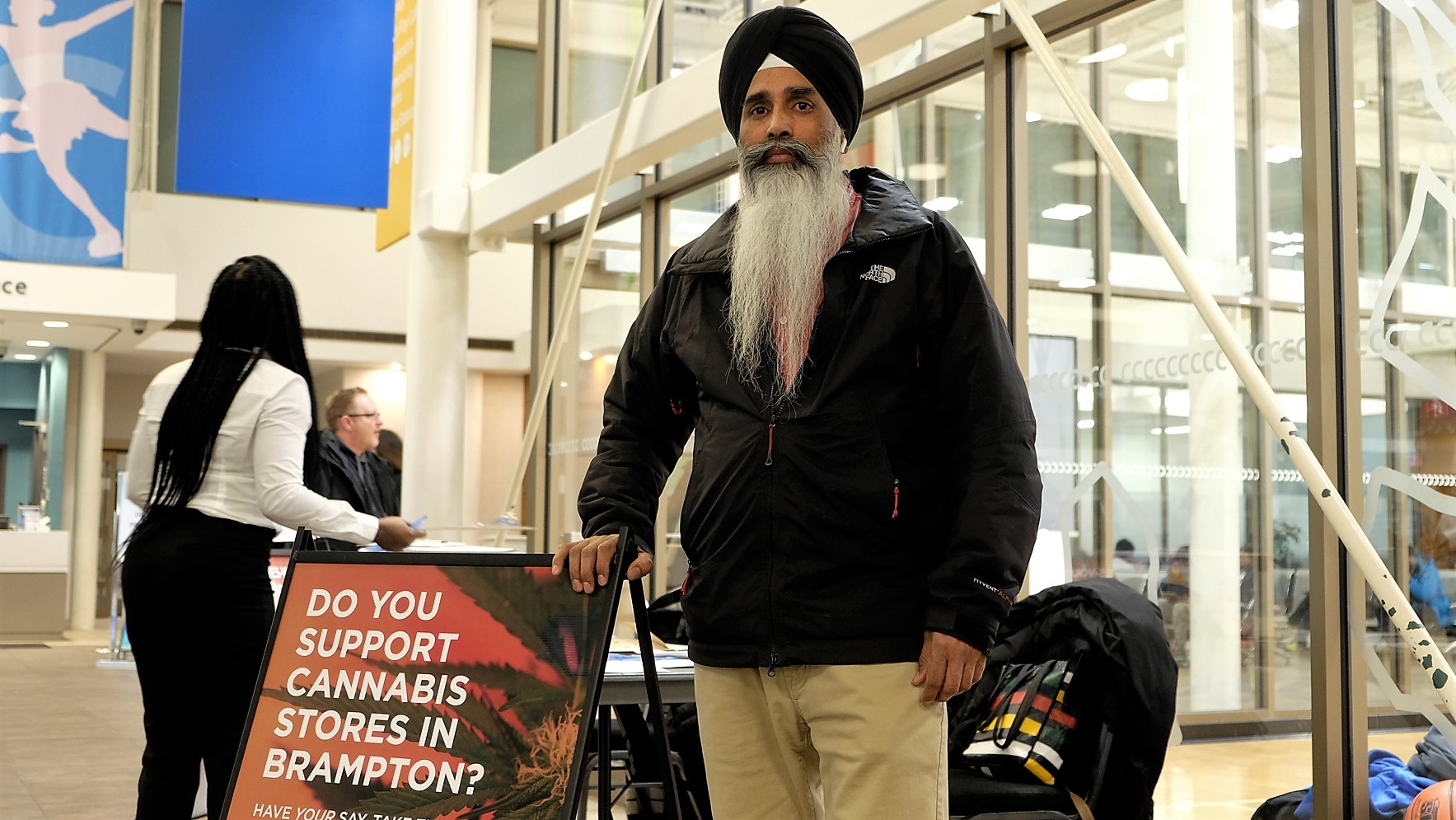 Brampton resident Dharampal Singh Sandhu, at the Cassie Campbell Community Centre Tuesday, is strongly opposed to retail cannabis shops in the city.
"I'm opposing (cannabis stores) strongly," said Dharampal Singh Sandhu, founder of Drug Awareness Society Toronto. "We don't need cannabis stores in Brampton. We are already facing a lot of problems like gangsters stealing stuff and other stuff. Marijuana (for recreational use) is mostly for younger people. If some adult wants it, he can order it. They can get it online. We don't want to have a store on each corner and a greedy store owner who can sell as much as he can and sell to underage kids and stuff."
Contrary to this view, the federal government says regulating cannabis will help eliminate illegal sales.
"Under the previous approach, the cannabis being sold was unregulated, untested and often unsafe, with the cannabis trade putting billions annually into the pockets of criminal organizations," the ministry's Cadieux wrote. "However, by legalizing and strictly regulating cannabis we will help dramatically reduce the market share for organized crime and better protect Canadians, especially our youth. Previously, the recreational cannabis market was 100% controlled by organized crime. While the 65% reduction is a good first step, we will continue to reduce this number to zero by working with our partners to target organized crime and criminal networks."
Submit a correction about this story