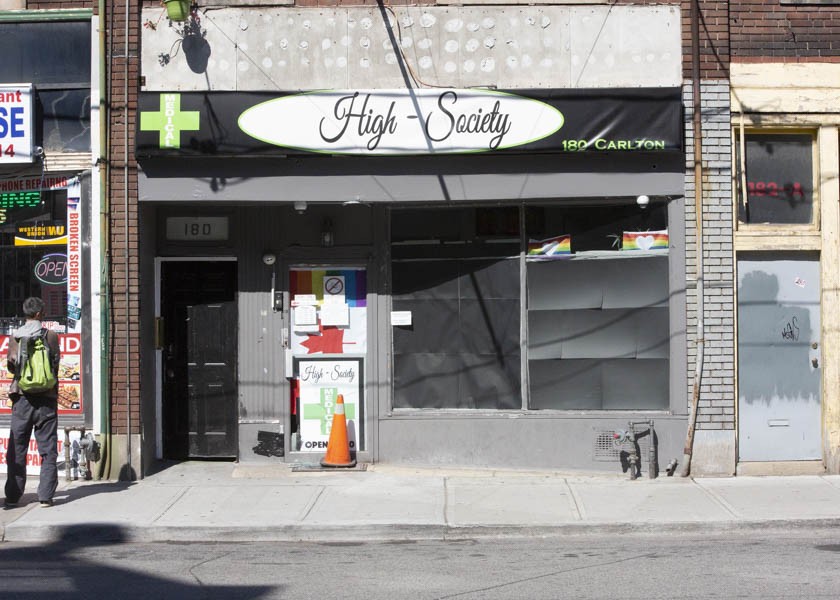 Photos by Mansoor Tanweer
In or out? Brampton council urges residents to share thoughts on retail cannabis stores
The City of Brampton's second kick at cannabis consultations, to determine if pot shops will be allowed within its municipal borders, is taking flak from residents. Some say the city hasn't gone far enough to address the complexities of the issue, and others say it's simply too little, too late.
The city is hosting several opportunities for residents over the next two weeks to gather their feedback before a final decision on legal retail cannabis outlets in Brampton is made at a special meeting of council on Jan. 21, just a day ahead of the provincial deadline.
Residents can meet members of city staff at several locations across the city to fill out an in-person survey on the topic.
"The cannabis issue is certainly an important one for residents to weigh in on. The city is holding various open houses and town halls for resident feedback," said Councillor Jeff Bowman.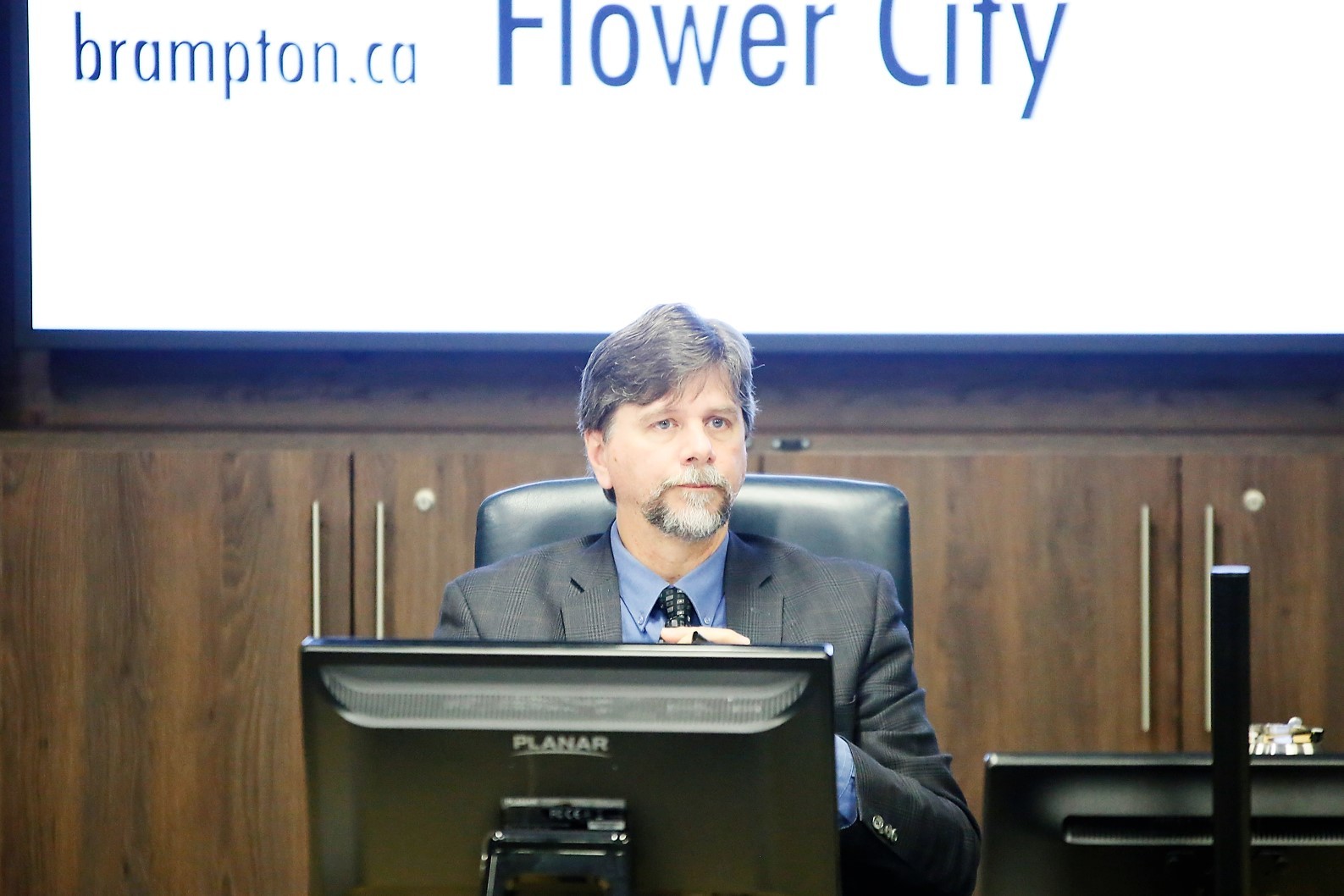 Councillor Jeff Bowman
On Jan. 8, residents can visit the Brampton Soccer Centre, the Cassie Campbell Community Centre, or the Earnscliffe Recreation Centre any time between 6 p.m. and 8 p.m. to fill out the survey.
On Jan. 9, staff will be at the Gore Meadows Community Centre and the Chinguacousy Wellness Centre between 6 and 8 p.m.
Finally, on Jan. 10, staff will have surveys available at the Century Gardens Recreation Centre, South Fletcher's Sportsplex, and the Flower City Seniors' Centre.
A town hall meeting will be held Jan. 10 between 7 and 9 p.m. in the City Hall Conservatory. The event will include a presentation on cannabis retail stores and a panel discussion. It will also be live-streamed on the city's Facebook event page.
Residents can also email comments and concerns to [email protected]
The City of Brampton has been under fire in the past for a lack of communication and providing few avenues for comment on critical issues. Even with the cannabis question, an initial in-person survey opportunity on Dec. 20 came under criticism in social media because it was held at 2-4 p.m. on a Thursday, when most people were at work.
Bowman said staff and council are putting in significant efforts this time around to ensure the word gets out. Hearing from citizens on such a significant topic is essential, he said, but it can be difficult when the city has limited options to reach out to residents.
"Councillors are responding to resident emails and questions and sharing info on social media sites," Bowman says. "It is difficult in this city, with very limited media outlets, to ensure widespread coverage of news and events. There is also a real engagement concern when only 30 percent of residents get out to vote for their local council representatives who will be making many important decisions over the next four years."
"They could have done more," says Brampton resident Anna-Marie Carreiro. "The only thing that I've heard so far is just the one town hall … I was ready to go knock door to door in my neighbourhood to explain what is going on."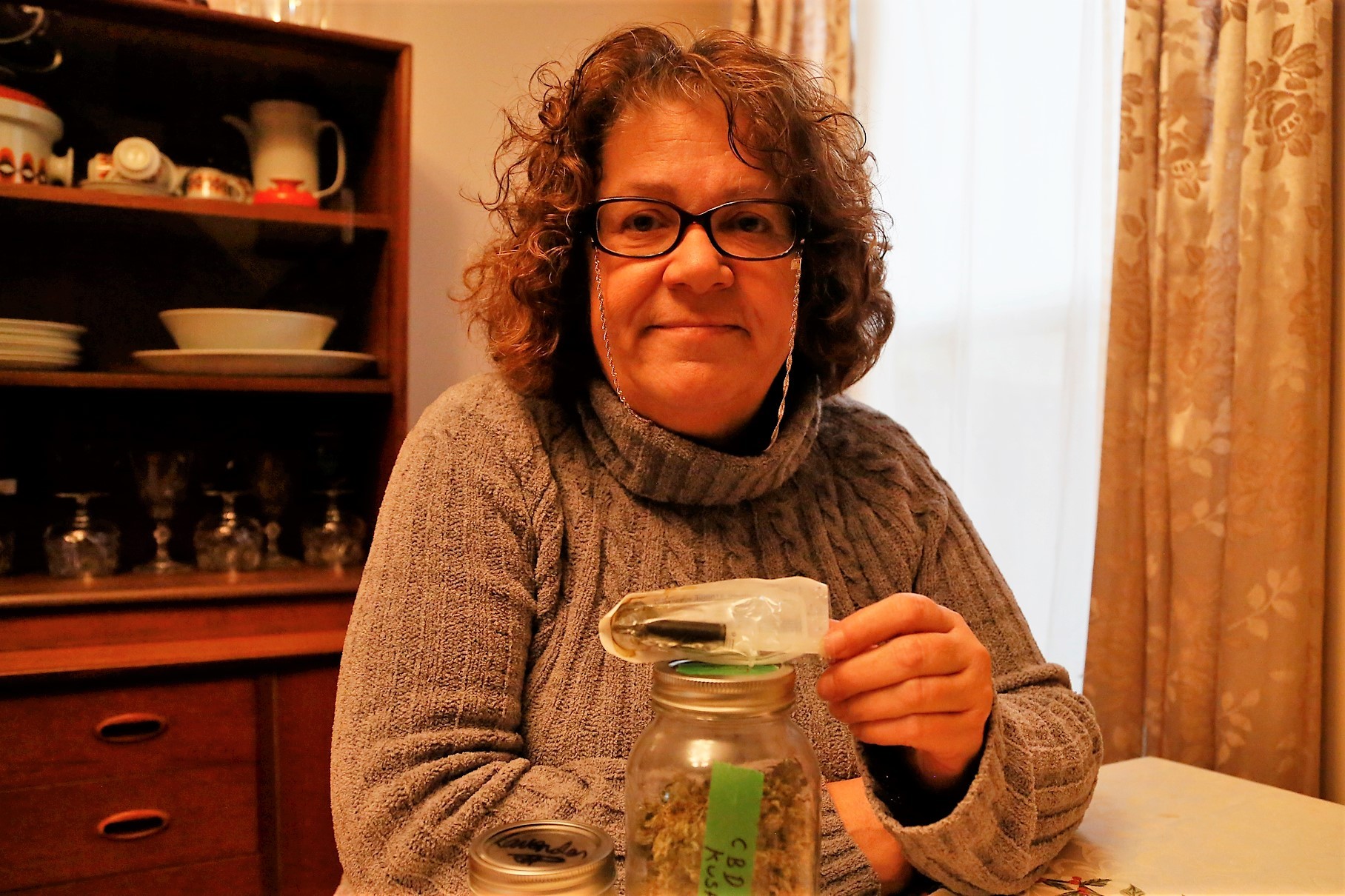 Anna-Marie Carreiro
Carreiro, diagnosed with a brain tumour in 2012, began using cannabis oil as a treatment in 2014. After three years of use, doctors were able to 100 percent remove the cancer, which was initially thought to be inoperable.
A strong supporter of retail outlets in Brampton, Carreiro says much of the concern about allowing them stems from a lingering stigma around cannabis.
"The most important thing, and I keep saying it over and over, [is] we need more education," she said. "How can residents really give a good opinion without any education?"
While it may now be too late for the city to plan more consultations on the matter, Carreiro said that instead of a single town hall, the city should hold ward-specific consultations to offer not only more opportunities for discussion, but discussion on detailed topics.
Carreiro says retail stores help protect consumers, allowing them to see what they're purchasing. Already, concerns have been raised about the quality of cannabis products being shipped from the Ontario Cannabis Store, the province's online cannabis outlet and only legal source until retail outlets are allowed to open in April.
In November, Ontario producer RedeCan Pharm recalled over 9,000 ounces of products after consumers complained of mould and bugs in their orders.
"Number one is a retail cannabis store; you go in, you look at the product, you can see if that product is good or not good," Carreiro said. "When you're spending a lot of money, you don't want to be buying something you have to turn around and throw out."
The results of the city's survey and public feedback will inform the recommendations staff bring to council's special meeting on Jan. 21. This will be a second report from staff. The first recommended opting in to the province's framework for retail sales, but council chose to wait and do more consultation with the public ahead of the province's Jan. 22 deadline. Municipalities that don't declare they want to opt out of allowing retail stores by then will automatically be opted in. Mississauga has already opted out, while Toronto is preparing to welcome retail stores.
Councillors criticized the original consultation by staff as being too limited and not representative of the diverse populations and opinions within Brampton.
According to the staff report, Environics, the company that conducted the initial telephone poll for the city, found that 54 percent of respondents sampled said they "strongly" or "somewhat" support pot shops in Brampton, while 40 percent "strongly" or "somewhat" oppose them. Only 6 percent of survey respondents were undecided. The company conducted the poll in the first week of November; earlier reports said it would survey 800 residents.
A consistent voice of dissent on council has come from Councillor Charmaine Williams, who campaigned on a strong stance of stopping these shops from opening in Brampton, at least until the city can learn from other municipalities' experience. During council's December meeting, she questioned the results of the poll, noting that it was quite a stretch from what she had been hearing at the doorstep during the campaign: a resounding desire to keep these stores out of Brampton.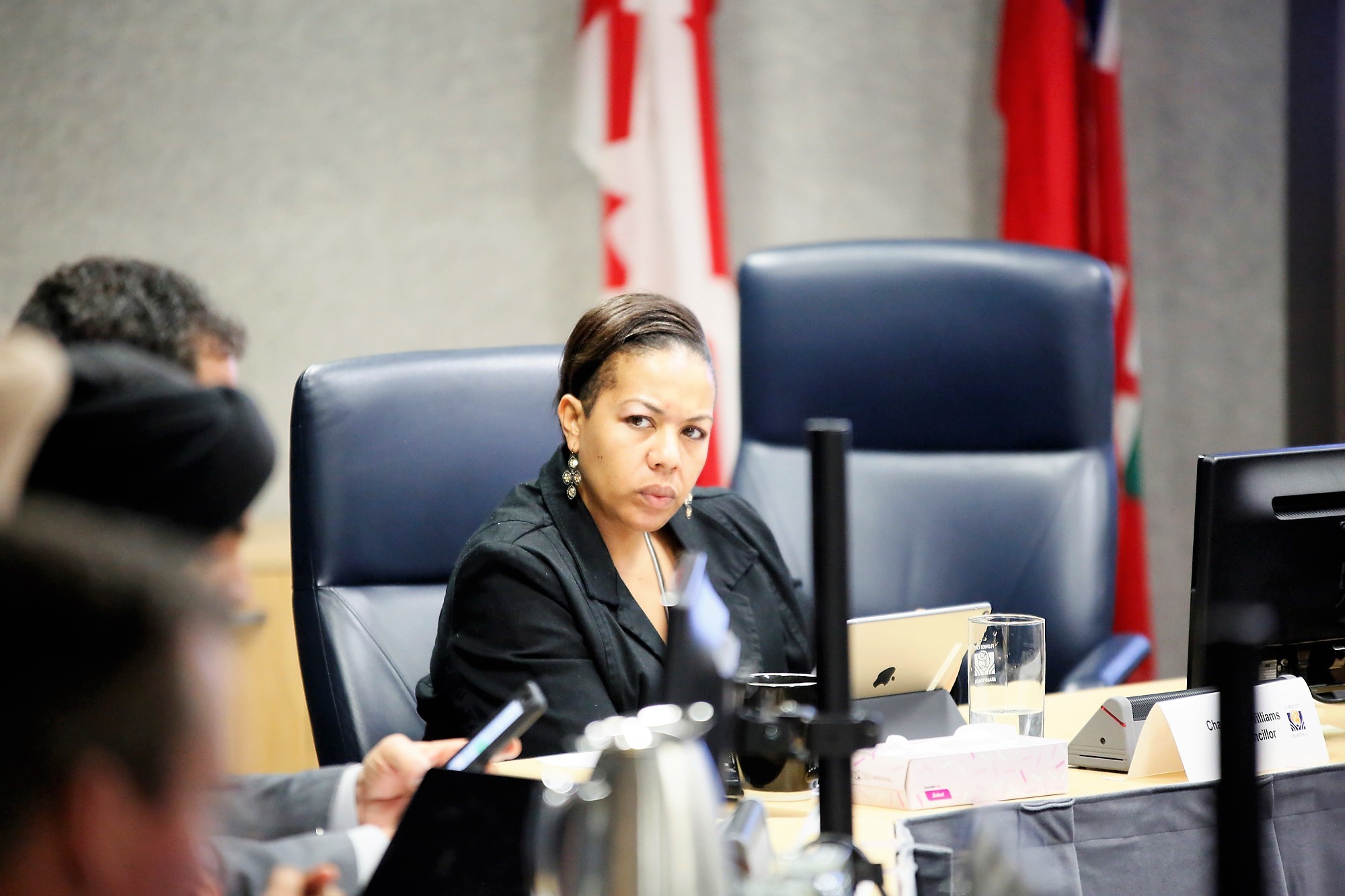 Councillor Charmaine Williams
Williams noted that making a decision so soon would mean rushing to a conclusion without having enough information at hand.
"It's about whether we want to rush into the new frontier without knowing most or all of the impacts it will have on our community," she said. "Brampton would be better off without marijuana stores on every corner."
Zoning restrictions will prohibit cannabis stores within 150 metres of any school. However, it appears that worries about an abundance of retail cannabis outlets in the city may be overblown, at least initially.
The province recently announced that due to cannabis product shortages across the country, it will limit the number of cannabis retail licences issued in Ontario to 25 until the end of 2019.
According to the Globe and Mail, citing an anonymous source, Canada will receive 60,000 kilograms of cannabis product in the first year of retail sales. However, projections estimate that in an open market, the federal government would need closer to 250,000 kilograms in order to keep up with demand.
According to data from Statistics Canada, in the first two weeks after legalization on Oct. 17, Canada saw approximately $43 million in cannabis sales, nearly $12 million of which was in Ontario.
The shortage of cannabis products follows a legalization day that was fraught with delays in Ontario, with some consumers waiting weeks for their packages to arrive. A Canada Post workers' strike also played a part in the delays. In Alberta, the province has stopped issuing licences for retail stores and is rationing its products among the 65 stores that have already been licensed.
Following the province's decision to limit licenses, the initial retailers will be chosen by lottery, chosen by the province among the regions and municipalities that have opted to allow stores.
Funding for municipalities to deal with the impact of legislation is slated to start flowing from the provincial government this month, initially splitting $15 million in funding among all Ontario municipalities. An additional $15 million will be split among those municipalities that opt in to allowing pot shops within their borders.
Mayor Patrick Brown has consistently criticized this amount as insufficient. He previously told The Pointer that if the province wanted municipalities to allow retail stores, it should have provided the proper funding to support their introduction.
"I think one of the reasons why they're struggling to get municipal buy-in is, [the province is] telling municipalities, 'We're going to get all the revenue, but you're going to pay all the costs,'" Brown said. He said he wants to hold out for more funding before he throws his support behind any concrete policy bringing cannabis stores to Brampton.
The initial $40-million commitment from the province will be doled out in two payments. First, $15 million will be divided out to municipalities on a per-household basis. A second payment will follow at a later date.
If Brampton councillors decide to opt-out of allowing retail stores, this will be the last funding the city receives from the province to deal with the impacts of legalization. Mississauga council voted in December to opt-out, while the City of Toronto decided, on the same day, to open its borders to the stores.
A concern among some, if Brampton chooses to opt out, is that with Toronto opting in, retail stores there close to the border could supply the Brampton market, leaving the city to deal with many associated costs, while it would not get the full funding from the province to deal with an array of cannabis-related issues.
Submit a correction about this story