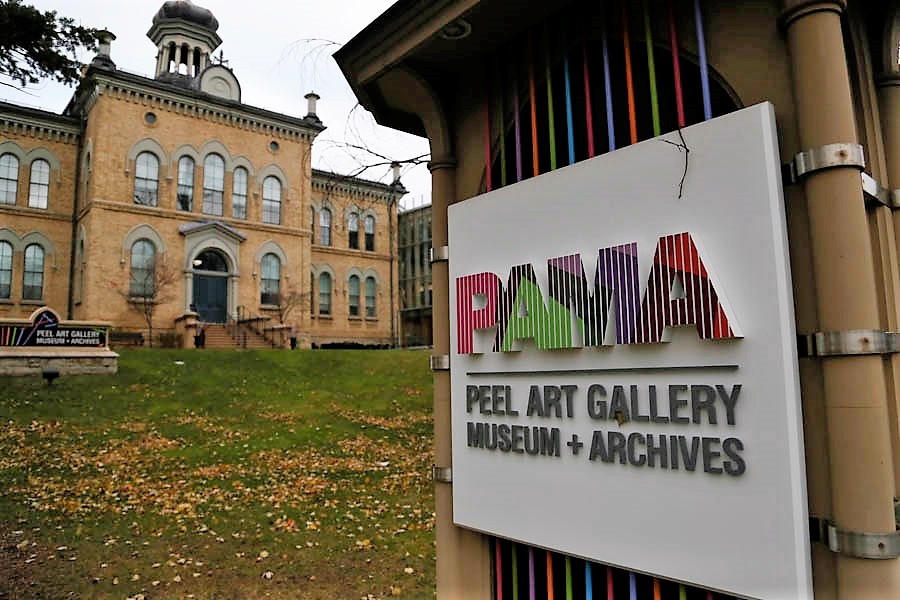 Photos by Mansoor Tanweer and from PAMA
PAMA celebrates 50 years of holding a mirror to Peel Region
The building at 9 Wellington Street goes by many names. Museum. Gallery. Archive. Even jail, at one point. But it's much more than that.
One word can't begin to encompass the breadth of what the Peel Archives Museum and Art Gallery has accomplished over the past 50 years — the depth of history, the beauty of art, or the richness of the debate and conversation that takes place within its walls. It is a golden anniversary the organization has been celebrating throughout 2018.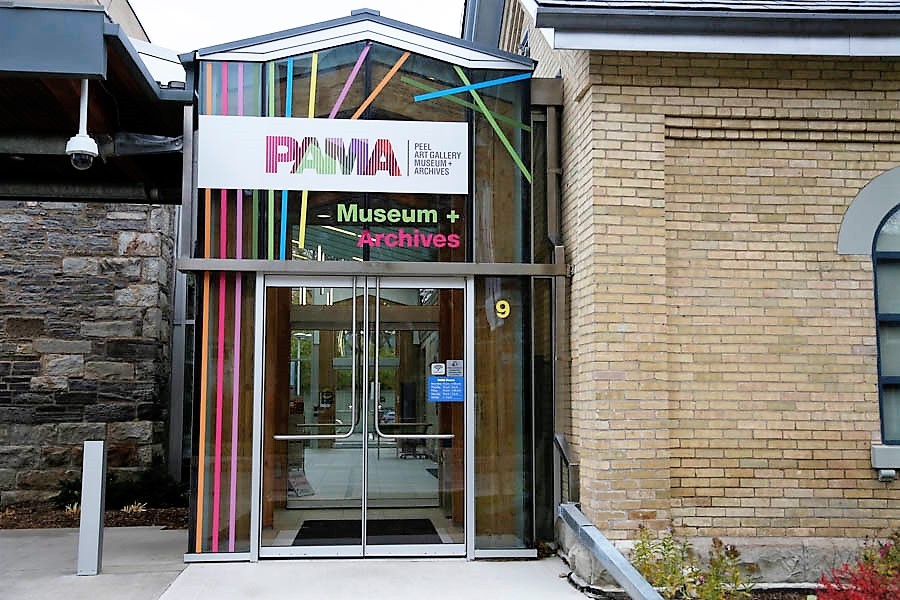 As the marking of its half-century of work nears an end, PAMA will be challenged to continue reflecting one of the most complex, rapidly changing cities in the country. As demographics and histories and interests change, its success will depend on remaining relevant to the cosmopolitan people that call Brampton home.
To understand the scale of its accomplishment, it's important to look at the beginnings, at the idea that eventually became PAMA. A place for Brampton and Mississauga to find memories of their past, while reflecting on what the area and its people have become and where they seem to be going. For those with a curious disposition, who care about their rootedness in community and place, PAMA is the one institution that offers a better understanding among residents of how the things that surround them every day, came to be.
Down in PAMA's roots, deep in its history, one discovers the decisions that allowed it to thrive in an age of technology, apathy, changing demographics and changing tastes. In looking at what it has become, as the celebration of its first 50 years nears an end, the commitment of an organization already looking forward to the next half-century is a heartening reminder that the people of Brampton have their very own institution to capture and preserve their collective experience.
---
In 1967, Canadians across the country were lighting fireworks, hosting parties and raising a toast to the country's 100th birthday. The national fervour ignited during Canada's centennial year created a new consciousness among Canadians of their history and that of the places where they grew up.
Across the country, people whose curiosity had been piqued dug up family trees, yellowing photos and relics of the past found in dusty back rooms and attics. For some residents of what was then Peel County, that year offered just enough time to develop a fascination with the local story. In 1968 the County of Peel Museum and Art Gallery opened its doors, an effort largely driven by the local historical society and the Women's Institute of Peel County.
Originally, space was provided at the Land Registry Office, at 7 Wellington Street in Brampton.
In the early days, PAMA's collecting was somewhat one-dimensional. Peel was of course a largely rural settlement of Europeans, mostly British, which meant that most of the historic items and information being displayed at the museum focused on farming and the "pioneer" story, says Maureen Couse, PAMA's history exhibitions specialist.
Couse has spent more than 20 years with PAMA, moving through a variety of roles, mounting exhibitions, educating and presenting various aspects of PAMA collections across Peel Region. Now, she spends most of her time on the museum side, delving into historical elements of PAMA's collection and working on long-term exhibitions like the "We are Here" exhibit, which showcases Peel's Indigenous community, and helping with the changing offering of temporary exhibits.
Couse says PAMA has adapted to the times and expanded its collective lens.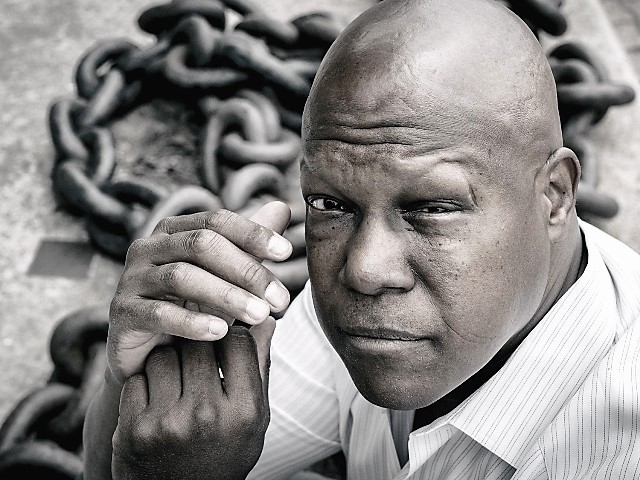 Darryl Hogan, pictured in a photo essay featuring Canadian descendants of American freedom-seekers.
Upcoming exhibits include Karan Kaur's Contemporary Sikh Fashion, and North is Freedom, a photographic essay featuring Canadian descendants of freedom-seekers who escaped slavery in America.
"Today we're very much focused on being much more inclusive and diverse and looking at all of our community members and the things that they bring to our community," she says.
That's allowed PAMA to grow with the city in which it is rooted, and to reflect the changing face of the region as it has evolved over time — changing with the community's interests and identity.
"We're always thinking about the community and our audience," Couse says. "We're always trying to find that spark, trying to break through some of those old stereotypes."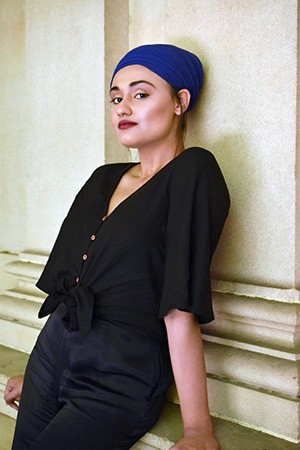 Karan Kaur's Contemporary Sikh Fashion will be exhibited in 2019.
It's difficult at times. It's easy to get lost in a collection of more than 13,000 artifacts, Couse says. PAMA has taken the initiative to promote regular interactions with the people who should shape the content, asking residents what they would like to see on display and, in a way, allowing the public to be the curator.
---
Constant change in how history is presented can also be seen in PAMA's physical form. In 1977, the museum joined forces with the Peel Archives, and together they moved into the old Peel County Jail next door. By 1986, the block of buildings comprising the renovated jail and the Land Registry office was opened to the public under the name of the Peel Heritage Complex. The operation also shifted in the hands of the Region of Peel. In the late '90s, the complex completed a major renovation to modernize the historic buildings. It wasn't until 2010 that the museum would close again, for a planned massive expansion of exhibition space and collection storage area.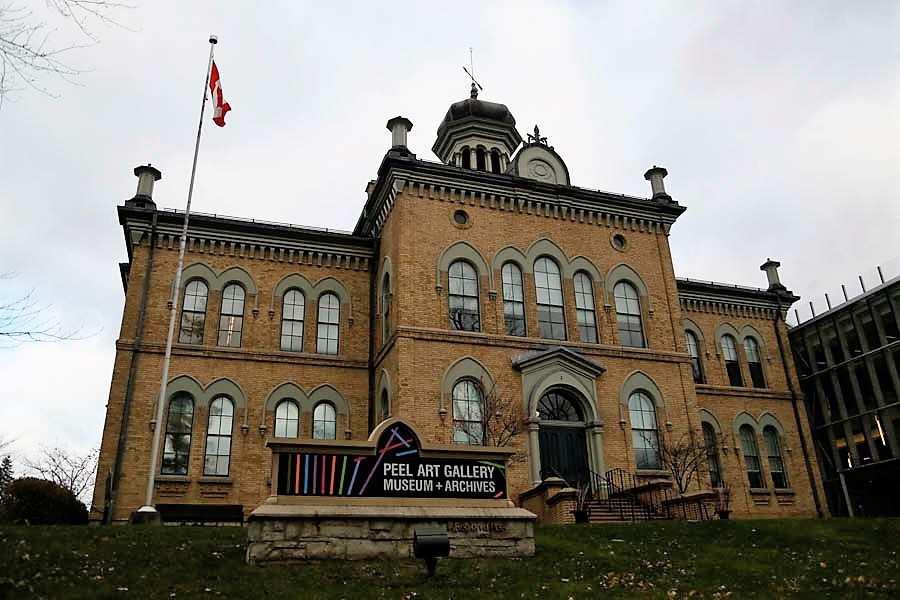 In 2012, the PAMA we know today was unveiled to the public.
Throughout its 50 years, the organization has expanded its art collections, amassing over 5,500 pieces by Canadian artists and a wide collection of international works by esteemed artists such as Andy Warhol.
From abstracts to landscapes, to Inuit art, to portraiture, PAMA has collected it all.
"What you're going to see when you walk through the space … is that we have some incredible artwork. I think the strength of the collection is in a number of areas," says Darrin Martens, the senior art curator for PAMA.
The artwork adorning the walls can speak to patrons strolling through PAMA's gallery in myriad ways; through evocative imagery, colour or technique, art can speak many languages, especially in a place as diverse as Brampton, where observers commonly question if there's anything that truly connects people with such different backgrounds together in the city where they or their ancestors landed.
Similar to the gallery's cousin on the museum side, PAMA has tried to bring in the work of artists and voices that are not commonly heard.
"Traditionally, there has been a dominance of attention paid to male artists," Martens says of art institutions in general. "I think where PAMA stands apart from that is, we've looked at ways in which self-expression, whether that is by individuals who are males, or female or transgender … we have that good representation," he says.
Diversity is a critical element for art galleries and museums as they attempt to appeal to wider audiences in a culture where it's exceedingly difficult to hold people's attention. This branching out is exceptionally important in Peel Region, whose population is over 60 percent visible minorities (about three quarters of Brampton's residents are visible minorities) and, as a result of a broad variety of backgrounds, has a wide range of tastes and interests.
It can be incredibly challenging for a Canadian museum and art gallery to evoke deep connections with patrons in a place such as Brampton where more than 85 percent of the residents were either born abroad or are the children of immigrants born elsewhere.
To connect with the art, people need to be able to see themselves reflected on the canvas. With Peel Region being a popular destination for new Canadians, PAMA needs to find ways to reflect that "responsibly and adequately," Martens says.
"While we tell the story of Peel, we look at that through a number of different lenses," he adds.
The faces of PAMA are constantly shifting. The museum, the archives, the gallery — all three blend in a seemingly seamless interaction. But there is a fourth face to PAMA: the community. The organization has shown itself adept at incorporating the community into its work, which is crucial for its continued relevance.
Back in 1968, the minds behind its creation couldn't have envisioned how digital our world would become, with the Internet, social media and ever-evolving artistic media.
In this new landscape, Martens and Couse see PAMA taking on a new role within the community. The organization has gained a voice of its own, one that is contributing to social discourse on several key issues.
This past summer, PAMA partnered with two national museums to bring to Brampton "To What Degree?" — an exhibition of travelling photography highlighting the impacts and opportunities arising from climate change. The museum partnered with Peel Region's office of climate change to turn the exhibit into even more of a teachable moment for visitors and help them feel more intimately how this serious issue impacts them.
"We had real calls to action in that one," Couse says.
This type of exhibit isn't easy when it explores provocative topics or asks difficult questions about subjects such as gender identity or race. In today's cultural climate, difficult discussions often devolve into nothing but anger and divisive argument.
To change the culture of such debates, PAMA hopes to become a "safe place" for discussion, a place where people can come to learn about their communities and ask questions about complex issues they may be nervous or unsure about.
"I hope that we can be that sort of safe haven for discussion for all communities … I think we can be a real community hub," Couse says. "Whether it's climate change, whether it's situations in Indigenous communities, or even just reminding people of the sacrifice of our military personnel … being that sort of reminder, but then also encouraging people to do something about it."
To assist in this mission, PAMA can tap into its community of artists and the works that make the walls alive. The abstract nature of art opens avenues for discussion and analysis of relevant issues in a less combative environment, and that, says Martens, is why PAMA holds a unique place in the community.
"Artists tend to be at the forefront of social and cultural discourse," and being able to work with contemporary artists can help facilitate discussion, Martens says. "We create spaces and places where artists have an opportunity to engage with one another, but also to engage with the larger community."
Throughout its 50-year history, PAMA has shown itself open to evolution, from adapting to an ever-changing population and audience, to expanding its facilities to house a growing collection.
This flexibility will prove a crucial asset over PAMA's next 50 years, as yet unimagined changes in society, culture and the world present themselves.
Whatever that looks like, Martens knows that PAMA will be a channel through which that change is presented to the people of Peel.
"We're a conduit," he says. "In some ways interpreters … Good art resonates through time, and I think that is what PAMA can do. We are that institution, that safe place, in which to explore ideas."
Submit a correction about this story