Photos by Mansoor Tanweer/screen grab from Youtube
Settlement is a victory against discrimination, but case reveals tensions in Peel over religion and old-world issues
In a settlement being heralded as a victory in the war against hate speech, a known anti-Muslim agitator has been forced to apologize for discriminatory remarks he made about a Peel restaurant and its owner. The decision comes amid a growing culture of division in Peel as hate-related crimes are on the rise, while religious tension simmers beneath the surface in some parts of the region's large South Asian population.
Ron Banerjee, a common face at anti-Muslim rallies across the Greater Toronto Area over the past six years and an outspoken voice during Peel's 2017 controversy around Islamic prayers in local schools, admitted in a videotaped and written apology this week (a condition of the settlement) that remarks he made about Paramount Fine Foods, and its owner Mohamad Fakih were "defamatory and disparaging". Banerjee had publicly labelled Fakih's business as "nefarious", claiming the restaurant only served "jihadists" and men who had "raped your wife at least a few times."
The remarks were made outside a Paramount Fine Foods Mississauga location in July of 2017 when Banerjee, along with Mississauga-based anti-Islam commentator Kevin Johnston (who recently came a distant second in that city's mayoral race) were protesting a Liberal fundraiser, attended by Prime Minister Justin Trudeau, happening inside. The comments were videotaped and widely shared online.
Fakih immediately filed a defamation suit against both men. In June Ontario's Superior Court of Justice rejected Banerjee's "public interest" defence, opening the way for the hate-speech claim, and this week, after a settlement was reached, he issued the formal apology. The suit against Johnston is ongoing.
"These statements were entirely without merit and I provide this unqualified apology to Paramount Fine Foods and Mr. Fakih for any harm I may have caused them because of the statements made that day," Banerjee said in his apology. "I have learned that it was wrong to attack Mr. Fakih because of his religion or where he is from. Such hate has no place in Canada and I will not make public statements of this nature in the future."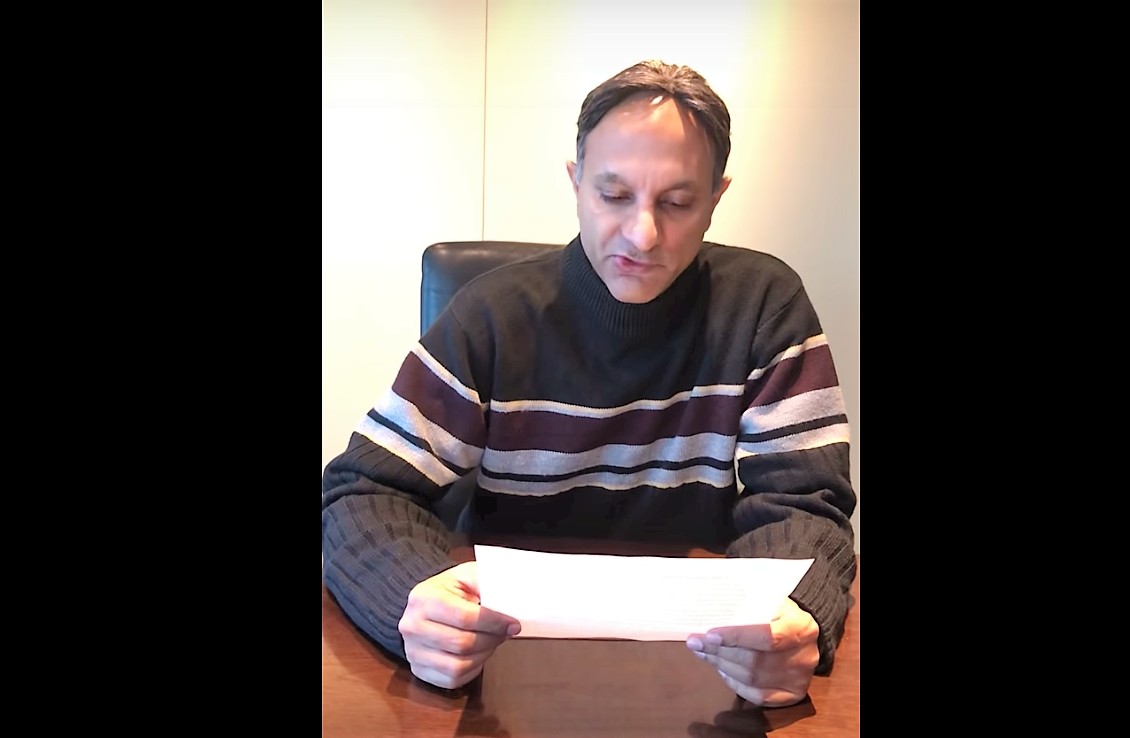 Ron Banerjee
Through his lawyer Lorne Honickman, Banerjee declined to be interviewed for this story. Honickman said he is unable to comment on the ruling due to confidentiality requirements.
"Mr. Banerjee is very happy the action against him has settled, and he looks forward to continue to do the good work he does," Honickman noted in an emailed response.
The apology was released as part of a Dec. 7 settlement agreement, which included a confidential cash payment, and a $100,000 "consent to judgement," meaning Banerjee would be liable for that amount should he make any similar statements about Fakih or Paramount Fine Foods in the future.
"I'm pleased with this apology," said Fakih in a statement provided to The Pointer through his lawyers. "It sends a strong message that people cannot get away with defaming others and sharing fabricated statements online that risk people's sense of safety and well-being. I can tell you I have been very concerned for my family since this whole ordeal began and continue to be worried."
Banerjee has claimed to run an organization called the Canadian Hindu Advocacy for about a decade, however details about his group are scarce and critics have in recent years suggested it's a one-man operation with no clear funding sources. A decade ago he claimed to run another political and media organization called the Hindu Conference of Canada. The website is no longer active. Since then, his attention grabbing anti-Muslim activities, protesting Islamic prayers in GTA schools and making deeply disturbing public comments about Muslims, have coincided with the rise of "Hindu Nationalism" in India after the Hindu-nationalist Bharatiya Janata Party won a majority government there in 2014 under current Indian Prime Minister Narendra Modi. In 2016 Banerjee could be seen in public places, such as outside Toronto's Eaton Centre, campaigning for Donald Trump to become the U.S. president, calling Islam a "wicked, evil ideology."
In what appears to be a 2008 piece published for a CBC series on religion from diverse perspectives, Banerjee, describing himself, wrote: "Hindus consider it to be a sin to impose our faith on others, so tolerance and acceptance of others in a multicultural society came naturally."
That tone quickly changed. A few years ago, as he began to make headlines for whipping up anti-Muslim rhetoric and opposing Islamic prayers in schools, Banerjee publicly wrote on the website he ran, "In its entire history, Islam, the Islamic civilization, has invented and has contributed less to human advancement than a pack of donkeys."
Unfortunately, his brand of discriminatory, xenophobic speech, often motivated by centuries-old tensions that get imported to Canada by people such as Banerjee, seem to be part of a trend in Brampton and Mississauga.
According to data from Peel Regional Police, the number of hate-related crimes in the region increased two-and-a-half times between 2016 and 2017 with religion being the number one motivating factor in the crimes. Police acknowledge that the numbers may in fact be higher than recorded in the data as it is common for these cases to go unreported. Through Peel Police's Diversity Relations Bureau, efforts are undertaken to reduce the reluctance of victims to come forward.
For police and the courts, moving forward with prosecuting cases involving allegations of hate speech can be a complicated matter as they run the risk of infringing on free speech protections. In 2017, only 10 percent of reported hate crimes in Peel resulted in charges.
Jonathan Lisus, the lawyer who represented Fakih in the suit, says the ruling will help future cases find the line between hate and free speech.
"We are very pleased with this result. It sends a strong message that Canadian courts can be an effective venue for holding hatred to account," he said in an emailed statement. "Free speech is not unlimited, and this case shows that people who make hateful comments that undermine the core cultural values of our free society will be held accountable. It's safe to assume that Mr. Banerjee learned his lesson, and understands that he will be held accountable in this way."
It isn't the first time Banerjee has found himself amid controversial issues of religion in Peel Region. In 2017 he was at the centre of a controversy he largely created, questioning the allowance of Muslim prayer in Peel schools. The ensuing tension Banerjee stoked reached a head with the destruction of a copy of the Koran outside the Peel Region District School Board offices. Banerjee, starting in Toronto in 2012, has been a vocal advocate for banning prayers in schools, claiming Hindu families have been negatively impacted.
His Canadian Hindu Advocacy group consists of an unknown number of members, and it's unclear if the associated website is still being run by him for his stated cause. Banerjee has previously claimed the group advocates against hate, and the discrimination of the Hindu population. However, his derogatory comments against Muslims, which have been spread widely online through platforms such as Youtube, which features a number of his discriminatory videos, have in the past two years made Banerjee a poster boy for anti-Canadian values, in a country held up by the rest of the world as a beacon of pluralism and multicultural harmony.
According to the 2011 National Household Survey Peel Region is home to Canada's fastest growing Muslim population with 12 percent of those who practice Islam in the country living here at the time.
Banerjee's comments against Fakih are only the latest example in Peel Region of age-old tensions that are imported here. After centuries of British colonial rule the South Asian region was divided in 1947, creating the independent nations of India, populated primarily by Hindus, and Pakistan, a predominantly Islamic state. Centuries-old tensions between Hindu India and Muslims, who first conquered the area in the 12th century, have persisted, as Pakistan and India have fought two wars since their independence and remain nuclear enemies. The historic, religious and political differences are a part of daily life in the subcontinent, creating deep rifts in communities that have never settled. Other religious minorities are also part of the complex dynamic. In 1984 about 3,000 Sikhs were killed in New Delhi by Hindu mobs, after Prime Minister Indira Gandhi was assassinated by her Sikh bodyguards in retribution for her military order to attack Sikhism's holiest place, the Golden Temple, during violent uprisings as many Sikhs agitated for their own independent nation. Religious riots in 2002 killed about 1,000 people, mostly Muslims, in the Indian state of Gujarat.
Those ingrained old-world attitudes and divisions are present in Brampton, where about half the population is of South Asian descent, many observers say.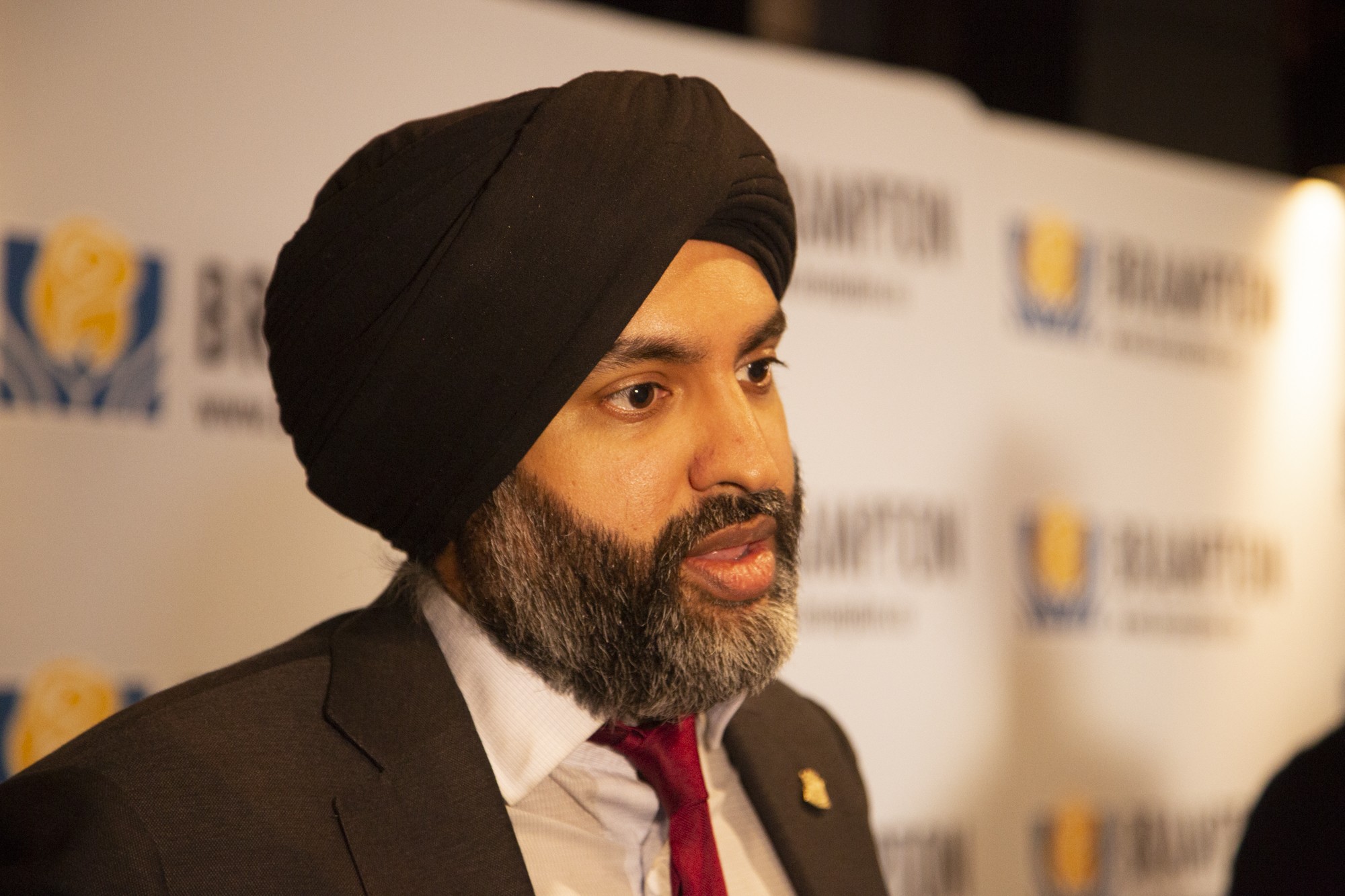 Brampton Councillor Harkirat Singh
"There are still old attitudes in the South Asian community that need to change and also ignorant attitudes by people outside the community that exist," says Brampton City Councillor Harkirat Singh, who identifies as a Canadian Sikh. "We need to empathize with others more and challenge some of the preconceived notions and biases we may hold about certain communities. At the end of the day, Brampton is home to the most diverse community in the country, we need to make it work here and be successful. The best way to challenge those who play to the politics of division is by making Brampton successful and vibrant."
It takes a toll though, as Singh says he's dealt with incidents himself, "some direct and indirect."
"The things I've dealt with made me stronger and more committed to leading by example and serving the wards 9 and 10 the best I can," he says.
Fakih, in his released statement, says that while he was grateful to be able to confront the hatred aimed at him, it took a "significant emotional toll."
For more visible religious communities like Sikhs and Muslims and many orthodox Jews, they can be seen as easier targets for hate. Anti-semitism, along with hate-related incidents toward other religious groups, has been on the rise since 2016, including in Brampton and Mississauga. Critics of Donald Trump blame his stated attitudes and public speech for the trend, but such claims are hard to prove.
These types of crimes can be motivated by an array of factors, as described by the Peel Regional Police in its 2017 annual report on hate/bias motivated crimes.
"(The) Diversity Relations Bureau continues to be committed to, and focused on, community engagement and outreach and have collaborated with multiple community stakeholders in an effort to better understand, address and mitigate the myriad of issues associated with hate/bias motivated matters."
Whether it's changes in the community, or items in the mainstream media, swerving public perceptions can have a serious impact on people's behaviours toward minority groups.
Most recently, Sikh organizations across the country were outraged by the inclusion of "Sikh Khalistani (independence) Extremism" in the federal government's recent public report on terrorism threats to Canada.
The move has prompted local politicians, who believe such messaging only stokes old-world divisions, to send letters to the federal government in protest for making the inclusion with no evidence, according to them.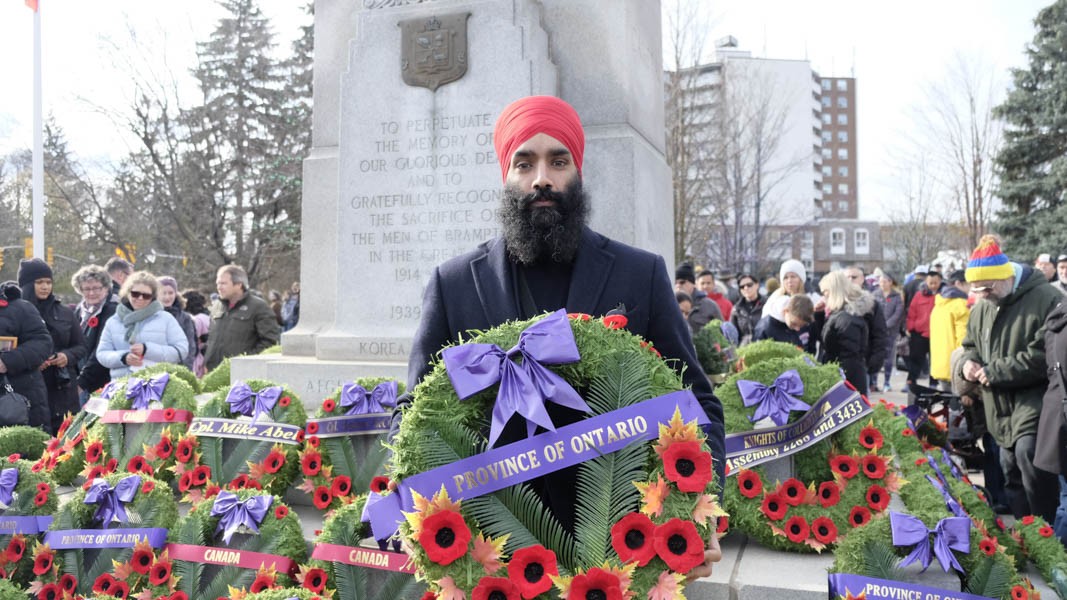 Brampton MPP Gurratan Singh
"It's unsubstantiated, that's what's problematic," Brampton MPP Gurratan Singh tells The Pointer. "If the government is going to make these allegations they should be substantiated."
While there's been little response at the federal level to the rising outcry, Singh says making this type of decision without facts can have serious implications in communities across Canada, particularly in Peel Region.
"There is a rise of racist attacks recently," he says. "We (Sikhs) are a visible community, and this type of language has real consequences."
Councillor Harkirat Singh also wrote to the federal government in protest of the inclusion, noting that it's a sign of policymakers having a view of Sikhs that is "time-warped from the late 1980s and early 1990s."
"The community has evolved so much since then. After reading the report, I did not see a shred of evidence that Sikh Khalistani Extremism needed to be identified as a terrorist threat to Canada," Councillor Singh says. "Especially after completing a careful read-through of the examples provided in the report. You have to remember that these reports are delivered annually so the question posed here is, what happened in 2018 compared to 2017 or 2016 to suddenly recognize this threat? The report surprisingly does not identify anything."
Overall, both Singhs retain optimistic views.
"Being born in this country and raised here, I can honestly say that at a personal level, I feel that things are getting better," Harkirat Singh says.
Gurratan Singh says Brampton is a "loving and supportive" community, noting he does not see the old-world divisiveness bleeding into the region on a large scale, despite the efforts of people such as Banerjee.
"These voices don't speak for Brampton, they're small, they are fringe voices," he says. "I stand to the fact that this is a loving, supportive and very cohesive city."
Following the settlement decision and the earlier ruling by the court that opened the way for a hate-speech claim, Fakih announced that he would be donating $25,000 to the Canadian Anti-Hate Network, a non-profit organization that works to monitor and counter the views of hate groups.
In Harkirat Singh's view, these actions from community leaders of all stripes are what need to happen more often in order to counter troubling, anti-Canadian values.
"A move towards more nationalistic global politics is a dangerous tone being set all around the world. I think our community leaders and politicians need to step up and challenge this movement, and it all starts locally," he says. "I think as a council, we can also take a leadership role and make sure we are incorporating everyone's perspective when we debate and create/pass policies. Further, I think the more our public institutions (city hall, hospitals, schools, police force) are reflective of the community they serve, the better they will be able to serve it."
Submit a correction about this story