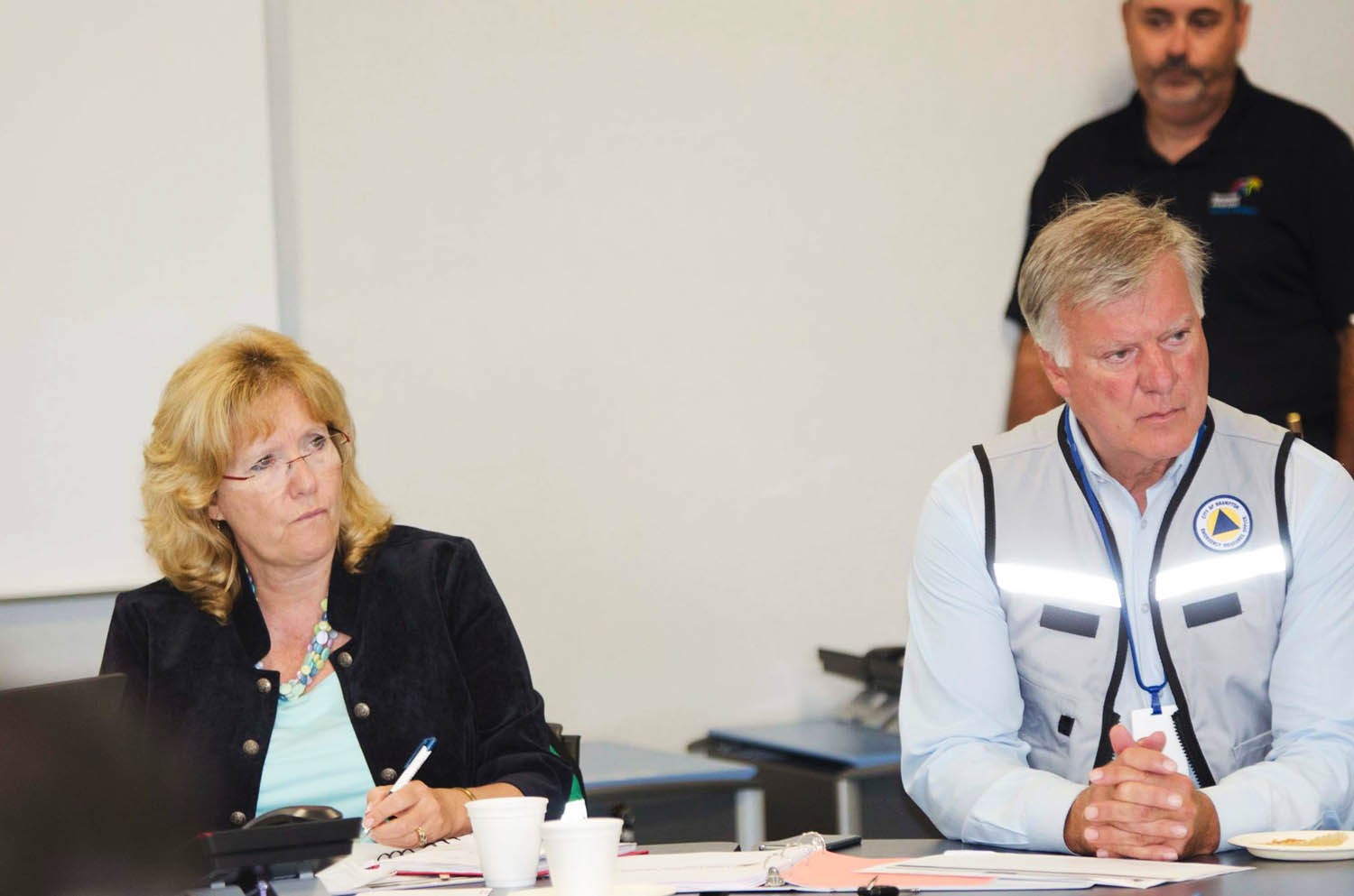 Photo from City of Brampton
Brampton Council fires city's top bureaucrat, CAO Harry Schlange
Brampton council has fired the city's chief administrative officer, Harry Schlange.
A statement released by Mayor Patrick Brown today said that, following the Dec. 12 council meeting, "city council determined we require a new leader to help us take Brampton to the next stage in our community's future."
"As a result of this decision we have decided to part ways with our Chief Administrative Officer, Harry Schlange, effective immediately," Brown says of the top bureaucrat hired under his predecessor, Linda Jeffrey. "We would like to acknowledge the contributions that Harry has made to our organization, and our community, and wish him every success in the future. We are thankful for the important initiatives he has helped to build and for the incredible staff team that is in place as a result of his leadership."
The city has appointed Joe Pittari, commissioner of corporate services, to carry on the role in the interim as a search begins to fill the job permanently. Pittari has been the leader on the cannabis-legalization file at the city, informing council on details of the issue in recent months.
Sources tell The Pointer that Schlange's contract included generous severance in the amount of approximately $4 million in the first year, which would decline annually if he remained employed. It's not clear what severance, if any, the departing CAO will be entitled to as a result of leaving just two and a half years in.
Schlange, who started in May 2016 as an "agent of change," according to Jeffrey—a mandate he accomplished in part by firing 25 of the city's top managers—leaves behind an organization on the brink of a long list of critical projects. Those include the on-again, off-again LRT project, which, given city council's recent move, is on track to travel down Main Street, if the roughly $300 million project gets funded; the uncertain future of a university campus downtown; and fixing troubled city finances that haven't fully recovered from years of mismanagement and scandal.
Sources told The Pointer at the end of November that Schlange was looking to leave, but the city denied at the time that this was the case.
"We have confirmed with the CAO that he is committed to moving Brampton forward and has no intention to leave," spokesperson Christine Sharma said Nov. 28 in an emailed response.
The timing of Schlange's departure is difficult, with a new council in place and key initiatives coming forward. Council recently initiated a value-for-money audit of all city departments by the city's third-party auditor, KPMG. That task would be spearheaded by the CAO's office, with the aim of finding major savings ahead of budget deliberations in 2019.
"We would like to acknowledge the contributions that Harry has made to our organization, and our community, and wish him every success in the future. We are thankful for the important initiatives he has helped to build and for the incredible staff team that is in place as a result of his leadership."
Mayor Patrick Brown
---
The city's statement was at pains to assure residents that work would continue unimpeded. "There is a strong leadership team at the City of Brampton, and we are confident that this team will work collaboratively with Council to advance the programs and services that our residents and businesses have told us are critical to our community's future," it said. "From improved transportation to jobs and community safety, as a team we will work together on the direction that our community has provided."
After the last CAO, John Corbett, was let go in 2015, the city operated with no permanent top boss for almost a year and a half, as critics blamed the lack of leadership at the top for staff mismanagement and inaction on numerous major files.
With the cuts Schlange made to the senior ranks of the bureaucracy and now with his departure, it's unclear what expertise city hall has to deal with complex, critical urban issues facing the city such as public safety, higher-order transit, downtown redevelopment, attracting the jobs of the future and the chronic lack of funding from higher levels of government.
Meanwhile, with another leadership vacuum, the city has been in headlines for woeful hospital overcrowding, failure to secure its first full university campus, rising violent crime and an aging downtown slipping into decay. Just this week, council had to cancel a crucial $33-million downtown infrastructure project because of a lack of funds, rising costs after years of inaction, and because staff failed to complete a full investigation of conditions beneath downtown that will affect the project, as directed by council more than two years ago.
The city is also facing a bleak financial picture, after a 2015 analysis revealed a bloated labour budget at city hall, excessively high tax increases because of a poorly balanced property tax base, and dwindling reserve funds to cover emergency costs and infrastructure needs in the rapidly growing municipality.
Schlange would have been a central figure in finding solutions to these and other problems.
While speaking to councillors at Wednesday's first full council meeting of the new term, he did not signal any intention to leave. After Brown pushed the value-for-money audit as one of the first orders of business, Schlange advised council to wait to carry that out so that he and his staff could first present the results of their own money-saving efforts this year.
"The 2019 budget is looking very good," Schlange told council. An extensive audit right now would "paralyze much of the operations," he added. "At least give staff the opportunity to show you what we've done."
In the first gatherings of the new council, Schlange has touched on several key projects and legislative changes the city is facing.
Council has already discussed its response to legalized cannabis and whether to allow recreational cannabis stores within its boundaries. During a Dec. 5 meeting, Schlange shared his worry that the city would miss out on future funding if it opted-out of allowing these stores when the deadline to do so arrives on Jan. 22. In the same meeting, Schlange told councillors staff were meeting almost every two weeks with Ryerson University to sort out the future of the planned downtown campus after the Ford government pulled funding for the project in October.
Schlange began his work with the city in the middle of a tumultuous period in 2016, when the city's leadership was very much in question. After previous CAO John Corbett was fired in 2015, following a budget dispute with then mayor Jeffrey, the role was filled only on an interim basis.
At the time, the city was recuperating from a series of spending scandals involving former mayor Susan Fennell and dealing with a staff complement that had lost track of approved capital projects worth tens of millions of dollars.
Healing these wounds was made more difficult by a fractured council under Jeffrey that ground much of city business to a standstill.
Working from experience gained from his previous CAO roles in Niagara Region, Loyalist Township and Fort Erie, Schlange immediately began culling the city's upper ranks, firing 25 senior managers in September 2016.
Submit a correction about this story