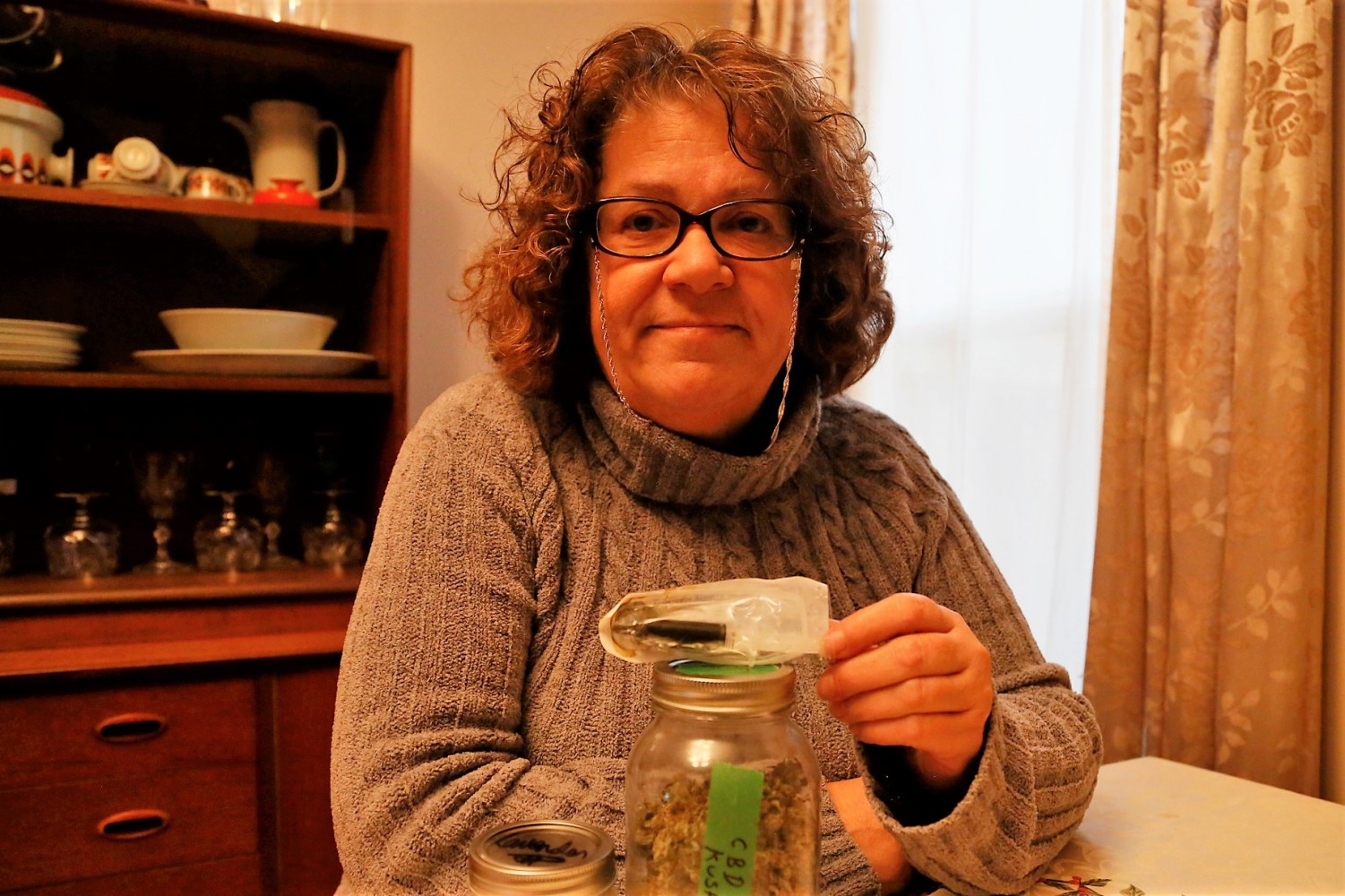 Photos by Mansoor Tanweer
Brampton residents split over whether to opt in or out of cannabis shops
Anna-Marie Carreiro took the debate about cannabis stores in Brampton to a highly personal level at last week's committee of council meeting, in a fiery speech during one of several public question periods. Making her case for allowing the shops, Carreiro detailed her harrowing struggle over the past few years with brain cancer.
"In 2012, I was diagnosed with a malignant and inoperable brain tumor. Due to seizures, I needed the assistance of a walker and anti-seizure medication. I have refused all radio-chemotherapy, whereby I was given 18 to 24 months of survival," Carreiro said, standing unaided in front of council.
In 2014, on the advice of experts, she began taking cannabis oil to treat anaplastic astrocytoma—a rare and aggressive form of cancer that develops in certain brain cells called astrocytes. Over time, she said, the "benefits of the cannabis oil reduced the size of the tumor to a point which allowed my neurosurgeon to be able to attempt to remove my tumor in January of 2017. Originally, he thought he had removed between 30 to 40 percent. In fact, the pathology report revealed he had removed 100 percent."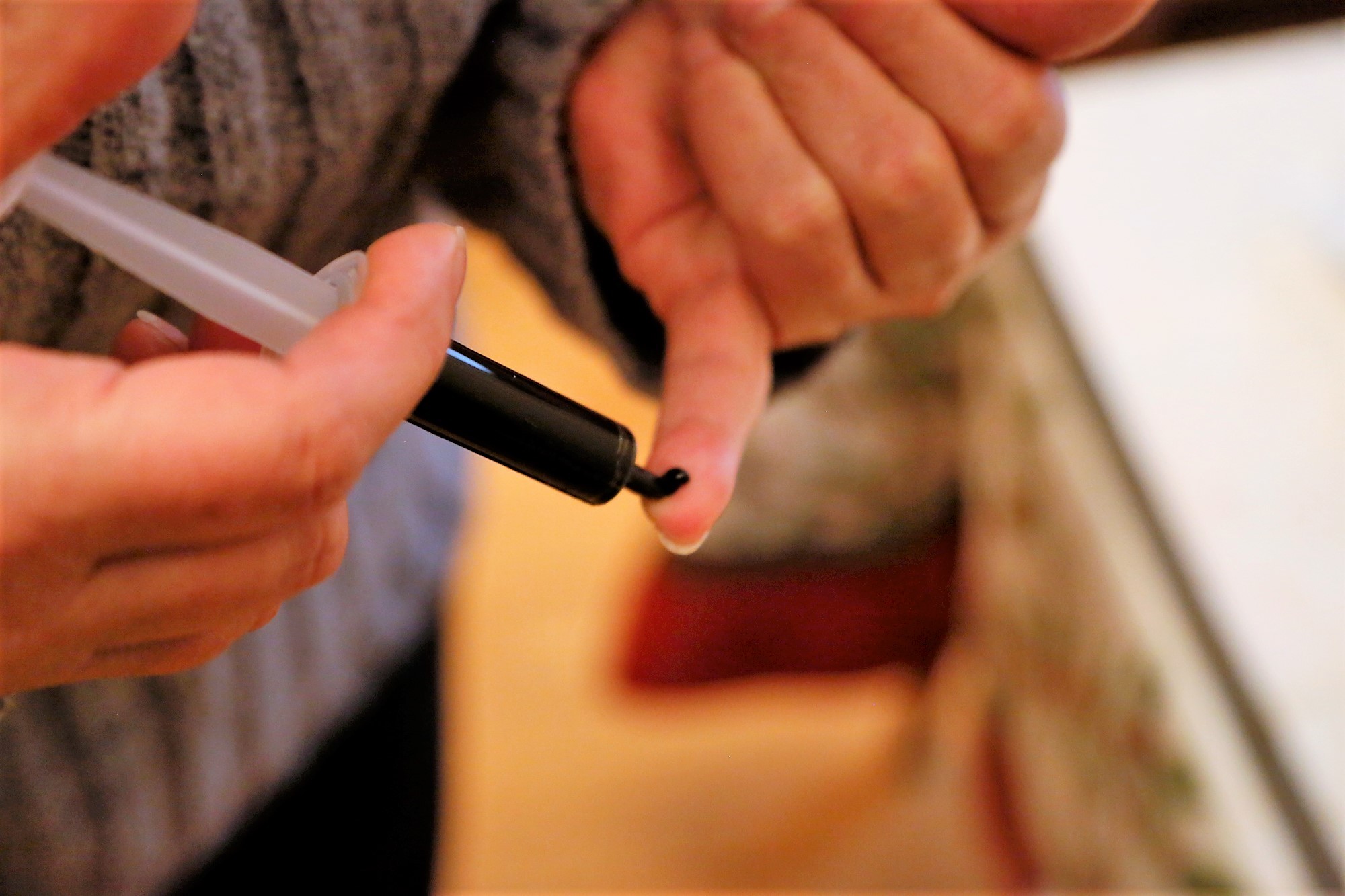 Anna-Marie Carreiro, pictured at the top, applying cannabis oil.
To Carreiro, the benefits of cannabis are self-evident. She believes in it so much that she and her husband obtained licenses to grow it and set up a legal grow-op in their basement. Without the cannabis oil, which she now makes for herself, the 58-year-old grandmother said, she wouldn't be here to tell council—and The Pointer—her story. She would love nothing more than for Brampton to allow cannabis retail stores in the city.
"If we have private retail stores, a patient can walk, take the bus, whatever, to a local store, see what they're buying and make sure that it is clean—there are no bugs, no mould, no nothing on it," Carreiro told The Pointer.
She believes Ontario's current legal retail operation, limited to online distribution through the Ontario Cannabis Store until April 1, is failing chronically ill patients. "Since legalization, the licensed producers are almost empty of stock, and the patients are now suffering because they can't even get their medicine."
A subject that gets her blood boiling is the nomenclature around cannabis. She doesn't like the slang words marijuana or pot, for which she admonished The Pointer during a phone conversation.
"So many times, we've heard the word marijuana-marijuana-marijuana. Finally we are hearing its proper name, cannabis," she said.
Marijuana, the Spanish word for the plant, is a term loaded with historical baggage and racist undertones, as it was associated with Mexican migrants to the United States during the early 20th century. Marijuana is the Spanish word for the plant, which actually originated in Central Asia. Then-commissioner of the U.S. Federal Bureau of Narcotics, Harry Anslinger, inaccurately connected cannabis to violence and visible minorities to help turn the public against the plant.
"The name marijuana is what makes people afraid of the legalization and implementation of retail stores. I hope, and I'm asking council, to maybe look at holding town hall meetings to educate residents and remove the stigma," Carreiro said in the chambers last week.
Councillor Charmaine Williams is on the other side of the debate, vehemently opposed to a decision to allow retail stores in the city when the provincial deadline for opting-out arrives on Jan. 22. Citing public opposition in her ward, her website notinourhood.com is gathering support for opting-out through a petition. Supporters of Williams can order lawn signs that say "not in our neighbourhood."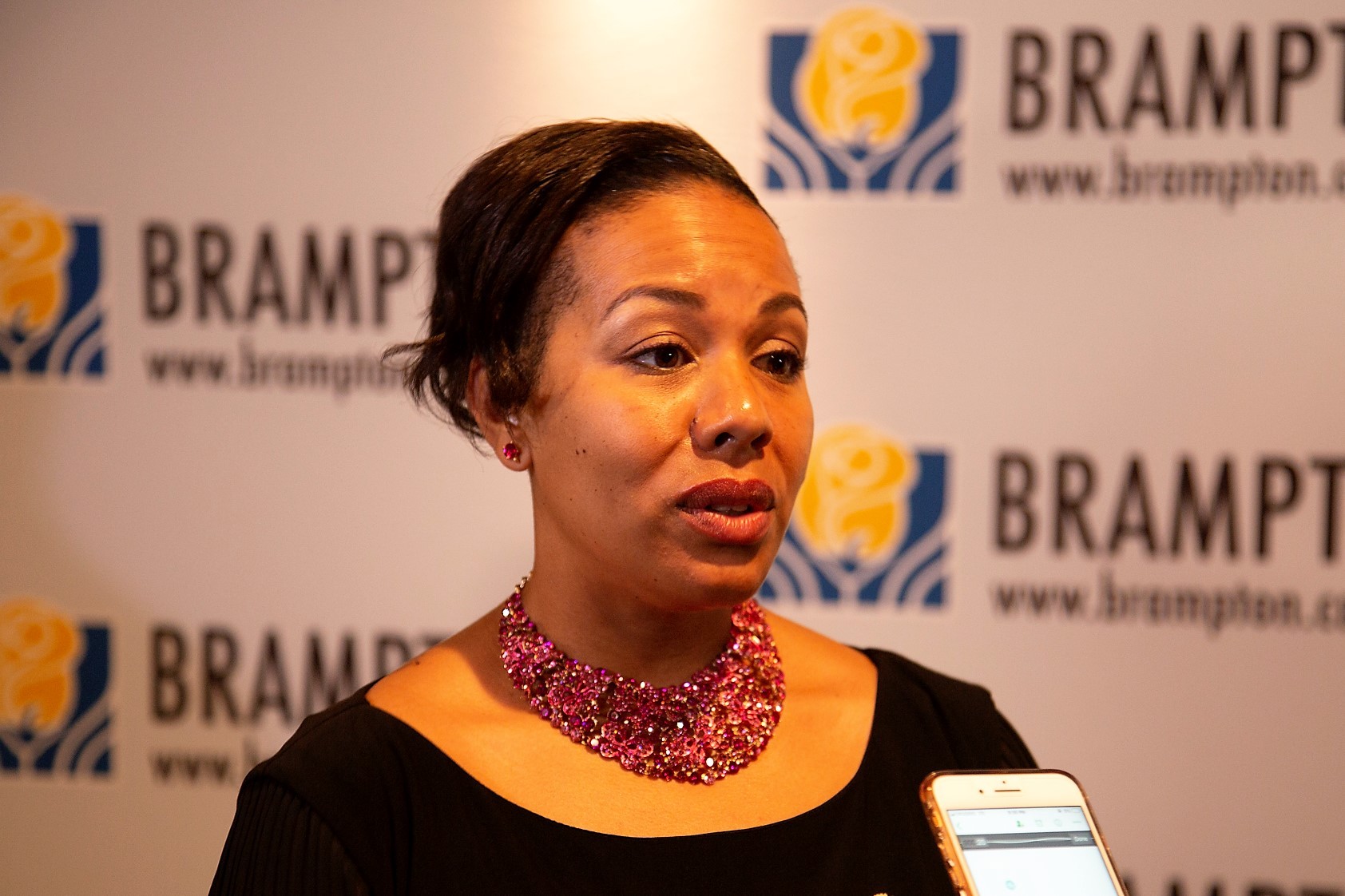 Councillor Charmaine Williams
"We don't want it, the parents don't want it in the community. I did a poll of 932 people, a home phone call poll in Wards 7 and 8, and the majority people in my phone call don't want it," Williams told reporters in a scrum last week. The Pointer has requested the results of the poll from Williams' staff; however, the numbers have yet to be provided.
Her position has evolved since her election campaign. Back then, she had a more nuanced and cautiously open approach. "I do want to make sure we have a 500-metre ban from schools. I know kids can get it, but I don't think we should make it any easier. Also, what is that going to look like? Is it licences to convenience stores and such? I want to make sure we are safeguarding and make sure there is that distance," she said in October.
Joe Pittari, commissioner of corporate services for the City of Brampton, presented a poll at last week's committee of council meeting that showed majority support for opting-in, counter to Williams' assertion.
The survey, conducted by Environics, showed that 54 percent of the 910 people sampled either strongly or somewhat supported retail sales of cannabis, whereas 40 percent were opposed. While this is the only poll available to the public, it should be noted that no breakdown of demographics or ward-by-ward samples were made available.
Brampton resident Richard Blake added his voice to the conversation during last week's meeting. The 64-year-old, soon-to-retire warehouse worker regularly smokes cannabis through a pipe to ease arthritis and repetitive-stress pain and to help him sleep.
The plant, while it did not cure it, aided his recovery from alcohol abuse, he said. "It gave me an outlet. I like a lot of things about it. It can make me calm. I can be peaceful and relaxed," he told The Pointer.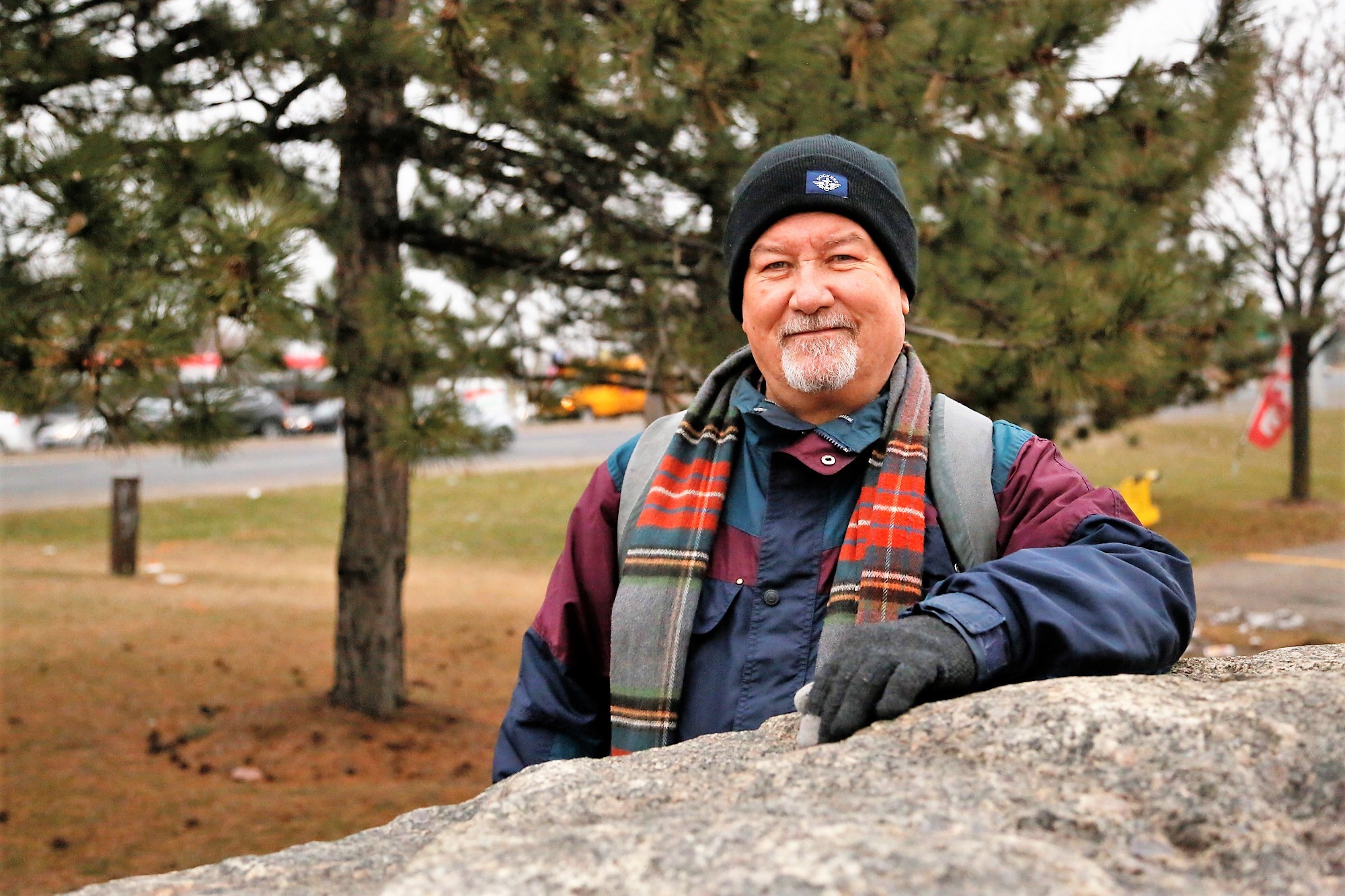 Brampton resident Richard Blake
He would prefer the city to opt-in but said he's willing to go along with whatever decision is made by council. For him, it is more about councillors coming up a with rational enforcement policy. "I'm not even going to tell them to opt-in. Whether they opt in or out, I'd be interested in knowing how far they're going to go with their bylaws," Blake told The Pointer.
He feels the city doesn't do enough to protect children from harmful smoke, regardless of whether it is from a cigarette or a joint, in public places. "Gage Park has festivals in the summer. When you're there, it is a family event; lots of kids, lots of adults and music and everyone having fun …. You can smoke cigarettes all through that park, with kids right beside you," Blake said, sounding perturbed.
"Now there's the little kids' wading pool and playground that's over there. Well guess what? The bylaw states that you can't be within so many metres with cigarettes. Yet, we are in a park with hundreds of kids. What are they going to say?"
Much like Carreira, Blake wants to eliminate the stigma around cannabis and feels that city councillors are not educated enough on the matter. "Look at the established [U.S.] states that have been in the business now for a few years with [legalized] recreation[al uses] and not just medicinal. These are the facts; these councillors should be contacting these people."
What kind of cannabis landscape the city will adopt is a question for the new year. Council voted last week to defer the debate to January.
Blake, seeing a clever connection between the Flower City and the cannabis flower, jokingly suggested, "We have the Brampton Beast hockey team. We can change them to the Brampton Buds."
Submit a correction about this story