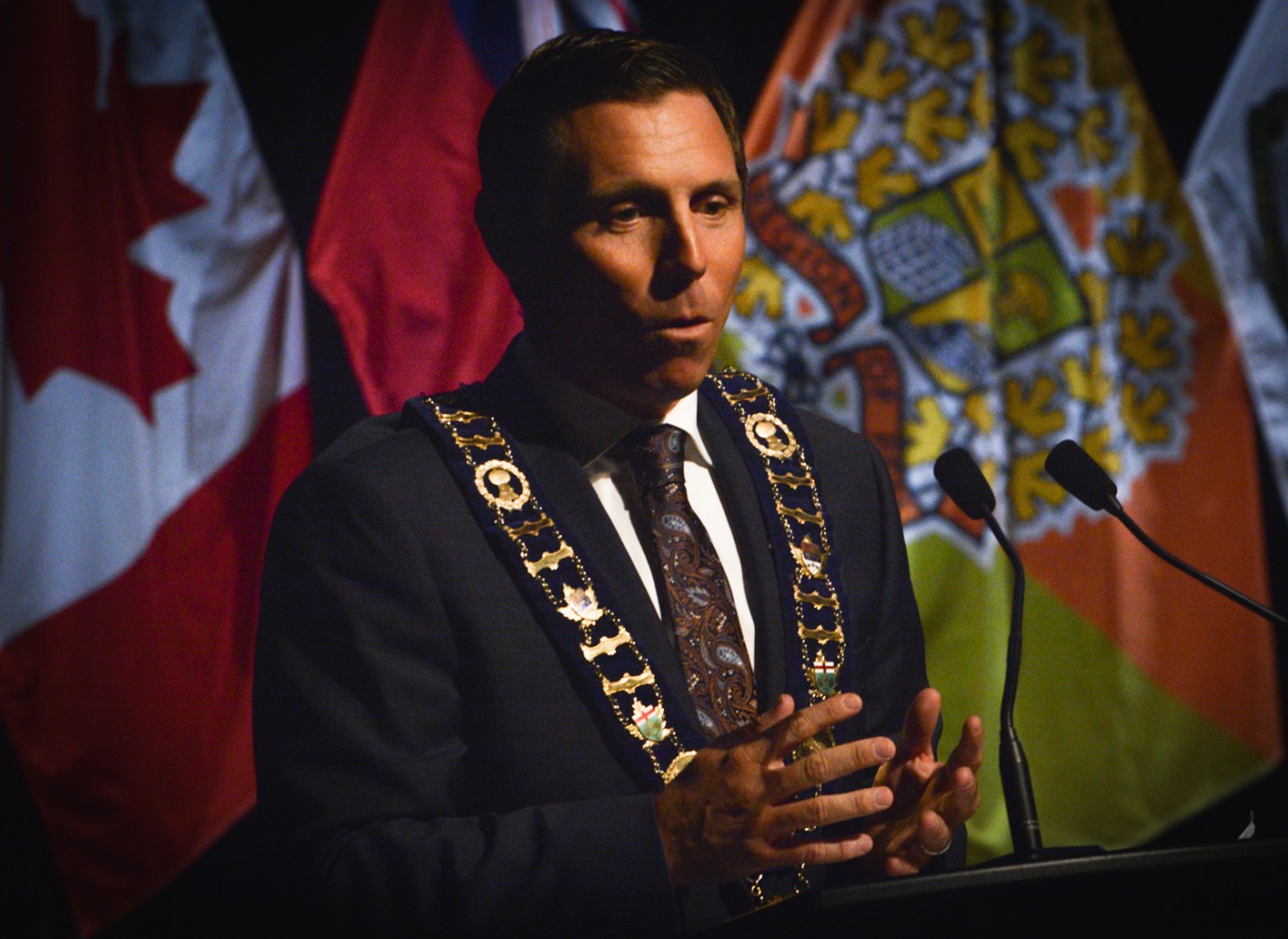 Photos by Joel Wittnebel
New Mayor Patrick Brown's inaugural address laser-focused on boosting Brampton's economy
The chain of office glinted around Patrick Brown's neck and spotlights caught the wide smile of Brampton's new mayor as he looked out at the citizens who put him on this stage.
The din of the crowd buzzed through the Rose Theatre. Hundreds of Bramptonians stood to applaud Brown's vision, delivered in a 35-minute inaugural address that swept across the wide range of local issues.
It was the conclusion of an inauguration ceremony Monday night that saw Brown's 10 fellow council members take the oath of office, six for a subsequent term and four for the first time. It culminated with a slight twist as a video played across the theatre's screen showing Brown taking his mayoral oath of office at the home of his friend and mentor Bill Davis, officiated by the former premier of Ontario himself, who was also in attendance.
This was mostly a ceremonial affair, as each of the Brampton elected officials had been officially sworn in the day before to ensure continuity. However, Brown's inaugural speech, while echoing many of the words uttered on Oct. 22 when he took the stage after his election victory, was met with appreciation from the crowd as he offered up his vision and priorities for the years ahead.
After delivering thanks to his fellow members of council, his friends, family, wife, and of course, his mentor Davis, Brown launched into a campaign-style speech that reiterated many of his promises while on the hunt for the mayor's chair, but now with the mayor's chain around his neck.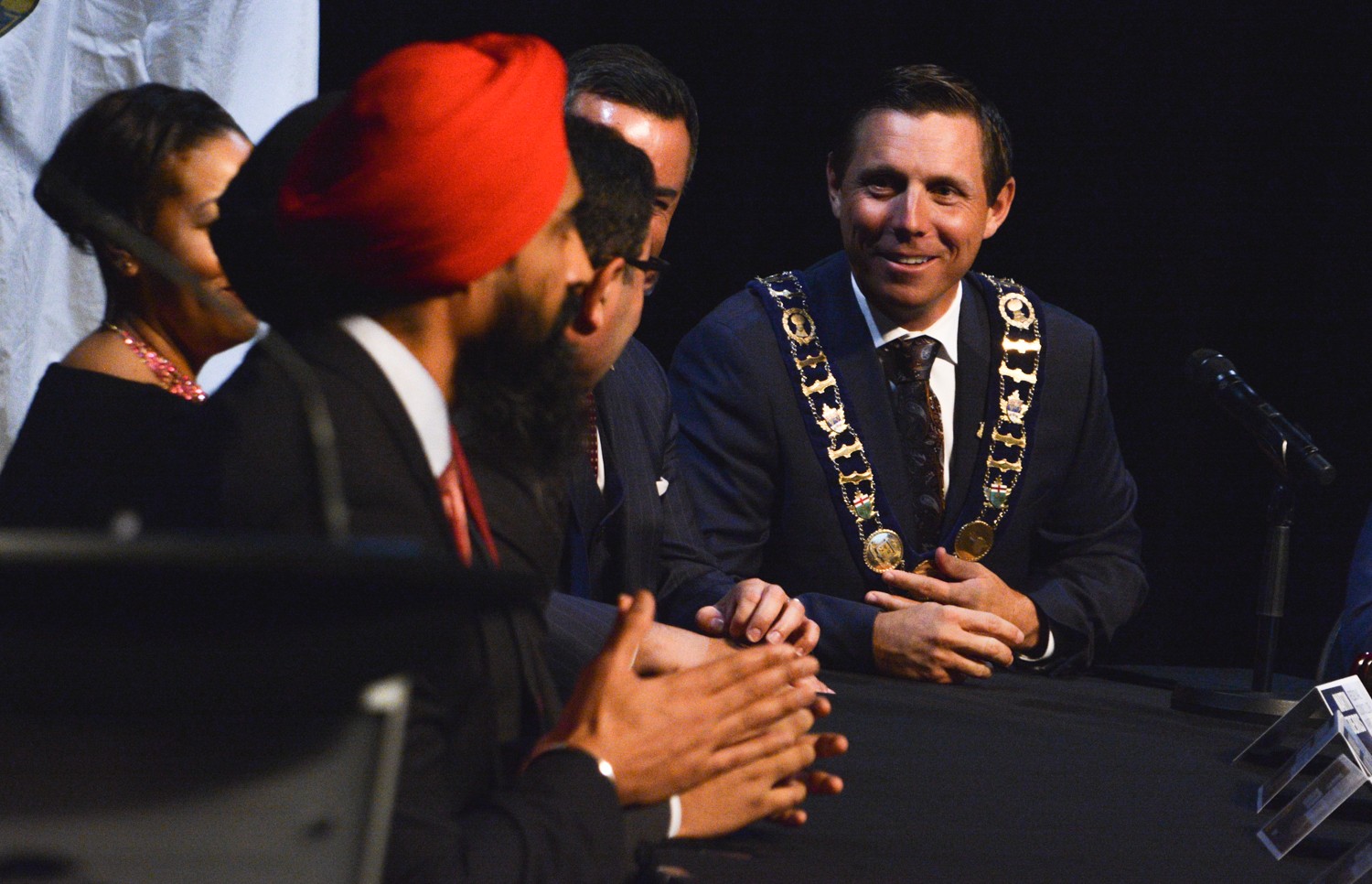 Brown also delivered hints of the more important element of how he plans to accomplish that vision: a Brampton that is not forgotten by upper levels of government, a Brampton that pushes forward with sustained and smart development, a Brampton that is fit and healthy, and most importantly, a Brampton that becomes a magnet for businesses and investment.
"My number one priority for Brampton is bringing jobs and investment to our city," Brown said. "We are open for business."
Open is certainly the right word. Of cities within a 40-kilometre radius of Pearson International Airport, Brampton has the largest inventory of vacant residential and employment land that is ready for development—clearly a huge advantage, Brown said.
That point, reflecting two of Brown's campaign pledges, strikes at the root of problems that have accompanied Brampton's surging population growth.
First, developers have held extraordinary power over the type of development that occurs in the city, which has been directed disproportionately toward the profitable sector of sprawling residential construction. If Brown wishes to change paths, filling more of that available land with business and industrial development will help tip the scales for homeowners, who have had to bear a much larger portion of the property-tax burden than those in neighbouring municipalities. Making sure Brampton attracts the development it truly needs will be a priority moving forward, the new mayor said.
"We can't allow Brampton to become a bedroom community," he said. "Every development will be looked at through the lens of economic development."
Secondly, Brown detailed how city hall will work at making it easier for businesses to invest in Brampton. An economic development "expediter" will work to "streamline client service by acting as a facilitator and conduit to municipal services for the business community," he said. The city will also host its first ever major international investment conference.
It's not all about new business, Brown said; it's also about focusing on keeping the industry that already calls Brampton home. The recent announcement that GM will close its plant in Oshawa raises concerns about the future of Brampton's Fiat Chrysler plant.
"It's a warning sign for us," he said. "I've expressed my concerns with our economic development department. It's important for us not only to reach out and bring more business here, but to make sure we retain businesses that are already here."
As the pages of his speech turned, Brown moved through Brampton issues like a man on a mission, checklist in hand.
After a year of increasing crime that surpassed that of 2017, also an extremely bloody year for the city, Brown said he will focus more strongly on community safety. A priority will be getting more resources for Peel Regional Police, not only to respond to crime but also to strengthen its Outreach and Support program, which helps officers responding to mental health situations, a scenario that accounted for 42 percent of calls to Peel police in 2017.
Paying more attention to transit and recreation, shining a spotlight on Brampton's thriving arts and culture scene, protecting and growing the downtown—all of these got their 15 seconds of fame in Brown's inaugural speech. Each received a round of applause and cheers from the crowd. Brown's proposal for a value-for-money audit of all city departments, the kind of thing that generally makes citzens' eyes glaze over when perusing a city council agenda, also drew loud cheers as Brown shared the potential money-saving opportunities to be found within operations at city hall.
It was when Brown came to the issue he is perhaps most passionate about that the Rose Theatre really started to echo with cheers. If he has his way, any provincial or federal politician arriving in the city for a photo-op had better not come empty-handed.
"The biggest disservice to Brampton is that politicians view Brampton as an electoral goldmine but have never compensated us for those frequent visits," Brown said. "You ever notice during the newscasts during elections, every leader is in Brampton? Brampton visits, Brampton press conferences, Brampton photo-ops."
None of this ever leads to investment, he said, as the city continues to be underfunded by senior governments in key areas such as transit, healthcare and, most recently, post-secondary funding, nowthat the Ford government cancelled provincial investment in a Ryerson University satellite campus in Brampton.
On transit, Brown knows the city will need help as the number of riders continues to rise and modern transit options are becoming critical to keep city streets from being clogged into immobility.
"We're going to continue to stand up for Brampton and highlight what we deserve," Brown said. "This is the bottom line: we all pay the same provincial taxes, we all pay the same federal taxes, and we deserve the same per capita services. We are not second-rate citizens in the city of Brampton."
Despite his obvious frustration with other levels of government, it was clearly a night for optimism. The new mayor made his solutions seem bigger than the issues the city faces and painted a bright future for Brampton.
Those big words must now be hauled down to city hall and put into action, starting with a special council meeting today, on Wednesday with a Committee of Council meeting, and Dec. 12, with the new council's first regular meeting.
In these meetings and beyond, this veneer of optimism will inevitably be worn away by the pressing issues facing the city. Brown's strong words will need to be backed up with stronger action and a cohesive council that can come to agreement on a variety of issues.
"I love our city. This city means the world to me," Brown concluded. "For an inaugural speech, I think you have to share your vision and your aspirations for the city … I know that if we work hard, if we work together, if we keep focused, we will get Brampton back on track. That is our responsibility to the people of Brampton, and we will not rest until we cross that finish line."
Submit a correction about this story