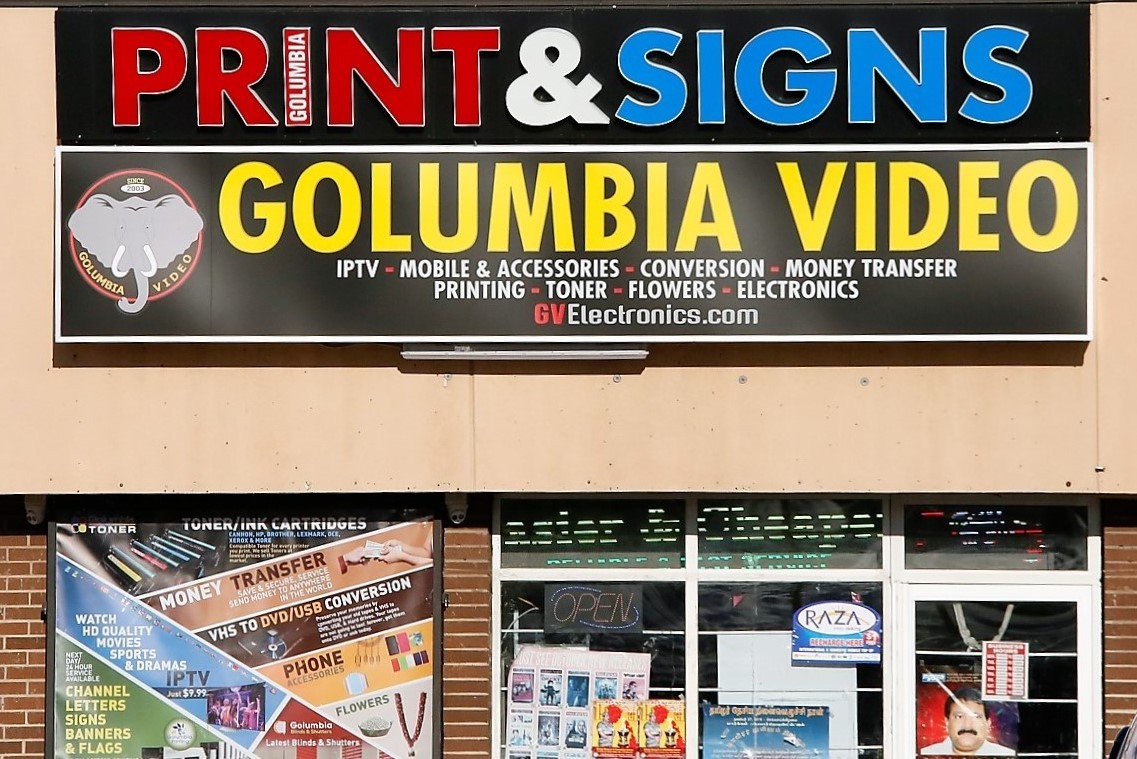 Photos by Mansoor Tanweer
Television boxes and illegal streaming a threat to media outlets in Brampton
Parvasi — which means expatriate or diaspora in various languages of the Indian subcontinent — may just be the perfect name for a Punjabi media outlet based in Mississauga. Parvasi Media Group was launched by Rajinder Saini soon after he arrived in Canada, and has grown in popularity in the years since.
But like many mainstream English-language outlets in Canada, Parvasi is facing unfair competition from alternative forms of digital media. Saini is especially wary of the television streaming boxes that are ubiquitous in Brampton and across the GTA, which enable users, for a small subscription fee, to stream pirated content from around the world: essentially television feeds stolen, digitized, and sent over the Internet. The producers of that stolen content — anything from HBO to major sports events — don't get a cent of the revenue.
"I came to Canada in 2000. It's (been) almost 18 years now," Saini says, clearly proud of what he's accomplished since. Back then, he was venturing into unfamiliar territory, as news and entertainment weren't part of his educational background in his native India. "I was a civil engineer there, back home. But I had too much interest in media and journalism because I was a student leader of my engineering association. I used to meet a lot of media people."
Saini and wife Meenakshi started printing newspapers out of their Bramalea area apartment within a year and a half of moving to Canada. To start, they would hand-deliver the issues to local South Asian grocery stores themselves. Since then, they have together grown Parvasi to include radio and television programming, an online publication and a mobile app.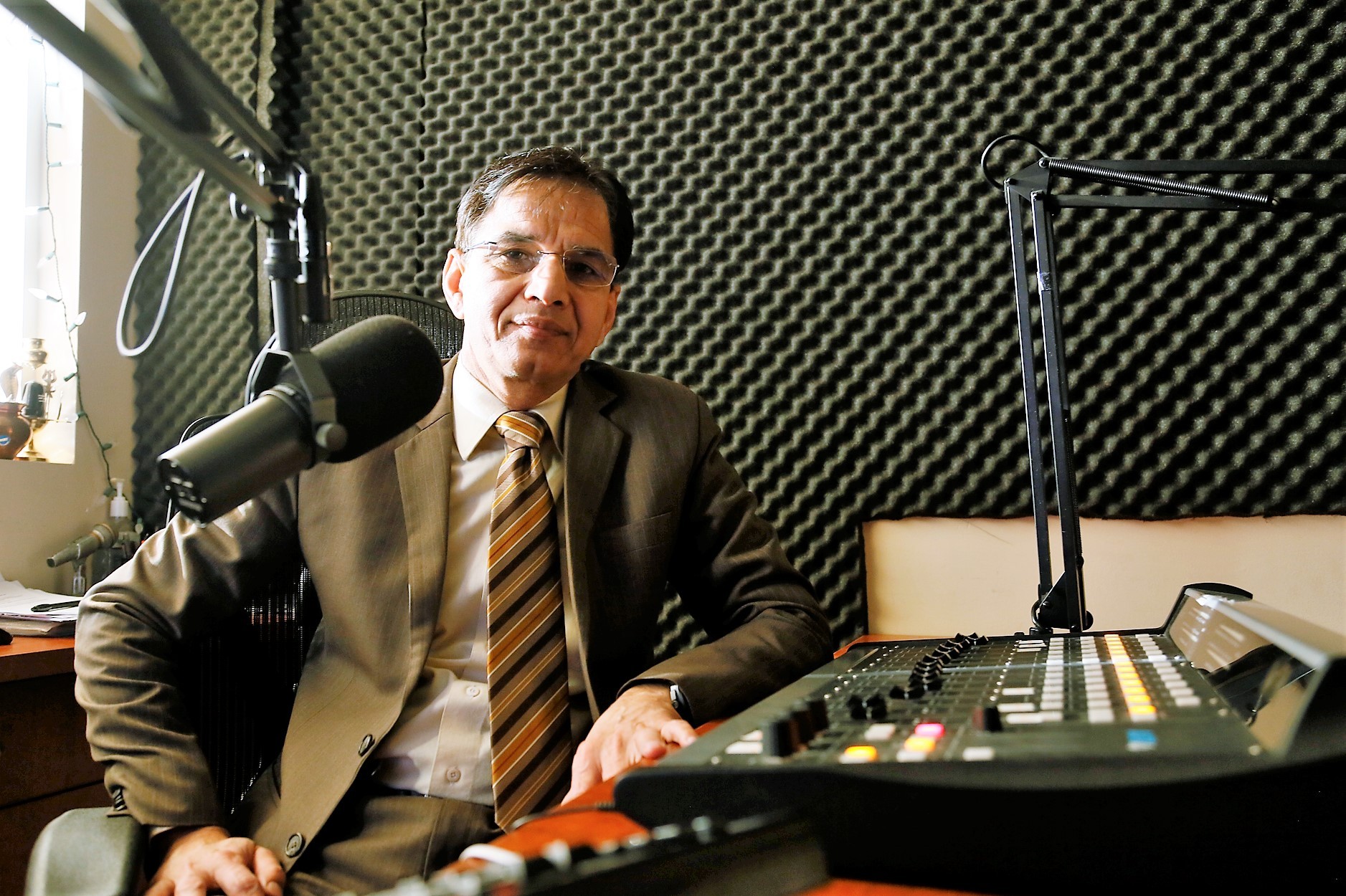 Parvasi Media owner Rajinder Saini
However, the great leap forward into the 21st century is threatening to undo everything that they have poured their blood, sweat and tears into.
Selling set-top boxes, IPTV or Android boxes for example, that make it possible to use illegal streaming services is hardly an underground business. Shops advertise the availability of the boxes on their storefronts, and signs haphazardly taped onto lampposts beckoning customers are a common sight in Brampton.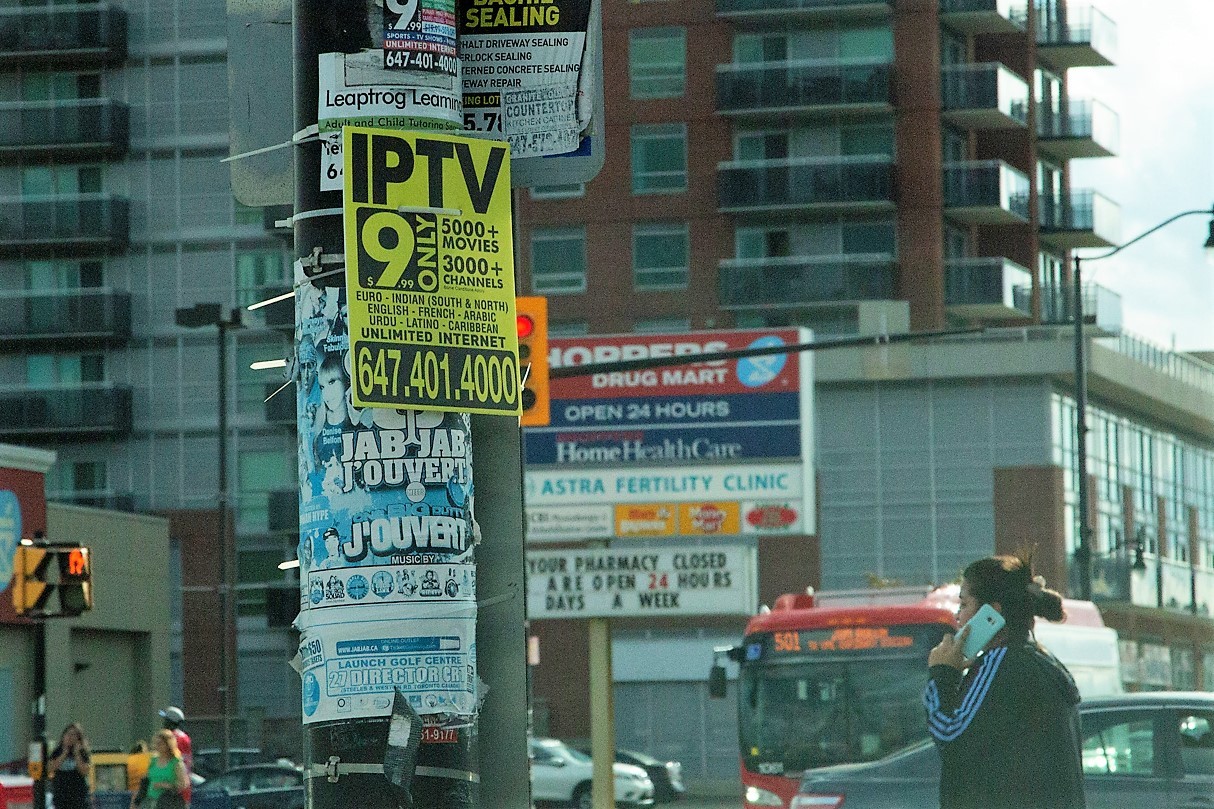 Shan Chandrasekar, owner of Asian Television Network, is part of a Bell-led coalition of content creators called FairPlay Canada, which also includes other big players such as Rogers and the CBC. The group has lobbied the federal government to step in and stop illegal streaming.
FairPlay's mission statement says "the jobs of hundreds of thousands of Canadians who work in the creative sector are at risk as a result of increasing online piracy."
In October, the CRTC rejected FairPlay's request to launch a website-blocking regime to slow down the spread of piracy websites.
"Even though the CRTC very much sympathized with us, unfortunately they felt it was beyond their jurisdiction. So they have passed us on to the Parliament to go and work on the copyright act reform right now," Chandrasekar said.
A spokesperson for the CRTC told The Pointer that "we look at what is broadcast over the air, and that includes radio and television content, not Internet."
The huge immigrant population in the city, where 52 percent of residents were born outside Canada and 86 percent are either foreign born or the children of immigrants, makes Brampton a very lucrative market for those who profit from the boxes, which allow easy access to programming from around the world, usually in the user's mother tongue.
But illegal practices are taking a lot of money away from legitimate producers and carriers of regulated content.
Pirate streaming services are a cheaper alternative to legitimate television providers such as Rogers and Bell. That, combined with the relative ease with which they can be acquired, often makes them a preferred alternative to mainstream broadcasters, cable and satellite providers.
The Pointer went to Golumbia Video, a shop that sells IPTV boxes near Steeles Avenue and Kennedy Road, while posing as a customer. A sales representative said all one needs is "unlimited (Internet) data. After that you buy a box and get a subscription."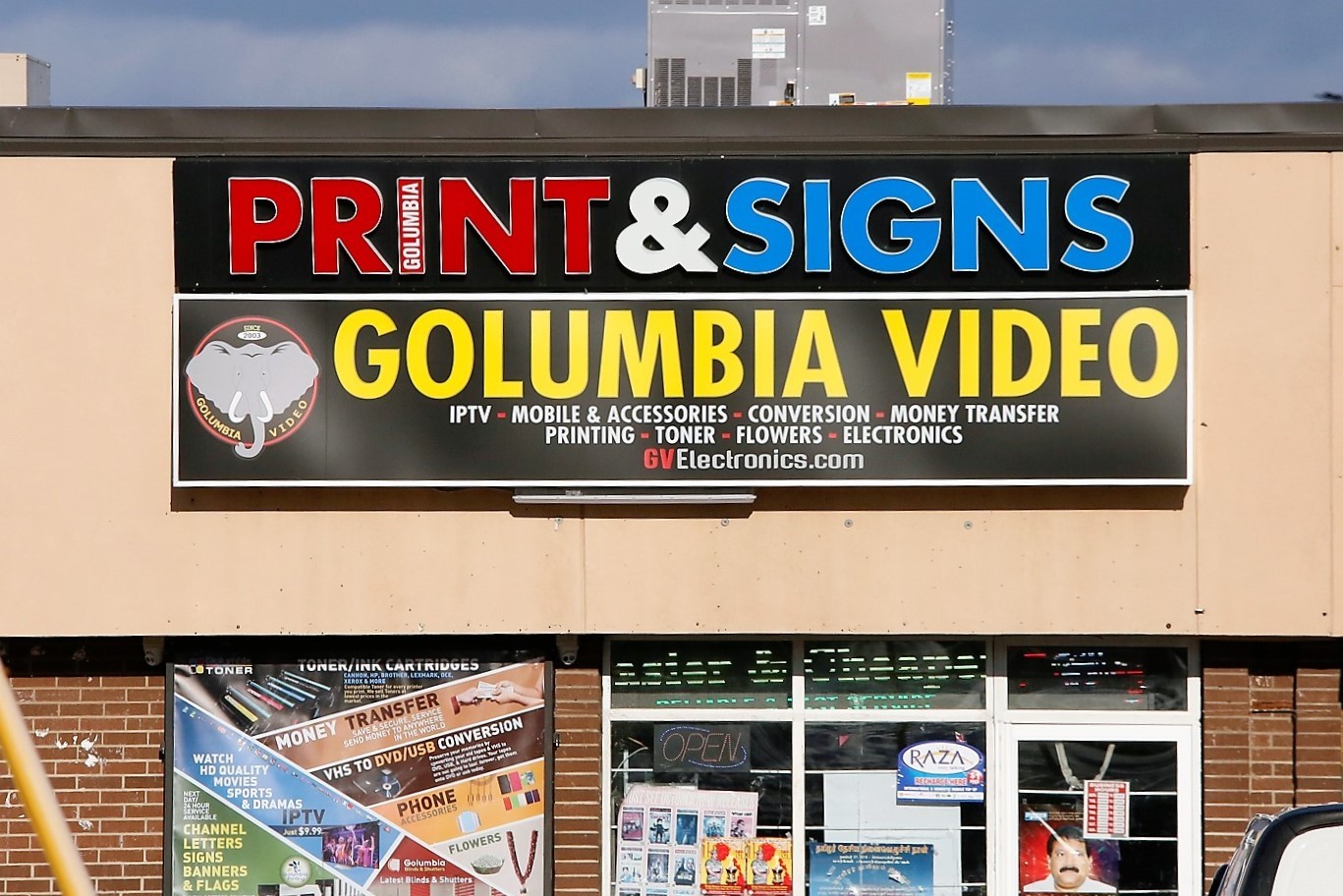 He said that two types of subscriptions are available. "If you want to pay monthly you can pay $15, otherwise (it costs) $120 per year." He told The Pointer that once subscribed, the customer has access to unlimited content from around the world, especially from the Indian subcontinent.
By comparison, Bell Fibe's subscription plans range from $24.95 per month to $103.95 per month, depending on which channel package a customer chooses. Rogers is similarly less economical than IPTV, with packages that range from $24.99 to $99.99 per month. Both Bell and Rogers only feature content that can be legally broadcast by them in North America.
Because these streaming services provide cheap and unlimited South Asian — or "desi" — content, wildly popular among many who crave Bollywood movies, sports such as cricket and news from countries such as India, Pakistan and Sri Lanka, there is growing demand for them in Brampton.
A report commissioned by the federal government through Sandvine, a tech company that helps organizations optimize their Internet data networks, reveals the prevalence of set-top boxes. The paper, titled Video Piracy in Canada, says that just over 15 percent of Canadian households have some form of piracy device.
According to the 2016 census, visible minorities, including those from the subcontinent, make up nearly three-quarters of Brampton's population. Legitimate providers of "desi" content such as Saini and others feel they can't compete against IPTV boxes and are watching their revenues erode.
Another Bramptonian who owns a licensed Punjabi language radio and television outlet says his business's customer base has taken a substantial hit from the proliferation of IPTV in the GTA. "I will say that I have lost more than 95 percent," said the owner, who asked The Pointer not to use his name because he's known to many of the players who provide content for set-top boxes. "Every year I am losing a million dollars. I'm a very small TV channel operator."
He came to Canada in the '80s and was among the first to hold a Broadcast Distribution Undertaking licence for a Punjabi-language outlet. The CRTC requires that broadcasters buy the yearly BDU licence, which costs distributors thousands of dollars in annual renewal fees. IPTV streaming services are able to evade licensing regulations, adding to the headaches of legal broadcasters.
In December 2017, the federal government undertook a review of the Copyright Act, the first phase of which was completed the same month the CRTC rejected FairPlay's application. The Standing Committee on Industry, Science and Technology hopes to have the review completed early in the new year.
Samantha Grant, a spokesperson for Rogers, says that, "We are proposing two amendments to the Copyright Act: creating a criminal prohibition on commercial pirate operations; and creating a provision that allows rights holders to seek injunctive relief against an intermediary involved in the dissemination of pirated content (including injunctions requiring ISPs to block content pursuant to a court order)."
If implemented, Canada would not be the first to employ such measures, according to Grant. "This would be similar to legislative action taken in over 40 countries, including jurisdictions such as the UK and Australia, where it's proven to be very effective in combating illegal online streaming services."
While industry insiders are fighting tooth and nail to protect their life's work, advocates for net neutrality are sounding the alarm about the slippery slope enforcement can bring.
University of Ottawa professor Michael Geist argues that blocking streaming websites could violate fundamental Charter rights. He writes in his blog that "the Bell coalition (FairPlay) website blocking plan may violate more than just Canadian net neutrality rules. As currently framed, it may also violate human rights norms. Website blocking or other measures to limit access to the Internet raises obvious freedom of expression concerns that [have] sparked commentary from many international organizations."
However, broadcasters like Saini are stuck in a vicious cycle while their revenue slowly evaporates. They can only wait and see what the government will do next.
"It is illegal. Stealing someone's content, that is illegal," Saini said. "How they can do that? It is a crime. They should be charged, they should be put behind bars."
Submit a correction about this story