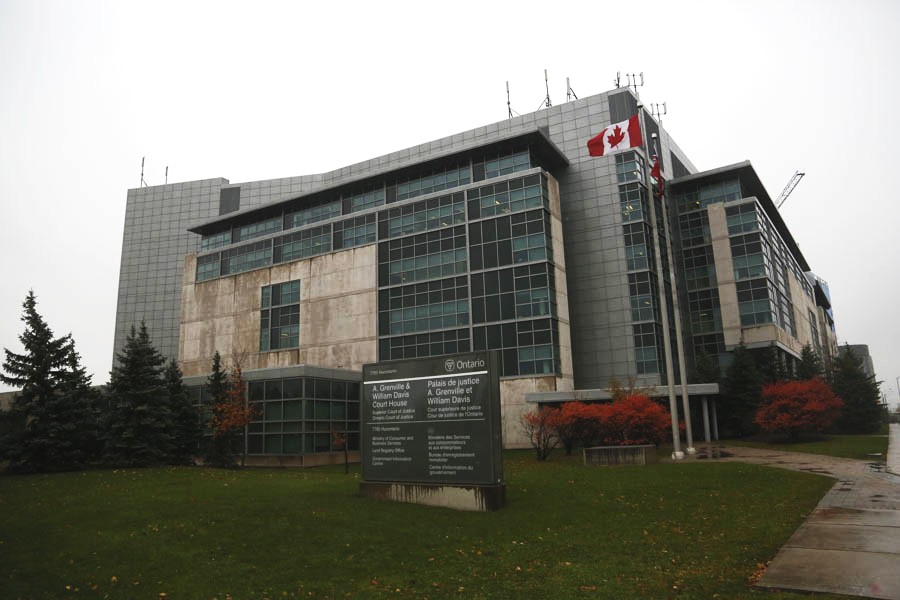 Photos by Mansoor Tanweer
Judge blasts province for desperate shortage of space at Brampton courthouse
Senior Regional Justice Peter Daley attacked the Ontario government Monday in a sharply worded report over its years-long failure to add courtrooms and other facilities needed to move cases through quickly at the Brampton courthouse.
Daley didn't mince words, calling the province's complacency about making improvements "willful blindness." He wrote that "the province of Ontario remains in breach of both its constitutional and statutory duties to provide suitable courthouse facilities for the citizens of Ontario in Brampton and elsewhere."
Peel Region has only one courthouse, which presents an immense challenge to the justice system and residents. Legal professionals first petitioned the government for more space in 2008, and a long-promised six-storey addition to the courthouse, which was supposed to be finished in September, is still far from complete. The projected date is now July 2019, and even then, Daley said, it won't be fully fitted out.
"Even if the courthouse addition is partially completed as proposed by the Attorney General, the number of judges scheduled to preside on a week to week basis will far exceed the number of courtrooms available for the Superior Court in the Brampton courthouse."
"The Ontario government — past and present — is either wilfully blind to the erosion of trust caused by its failure to take timely steps to address the facilities crisis in Brampton, or it believes that spending on this courthouse will not result in more votes."
Senior Regional Justice Peter Daley
---
When the A. Grenville and William Davis building was built in 2000, critics immediately blasted it as too small to serve the region adequately. Brampton's rapid population growth since then has further clogged the justice pipeline, meaning that cases may drag on for years or be referred to other jurisdictions such as Kitchener or Orangeville. The result, Daley wrote, is "very real and unacceptable delays in the hearing of all matters in Brampton."
"Brampton is one of the busiest jurisdictions if not the busiest jurisdiction in Canada," said Gary Batasar, who has been a criminal lawyer in the city for more than two decades and has watched the local court system fall behind compared to other jurisdictions.
"The U.S. system is much better, especially in criminal matters. You get charged with an offence there, it's routinely very quickly that you can get a preliminary hearing and then your trial date is set. Here, often in criminal cases, depending on the severity and the seriousness, you're waiting a long time," Batasar said.
Darryl Wolk, a strategist for the Fair Share for Peel Task Force, which lobbies governments to address rapid growth in Peel municipalities, says this is just one of many growth-related issue the province is ignoring in Brampton. "They have issues in terms of per capita funding related to medical services and hospital beds. There's long waits in long-term care facilities, social housing. They're behind on transportation initiatives — its the ninth largest city in Canada, and I think the courthouse situation is just one of the many issues of Brampton not getting their fair share," Wolk added.
Speaking on behalf of the Ontario Superior Court of Justice, Daley wrote that "The Ontario government — past and present — is either wilfully blind to the erosion of trust caused by its failure to take timely steps to address the facilities crisis in Brampton, or it believes that spending on this courthouse will not result in more votes."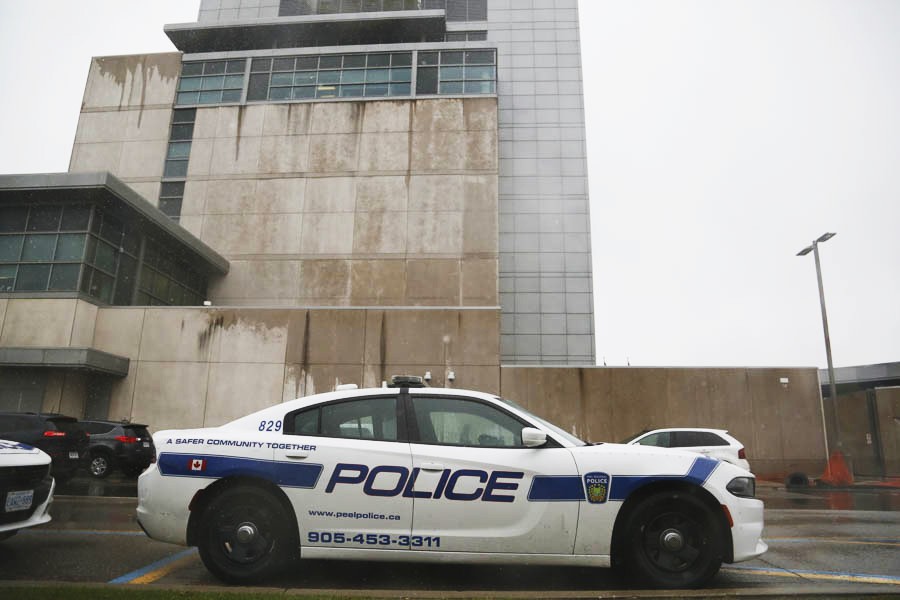 The issue is "infinitely worse than it was seven years ago when the Chief Justice made her urgent plea for more space, or even four years ago when the former Attorney General promised this addition to the courthouse," Daley said. He pointed out that the current Attorney General's office, though invited, hadn't even bothered to send a representative to hear him deliver his comments at the Brampton courthouse, made at the start of a session meant to assign court cases.
Daley pointed out that a recent Supreme Court decision put limits on how long criminal trials may be delayed and said lack of institutional resources can't be used as an excuse to deny defendants the right to a speedy trial. "Not only is the situation entirely frustrating for all who seek a timely resolution of their cases, but it results in an immense disservice to those who live and work in Peel Region. The sole responsibility to address courthouse facilities rests exclusively with the provincial government."
Problems at the courthouse go beyond the shortage of courtrooms outlined in the judge's report. The Pointer's Cara Sabatini reported last week on the hours-long waits ordinary citizens face when trying to file civil and family court documents at the Brampton courthouse, which rose to an average of two hours and 20 minutes earlier this year.
That's nearly five times the Ministry of Justice standard of 30 minutes or less. In contrast, the average wait time in Toronto is 20 to 25 minutes, highlighting the discrepancy between regional courthouse systems.

Some observers attribute the lengthening waits to the rising number of self-represented litigants who can't afford legal professionals to do this work for them and are often poorly informed as to what documents they must file, or how.
But there has been no official explanation for why Brampton suffers far longer waits than other courthouses. And there are no plans for additional staff positions or service counters.
Submit a correction about this story