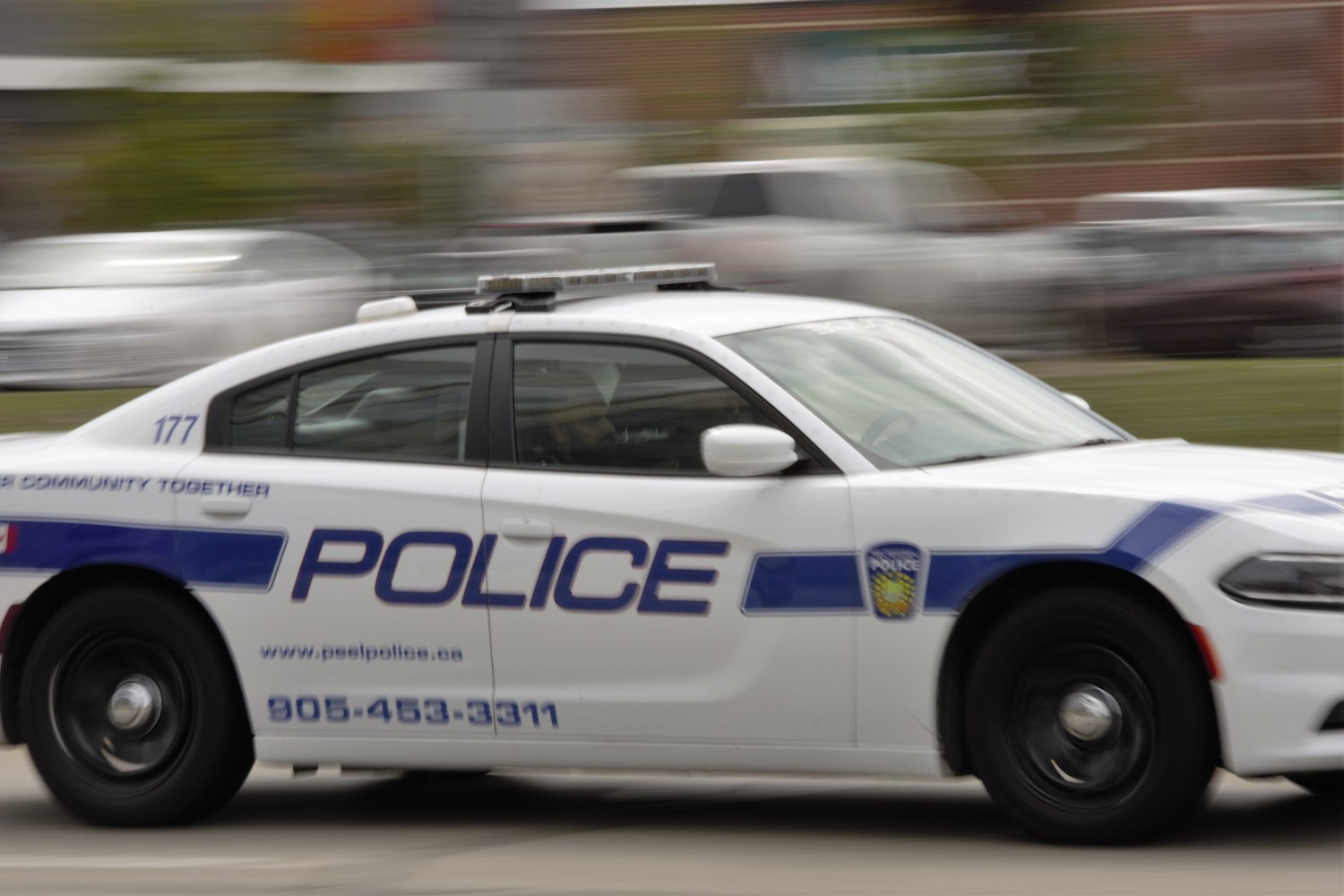 Photos by Mansoor Tanweer
Unclear what Brampton will get from Ottawa's $200M funding to combat gun and gang violence
This may turn out to be the bloodiest year in Peel history, as police and politicians have poured effort into stemming the tide of shootings and gang violence across Brampton and Mississauga.
Now, the federal government is looking to provide a helping hand. On Nov. 13, Prime Minister Justin Trudeau's government announced "Canada's Initiative to Take Action Against Gun and Gang Violence," which will invest millions of dollars over five years into fighting crime across the country.
In total, about $286 million will flow to a variety of initiatives aimed at stopping crime at the source.
In Brampton and Mississauga, Peel police, which only works in the two cities (Caledon is policed by the OPP), are currently investigating the region's 22nd homicide, which occurred earlier this month — up from 16 in 2017 and drawing closer to the all-time record of 27 homicides for the year set in 2008. This has also been one of the region's worst years for gun violence, with 63 shootings recorded by the end of August, compared with 76 shootings in 2017, which was also an historically bad year.
Mayor-elect Patrick Brown at a community meeting this summer to address Brampton's wave of violent crime
Statistics from Peel Regional Police show that, as of August, violent crime overall is up by 11 percent year over year in Mississauga and Brampton.
"Criminal gun and gang violence is a grave threat to the safety and prosperity of Brampton. Tackling illegal trafficking of firearms is an important step in addressing this threat," Ruby Sahota, MP for Brampton North, said in a news release on the federal initiative, touting it as "a comprehensive plan that includes common-sense firearms legislation, working together with communities at a National Summit and consultations on banning handguns and assault weapons."
Brampton MP Ruby Sahota
Funding to the tune of $200 million will be doled out to the provinces and territories to respond to their own specific needs. Sahota's news release said funding will also be provided to organizations that serve vulnerable populations, particularly people at risk of joining gangs and becoming involved in gun violence.
Right now, it's unclear how those dollars will trickle down to Peel Region, but additional funding of $86 million going to the RCMP and Canada Border Services Agency (CBSA) could have an impact on Peel as the government steps up efforts to stop the flow of smuggled guns into Canada.
In 2017, the CBSA seized 467 firearms, an increase of nearly 19 percent over the previous year. The rise in guns entering Canada correlated with a 7 percent increase in firearms-related offences across the country.
The dollars going to CBSA and the Mounties were already committed as part of the broader Initiative to Take Action Against Gun and Gang Violence laid out by Ralph Goodale, the minister for public safety, a year ago. Some $51.5 million will assist the CBSA in keeping illegal guns out of the country, by investing in a facility to help train detector dogs, deploying new dog teams at significant highway border crossings into Canada, expanding x-ray technology at postal centres and air cargo facilities, and providing further training for employees on how to detect concealed goods in vehicles attempting to cross the border.
The remaining $34.5 million will be used by the RCMP's new Integrated Criminal Firearms Initiative, which aims to build capacity for investigations, training, inspections technology and intelligence programs.
The recent announcement comes less than a week after Conservative Party Leader Andrew Scheer was in Brampton to discuss the issue of crime and announce the first pillar of the Conservatives' three-part tough-on-crime pledge.
"People are feeling less safe in their communities, and they're losing faith that their government is willing to address it," Scheer said, noting that the first portion of the Conservative plan looks to deal "swiftly and firmly" with gang crime. "While our cities try to cope with this rise in gang violence, Justin Trudeau is failing to offer real solutions; in fact, he's making the situation worse."
Currently, the Liberals have an omnibus piece of legislation, Bill C-75, before the House of Commons that looks to reform elements in Canada's justice system. The bill has been criticized from both sides of the aisle for over concerns that it would weaken parts of the system.
At the end of October, Liberal MPs voted alongside the Conservative opposition to amend parts of the bill that might have reclassified certain terrorist offences as summary and not indictable offences. Summary offences are generally less serious crimes.
However, the bill has also been praised for its overhaul of Canada's bogged-down bail system.
Scheer says the Conservatives would take a stronger approach, making it easier for police to target gang members and keep them behind bars when they're eventually in custody. He adds that they would start by ending bail entitlement for repeat gang offenders and create a certified list of gangs, similar to what is done with terrorist organizations. This list would make it easier for prosecutors to prove their cases against gang members and save court time, as part of each gang-related case involves proving that the gang the accused is affiliated with is in fact dangerous, despite the fact that some of the gangs are widely known, such as the Hells Angels or MS-13.
"This makes absolutely no sense and only wastes valuable and limited police resources," Scheer said.
Under a Conservative government, he said, new mandatory sentences would also be put in place for instructing someone to commit a crime on behalf of a known gang and committing violent offences on behalf of a gang, and parole would be revoked for those who associate with one of the gangs on the future gang list.
Brampton North MP Sahota is not convinced, arguing that Scheer has shown in the past that he has a less than tough stance on crime. She is also worried about his views on gun control.
"Andrew Scheer promised in his leadership platform to repeal undisclosed parts of Canada's gun-control law, ease size restrictions on ammunition clips, and allow overrides of the RCMP's role in classifying weapons by politicians. Mr. Scheer owes Brampton an explanation of how his plan to weaken gun control will reduce the rising gun violence on our streets," Sahota said in the news release.
The state of crime in Canada and criminal justice reform are sure to be pressing topics throughout the lead-up to the federal election in 2019. One need look no further than the recent municipal election in Brampton, in which the ongoing crime wave across Peel was a pressing topic for all candidates.
The Liberal pledge comes as Canada deals with a rash of deadly violence this year, including a mass shooting on Toronto's Danforth Avenue in July that killed an 18-year-old woman and a 10-year-old girl, while injuring 13 others.
Brampton residents have already expressed their concern in numerous ways in recent months as they sought relief for a growing sense of insecurity. During a town-hall meeting hosted by Peel police earlier this fall, concerned citizens took turns addressing officers with their concerns. More telling, perhaps, were the results of a poll of 999 residents commissioned by The Pointer at the end of August that showed serious concerns about criminal activity in Peel Region.
Asked whether they felt the Peel police were "doing a good job of keeping Brampton safe," the response was far from a ringing endorsement. Some 45 percent agreed, while 38 percent disagreed, and 17 percent answered "don't know." Asked, "Overall, do you feel safer than you did four years ago?" 10 percent of those surveyed said yes, 26 percent said they felt about as safe as they did four years ago, and 65 percent said no.
Since that time, Brampton has been waiting for word that help is on the way. In Toronto, Mayor John Tory helped secure $25 million in funding from the new provincial government earlier in the summer, specifically to fight the violent crime that continues to dominate headlines in Brampton. No similar funding has been announced for Peel.
In an attempt to deal with the rise in crime, Peel police started deploying extra officers during peak periods. Starting in June, 16 additional officers were deployed on Thursdays and 41 on Friday and Saturdays. Police noted these officers were being used for targeted enforcement to combat drug and gun-related activity.
Submit a correction about this story