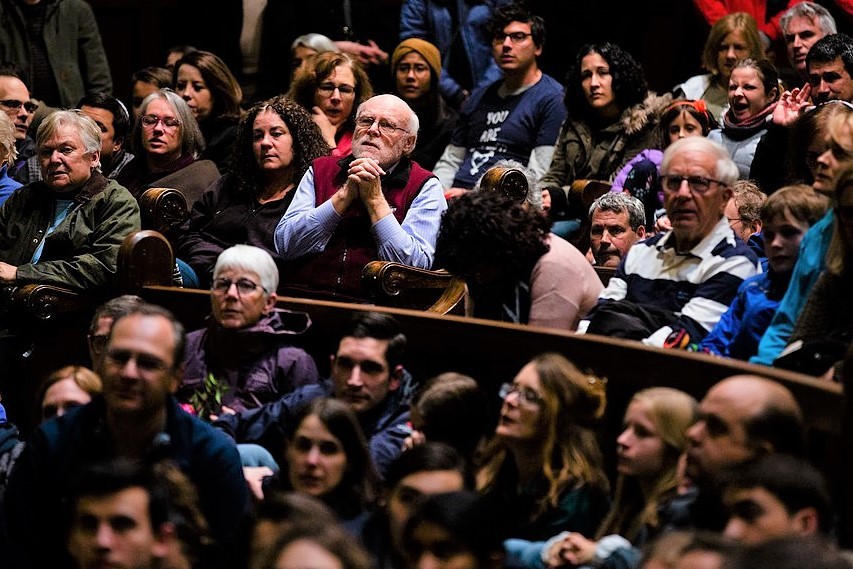 Photo of Pittsburgh vigil from Wiki Commons
The Pittsburgh mass murder and Donald Trump won't bend Lawrie Bloom and Brampton's Har Tikvah Synagogue
Lawrie Bloom was just a child living in north Toronto when he was called a "dirty Jew" by schoolyard taunters.
He and his sister and one other child were the only Jewish youths living in the community near Wilson and Dufferin, a working-class area at the foot of the old Downsview Airport, which during the Second World War served as a Royal Canadian Air Force Station. After the Allied victory European cultures and histories were just starting to collide in Bloom's gritty post-war Toronto neighbourhood. It had been a homogenous place, mostly white and Christian — a middle class enclave, and an example of Canada writ large, until geopolitics began to shift the country's future.
As the religious and cultural mix disturbed the neighbourhood's comforting sameness, the Bloom kids, who weren't the same, found succor within their own family unit. Beyond the family, inside another house they came to call their own, the Synagogue — which has always been more than a Jewish place of worship — provided a type of enveloping warmth and safety that members of their faith around the world have long searched for.
When Bloom started his 31-year career with the City of Brampton he was the only Jewish staffer, and remembers fending off an anti-Semitic attack from one of his supervisors.
With the knowledge of his youth and what he had searched out all those years ago, when longing for a sense of place and identity, he co-founded the Har Tikvah Synagogue in Brampton and served as a past president. He saw firsthand the evils of hate. Twice during its history which began in 1979, the Synagogue was defiled by anti-Semites. They gutted the inside, and spray-painted Nazi symbols and slogans on the outside.
Bloom had grown rich, able to understand, from a higher place, what the response had to be, thanks to the teachings of his faith.
He was married. His wife Charron's parents were Polish-born survivors of the Holocaust. Bloom urged them to tell their stories to those at the Synagogue, which they did, and the atrocities they detailed were also recorded for posterity by a foundation started by Steven Spielberg, the Hollywood director of Schindler's List, who thought it important that all Holocaust survivors should have their stories told on film before they died.
---
Lawrie Bloom watched, as many of us did, recently when an anti-Semitic hater was accused of spraying the Tree of Life Synagogue in Pittsburgh with gunfire and killing 11 people simply because they were Jewish. The accused killer has pled not guilty.
The Pittsburgh slaughter was the largest hate crime against the Jewish community on American soil, and police south of the border report that hate crimes against Jewish residents rose by 23 percent in 2016.
In the age of Trump, a particular brand of economic white-nationalism is on the rise.
The Tree of Life Synagogue's Rabbi, Jeffrey Myers, told Trump that the perpetrator of the slaughter had been armed and weaponized by hate speech being spread by politicians, such as the president.
Instead of using language to mobilize citizens to great heights, too many politicians today have turned words into bombs. One group in particular is again reeling from the impact.
According to the FBI and the Anti-Defamation League (ADL), Jewish people were the victims of more reported hate crimes than any other religious minority in 2016.
Nearly 700 anti-Jewish incidents occurred — more than the rest of the religiously motivated hate crimes combined. The FBI is leading the investigation into the attack in Pittsburgh.
The ADL says in 2016, anti-Semitic incidents rose by nearly 60 percent — the largest single-year increase on record. And that was when Donald Trump was only just beginning his assault on "others" over the past three years, including his now infamous "there are good people on both sides" speech after a 2017 "Unite the Right" neo-Nazi rally in Charlottesville, Virginia, that led to the death of a protester.
---
Canadian airwaves and news information are saturated by events south of the border, including Trump's latest actions aimed at propelling his base to the ballot for Tuesday's crucial mid-term election. His latest convenient target to foment fear at the polls is a migrant caravan of Central-American refugees inching towards the American border. Many are women and children, fleeing violence, and seeking a new life.
Likely an unintended casualty of Trump's war, the Jewish community, which he has clearly tried to appease through both his pandering campaigns in certain districts and his largely pro-Israel foreign policy, is feeling the impact of the president's politics of division. Rabbi Myers tried to explain this to his country's leader. The ADL also found 1,986 cases of harassment, vandalism or physical assaults against Jewish people or institutions in 2017, a 36 percent spike from the 1,267 in 2016.
Although the number of hate crimes is tiny compared to overall crime stats, just one incident can have a devastating impact, like Pittsburgh. The killing spree south of the border and the statistics now being amplified remind us here in Canada that these virulent strains of hatred aren't confined by imaginary borders.
According to Statistics Canada, 33 percent of hate crimes in 2016 were motivated by religious belief, a 2 percent drop from a year earlier. But incidents against Jewish people rose by 24 percent.
Peel Regional Police has been monitoring and reacting to the increase. The Hate/Bias Motivated Crime Report presented to a Peel Regional Police board meeting two years ago showed an overall jump in incidents from 52 to 63 in just one year. Religion was the strongest motivator, said the report, compiled by the Diversity Relations Unit. In one bizarre incident, a Catholic church in the Cooksville area of Mississauga was defiled by an anti-Semitic message spray-painted on the church wall. In all, nine of the incidents targeted the Jewish faith that year.
Religion, not racial animus, was the prime factor, accounting for the motive in 43 percent of the hate-crime incidents.
Immediately after the Pittsburgh murders, Peel Police took a pro-active approach and got in touch with the leaders of our region's Jewish community, including those at the Har Tikvah Synagogue.
---
The Bloom family knows all about inconsolable pain. The youngest son David died in 2001 of a brain tumour at age 18.
Today, nearing his 70th birthday, with two surviving sons (Richard and Aaron) and five grandchildren, Lawrie Bloom, in the face of a renewed global populism that seeks out enemies, still remains optimistic. This is a dark period in our history, when killing the Jewish faithful in a house of worship, and the explosion in nationalist sentiment worldwide, has other leaders wondering if another anti-Semitic wave of hate will force Jewish citizens the world over to look elsewhere for refuge.
The politics of populism, a sort of mutated fascism that conflates anti-elitism/anti-government sentiment with a sweeping sense of ill will toward "others", seems to be appealing to more and more people who feel increasingly left out. Consequences of the economic war being fought by those claiming to represent the hollowed out middle class have left many communities fearing a return to the worst times in our modern history.
Steve Bannon, Trump's former principal advisor on everything from the economy to immigration, and every hot-button in between, came to Toronto over the weekend to argue in favour of economic populism at the Munk Debate.
In his defence of Trump's "economic nationalism", Bannon began his oration by pointing out the trillion-dollar bailout orchestrated by members of George W. Bush's administration who were loaned out to the White House by Wall Street.
He characterized the move as a capitulation of political elites to the never-have-enough crowd, on the backs of the never-haves.
The growing disparity, the hollowing out of the middle class, was highlighted by Bannon, who described a current economic system now driven by financial markets, which together control political decision making throughout much of the world.
Some of his argument is backed by two ingenious books, published since the recession, that can be read as companion pieces.
French economist Thomas Picketty gathered up personal income tax data across much of the western world and showed that after a four-decade period following the Second World War characterized by state intervention to stabilize bludgeoned economies, capitalism reverted back to its fundamental flaw — its inherent creation of inequality by rewarding those who hold market capital with enormous returns that, through a variety of investment instruments and tax loopholes, outstrip the returns for those workers who actually produce the profits, but do not enjoy the benefits of their labour.
His 2013 book Capital in the Twenty-First Century is considered a landmark, often cited by economists, politicians and academics as proof that the current global economic system disadvantages many workers.
Around the same time, journalist George Packer authored The Unwinding: an Inner History of the New America.
Where Picketty used income data, tax filings and economic models to make his case, Packer set out to chronicle the destruction being done to his country's middle class. The muscular reporting detailed Florida home-foreclosure courts where lawyers couldn't even figure out which financial institution was responsible for the original mortgages unwitting buyers were hoodwinked into, by banks that sold off the worthless assets to other firms, who passed the buck until someone was left holding an empty bag of useless loans, sparking the last global financial crisis.
Packer criss-crossed middle-America, telling the stories of an entire class of workers laid waste by market forces, as U.S. companies that made things were stripped down and sold off by hedge fund owners looking to increase shareholder profits, or became hollowed out after good-paying jobs were relocated overseas to cheap offshore labour markets.
---
All of this has brought us to Trump, the real estate huckster trying to convince the disenfranchised that their problems are being caused by illegal aliens, Mexican invaders, Muslims from dark places — all coming to make things worse.
Many of us seem caught in the middle of Steve Bannon's economic populism and Trump's absent morality. We've seen this picture before.
As Remembrance Day nears on this the 100th year since the end of the First World War, we are reminded of the subsequent rise of fascist and authoritarian regimes. In Italy, ruling-class elites who for centuries had enjoyed privilege on the backs of the peasantry, were overthrown and murdered by Mussolini's fascists.
Nazism in Germany would lead to the "final solution" — the systematic killing of 6 million Jewish people in the death camps. Hitler's bid to rid the world of the "dirty Jews" was finally blunted by an allied victory, but the realization of the Nazi atrocities tempered many of the victory celebrations.
---
Despite the two desecrations at the Har Tikvah Synagogue, the hate-filled attacks on him when he attended school or began work in Brampton, and even the Nazi horrors from the last great war, or the carnage in Pittsburgh, Bloom thinks the only way to get through life is preaching love and understanding — and helping even those you don't know.
He could lean on the Hebrew word mitzvah, which aligns closely with the English one, "commandment", and refers to a moral deed performed within a religious duty. It's important to express individual acts of kindness, to give back to others, and that, says Bloom, will turn darkness into light.
On November 17th, a special memorial service will be held in the Brampton Synagogue, so its congregation can honour those that died in the Pittsburgh massacre and discuss its consequences.
Immediately after the tragedy Har Tikvah was contacted by Peel Police, and a list of suggestions on safety precautions (for example, eliminate shrubbery around a synagogue to give criminals less cover) was passed along. They will be discussed.
Lawrie Bloom has been the target of hate since he was a child in public school. But even the loss of his son to an astrocytoma brain tumour didn't stop him or his family from using that loss to give back to the world around them.
The David Bloom Legacy Fund directs its dollars to BrainWave — the Brain Tumour Foundation of Canada. Giving back has been the foundation of many Jewish communities, and their houses of worship.
Lawrie takes great pride in an acting role he recently took on in a community play, performing as Tevye, the father of five daughters in Fiddler on the Roof, who struggles to keep his Jewish faith and traditions in order as the surrounding world threatens what he stands for.
With everything surrounding Bloom as he tries to make sense of this dispiriting time, falling back once again on the lessons learned in the Synagogue, when things were at their darkest, Tevye's words come to mind: "Traditions, traditions, traditions. Without our traditions, our lives would be as shaky…as…as…as a fiddler on the roof!"
Submit a correction about this story