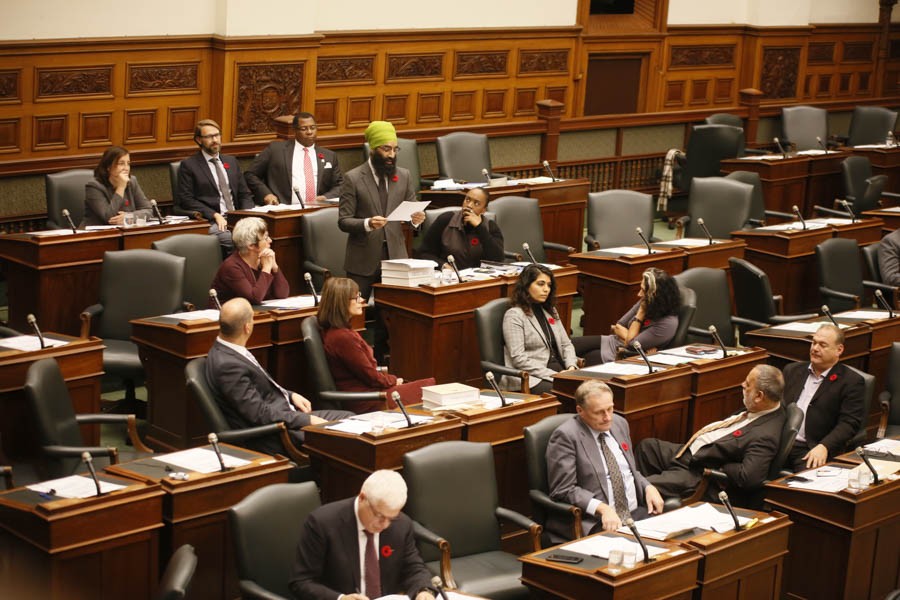 Photos by Mansoor Tanweer
Provincial bill to end higher auto-insurance rates in Brampton defeated
Ontario Bill 44, which sought to prevent auto-insurance companies from discriminating "based on postcode" in Brampton, was voted down during its second reading on Thursday. The proposed law was defeated 55-24, mostly along party lines.
MPP Gurratan Singh (NDP, Brampton East) originally tabled the bill Oct. 16, a day after a similar amendment, Bill 42, was submitted by Parm Gill, PC MPP for Milton, who previously represented Brampton as an MP. The two bills had similar goals, however the NDP bill would have amended the Insurance Act to classify "the Greater Toronto Area as a single geographic area." Gill's bill has no such provision based on geography.
Milton PC MPP Parm Gill
"Auto insurance is broken in Ontario," Singh said, calling for a "complete overhaul" of the system as he began second reading of his bill. Bramptonians, he said, "pay some of the highest car insurance rates in this country despite having some of the lowest accidents. And on top of it all, insurance companies are making record profits." Fred Lazar, a York University professor who prepared a report on the subject for the Ontario Trial Lawyers Association last April, found that insurance companies may have overcharged the province's drivers by as much as $5 billion over the past five years.
The competing bills have created some drama at Queen's Park, where proceedings quickly devolved into arguments about which party's bill was better. The governing Progressive Conservatives repeatedly argued that Singh's amendment to the law would drive up insurance prices in their respective ridings.
Michael Parsa, (PC, Aurora–Oak Ridges–Richmond Hill) warned of unintended consequences. "By implementing a law that will allow auto insurers to consider the GTA as a single geographic area, the high cost of auto insurance will ultimately be spread out across all zones that currently make up the GTA."
Parsa said Gill had "taken the time to get it right" with Bill 42, which aims to amend the Insurance Act by implementing "a risk classification system (that) prohibits insurers from using factors primarily related to the postal code or telephone area code for the residence of a person who would be an insured person under a contract."
Singh told The Pointer he's not satisfied with the wording of the competing bill, saying "Bill 42 has this huge loophole in it that actually will not end postcode discrimination."
A group of 28 Ontario lawyers, in an open letter published Wednesday, concurred with Singh's assessment. "Simply put, Bill 42 has vague language which creates a loophole that insurance companies can exploit, and Bill 44 does not," said the letter.
The letter is referring to the PC amendment's lack of a specific geographical guideline—similar rates for similar drivers across the whole GTA—which Singh's bill has.
Further, the letter says, "Mr. Singh's bill will protect safe drivers, while Mr. Gill's bill would let companies continue to exploit drivers just because of where they live. Bill 44, Mr. Singh's bill, is specific that GTA drivers will not be rated differently based on where they live and a safe driver in Brampton will be treated the same as a safe driver from Lawrence and Yonge."
Brampton leads the way when it comes to soaring insurance premiums. A 2017 study by Kanetix.ca, an online insurance marketplace, found that Bramptonians on average paid 70 percent more per year on car insurance than the provincial average.
Residents of the city pay an average $2,268 annually, compared with a province-wide average of $1,316. That makes Brampton the most expensive city to insure a car in the province, and one of the most expensive auto insurance markets in Canada.
Scarborough Centre MPP Christina Mitas told the legislature that she feared insurance premiums, already high in her riding, would increase further under the NDP bill.
"Most of the residents of Scarborough Centre already pay higher than average car insurance rates. According to a 2017 report, (on) the most expensive car insurance rates in Toronto, Scarborough tops the list, with nine neighbourhoods paying over $2,000 a year," Mitas said. Her comments are backed up by the Kanetix.ca survey, which found that residents of Scarborough neighborhoods such as Agincourt, Birchmount and Malvern were paying $2,249 per year on average.
However, Brampton still pays more across the city than Scarborough, which is part of Toronto.
Brampton Centre MPP Sara Singh came to the defence of her colleague from Brampton East.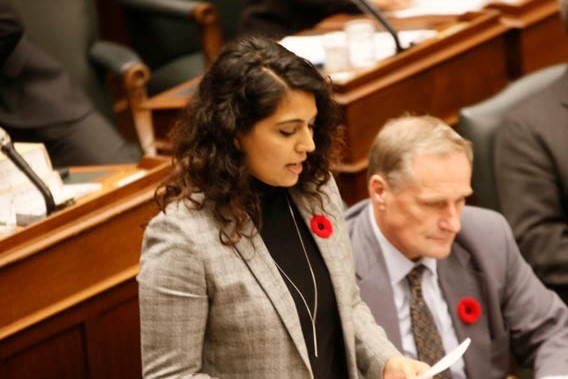 "This government has dropped the ball on an issue that they can, and we can all collectively, work [on] together to ensure that we lower those rates," she said. "I think of one constituent in particular who contacted us to say that she is a senior citizen who is having trouble affording her auto insurance rates. They are a staggering $2,300 a year."
Submit a correction about this story