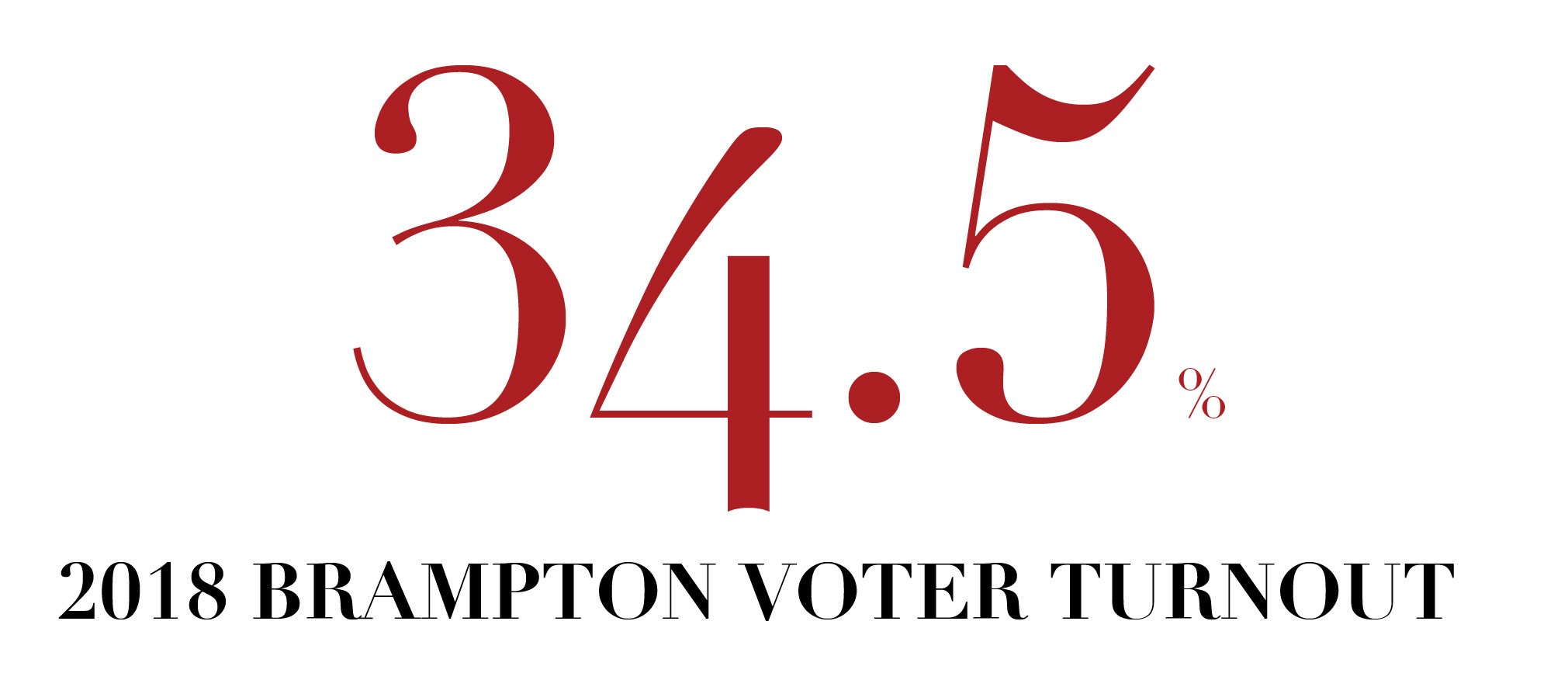 Election over, the next big challenge is getting citizens to care
Brampton and Mississauga celebrated "change" elections in 2014 — and mayors Susan Fennell and Hazel McCallion experienced different political fates.
The beloved McCallion, then 93, retired after 36 years in office, ending her historic run of 12 straight election wins, most by pluralities that would make a dictator green with envy. Two strong candidates topped the 16-person field to replace her: Bonnie Crombie, ex-MP and councillor, and Steve Mahoney, another ex-councillor and ex-MPP.
The narrative in Brampton was different — much darker, almost Shakespearian. Fennell was eager to extend her 14-year reign, but her last term left voters in a foul mood. She was dogged by persistent media scrutiny over her champagne spending habits and a lack of transparency when it came to her personal fundraising galas. The blowback from the controversial city hall expansion project on George Street was loud and ongoing. A disqualified bidder for the $500 million project questioned the fairness of the process and sued the city for $28.5 million in a civil suit that is just now winding its way down to a decision in Superior Court. Fennell faced off against Linda Jeffrey, an ex-councillor and former Liberal cabinet minister in the Kathleen Wynne government, and veteran councillor John Sanderson.
The results: Crombie got the crucial McCallion endorsement and whipped Mahoney by double digits. On election night, photographers and TV cameras recorded a touching and symbolic passing of the political torch. To the north, Fennell stumbled to a humbling third-place finish, recording a paltry 12.5 per cent of the vote. Her ouster was met with such relief that Mr. Brampton himself, William G. Davis, the long-time premier of the province (1971-85), rushed to Jeffrey's victory party to express his satisfaction.
But those historic elections exposed the soft underbelly of the municipal voting system: a vast majority of residents in Mississauga and Brampton didn't care — and didn't vote.
While Crombie won almost 64 per cent of the total, the turnout barely reached 37 per cent.
In Brampton, Jeffrey won 49 per cent of the 36 per cent of eligible voters who bothered to vote. And that was the city's high-water mark for participation. In the two previous municipal elections, turnout had been even worse — 33 and 31 percent, respectively — far below the provincial average of 44 per cent.
Compare Brampton's 2014 municipal turnout with the 68.5 percent of eligible Canadians who marked a ballot in the 2015 federal election, or the 58 percent who voted in the Ontario elections last June.
Which brings us to the Oct. 22 mayoral election, won by Patrick Brown with 44 per cent of the vote. While the high-profile challenger beat incumbent Jeffrey by almost four percentage points, the turnout was worse than four years before: 34.5 percent.
Ignorance and apathy — the attitudes of the "I don't know and I don't care" crowd — are twin killers when it comes to suppressing voter turnout, says a long list of political operatives, including Mike McGregor, principal investigator of the Canadian Municipal Election Study, a nationwide project that looked into why people don't vote in local elections. McGregor, a politics and public administration professor at Ryerson University, says engagement gets a boost with compelling candidates and feverish races.
In Toronto in 2014, John Tory faced off against Doug Ford and Olivia Chow, two councillors with considerable followings at opposite ends of the political spectrum. The voter turnout was 60 per cent, almost unheard of in municipal circles. This year, Tory sought re-election against Jennifer Keesmaat, the city's former chief planner, a solid but not quite famous opponent. Voter turnout tumbled off the cliff, to 41 per cent.
"It comes down to the fact that there's this widespread belief that municipal government doesn't matter as much as the other orders of government," McGregor told CBC News.
He added that there's an additional phenomenon that affects fast-growing cities like Brampton, whose population is more than 70 per cent visible minorities. There's plenty of evidence that "many of the minorities and new Canadians vote at lower levels, particularly in local elections, than do white and Canadian-born residents." While the reasons aren't entirely clear, it's notable that elections involving political parties — who often make concerted efforts to reach out to minority communities — draw higher participation in Brampton and other cities like it.
Veteran journalist Stephen Rhodes, who covered Brampton in the 1990s when it was smaller and less diversified, says he understands that today's residents may feel less anchored in the city and therefore less inclined to vote.
The fact that more than 60 per cent of residents commute to other parts of the GTA every day to work exacerbates that alienation — something Brown drilled down on during the 2018 campaign. Bringing in business to ensure that residents can work nearer home would bring an adrenalin rush to the city, he argued, and create more buy-in with the city's future. Rhodes agrees, adding that local elections give voters a chance to influence the government that is "closest to their wallets."
This is the great conundrum: voters directly affected by what happens at city hall continue to take a pass on voting. At higher levels of government, they take a higher interest, prompted to pay attention by far more prominent, party-driven levels of organization at the recruitment, nomination and campaigning level. So it's not surprising that city council doesn't represent Brampton's diversity nearly as well as Queen's Park and Ottawa do.
Low turnout at the local level is a Canada-wide problem. Vancouver and the Lower Mainland, for example, have voter turnout much like Brampton's. Vancouver's last election drew 39 percent turnout, down from 43 percent in 2014, while the suburban cities drew anywhere between 25 percent (Coquitlam) and 42 percent (Delta).
The Census shows a seismic shift taking place in our nation. For the first time, more than half of all Canadians are now listed as residents of the main four urban regions – Greater Vancouver, the Calgary/Edmonton corridor, the extended Golden Horseshoe, and the Montreal region. These urban concentrations are where the population is, and where picking mayors and councils has taken on even greater importance.
Age is an interesting factor. For the first time, in 2015, the number of persons 65 and older exceeded the number of children aged 15 and younger. By 2024, 20.1 percent will be of retirement age. The baby boomers are more reliable voters than millennials; according to Elections Canada, turnout tends to increase with age, with those in the 65-74 age bracket voting at roughly double the rate of those aged 18-24.
The good news is that the last federal election saw a huge increase in turnout among young Canadians, particularly young women. Turnout among the 18-24 group increased 18.3 points, to 57.1 percent, compared with just 39 per cent in 2011.
Turnout among older Canadians increased by more modest amounts, with jumps of two to seven points. It was highest among voters 55-74, among whom nearly 79 percent headed to the polls.
The response to no-shows at the local level has been ineffective on the whole. Before getting slammed into irrelevance by voters in last June's election, the Kathleen Wynne-led Liberals passed Bill 181, which empowered municipalities to give ranked-ballot voting a try. The concept is simple: instead of the usual first-past-the-post system, voters rank their choice of candidates, and a series of runoffs play out until one candidate receives 50 percent plus one. Only one Ontario city, London, took up the challenge, and the results were mixed. The eventual winner, Ed Holder, a former Conservative MP, took the first ballot lead and never relinquished it, despite 14 rounds of reshuffling the numbers. But turnout was only 39 per cent, actually down from the 43 percent who turned up in 2014.
Why? It could be voters were turned off or confused by the ranked ballot. It may take a while for people to feel comfortable with the system, but at least London can be lauded for attempting something different to engage citizens. Other cities like Cambridge and Kingston are thinking about trying it in 2022.
Other Ontario municipalities have opted to give new meaning to the term "turnout." Markham has been a North American pioneer of online balloting, or digital democracy, since 2002. But again, the results in terms of engagement have been disappointing. This year, just 38 percent voted — not much better than Brampton.
Online voting may have its enthusiasts, but there are potential drawbacks, including the chance for outside forces to poach information or cause havoc on election night.
Those fears were realized for 51 Ontario municipalities on Oct. 22, many of which had to extend voting periods into the next day when their online balloting systems failed. The company that provided their election tabulation software blamed a Toronto service provider for choking online voting traffic for about 90 minutes, according to a statement from Dominion Voting Systems. One Pickering candidate blamed the problem for her loss.
Compulsory voting is another alternative chosen by more than 20 countries. Australia has been forcing voters to do their duty nationally since 1924, sometimes even in municipal elections —although, despite the risk of a fine, some 10 percent of citizens didn't vote in 2016.
Dave Meslin, a Toronto civic engagement activist who was one of the advocates for the ranked ballot model unveiled in London, believes voters at the local level "do care." He's of the same mind as Naheed Nenshi, Calgary's popular mayor, who told an audience at the University of Toronto-Mississauga campus a few years back that voter engagement is possible if there's real buy-in from city hall. "If the voters don't see a relationship between their dreams and their government, it often results in anger, or worse, a disengagement from the process." Nenshi's reliance on grassroots engagement and use of social media has prompted many to describe his style as "post-partisan" politics.
McCallion was such a winning candidate, Mississauga city hall became a virtual dead zone for political intrigue —or voter engagement. In later years she didn't even bother to campaign. Her 36-year reign drove down turnout; in 2003, only 20 per cent of eligible voters cast a ballot. Fennell was also once a popular leader, and by the 2006 vote, she won a Hazel-like 75 percent. But as media scrutiny heated up, her approval numbers tumbled, to 50 per cent in 2010, and then to a fatal Mariana Trench level in 2014.
The Crombie-Mahoney showdown in 2014 drove up turnout, but, while Crombie scored an astounding 77 per cent of the vote this year, like her famous mentor she also drove down turnout to 27 per cent.
Voter disinterest, even confusion, was never more evident than in the 2014 election in Mississauga. Chris Loreto, strategic policy director of the Mahoney campaign, was troubled by a large number of undecided voters. So a polling company conducted an interactive voice response survey of 834 Mississauga residents and cleverly inserted the Toronto mayoralty candidates Tory, Chow and Ford into the mix of potential choices for Mississauga mayor. The results were stunning – and proved that media bombardment from Toronto bled through municipal borders and affected the thinking of voters in Mississauga. They showed Chow getting 14 per cent support when added to the Mississauga ballot, while Ford drew 23 per cent and Tory 21 per cent.
The survey proved just how confused the voters were. Many voters also thought McCallion was still on the ballot. Was the electorate simply an apolitical bunch, dulled by years of rubberstamping the incumbents?
Urban sprawl has contributed to confusion in many GTA communities, says Rhodes, a political junkie who says he gets why that confusion is more acute for new citizens. "Sometimes, when I'm driving, I don't even know if I'm in Brampton or if I have crossed the border and am now driving in another city."
It's critical for new residents to embrace "touchstones" in their community, he says — things like having children in sports leagues, or volunteering at schools, or using local recreation centres. Getting involved will bond newcomers more closely to their community and, hopefully, push them toward interest in the political process.
If mankind had the lifespan of a sea turtle or a giant redwood, we might not run up the Visa card, foul our nest with pollutants, or extend the election cycle to the point that victors start their re-election campaign the day after they get elected. The power of incumbency is heightened at the municipal level, where so few vote, and only a small pocket of support can tilt elections. Patrick Brown's win over Jeffrey wasn't fueled by a boost in turnout, and his less-than-50-percent support raises an obvious question: What mandate does a candidate really have if he doesn't win a majority?
We're far from alone in struggling with that question. In the United States, an amoral realtor with a penchant for outrageous tweets has split the country in two and spun the moral compass. While Donald Trump talks and governs like a dictator, the reality is, he won three million fewer votes than his opponent, Hillary Clinton. The outdated electoral college process ensured his win, and graphically shows that all votes are not created equal. The gerrymandering of districts, influx of billions in dark money, an increase in fake ads and "alt" news on the Internet have prompted urgent calls for election reform in the U.S., which at one time was regarded as the bastion of democracy.
Hazel McCallion's popularity – driven in part by a short-sighted policy of holding tax increases to zero – gave her a stranglehold on power, and passed down some of the problems associated with growth to her successor. In the end, her reign helped suppress voter turnout and created an apolitical electorate.
In Brampton, the Fennell regime had its day in the sun, but issues like the outrageous spending habits of the mayor and her staff propelled voters to change where they put their X on the ballot. Yet the outrage didn't raise overall participation.
The worry is that residents have simply withdrawn from the political process and will remain disengaged at the local level.
Novelist Jonathan Franzen calls this the age of "apathy and distraction." The apathy is towards those in public service; the distraction lies in the alienated lives many citizens lead — poor employment, out-of-control consumerism and the attendant debt, entertainment as an escape, and the virulence of social media.
This world of estrangement needs a new vision, a cultural change, or a jolt of community activism. Advocacy groups such as New Brampton, Brampton Focus, Citizens for a Better Brampton, or others can play their part in a renaissance of voter engagement, but ultimately it's up to voters and the city to create a dialogue for change. Is this possible?
Nenshi's grassroots rise is an organic example of how voters might be invited to engage. But the process can't be driven by cronyism, a developer winning favour with the local mayor, big outside money finding its way into the coffers of those seeking votes, or the destructive shenanigans of a premier like Doug Ford with an axe to grind and the power to ditch much-needed initiatives like a new university campus for Brampton. Ontario's 444 municipalities are vulnerable to the vagaries of power wielded at Queen's Park.
Rhodes saw, up-close, the toxic political environment that infested Brampton city hall for years and turned off voters. Since leaving the newspaper business in 2002, he has spent years as a businessman and volunteer with the Rotary Club in Brampton, and has reacquainted himself with the community. He thinks the kinds of services a city provides its citizens — roads, public transit, child care, local policing, water and sewers, ambulances, parks, and recreation centres — make it doubly important for those living there to vote.
The solution may lie partially in making it easier to vote online, a London-like ballot, or some alternative yet to be tried.
Voter apathy affects everyone, including new mayor Patrick Brown. Will he be proactive and look for new ways of fostering political engagement with citizens over his four-year term? If he does, he might solidify his power base — and ensure future electoral success.
Submit a correction about this story