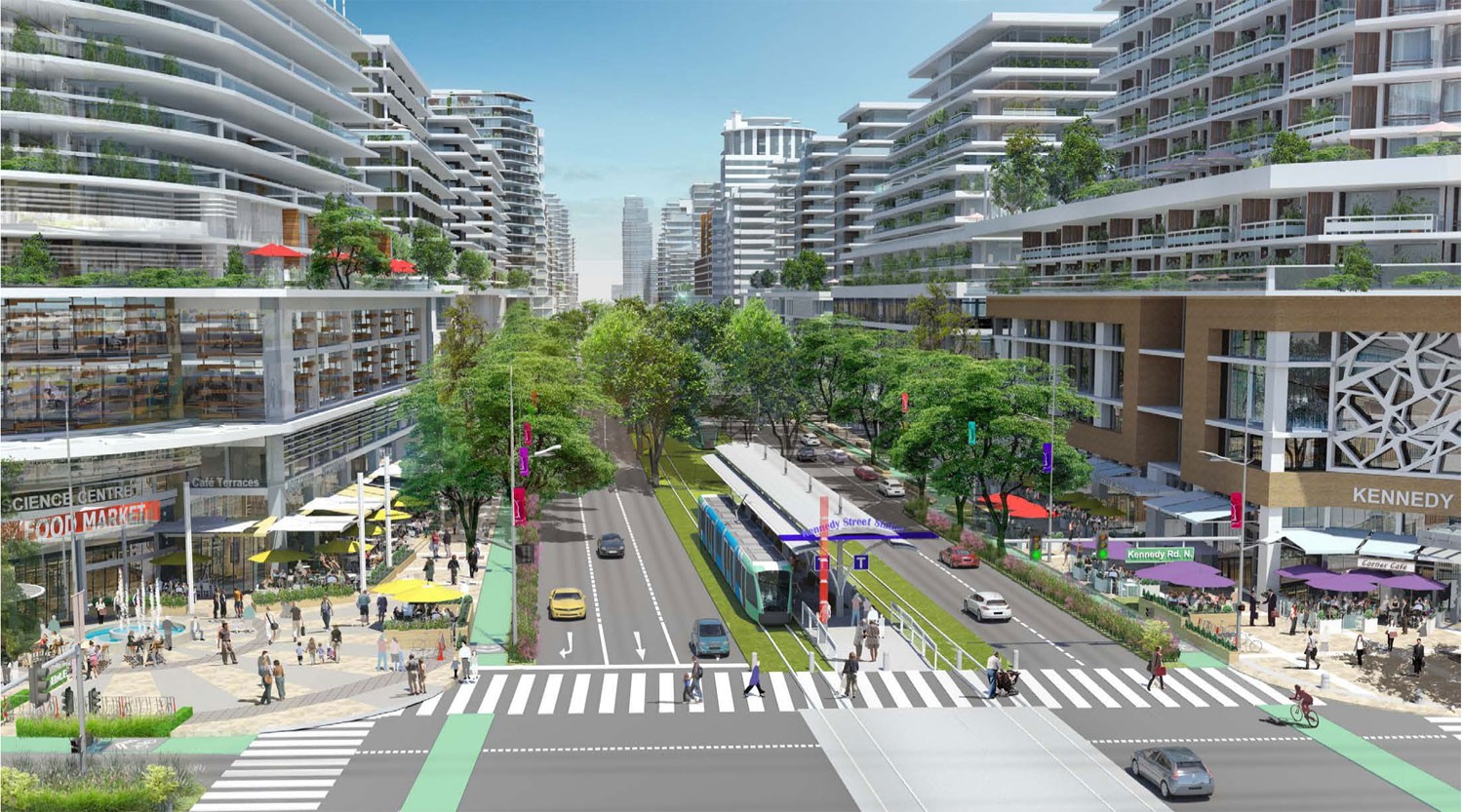 Rendering of 2040 Vision plan supplied by the City of Brampton
Brampton's enormous potential won't be stopped by higher levels of government, but they should pay a price for ignoring it
The short walk from the four corners of downtown Brampton east along Queen Street to Chapel Street, is one of the prettiest in the city, an eclectic mix of new structures and heritage buildings, from Garden Square to the historic Dominion Building (anchored by Starbucks), past a mix of dress shops, banks, a variety store, two bridal boutiques, Algoma University's storefront campus, the aging Carnegie Library and the Board of Trade, which sits in the rustic Goodison Insurance building.
On the east corner of Chapel is the Bank of Montreal and the Belvedere condo, and sitting on its shoulder is the remnants of The Mill, a brand new outer skin of bricks and façade set off by a lovely atrium. The historic hulk tumbles back to the 19th century when it operated as a giant knitting mill. There's a strange duality at work here, a combo of old and new, and on the main floor, in #103, sits Lab B, a co-working space and business incubator.
This is where some of our city's youngest freelancers and entrepreneurs — most under the age of 25 — gather to work on the technologies already driving our future-forward world. Budding business leaders rent out space, interact with a diverse group of young thinkers who reflect the city, exchange ideas and bring their plans to commercialization.
It's half practice field half dreamscape. This coming week a group of high school co-op students (ages 16 to 18) will unveil their newest line of clothing called Built in Brampton.
This is a place of hope, energy and creativity, where learning isn't bound by the practicalities of institutional pedagogy and the politics of education.
It's a place the Premier of this province should have visited before he made his announcement on Tuesday (less than 24 hours after a new mayor, Patrick Brown, was voted into office) to stop the $90 million in funding to help bring a campus of Ryerson University, in partnership with Sheridan College, to Brampton's downtown core.
Lab B is supposed to be one of the partners working with the University to help drive off-campus entrepreneurship.
It was one of the many groups and over 13,000 residents that took part in the 2040 Vision meetings that created an aspirational plan to re-do the downtown core, with much of the redevelopment centred around our new post-secondary facility and the city's planned Centre for Innovation, which promises to help create collaborative spaces and relationships to partner the boldest ideas with those who can deliver them to the world. City Council made a historic commitment of $150 million for the two intertwined projects.
Lab B also offered up its ideas to the city's Cultural Master Plan, which is animated by the prospect of the immense energy and limitless ideas that will arrive along with thousands of youthful students who will descend upon the downtown campus.
"It was so exciting to imagine a university here," says Jesse Flynn, 24, head of the 15-week co-op program at Lab B, that gives high schoolers a taste of business. The students took full ownership of the new clothing line, from design to marketing to sales. There's even a fashion show next Thursday to kick off festivities. Visit builtinbrampton.ca for more information.
---
It's unlikely Ontario Premier Doug Ford will be in attendance.
While he touts his love of the entrepreneurial economy, and the PC party generally takes a pro-business stance, putting the brakes to post-secondary funding for campuses in Brampton, Milton and Markham, has not only disappointed the cities that had already done much of the prep work needed to welcome these new centres of learning, it has disrupted plans for all the other spin-off opportunities as well, like partnerships with the Lab B's of the world. The members were eager to play a part in a burgeoning new business-university partnership.
This rejection of Brampton's business community has irked others as well, including the Brampton Board of Trade, located only a few steps from the Lab B offices.
In a scathing press release issued this week, the BBOT said: "When it comes to 'delivering best value' business people understand strategic investments – the sacrifices and investments required for longer term benefit. The proposed $90 million for the Brampton-Ryerson campus sparked serious public and private sector investment interest including plans for new downtown housing, a Centre for Innovation and a Cyber Security Institute."
Brampton is the largest city in Canada without its own stand-alone university.
Serious corporate investment in a community rarely comes without opportunities for companies to leverage major advantages. Just like higher order transit systems such as LRT and subways, which are magnets for investments into everything from high-end office space to advanced research facilities, universities the world over have sparked wholescale revival in urban centres.
Ford's laughable understanding of "human economy" and what it will take to turn around the province's dire financial situation — cutting off his nose to spite his face — is best illustrated by Waterloo's example.
The city's world-class university, according to 2013 figures, deposits about nine dollars into the provincial economy for every one dollar that the government spends on the institution. A 900 percent rate of return on investment. Not bad.
In 2011 the university delivered about $2.6 billion in direct spending impacts to the province. Some 360 companies that did business in the region five years ago, credited the University of Waterloo for their successful ongoing operation, through direct collaboration, research and development support and high-skilled labour creation.
There is no doubt that a campus in Brampton will help achieve a level of economic dynamism the city has never seen. Fortune 500 firms, massive white-collar employers, multinational food services corporations, advanced manufacturing companies, information-technology heavy-hitters and start-ups that don't yet exist, could all be attracted to the city by a buzzing university filled with the area's best and brightest.
Ford's move, announced late into the night on Tuesday by the minister dispatched to break the news less than 24 hours after a new Brampton council was elected, isn't a surprise. He has treated the governance of citizens like a game of thrones his entire political career and will continue to do so.
But Brampton leaders, and more important, its residents, need to create consequences. The relationship between the city and the province does not move in one direction toward Queen's Park.
The city's two PC MPPs, Prabmeet Sarkaria and Amarjot Sandhu, were elected just months ago, and have quickly turned away from those who voted them into power, while they cower before their leader. As the city's growing hallway healthcare crisis was ignored three weeks ago by Ford's plan to fix "hallway healthcare" and after Tuesday's announcement to claw-back the promised $90 million for Brampton's new university, Sarkaria and Sandhu laughed at those looking to them for help, while they bent down before the boss, their Don. The image of the pair kneeling to kiss the golden ring on Ford's finger, as he did damage to their city, should be burned into every constituent's mind next time they vote. If they keep choosing loyalty to him over you, they need to be held accountable.
---
Patrick Brown and the rest of council have a considerable power base in the country's ninth largest city, which welcomes a glaringly disproportionate number of newcomers every year in compliance with provincial growth targets. In about three decades about one million people, reflecting a demographic reality that makes Brampton a political bellwether for the entire country, will call the city home. We currently have five federal and provincial ridings, and that number will continue to grow. And the city is the political cultivator for the type of organizing effort among various voting blocs that has forced each of the three major parties to pay serious attention to what happens here. It's the reason why their leaders at both higher levels of government launch election campaigns here and parade through our parks and streets every couple of years when their seat counts point to Brampton as a key strategic destination.
But beyond the political dynamics, Brampton's ultimate leverage lies in its potential as an economic driver. We are one of the youngest and most educated cities in the province. We will continue to create revenue through our productivity for Queen's Park and Ottawa. And that's what our elected officials at all three levels of government need to understand when citizens here demand the missing infrastructure they pay for each and every day.
The daily rip-off by the provincial and federal governments is evidenced in the numbers behind the city's future university. Ford's narrative that his government can't afford the $90 million handout to Brampton demands that taxpayers across the province accept his grade school understanding of the finances at play.
The taxes from the construction alone of the two facilities will put $51.6 million into provincial coffers, according to the economic impact study of the future university by Urban Metrics. There will be an overall annual economic output of $260 million, almost all of it within Ontario, and provincial government coffers will directly receive a projected $23.4 million in tax revenue every year from the university's operation. This last figure, along with all the fees that would be collected, primarily for student tuition, would be balanced with the ongoing costs to operate the university.
Currently, Brampton families contribute to these operating costs for other institutions through all the income tax they pay to the province.
But excessive costs to the city's university-families, to travel to other places, for room and board, and for other expenses, are not off-set by the province, even though it has failed to create a post-secondary institution that clearly needs to be established in the country's ninth largest city, which will soon have a million residents.
Other cities across Canada that are a fraction of Brampton's size have thriving university campuses. Brandon, Manitoba, a city of about 50,000 residents, for example, has a university with about 3,000 students that was established almost 130 years ago and continues to be a significant economic driver in its region.
---
The federal government and our five Liberal MPs also need to be confronted by the unfair economic realities that Brampton families face every day.
The city's planned university currently has no funding commitment from Ottawa, despite all the possible envelopes for research and development, innovation and other private-sector initiatives to spur economic growth that the federal government has, which are perfectly suited for investment into post-secondary education.
Ford's announcement on Tuesday should not create uncertainty. If anything, it should highlight the need for all the city's leaders and its citizens to find creative solutions and put pressure on those who wish to have their cake and eat it too.
The fact Ryerson was working in concert with Sheridan College to create learning hubs that would tap into businesses within the community, and other partners, like the creative minds at Lab B, should not be an opportunity lost.
Instead of leveraging universities and colleges as educational and business hubs, with tremendous return on investment for the community, Ford and his so-called pro-business cabinet, along with their two Brampton lapdogs, have tried to destroy the dreams of not only cities, but those budding entrepreneurs who were energized by the possibilities of turning an education into great opportunity.
That is what our country is all about. And that energy is still here. And the opportunities will be even greater.
"With so much waste in other parts of government, it seems silly that the target is put on stifling innovation. Universities are economic drivers. This campus is the catalyst for many complementary economic investments in our city. The (Return On Investment) is undeniable. We fear that these complementary qualities of life and innovative investments are now also at risk," said Todd Letts, CEO of the Brampton Board of Trade.
But the word "fear" does not have to be used.
---
While the Ford team's short-sightedness will cost Brampton, and tempered the enthusiasm so prevalent at the Lab B offices the day before the announcement, perhaps this is an opportunity for Brampton to finally break its dependence on the province and look for other partners to help grow its business sector.
It will help us keep the young and eager minds at places like Lab B interested in staying and working here and creating a brighter future.
Sheridan College already produces some of the top business programs in the country, has a world-renown high-tech robotics training program and an off-the-charts computer animation and design program. Other disciplines cultivated at the college are also already feeding the needs of companies that have partnered with them.
Ryerson has emerged as a global player in the field of cyber-security and has highly respected programs that focus on future-ready disciplines such as urban design and advanced engineering.
As mentioned, with the will to do so, the federal government could easily fill the vacuum so created by Queen's Park, maybe not for capital costs, but by offsetting the $90 million loss in other ways. The economic impact assessment projects Ottawa will get about $78 million in one-time tax revenue from the construction of the two planned facilities in Brampton. There will be tens of millions more in annual economic output for the country and all the income tax revenue the feds stand to get.
But what people such as Raj Grewal, Ruby Sahota, Kamal Khera, Ramesh Sangha and Sonia Sidhu, the city's five Liberal MPs, need to be reminded of, is that any work by them is far from a hand out — Brampton families pay taxes just like every other working citizen.
If they want our votes, shouldn't they start delivering what's rightfully ours?
The Ottawa five can become catalysts to help create the economic and business opportunities needed to make this city a modern-day marvel.
Ford might have disappointed the young entrepreneurs at Lab B, but he didn't dash their dreams of one day creating a business grubstake right here in their hometown.
Flynn, Lab B's co-op leader says, "I was 100 per cent looking forward to the deal for Ryerson/Sheridan. I guess it will be interesting to see what happens now. I just hope the morale stays up and we'll finally see something happen soon."
So would the rest of the city.
Submit a correction about this story