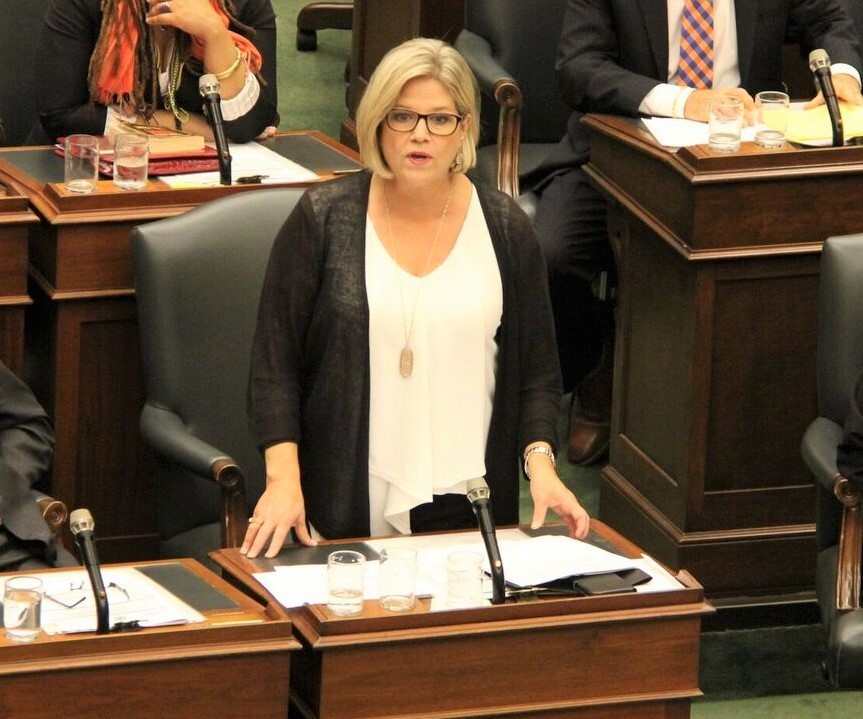 Photo courtesy of Ontario NDP
Andrea Horwath, Brampton's opposition MPPs call out Ford government on cancelled campus funding
Ontario Opposition Leader Andrea Horwath grilled PC government leaders in the legislature Wednesday on their abrupt cancellation of $300 million promised by the Liberals to help build new university campuses in Brampton as well as Markham and Milton.
Why, she asked Merrilee Fullerton, the new minister of training, colleges and universities, would the government scrap initiatives that had once been championed by members of their own party?
She quoted statements by a PC MPP in the legislature weeks earlier, pointing to "just a few numbers" related to the planned campus in Markham: "'4,200 students will have access to teaching, learning and research, 400-plus on-campus jobs, $500 million in economic benefits. The campus will benefit many residents of Markham and York Region, allowing them to gain the skills and knowledge in order for them to be part of the 21st century economy of Ontario.' That expert was PC MPP Billy Pang, the member from Markham-Unionville," Horwath said.
In an announcement Tuesday night from her ministry—a day after former PC leader Patrick Brown was elected mayor of Brampton—Fullerton gave the province's purported financial pinch as the reason for cancelling the funding. "Through our government's independent commission of inquiry, we now know that Ontario faces a $15-billion deficit, about two and a half times the estimate provided by the previous administration."
The response from some Brampton MPPs was furious. "Ford shattered the hope of Brampton parents that wanted to see their children educated and find a job close to home. He's set our world class and growing city back decades and taken away the economic boost we were counting on," Brampton Centre MPP Sara Singh said in a joint news release with the city's two other NDP MPPs, Kevin Yarde and Gurratan Singh.
Gurratan Singh joined his colleagues in calling out the lack of advocacy by two Tory MPPs for Brampton, Prabmeet Sarkaria and Amarjot Sandhu—neither of whom has responded to repeated requests by The Pointer for comment over the past month. Sarkaria is chairing the committee on financial transparency whose analysis of the deficit led to the scrapping of funding for the Ryerson University campus planned for Brampton and the two other university satellites.
"It's troubling that Brampton Conservatives MPPs Prabmeet Sarkaria from Brampton South and Amarjot Sandhu from Brampton West are standing by Doug Ford as he robs our community of this much-needed investment and our students of their future," Gurratan Singh is quoted as saying in the release.
"Where the Liberals treated Brampton as a second-class city, Ford's Conservatives are on track to make things even worse, showing no interest in building a new Brampton hospital and working against students and businesses that were counting on a new university campus," Yarde added in the release.
The PC government said last month that the previous government had underreported the province's budget deficit, prompting creation of the Select Committee on Financial Transparency.
Horwath, in her comments in the legislature, drew particular attention to Pang and Parm Gill, a PC MPP for Milton with deep roots in Brampton which he previously represented as a Conservative MP. Pang, previously a York Region District School Board trustee, defeated Markham Ward 6 councillor Amanda Yeung Collucci in the run for the provincial seat. Collucci has been an ardent supporter of bringing a satellite York University campus to Markham. Pang took on the mantle of promoting the project.
Legislature records show that he not only made the positive remarks Horwath was quoting, but added: "The opening of the 2021 campus will benefit many residents of Markham and York Region, allowing them to gain the skills and knowledge ... to be part of the 21st-century economy of Ontario. This expansion was made possible through investments made by the provincial government of Ontario, and it's events like this which allow our government to invest in our children's future."
Pang was present during Wednesday's question period.
Fullerton responded with her party's oft-repeated line about needing to curb the deficit. "Our government was elected to restore accountability and trust in Ontario's finances, and that is exactly what we are doing … . The Liberals made empty political promises to Ontarians for programs and projects they knew the province could not afford."
Horwath quoted Gill as saying during the provincial campaign, "We will do everything we can to make this project a reality, whether it's $90 million or there is more we need to do." Horwath characterized the PC party's actions as "promises made, promises broken."
Fullerton responded by saying that she "rejected the premise of the question. We have been clear that this government is committed to enhancing the financial accountability and transparency."
Ryerson's Brampton campus, to be built in collaboration with Sheridan College, was expected to provide an innovation hub and a national centre for cyber security. The Ontario government under Kathleen Wynne committed to providing $90 million towards the project on top of the $150 million promised by Brampton City Council, led by the soon-to-depart Mayor Linda Jeffrey.
The sudden cancellation has left the three partners in the project—the City of Brampton, Ryerson University and Sheridan College—reeling.
It's not clear what the next move will be. "It's so early in the process that I don't believe the partners have had a chance to get together and to discuss fully what the next steps are going to be," said Christine Szustacek, chief communications officer for Sheridan College.
She said the abrupt move by the province blindsided college officials. "Sheridan was informed of the announcement very shortly before the public announcement was released. So our president (Janet Morrison) was directly informed by the ministry."
The news of a Ryerson satellite campus coming to Brampton was announced last April. The project was touted as a huge boon for the city because of its potential economic benefits.
"That university was part of a greater revitalization plan for the whole downtown … The university is already late. We should have had one a long time ago," Gurratan Singh told The Pointer, calling the Ford government's decision "myopic" and the economic consequences for the city "disastrous."
"It sends a signal that Brampton is always left behind. We have one [full-service] hospital, the busiest emergency [department] in the country. The highest auto insurance rates. Brampton keeps getting left behind."
Submit a correction about this story