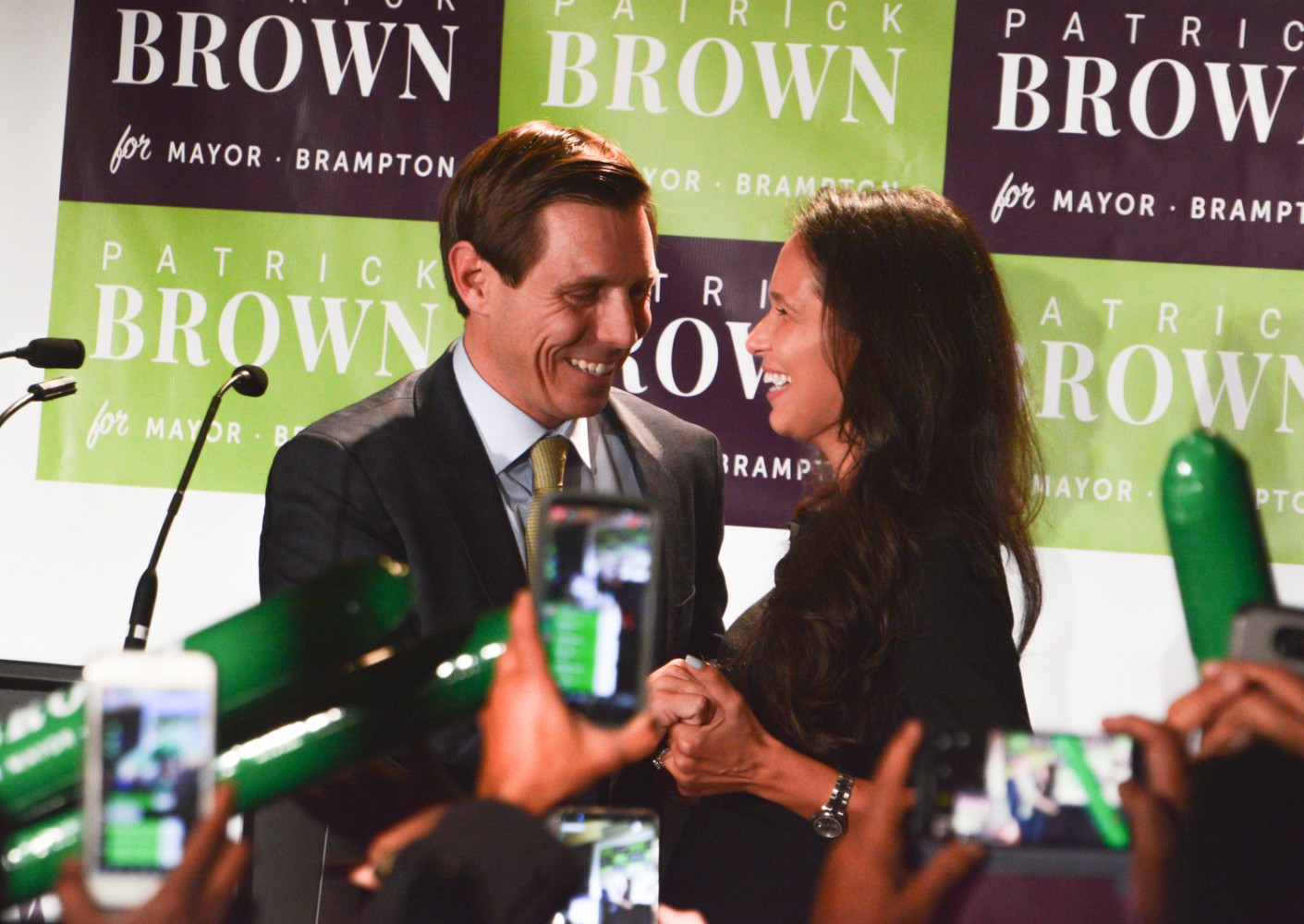 Photos by Joel Wittnebel
Redemption in Brampton: Brown takes mayoralty with a 4-point win
Eighty-seven days: That's how long it took Patrick Brown to win over Brampton.
Brown capped a gruelling mayoral campaign just before 10 p.m. Monday when he raised his hands in victory as Brampton's next mayor.
Hundreds of smartphones were aimed at Brown and his wife as they took the stage at his victory party and kissed, smiles beaming. It was a spectacular moment for the newlyweds as cheers rang out from those gathered inside the Chandni Gateway Convention Centre. Noisemakers bearing Brown's name on plastic tubes were banged together like drum beats, as roars from the crowd mixed with the occasional chant of "Patrick! Patrick! Patrick!"
It's a name many thought would be relegated to a historical footnote earlier this year after his leadership of the Ontario Progressive Conservatives came to a sudden end, his reputation shattered by a CTV story that alleged instances of sexual misconduct during Brown's time as a Barrie-area MP. He fell swiftly from the party's graces, effectively stripped of a premiership that was all but guaranteed to be his, handed to him on a silver platter, the presumptive reward for winning the only real test after he rose from relative obscurity to claim the PC Party leadership that would be taken from him so quickly.
But that, it turns out, was only a temporary low point before a political comeback that began to take shape when Brown put his name into the race against Brampton's incumbent mayor Linda Jeffrey for the city's top job. The campaign that followed was filled with tough questions, tougher debates, and mudslinging on the part of both candidates (but particularly by Jeffrey), who from the onset were the clear front-runners.
Brown ran just a little further, declaring victory with approximately 44.4 percent of the vote, ahead of Jeffrey's 40.8 percent.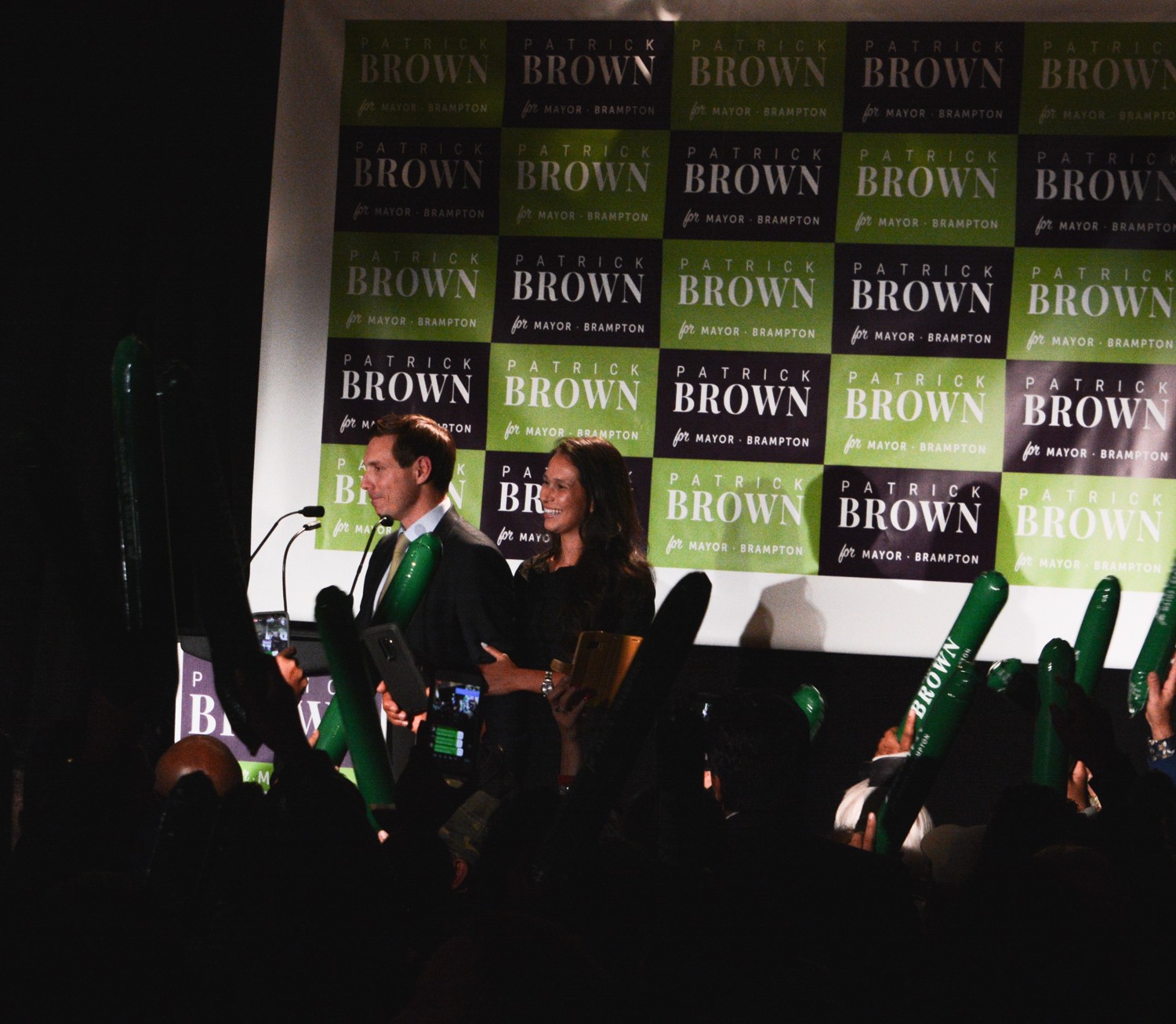 The crowd surged forward as Brown began to speak, clinging to his words: part victory speech, part campaign recap, touching on the major issues of crime, jobs, transit, senior government funding and council cooperation.
There was a little more, though, something that may have started to flow into Brown's thinking. His political comeback complete, the mayorship attained, the awful days that began the year already begining to fade, were replaced on stage by something brighter.
"I've got so much hope in my heart for what lies ahead for Brampton. You know why? I know we can turn this around. I know that Brampton is going to be back, Brampton is going to become an economic engine, Brampton is going to be the place where you want to be," he said. "I can tell you, Brampton is going to be the envy of Ontario again, the envy of Canada."
If 87 days delivered the mayorship to Brown, four percentage points could have taken it away. So, how did things end up here?
---
Thirty minutes before the polls closed, the convention centre was dim and nearly empty.
Media outlets readied TV cameras, photographers brought out their lenses and computers. The tight Brown-Jeffrey matchup had drawn far more press attention than a typical Brampton race.
Instead of the coming celebration, a wake might have seemed more fitting, the way the past year had gone for Brown's political career.
In January, two young women spoke to CTV News about Brown and allegations of sexual misconduct during his time as an MP. The stories captured international attention at the height of the #MeToo movement. Brown was forced to resign as PC leader, and the party tossed him on the scrapheap.
He would later take (and pass) a lie detector test that focused on his time as MP. He filed suit against CTV News, seeking $8 million in damages, for what he described as "falsely and maliciously" broadcasting a story that ensured the end of his tenure at Queen's Park. He called the sexual allegations against him "false." He said later he was "emotionally devastated" by the claims and the rapid fall from grace caused by them.
But things didn't end there.
After Brown's departure, questions began to swirl involving controversial candidate nomination processes in the lead-up to the provincial election last spring — including in a Hamilton-area riding that remains under criminal investigation by Hamilton police. In a leaked email Brown told staff he was looking to "get the result I want."
Brown was pressed on the meaning of that statement during a mayoral debate hosted by The Pointer in September. Brown said he never encouraged anyone to do anything untoward. "It's no shenanigans, no cheating, and no one breaking the rules," he said, explaining that he wanted a clean process, adding that he personally had brought in third-party oversight to look into the controversial nominations. He added that in his opinion nomination processes should be governed by Elections Ontario and not the parties themselves.
Brown's political future had become a question mark, even more so when he spent some time in Queen's Park as an independent MPP after being booted from the PC caucus, then announced he would run for MPP again in the June election, then pulled the plug shortly after.
The June victory by the PCs and Doug Ford was a foregone conclusion, given the voters' dissatisfaction with the Liberal government under Kathleen Wynne. That disdain may be matched by the feelings Ford holds toward Brown.
Still seeking a place to land, Brown attempted a run at the job of Peel Region chair, but he was thwarted again when Ford eliminated the vote for that position.
On July 27, the final day for municipal campaign nominations, Brown arrived at City Hall, and Jeffrey's top challenger officially entered the race, appearing remarkably fresh, determined and ready for battle once again.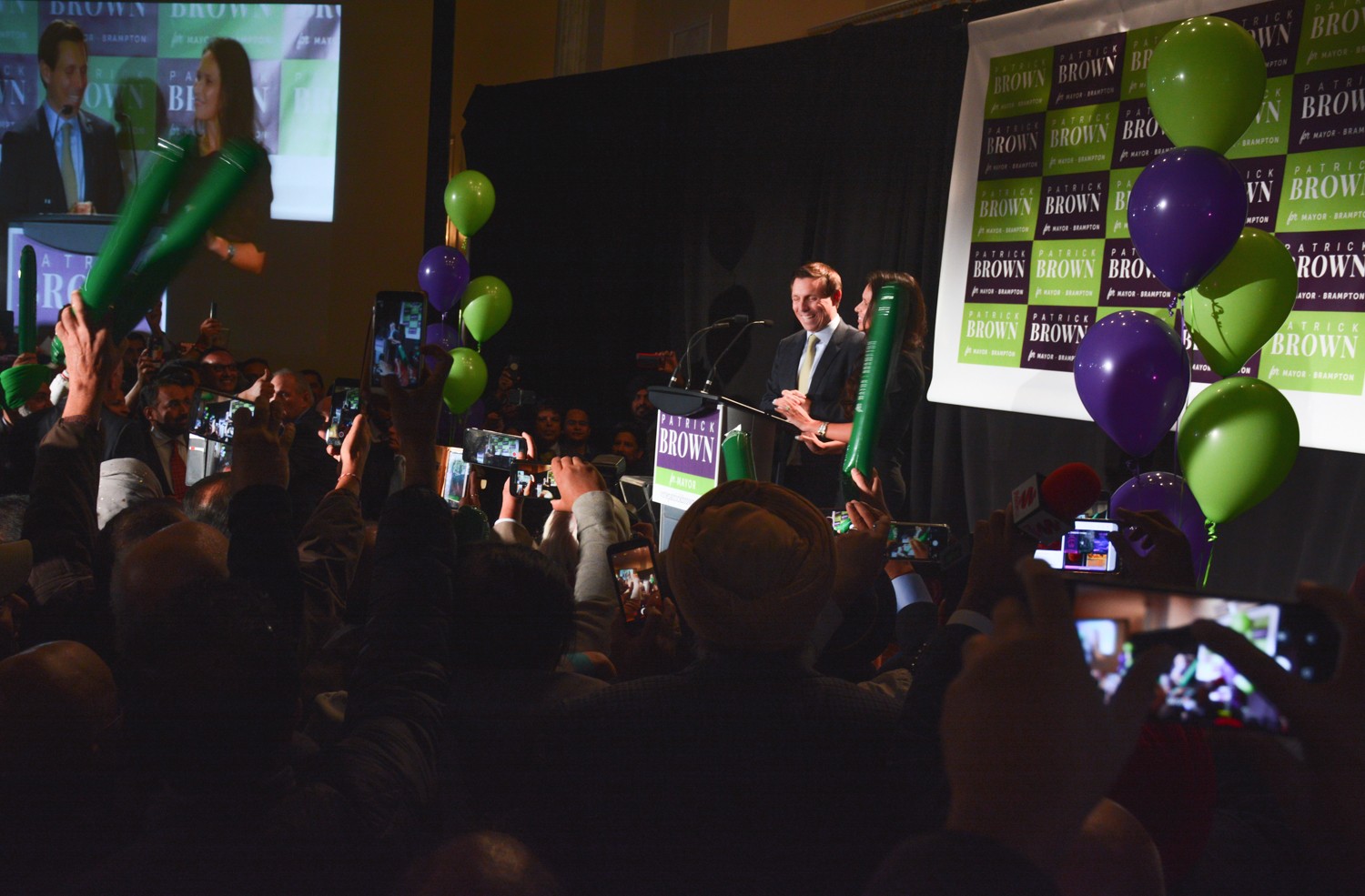 As 8 p.m. arrived inside the convention centre, there was a collective deep breath taken in the room. Brown was nowhere in sight, but more supporters began to file inside, some laughing, others smiling nervously.
The first results arrived but did little to energize the crowd: a 44/43 percent split, with Jeffrey maintaining a slight edge.
Like the campaign itself, things started to move very quickly after that.
Early on, Jeffrey had enjoyed a slim lead over Brown. A late-August poll commissioned by The Pointer from Forum Research found 41 percent of voters were either decided or leaning toward Jeffrey, compared with 33 percent for Brown.
Jeffrey targeted Brown, who had represented Barrie at Queen's Park, for his recent move to Brampton and presumed lack of knowledge about the city, accusing him of taking advantage of the opening merely to resurrect his political career.
Brown shrugged off the criticism as ordinary political "mudslinging" and pointed to his family's roots in the city, going back 40 years. Ultimately, the carpetbagger theme didn't stick, and in the midst of a furiously busy campaign by a veteran politician, the voters got to know him better.
Calmness may have been one of Brown's saving graces. For city residents increasingly aggravated by a council that couldn't seem to agree on anything, a candidate who stood determined in the face of criticism seemed like a breath of fresh air. Jeffrey's constant attacks may actually have backfired, pushing more voters into Brown's camp.
Nowhere was this more apparent than in a debate held at the Rose Theatre, where Jeffrey, perhaps sensing the turning tide, became frustrated and aggressive as the pair went blow for blow on the city's top-of-mind issues.
Brown delivered an anti-crime pledge that included plans to hire more front-line officers; strengthening crisis prevention skills and community outreach; providing more recreation options for youth; and finding solutions for Brampton's affordable housing backlog. Jeffrey attacked Brown for stealing ideas from her own community well-being plan.
On transit, Brown supported the Brampton 2040 Vision endorsed by council — which, among other things, presented alternative transit plans rather than acceding to Jeffrey's ongoing support for the previously rejected Main Street LRT route.
Numerous campaign events, endless door-knocking — including during his honeymoon after wedding Genevieve Gualtieri earlier this fall, during the campaign — and high-level support from the likes of former premier Bill Davis all played a part in stacking the votes in Brown's favour, while putting the building blocks in place to re-form his shattered political life.
As election day drew closer, a second poll commissioned by The Pointer found that Brown had made up ground in the final days. The random Forum Research poll surveyed 647 eligible Brampton voters last Thursday and found Jeffrey and Brown in a dead heat. Both candidates were named as the choice of 40 percent of decided and "leaning" respondents who answered the survey.
On the morning of the big vote, Davis shifted from his tacit support of Brown to a full-blown endorsement, as he recorded and blasted out a robo-call urging people to get out to the polls and cast a ballot for the former PC party leader.
With more than 500 volunteers in the field to get the vote out, following a fevered campaign that featured as many as 21 speaking engagements in one day, Brown's machine was ready to complete his remarkable come back.
"I've got so much hope in my heart for what lies ahead for Brampton. You know why? I know we can turn this around."
Patrick Brown
---
The room grew louder as the results rolled in, each passing minute turning up the volume inside the hall, as restlessness gave way to euphoria.
At 8:19 p.m., Brown pulled into the lead, grabbing a three percent margin, which provoked a thundering cheer from the crowd. At 8:25, the room started to fill, everyone pushing toward the stage carrying a pair of the green Patrick Brown noisemakers heard banging out the beat as the fired-up crowd watched the screen. Two minutes later, the poll results refreshed; Brown's lead jumped to over 2,000 votes. The crowd pushed closer to the screen, as security held people back.
For the next hour, each refresh of the poll results prompted a fresh, echoing scream from the crowd, as ecstatic faces lit the room.
Around 9 p.m, Brown's lead neared 4 points, where it remained for the rest of the night. Thirty minutes later, reports started to arrive that Jeffrey has conceded the race to Brown. A few minutes later he took the stage.
We're back, he said.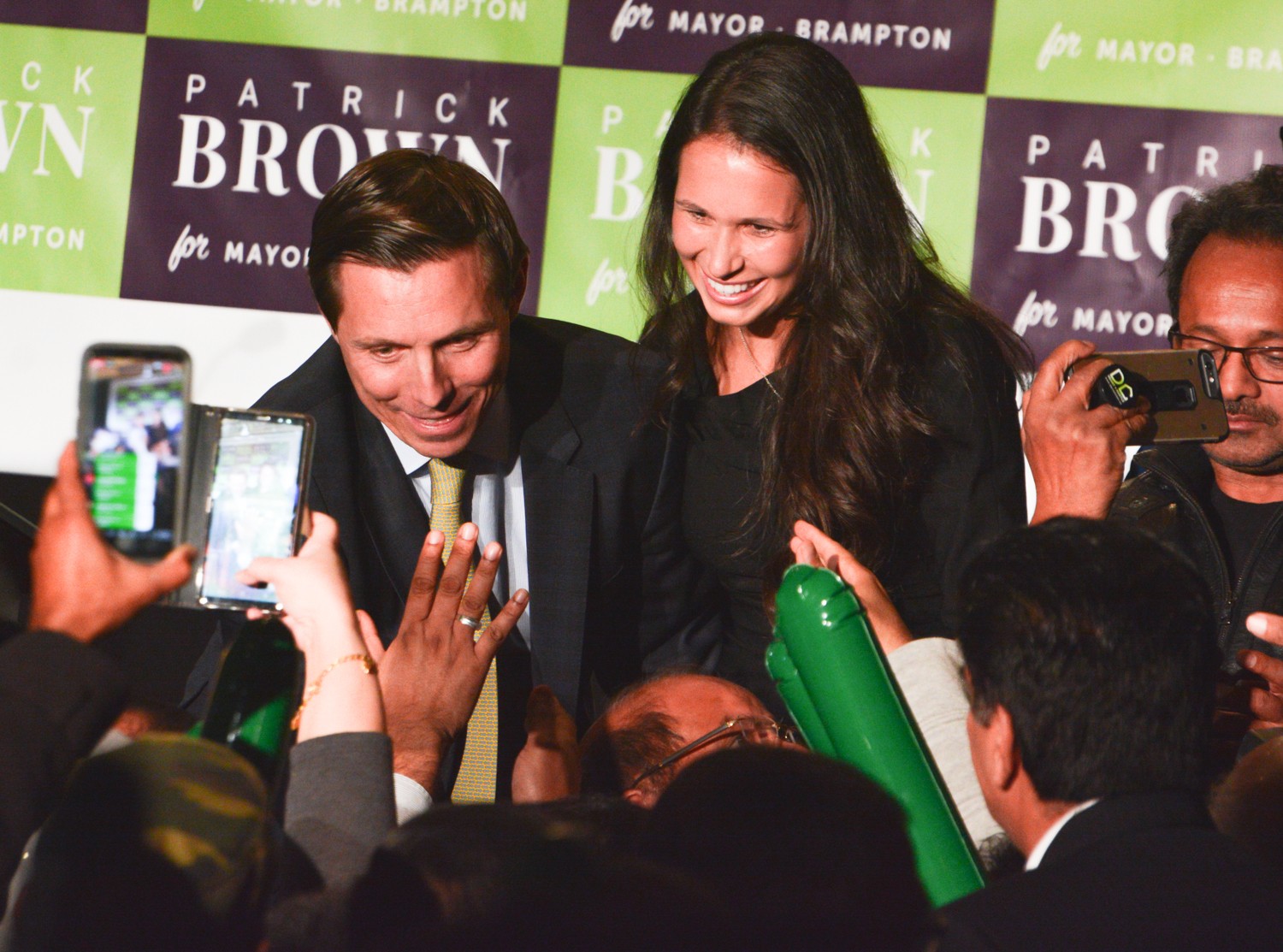 Squinting briefly in the spotlight, Brown looked around, taking in the massive crowd of supporters. He likely once thought many of them had deserted him for good early in the year.
The speech began with thank-yous to his campaign manager, wife, family and friends, and of course, Bill Davis, whom he counts as a mentor and inspiration. He notes briefly the ability of Davis to get things done with those who may not always agree.
It's a situation Brampton's previous council, and the city's residents, know well, and something Brown has vowed to change.
He moved on to his campaign pledge to bring more jobs to the city. "Brampton must be open for business," he said, repeating words uttered numerous times on the campaign trail.
He mentioned gridlock on the 410, transit issues, skyrocketing taxes (he vows to put an end to that) and of course, the growing presence of crime, which he makes clear will be top of mind when he takes office.
"That's not the Brampton we know. That's not the Brampton we're going to accept," he said. "That will be top of mind; that will be on our agenda to make sure Brampton is safe."
The words brought an eruption of shouting and whooping that soon transformed into the night's refrain: "Patrick! Patrick! Patrick!"
While the tough-on-crime fist-pumping had the crowd frenzied, Brown's most animated moments came when talking about his future dealings with upper levels of government — a big question for skeptics, given his history with the premier.
Almost on cue, Premier Ford was asked in Toronto to react to Brown's just announced victory. A CTV reporter questioned how he would work with the new Brampton mayor. "Like every other mayor in any other municipality in Ontario," Ford replied.
With Brampton as a hotspot for political visits, Brown vowed during his speech to make sure that when these political photo-ops are scheduled, there will be strings attached.
"I want to say this very clearly: We're not second-class citizens in Brampton," he said. "As any leader visits Brampton, I want to have a very clear message: You want to visit Brampton, we deserve the investment that comes with that visit."
He continued, his voice rising, his hand pointing at the crowd: "I can tell you, I don't care if it's the Liberals in Ottawa or the Conservatives at Queen's Park, my party is the people of Brampton."
The loud cheers erupted, the Patrick chant began anew.
The speech ended as abruptly as it began. Pushing through a jostling crowd angling for selfies and handshakes, Brown, Brampton's newest mayor, exited the room.
The frenzied crowd inside the convention centre represented only a small number of the 35 percent or so of eligible Brampton voters who cast a ballot. Brown will need to find a way to work with the nearly equal numbers who supported Jeffrey and other candidates, as well as the other 65 percent — particularly the council candidates who were celebrating their own election victories across the city.
Regardless of what the future holds for Brampton, Brown's win marks a stunning twist in a political storyline that had all the makings of a tragedy. That Shakespearean ending was reversed by the people of Brampton.
Before leaving the mic, Brown had one final statement to make: "From my heart, thank you, thank you, thank you, Brampton. Thank you."
His redemption was complete. Brampton had delivered.
And now, the city waits to see what its new mayor will deliver in return.

Submit a correction about this story