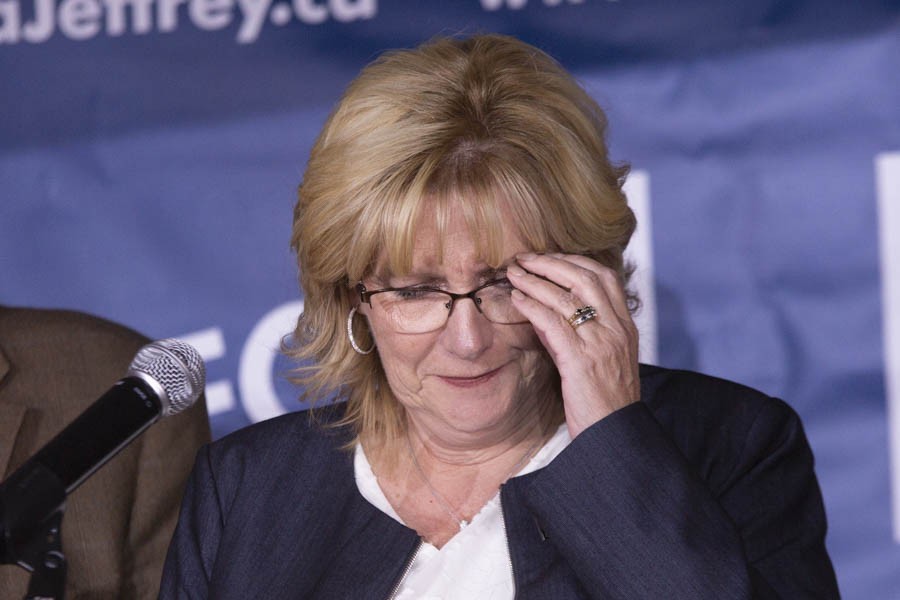 Photos by Mansoor Tanweer
For Linda Jeffrey, a bitter four-point loss
Within a couple of hours after the polls had closed in the 2018 municipal elections, Linda Jeffrey was publicly lamenting the end of her one-term mayoralty.
She ended the race with 40.7 percent of the vote, losing to latecomer rival Patrick Brown, who garnered 44.4 percent, making this one of the closest, as well as most closely watched, municipal races in the GTA.
Voting day brought an end to months of promises, endorsements and sniping between the incumbent mayor and the former Ontario Progressive Conservative leader, who left the leadership under a cloud early this year just as he was on the cusp of becoming the next premier.
"I want to congratulate Patrick Brown as our city's new mayor. I'm proud of the four years of leading our city, and we have accomplished a great deal for Brampton," a sombre Jeffrey said in her brief concession speech.
"I, too, am disappointed that our campaign did not connect in the way I'd hoped," she told supporters, consoling them by listing her accomplishments since her resounding defeat of former mayor Susan Fennell in 2014, saying, "together we brought in accountability, openness and transparency to city hall. We brought in a university after waiting 30 years and trying for 30 years. We improved health care by securing funding for phase two of Peel Memorial wellness centre, and we improved transit while fighting gridlock."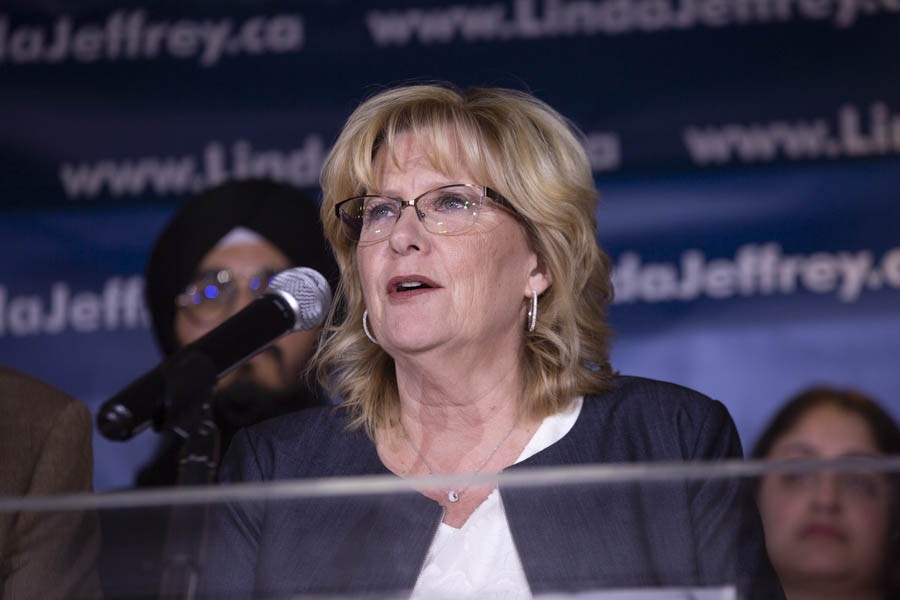 In a scrum later with reporters, Jeffrey offered a more candid statement, expressing her disappointment in the loss and saying it caught her off-guard. "I guess I'm surprised. I thought that someone coming into the city who hadn't lived here, who had a checkered past, would be somebody my community would not embrace. Clearly I was wrong. So, I'm surprised. It's not the Brampton I thought I knew."
That past, specifically unproven allegations against Brown of sexual misconduct that he has consistently denied, was a focus of Jeffrey's since the summer. She repeatedly brought up the allegations that forced him from the PC leadership, while Brown often avoided the negative, attack-dog approach, choosing instead to offer up ideas for the city's future. Throughout the race, Jeffrey had frequently and vehemently characterized Brown as a parachute candidate with a tenuous connection to the city. After being dumped from the party leadership, Brown had sought to run as Peel Region chair, until his replacement and new premier Doug Ford returned the chair's role to an appointed position. Brown then jumped into the mayoral race. With Brown looking on, Jeffrey said at a recent debate hosted by Brampton Focus, "I'm not just visiting to resurrect my political career."
Brown countered by attacking what he characterized as Jeffrey's lack of accomplishment for the city. "We need leadership from the mayor's office. For too long, we've had councillors pushing for what was the goal down the road. You have business leaders pushing for what was a goal down the road," Brown said during a debate hosted by The Pointer. Despite his late start and polls that originally showed Jeffrey in the lead, Brown was able to make up the difference in the last few weeks of the campaign. A survey conducted in late August for The Pointer by Forum Research of 999 voting-aged Bramptonians showed Jeffrey holding 41 percent of decided and "leaning" voters, with Brown trailing at 33 percent. A second poll by Forum a few days before the election showed a dead heat, with both at 40 percent.
Jeffrey thanked her supporters as she conceded the race to Brown in a banquet hall full of leaders and residents from various communities across the city.
She won the mayor's seat four years ago after her predecessor was besieged by controversies over her spending on travel and perks in the amount of hundreds of thousands of dollars. Jeffrey began her term in office with a mandate to clean up the city's troubled finances — including cutting her own salary, which she delivered on — cut senior staff (also done), and unite city council. It was the last point where Jeffrey stumbled, giving rivals a golden opening.
Jeffrey's 2018 campaign was marred by her opponents' accusations of ineffective leadership over a dysfunctional council. A major defection from a heavyweight ally — former premier Bill Davis — also may have helped derail her campaign.
Nowhere was Jeffrey's inability to unite a fractious council more apparent than in the crucial stages of the debate on where to build a provincially funded LRT line. In October 2015 council voted against the provincially approved Main Street route up to the Brampton GO station, which Jeffrey had championed. The vote split along factional lines, with councillors such as Elaine Moore, John Sprovieri — one of her mayoral challengers — and Jeff Bowman voting against her route.
A majority of councillors and many in the city demanded a made-in-Brampton route that would provide far more transit coverage than the straight-shot four-kilometre line pushed by the Liberal provincial government and Jeffrey, while Mississauga stood to get more than three times the coverage on its portion of the LRT system.
Critics often said Jeffrey was more concerned with pleasing her former Liberal colleagues at Queen's Park than fighting for Brampton.
"I felt that she could do more. It's just that in the last four years, the team that she had didn't let anything happen and they (residents) thought it was that the mayor didn't do much," said Ravinder Singh, a Brampton financial advisor who had supported Jeffrey.
Jeffrey, who previously served as a Liberal cabinet minister at Queen's Park, struggled with the differences between the party-driven legislature and the one-person, one-vote system that prevails at city hall, which requires a spirit of cooperation and consensus-building that was rarely achieved in Brampton in recent years.
During The Pointer's debate, which Jeffrey did not attend, due to illness, Brown decried what he called a lack of leadership on Jeffrey's part. "To attack people who simply want to be committed to their communities is not how you get everyone working together. I think you need to use the talents of the different members of council," Brown said.
The LRT remains in limbo after the province cancelled funding for the Brampton portion following the council vote to reject the proposed alignment. Currently, the LRT route, which shoots north through Mississauga, is to terminate at Shoppers World, four kilometres south of where Jeffrey hoped to see it end. Alternative routes have been suggested, running along either Kennedy or McLaughlin Roads, but Jeffrey had signalled that she would oppose those routes, meaning that a new showdown over the LRT would have been expected had she been elected. Bramptonians will have to wait till the new council sits to find out what the next course of action will be.
One of the biggest campaign promises delivered on, and touted, by Jeffrey was bringing a University satellite campus to Brampton. One of her first orders of business as mayor was to appoint former premier Bill Davis to head a blue-ribbon panel to help bring a university campus to Brampton.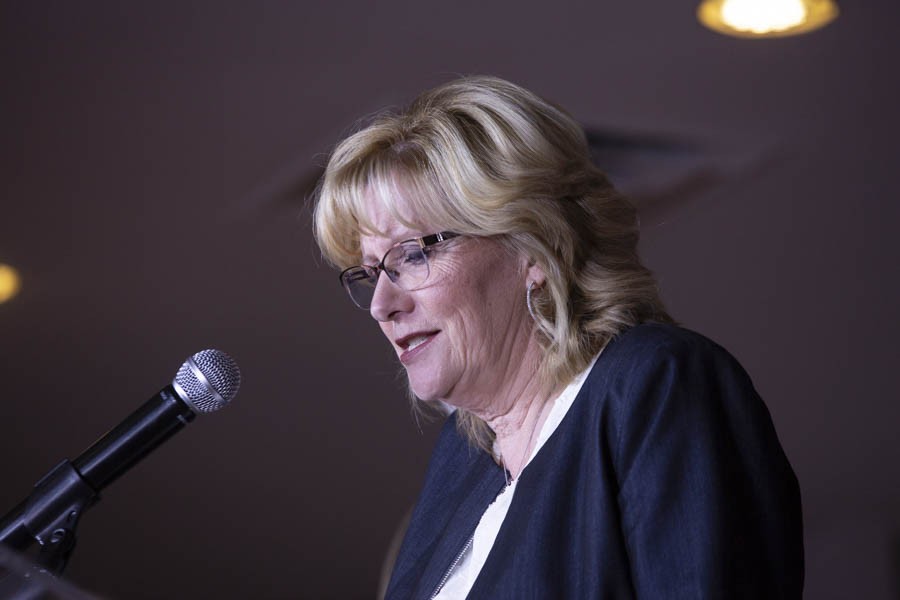 "I, too, am disappointed that our campaign did not connect in the way I'd hoped."
Linda Jeffrey
---
Davis, a longtime Brampton resident still highly regarded years after his retirement from politics, officially endorsed Jeffrey's first mayoral campaign in 2014, a move widely seen as tipping the scales in her favour and securing her easy victory.
The honeymoon soon soured when Davis chimed in on the LRT alignment debate, addressing an incorrect assertion made by Jeffrey that an LRT along Main Street was a precondition for a university coming to Brampton. In an open letter to city council, Davis wrote, "portending that a particular transit and option route is a precondition to our ability to be successful (in bringing a university to Brampton) is not only unfounded but unhelpful, as it suggests that this community is not committed to greater transit accessibility, which is patently untrue."
Jeffrey responded by saying that Davis "has failed to grasp the gravity of the situation and has done a disservice to the panel and the city." She lashed out at him, accusing Davis of being motivated by a self-interest because he has a heritage home along the province's proposed Main Street route.
Fast-forward to two weeks before the 2018 election. Davis appeared at a function hosted by John Sanderson, candidate for, and former regional councillor of, Wards 3 and 4 (Sanderson did not win Monday, as incumbent Martin Medeiros held on). Also in attendance was Patrick Brown. Davis didn't speak, but those present characterized his presence as a sign of his "officially supporting" Brown, though falling short of an official endorsement. However, the endorsement was cemented early on election day when Davis recorded a robo-call for Brown that was blasted across the city, urging voters to get out to the polls to cast a ballot for the former PC party leader.
With Brampton's population growing at a staggering 13 percent and services such as policing, healthcare and public transit failing to keep up with that growth, Jeffrey was, in the end, perhaps bound to feel the wrath of disillusioned voters. Expectations will be high — and the hurdles possibly even higher — for Brown over the next four years.
Submit a correction about this story