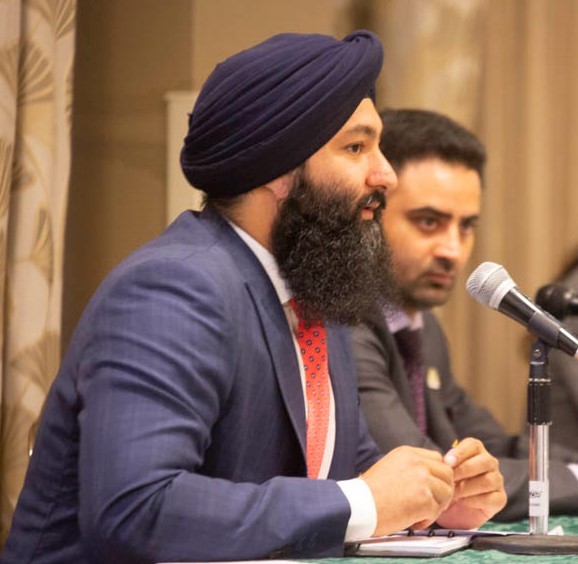 Photos by Mansoor Tanweer
Brampton's healthcare crisis spills onto floor of legislature: Ford, local PC MPPs absent for vote as motion for a third hospital loses
A motion to secure funding to build a third hospital in Brampton, as the city's healthcare crisis worsens, was defeated in Queen's Park yesterday. Premier Doug Ford and the city's two PC MPPs did not show up for the vote.
"Brampton Civic has one of the busiest emergency rooms in our country. In fact, I believe it has the busiest, not 'one of'. It is the busiest emergency room in our country. It was built to serve 90,000 visitors a year, but it experienced more than 138,000 visits last year. So it was built for 90,000, and last year it had 138,000 visitors — unacceptable."
With that NDP leader and head of the opposition, Andrea Horwath, brought forward her motion Tuesday to fund a third hospital in Brampton. It was defeated 65 to 35, as Premier Doug Ford and Brampton's two PC MPPs, Brampton South's Prabmeet Sarkaria and Amarjot Sandhu who represents Brampton West were absent.
The debate that preceded the decision became heated.
"As my colleagues mentioned, it's disappointing to see that they've brought forward this motion, which is great, and to an extent, yes, play politics," said Milton PC MPP Parm Gill, who has previously represented Brampton as an MP. "We all understand. But to introduce a motion literally with no details, no information, no facts whatsoever, literally written on the back of a napkin, a rush job…". Gill repeatedly accused NDP members of "playing games". He voted against Horwath's motion.
PC members said the motion was not backed by any funding criteria, or enough information from the local integrated healthcare network, that it was too rushed and that hospital expansion is something that needs to be dealt with in a more comprehensive way, through proper consultation. They also repeatedly blamed previous Liberal governments for leaving the province's finances in a disastrous condition, effectively tying the new government's hands.
Many in Brampton have decried the lack of healthcare beds, as the city only has one full-service hospital to service a population of 600,000 that is projected to reach close to a million residents in about 25 years. It is the second fastest growing city in Canada, with a growth rate about three times that of Ontario.
In 2016 more than 4,300 patients had to be treated in hallways, closets and other inappropriate spaces because of over-crowding at Brampton Civic.
On Monday Brampton Centre's Sara Singh, Brampton East MPP Gurratan Singh and Brampton North's Kevin Yarde, all members of the NDP, stood in front of Brampton Civic Hospital and announced their intention to pursue a third hospital in the city.
Horwath, in her preamble to the motion, took the opportunity to take shots at previous governments to highlight Brampton's dire healthcare situation.
"Of course, how we got there is not a secret. It is not a secret to anyone. It didn't happen overnight. We know that before the Liberals came in and did more damage, the last Conservative government slashed our health care system to the bone. They closed 28 hospitals. They laid off thousands of front-line nurses and health care providers. I think 6,000 or so nurses were laid off—all the while the premier of the day (Mike Harris) from the Conservatives saying that nurses were old-fashioned, like the hula hoop," said Horwath.
She went on to accuse the Liberal governments of Kathleen Wynne and Dalton McGuinty of making things worse by "failing to undo those deep cuts."
Horwath, who has visited Brampton Civic on numerous occasions, offered a scathing criticism of the neglect by previous provincial governments that have pushed growth to Brampton, but done little to provide residents with adequate healthcare, as patients languish in hallways in scenes that would shock most Canadians.
"You can look at the 2008 Auditor General's report," she said, before the vote was called. "In 2008, I sat around that table and heard about Brampton Civic Hospital. And you know what the Auditor General found? Again, I just Googled it to remind myself of the specifics. The bottom line is, the Conservatives gave away the farm to their friends. They gave away public money to their friends in the P3 model. The alternative finance and procurement model is what the Liberals renamed it because they were so ashamed of the fact that they were still using the same model that the Conservatives used."
As a result of the botched procurement and funding model, Horwath reminded legislators that "instead of 716 beds (that were supposed to have been funded), only 608 beds ended up coming out at the end of the wash: 108 beds fewer than what they were supposed to get in the first place. Then, to add insult to injury—listen up, Conservatives, because this is the road that your leader is going to take you on—over 100 beds less and over $100 million more in costs. And you wonder why we are 11 years later, in 2018, and the people of Brampton still don't have the hospital services that they deserve."
Sara Singh talked about her own personal experiences.
"Thank you so much to my leader for bringing this motion forward. To quote her, it is absolutely 'high time' that we do this, because I don't know how much more evidence this government needs of a crisis in Brampton."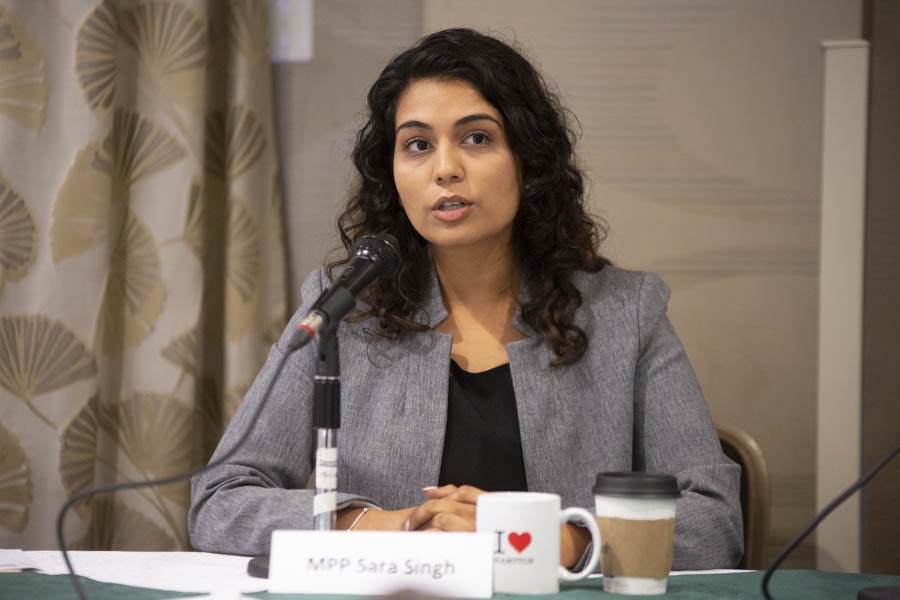 Brampton Centre NDP MPP Sara Singh
"I appreciate the member from Oakville North–Burlington discussing the needs of our community. But, having been a resident there and having been born and raised in our one and only hospital, I can assure you that this is a community that needs a new hospital. We have thought this through. This isn't something that we're doing as a knee-jerk reaction. It's actually quite upsetting to hear that from this government, knowing that there are patients waiting in the hallway right now at our hospital. To think that this government is not willing to support a motion that will look at trying to alleviate a crisis in a community is astounding to me."
Singh repeated some of the same sentiments expressed by her Brampton colleagues.
"I'm actually so proud to be from Brampton. When I was born 33 years ago, we had one hospital. I was born at the Peel Memorial Hospital. Fast-forward 33 years later … and we still have one hospital. We've turned that one hospital that we had into an urgent care centre. So now our community has one hospital and an urgent care centre that closes at 10 p.m. That's just not fair. It's unacceptable that this is still happening in our community, and we need to work together on finding a solution.
"Brampton is a city that is growing; it's changing and it's thriving. We're now the ninth-largest city in Canada, and yet we have one hospital. While communities like Oakville, Burlington and Mississauga have numerous hospitals that their communities can access, my community still has one."
Incumbent mayor Linda Jeffrey responded to the decision Wednesday.
"We continue to engage with the government including our local MPP's and the Ministry of Health in advocating for a third hospital due to our explosive growth population numbers," she told The Pointer. "We have already received commitment that Phase 2 of Peel Memorial Wellness Centre will take place. In this term I put forward a motion that was unanimously passed that indicates our full support for beginning the work to select our third site. We recognize the importance of a third hospital for Brampton and it continues to be a priority for me in the new term."
Brampton's two PC MPPs have been largely silent about the growing healthcare crisis. The Pointer attempted to contact Sarkaria and Sandhu to follow up on Ford's Oct. 3 healthcare initiative that was focused on alleviating "hallway healthcare" in the province. But his plan left out Brampton, the place where the term "hallway healthcare" was popularized, in the first place.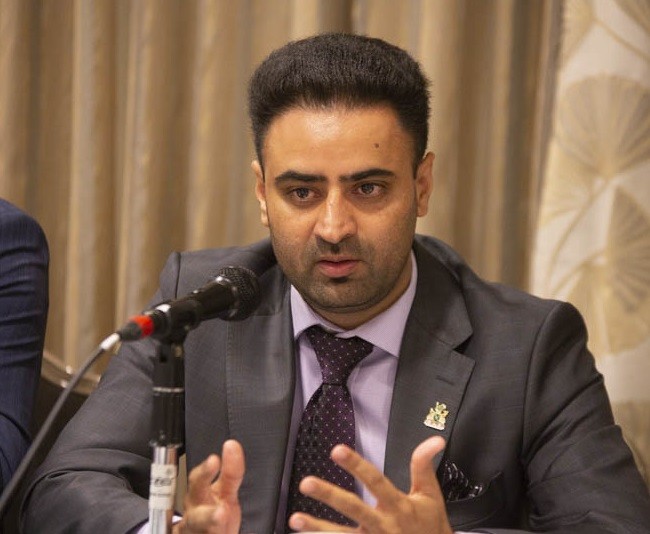 Brampton West PC MPP Amarjot Sandhu
Ford released his Ontario's Government for the People Taking Immediate Action to End Hallway Healthcare plan, promising to address the crisis.
The new scheme will provide $90 million for 1,100 beds to help seven hospitals cope with an expected influx of patients during the flu season.
A look at the list of hospitals tapped to receive the funding and beds showed that neither of the two hospitals in Brampton were included. A smaller facility in Mississauga, the Cooksville Care Centre, was picked alongside institutions in remote locales such as Thunder Bay and some in Toronto.
A spokesperson for health minister Christine Elliott said, after the initiative was announced, that Humber River Hospital, which is located in Toronto, will serve as a relief valve for Bramptonians hoping to avoid overcrowding in their city, as the flu season begins.
Over the two weeks since the announcement, Sarkaria and Sandhu have not responded to The Pointer's repeated requests for comment about what they are doing to address Brampton's healthcare crisis.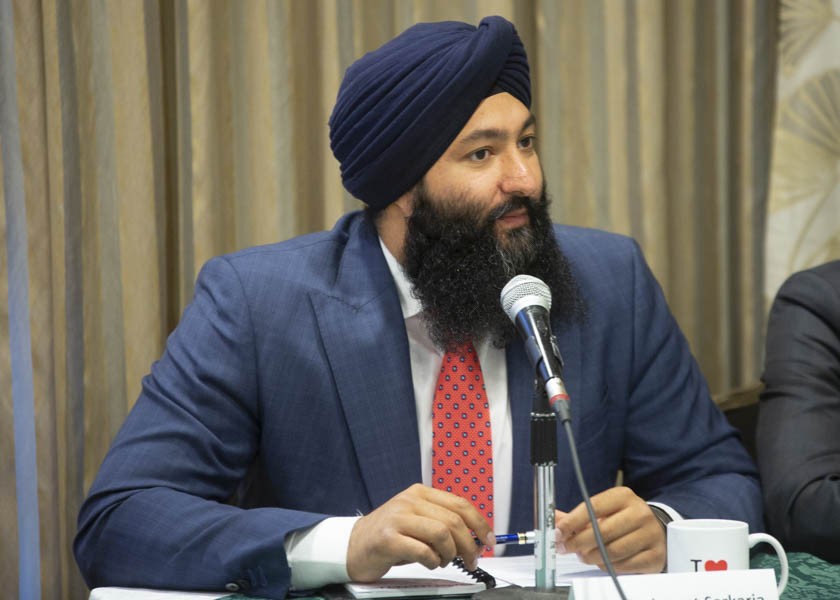 Brampton South PC MPP Prabmeet Sarkaria
Brampton East NDP MPP Gurratan Singh described a recent experience that his father had to endure at Brampton Civic.
"The nurses, the paramedics, the doctors: They provided amazing, amazing care for my father in his very, very desperate situation in this time that we were in," Singh told legislators Tuesday. "He received amazing care from these individuals, but despite that, for four days my father was held in the emergency ward. For four days they never had a bed for my father in any other area except for this busy, loud space, where he had to walk outside of his room to go to the bathroom. There was no privacy ... It was through this process that I really began to understand and experience how bad this hallway crisis is."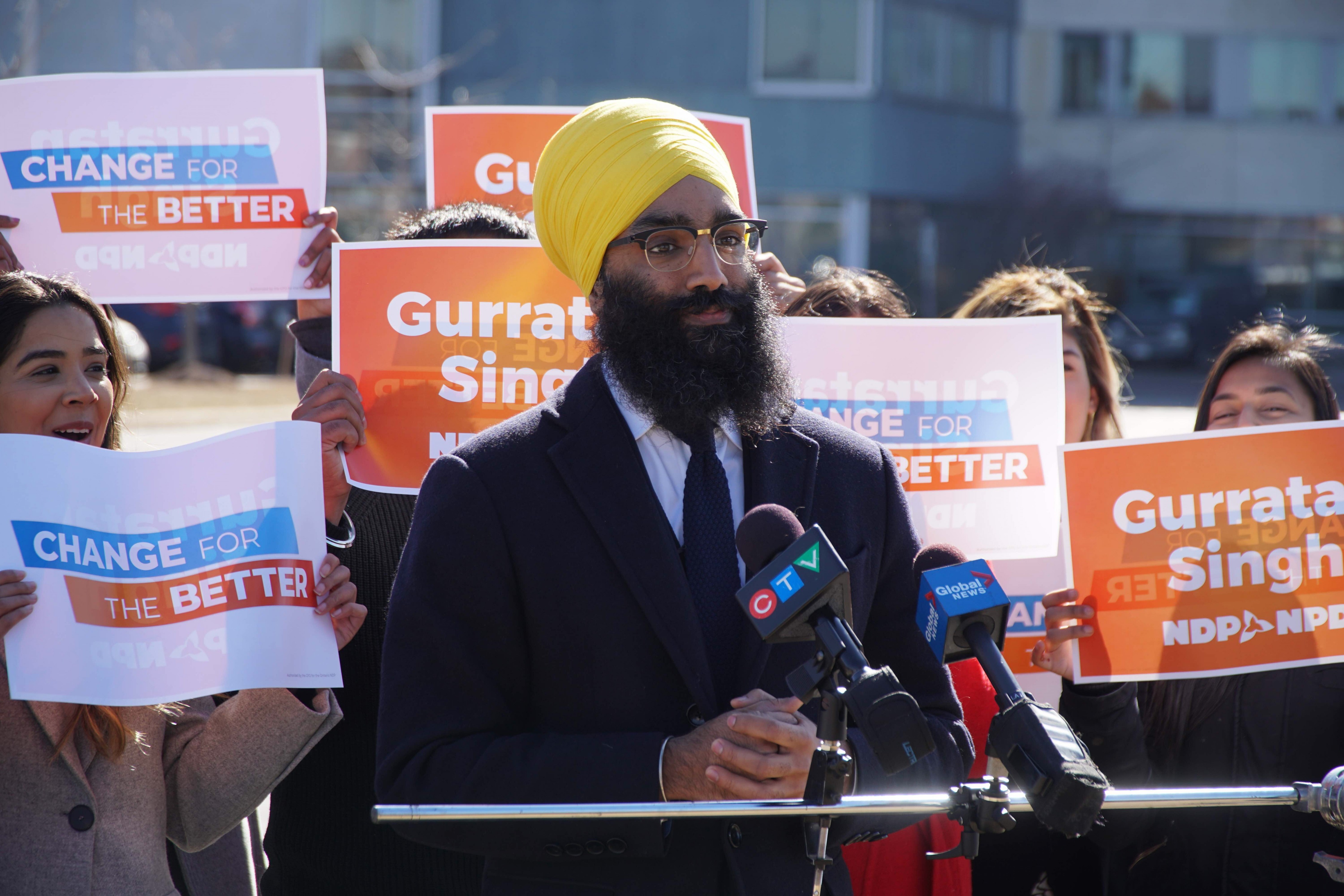 Brampton East NDP MPP Gurratan Singh
Awareness of the city's growing desperation was highlighted when NDP MPP France Gélinas, who represents the northern-Ontario riding of Nickel Belt, addressed the issue.
"One of the communities that tragically has become a symbol of hallway medicine is Brampton, Ontario," she said Tuesday, inside the legislature. "Brampton is one of the fastest-growing communities in our province, but its one and only full-service hospital is struggling to keep up with demand. Last year, 4,352 patients, some of the sickest, were treated in hallways. Yesterday, they were in code gridlock yet again."
Submit a correction about this story