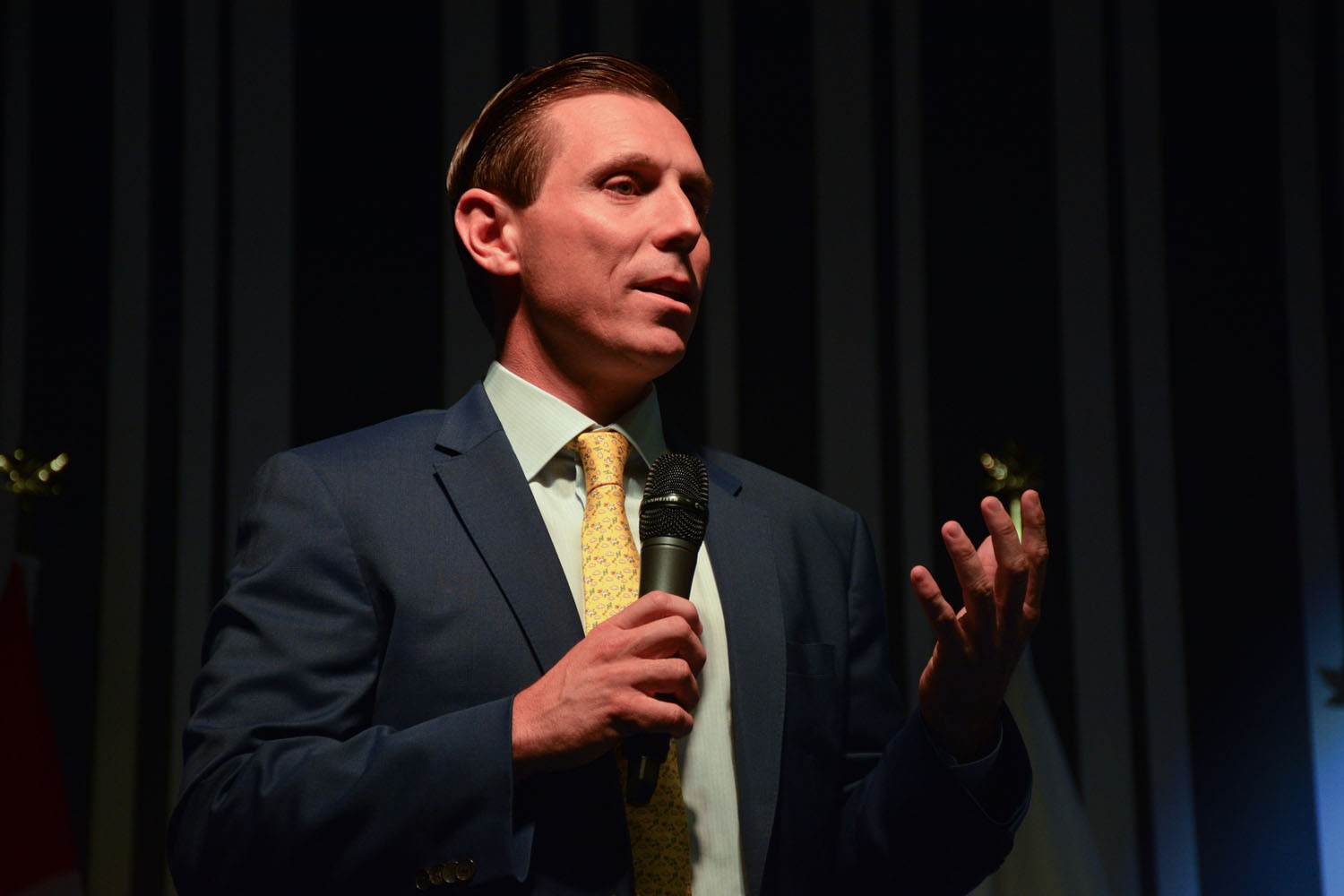 Photo by Joel Wittnebel
It's time to put Brampton back on track
Gridlock … Public safety … Property taxes … Economic development … . No one I have spoken with throughout this entire campaign feels things are better than they were four years ago. No one.
The reason for this is clear: the discord on City Council thanks to the current mayor's lack of leadership, and her inability to work collegially with her council partners. No direction – just pointing fingers, whether at council or our regional partner, and saying, 'it's their fault'. Just ask one of the vast majority of Brampton's elected councillors who aren't supporting her re-election, and are in fact supporting my campaign.
I have been encouraged by their support, and by that of so many, including former premier Bill Davis, in my run for mayor. People who see me as someone who will bring a respectful, collaborative approach to working with council. As someone who will work to reduce gridlock, lead the fight for better healthcare facilities, get crime under control, freeze property taxes, and bring jobs back to Brampton. This is why I am running for mayor of Brampton.
My priorities are straightforward. Take traffic and transit. Unfortunately, our city has become renowned for gridlock and endless traffic. Highway 410 is a parking lot every day. Brampton still doesn't have Two-Way, All-Day GO service. Meanwhile, Toronto is moving forward with new subways and light rail transit projects. And next door to us Mississauga is getting a state-of-the-art transit system.
Yet provincial funding for transit improvements in Brampton was lost due to a lack of leadership in the mayor's office. Not only could mayor Jeffrey not get council on side with her ill-conceived plans to address gridlock in our city, but many, many citizens, including such distinguished residents as former premier Bill Davis, opposed her plans. During this campaign I have outlined a clear plan to address gridlock in our city, including concrete actions to advance element # 4: Transportation and Connectivity found in the citizen-developed Brampton 2040 Vision document. And I have outlined my plan to be persistent and unrelenting in advocating for Brampton's fair share of transit funding from the provincial and federal governments.
Brampton residents are fed up with the disturbing level of violence in our City. Shootings skyrocketed to a record high in 2017. Peel Police report that to date in 2018, shootings are 11 percent higher than last year's record pace. Our police lack the resources to do their job. Brampton has 138 officers for every 100,000 residents – the rest of Ontario averages 189 officers +. And 42 percent of their calls are related to mental health issues, handled by police because services which could handle most of these calls for help, like the COAST Program, are drastically underfunded. Meanwhile, the mayor seems more interested in engaging in media disputes and political infighting than protecting the people of Brampton.
This issue is so important to our city that I have already taken action ahead of voting day by announcing my Public Safety Initiative. Its mandate: consult with as many residents and community leaders as possible, and report back to me with their recommendations on how to make our city safe once again. I am delighted that retiring Regional Councillor Gael Miles has agreed to serve as Chair of my Public Safety Initiative, and that the Initiative draws on the talents of Brampton civic leader Chaplain Gerry Thompson and Peel Regional Police Association President Adrian Woolley.
Too often I hear from residents wondering why jobs and business investments are going elsewhere; and not coming to, or staying in, Brampton. Amazon's decision to locate their Fulfilment Centre in Caledon this summer rather than Brampton, and the closing of the Dixie Cup plant, are good examples of the issues raised by voters at the doorstep when we discuss the challenges facing our city.
Under Ms. Jeffrey's leadership we have lost key business investments to Mississauga, Vaughan and Caledon, and other cities. Currently, almost 70 percent of workers in our city have to leave Brampton to go to work elsewhere! We can't stand by as Brampton becomes a bedroom community. We need to be out there – all the time – pushing for more and more investment in our city. To do this I will follow former Mississauga mayor Hazel McCallion's example: no one is better at selling their city as the place to create new businesses and more jobs than mayor McCallion.
I will personally pitch businesses to locate in Brampton, with personal tours of our employment lands where development opportunities exist. I will sell them on our easy access to Pearson International Airport; on the strength of our young, educated workforce; and on our diverse, multicultural population that can accommodate new workers of all cultures and faiths with open arms and respect.
Property taxes under Mayor Jeffrey's term of office have grown at an alarming rate, well outpacing the rate of inflation. In 2017 Brampton property taxes were hiked by 3.6 percent and, by the end of 2018, will have increased another 2.7 percent. Our property taxes are now higher than the City of Toronto! Enough.
Working with my council colleagues, we will put an end to the wasteful taxation and spending practices that have made Brampton among the most expensive cities in the GTA, pushing jobs and opportunities beyond our borders to neighbouring communities.
As your mayor, I will lead a culture shift in the mayor's office and bring back respect for your hard-earned tax dollars. To ensure this, I will freeze municipal property taxes rates as my first order of business.
I have been out in our community, hearing your concerns about these and other issues important to Bramptonians: affordable housing; healthcare; poverty; seniors' issues and more. Space restrictions prevent a more complete presentation here: my website https://votepatrickbrown.com/ has lots more information on the issues that matter to our residents.
The underlying philosophy behind my campaign: 'There is no monopoly on a good idea and we all need to work together to better serve our community.' Whether working with members of the community to make our city safer, or working to implement the amazing work found in the Brampton 2040 Vision as developed by over 13,000 of our citizens, or helping residents find affordable housing, it's time to bring a respectful, collaborative approach back to City Hall.
It's time to put Brampton back on track.
Submit a correction about this story