Photo by Mansoor Tanweer
Jeffrey signals opposition to Vision 2040 transit plan; another showdown on LRT route if re-elected
A week before the municipal election and after the close of advanced voting, incumbent mayor Linda Jeffrey has released a transportation platform for Brampton that appears to be inconsistent with her earlier stance on the city's transit future under the new 2040 Vision plan.
Her proposal also rejects the $4.4 million council-approved study of alternate LRT routes, and signals that if re-elected Jeffrey will again make the twice-defeated Main Street LRT option a top priority.
The plan, released Sunday by her campaign team, contains other inconsistencies.
Jeffrey, who aggressively lobbied for the provincially approved Main Street option under the former Kathleen Wynne Liberal government, states in her new transit platform that the alternate LRT routes currently being studied under a council resolution, one along Kennedy Road and one on McLaughlin Road, have already "failed" and are not supported by staff, engineers or transit experts.
Commissioner Joe Pitushka, in charge of public works and engineering, made it clear when the alternate routes were approved by council for study in 2016, that they had previously received only a cursory review by staff, before the $4.4 million assessment was initiated by council after the Main Street option failed. It's unclear which "transit experts" Jeffrey is referring to in her announcement.
Jeffrey has repeatedly refused to support any study or consideration of an option other than the Main Street alignment, even after it was rejected by the current council, after the previous council had also rejected the route supported by the former provincial Liberal government.
Her statement in her transit plan also appears to be inconsistent with council's unanimous support of the city's Brampton 2040 Vision, a document produced by Vancouver-based urban planner Larry Beasley after council hired his firm to formulate a dramatic vision to help plan the city's future growth, as more than 300,000 new residents are projected to settle here in the next two decades.
About 13,000 residents participated in the formulation of the 2040 Vision and Jeffrey, along with the rest of council, voted in favour of Beasley's plan in May.
But her new transit platform appears to reject a central element of the 2040 vision, the higher-order transit route that it calls for, which would see LRT loops run along both Kennedy and McLaughlin. It's unclear why Jeffrey didn't voice her opposition to these corridors when she voted in favour of the 2040 Vision in May.
Beasley's 2040 Vision plan for Brampton, called The Living Mosaic, includes his approved proposal of the route the LRT would take across the city. The route north on Hurontario Street from Port Credit in Mississauga would remain unchanged until it hits Brampton's southern limit on Steeles Avenue. From there, it would feature two looping routes across Brampton, the first one going east along Steeles to Kennedy, then south towards Derry Road, where it would travel west and link up again with Hurontario. The second loop would go west towards McLaughlin, then north towards Queen Street, where it would loop back down once it hit Kennedy and finally head toward McLaughlin again.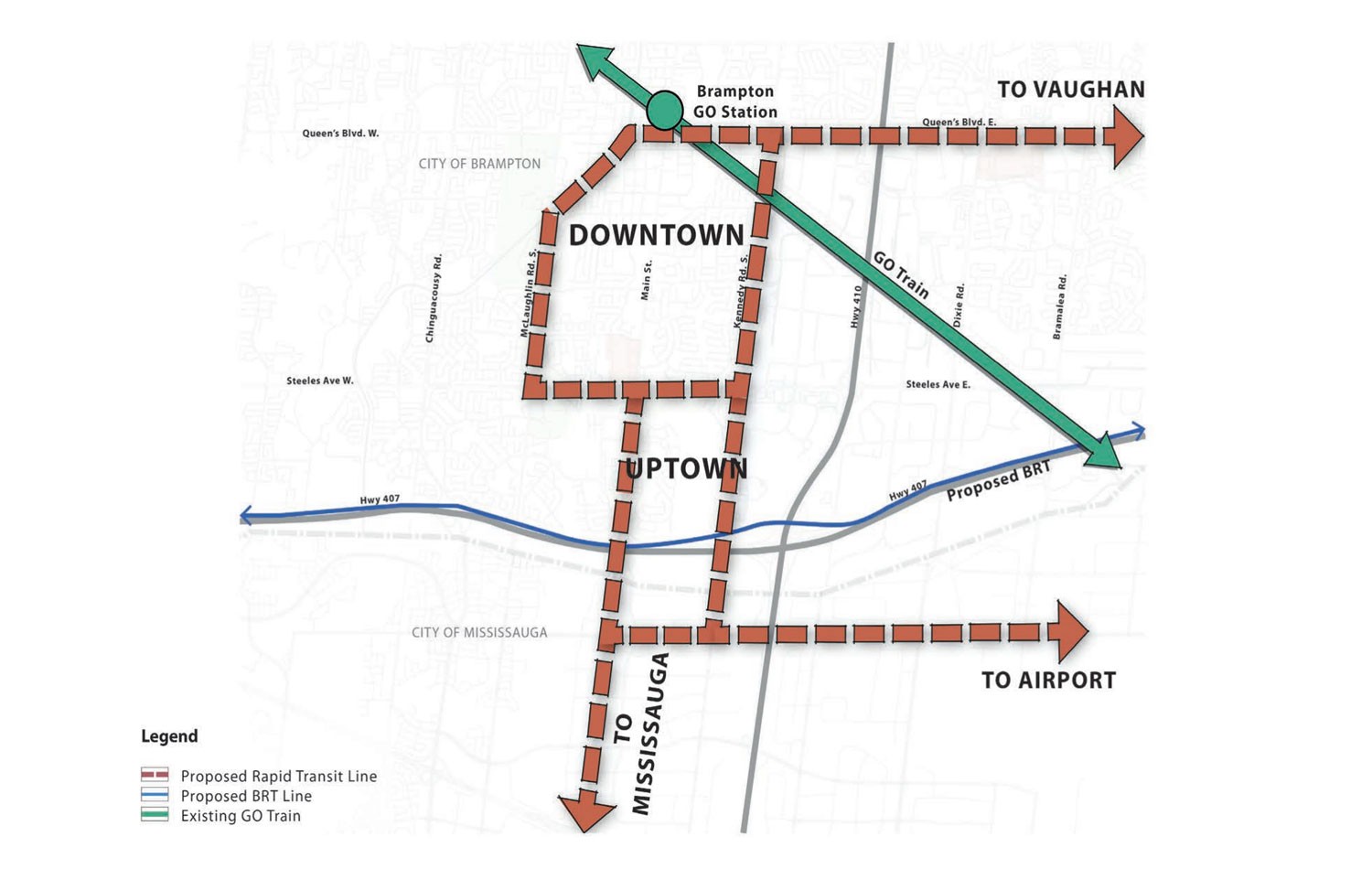 Jeffrey claims in her newly released plan that 60 percent of the city's residents were in favour of the Main Street LRT route, a figure she has used in the past when she said a survey had been conducted. But little was ever shared about the survey she said had been conducted. Details remain unclear, for example, about who paid for the survey, who conducted it, what were the specific questions that were asked and who exactly was surveyed.
In late August The Pointer commissioned Forum Research to survey 999 eligible Brampton Voters, and 61 percent said they supported an LRT route in Brampton. Of those, 40 percent said they support the Main Street option, 19 percent chose McLaughlin, 17 percent picked Kennedy and 24 percent said they support a different route altogether.
Jeffrey also says in her newly released transit plan that she worked with other politicians "to get Brampton on the Kitchener-Waterloo corridor".
It's unclear what she is referring to. Brampton did benefit from some additional GO Train service between Kitchener and Toronto that began in 2016 and the former Liberal government at Queen's Park announced a plan to study the viability of a new freight line that, if built, would free up capacity for more GO service along the existing corridor that would also benefit Brampton. But it remains unclear what the new Doug Ford PC government will do, regarding those earlier commitments.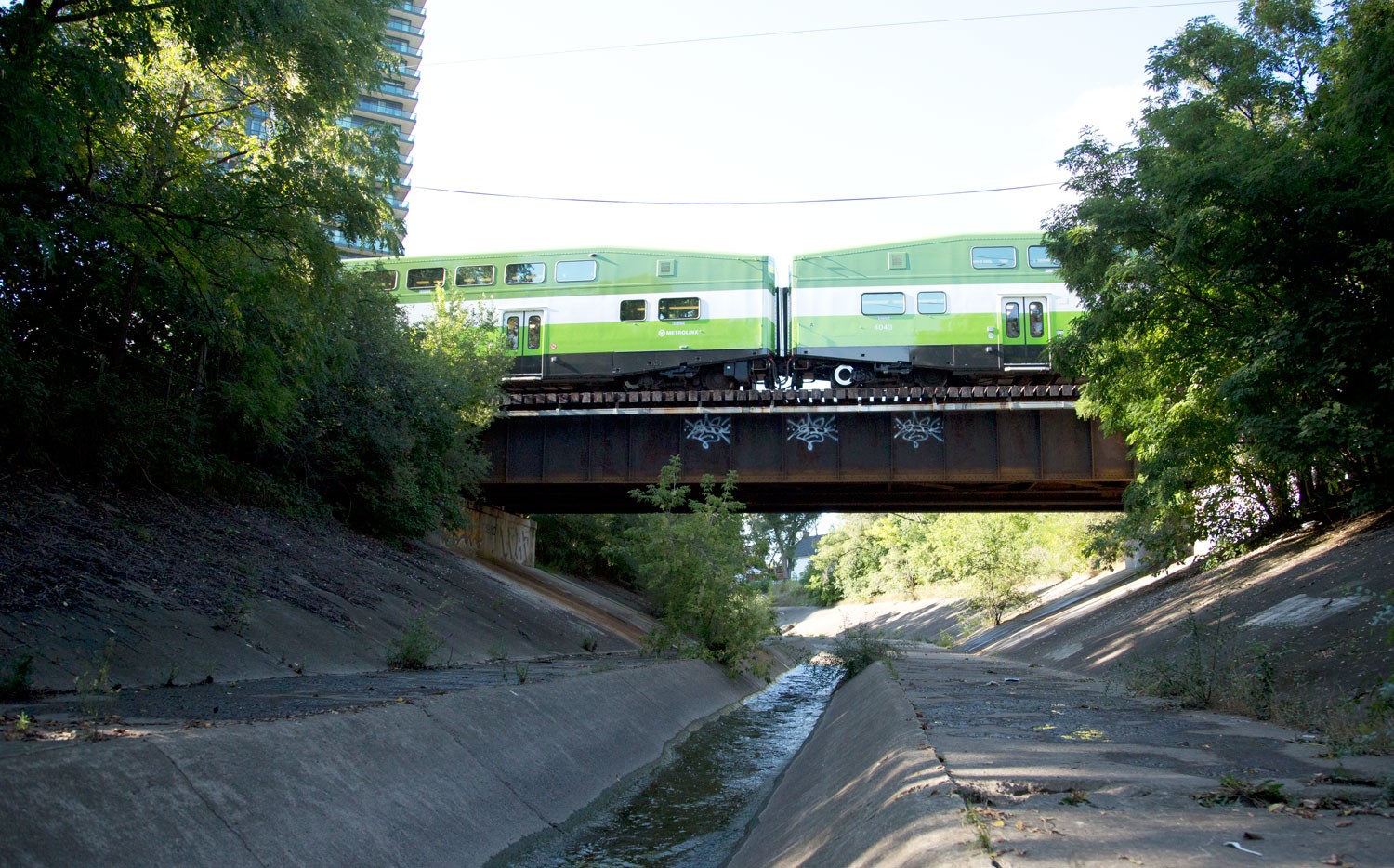 When the former Liberal government last year announced a planned High-Speed Rail line along the same corridor, running next to Brampton, Jeffrey failed to get the city a stop on the proposed route, while Mississauga will get one, if the planned high-speed system moves forward under Ford's provincial government.
Other highlights of Jeffrey's just released transit pledge, include:
• Securing funding from the federal government for ZUM/BRT transit expansion, Smartbus technology and fare collection equipment, more public transit buses to meet the increase in ridership, a new transit facility, a downtown mobility hub, a Pearson Airport transit hub.
• Leading the charge to cancel the unnecessary, expensive $4.4 million study for the already failed alternate LRT routes that are not supported by staff, engineers or transit experts.
• Supporting the Queen Street Bus Rapid Transit (BRT) project and listening to public input on options being proposed by staff.
Submit a correction about this story