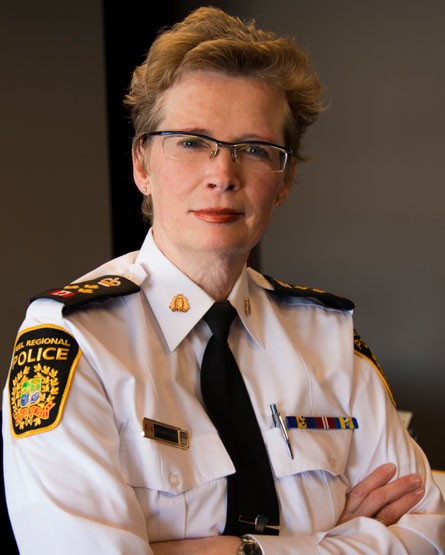 Photo from Peel Police
Peel Police Chief Jennifer Evans to step down in January
The woman who has led the third largest municipal police force in the country will be stepping down in January, following a controversial tenure as Peel's chief. Jennifer Evans notified staff Friday that January 11 will be her last day on the job.
Her announcement comes two months after the board that oversees her approved a police watchdog investigation into possible misconduct by Evans following the poorly handled case of three Mississauga family members found dead years apart.
She sent the following memo, Friday, which was obtained by The Pointer:
"Today I notified the Police Services Board of my intent to retire. My last working day will be Friday, January 11, 2019.

For thirty-five years I have proudly served the residents of Peel Region as a police officer, including six years as your Chief of Police. I continue to be inspired by the hard work and dedication of the men and women of Peel Regional Police and I firmly believe that we are the best police service in the country because of the people who work here.

It has been my honour and privilege to work with you, please know that I will always support this great organization. I wish you all the best in the future.

I am Proud to be Peel."
Evans began her career with the force in 1983 as a constable and quickly rose up the ranks. She assisted in a review of the Paul Bernardo case and in 2010 was sent to B.C. to help with the investigation of Robert Pickton, and the broader probe into missing women across the lower mainland. She was appointed chief in late 2012.
With 2,000 officers, the PRP is the third-largest municipal police force in the country, after Toronto and Calgary.
In recent years, the force, under Evans' leadership, faced a series of controversies. She refused a 2015 police board request led by Mississauga Mayor Bonnie Crombie and Brampton Mayor Linda Jeffrey to suspend the practice of carding after data showed her force had targeted black individuals in the controversial stops at three times the rate, compared to whites.
Evans and the board continued to butt heads over issues such as the force's lack of visible minority officers and the board's request to audit the force to find out if it was properly addressing diversity issues.
In August the police board determined that possible misconduct by Evans might have played a role in the bungled investigation into the deaths of three Mississauga family members who died years apart. It was eventually found by the court that two members of the Harrison family were murdered and the family believes the third was as well. The Office of the Independent Police Review Director is currently investigating the role Evans played in the mishandled cases.
Widespread misconduct in the force under Evans' leadership was revealed when the Toronto Star published a report that showed more than 600 members of the force's uniform staff, about a third of the department, were disciplined for misconduct over a recent five-year period. It was by far the highest rate of any of the large forces in the province.
She was also dogged by a series of other controversies, some that preceded her time as chief, including:
Last year, a 30-year veteran of the force, Craig Wattier, pleaded guilty to breach of trust and fraud after watching 241 videos characterized as child porn while on duty — and filing $28,000 worth of overtime to do so. He received a one-year jail sentence.
This spring, a 40-year veteran of the police force, Mark Androlia, was arrested and charged with money laundering and fraud.
In 2012, three off-duty Peel police officers savagely beat a drunk 62-year-old man at a banquet hall after he allegedly touched the breasts of two female Peel officers. The officers dragged him into a bathroom, where they kicked him in the face and broke his nose, leaving him bleeding profusely. Two of the officers were demoted.
In 2015, a Peel officer, Carlton Watson, was sentenced to five years in prison after being convicted on 42 counts of fraud. With a friend, he conspired to file fake accident reports to rip off insurance companies for more than $1 million. Watson was also charged with sexual assault.
In 2013, an 80-year-old Mississauga woman with dementia was Tasered twice by three Peel police officers, causing her to fall and break her hip. (She had been holding a knife at the time.)
After a long night of drinking with four other Peel officers one evening in 2011, officer Cody Smith went on a wild ride in his truck on the QEW, swerving all over the road before slamming into a guardrail. He then tried to flee the scene.
In 2010, Sheldon Cook, a Peel Regional Police constable, was sentenced to more than five years in prison on seven criminal convictions. The RCMP caught him in a sting receiving what he thought was a shipment of cocaine from Peru worth $540,000. Cook was accused of beating up a CFL player, Orlando Bowen, so badly Bowen had to retire from the league.
An instructor, Const. Perry MacVicar, was briefly demoted to a lower pay grade for sexual misconduct after showing female trainees nude photographs of himself and of his erect penis, and then aggressively propositioning the women.
In 2015, criminal lawyer Laura Liscio was arrested by Peel police while standing in a courtroom in Brampton wearing her legal gown, then led outside in handcuffs before being taken to a police station and charged with a drug offence, under accusations she'd smuggled marijuana into the courthouse. The PRP then lied in a press release about the manner of Liscio's arrest, in particular the point that she had been marched out while still wearing her gown. The charges were dropped when it became clear the attorney was not responsible for the pot being smuggled to her client. Liscio is suing the department, seeking $1.5 million.
Arguably the most controversial aspect of Evans' tenure as chief is her department's record on race relations, a problem underlined by the fact that in 2015 only 13 percent of PRP officers were visible minorities — serving a community where about 65 percent were visible minorities. Last year, Peel's police services board ordered a diversity and equity audit of the force, that Evans opposed. It is slated for release this November.
The issue of race was highlighted in 2016 when a 6-year-old black girl was handcuffed, both feet and hands, by a Peel police officer while at her Mississauga elementary school. The police had been called because the girl was apparently kicking and punching school administrators. The officers who responded said handcuffing was the only way to subdue her after other efforts had failed. But as the Star editorialized last year, "one thing is clear: A 6-year-old child should never end up in handcuffs."
Allegations of a culture of racism in the PRP were highlighted in the Baljiwan (BJ) Sandhu case. Born in India, Sandhu joined the Peel force in 1989 and rose to the rank of detective-sergeant. In 2013, he applied to an internal competition to become an inspector but was turned down. He was told he did not have enough frontline experience.
Sandhu speaks four languages, had worked homicide cases, in intelligence and as a community liaison, and had 872 hours as an acting inspector. He'd received numerous awards and accommodations, including a Queen's Diamond Jubilee Medal for dedication to public service in 2012.
Sandhu submitted a complaint to the Human Rights Tribunal of Ontario, claiming he'd been denied promotion due to racial discrimination. His complaint detailed many instances of enduring racial slurs and stereotypes. One example: "Once, I walked into the gym at headquarters full of officers, one of whom shouted: 'Hey, no one called a cab!'" The room, he said, erupted with laughter.
Last year, the tribunal ruled that Sandhu's failure to receive a chance at promotion was, in part, due to his ethnicity. "And as such I find that the applicant has been subject to discrimination because of race, ancestry, place of origin, and ethnic origin in violation of … the [Human Rights] Code," wrote Bruce Best, a vice-chair of the tribunal.
The tribunal's findings further noted that South Asian portfolios were "generally devalued in the service" because they were associated with Peel's large South Asian population and were "not considered real police work" by the force.
Sandhu has been on stress leave since 2014 and suffers from depression. He recently reached a financial settlement with the PRP.
After the ruling, Evans released a video statement assuring the public that promotional practices had changed since 2013 and the circumstances of Sandhu's case were "not reflective of the force's values."
The most contentious issue dogging the PRP on race has been Evans' steadfast support of the "street check" process colloquially known as carding. Carding occurs when police stop people on the streets for no other reason than wanting to document their name, ethnicity and other information. Critics say carding — in the absence of a direct investigation of a crime — is a clear violation of prohibitions in the Charter of Rights and Freedoms against arbitrary detention.
In Peel, where 9 percent of the population was black, at the time, the force's own data showed that on average almost 25 percent of those being carded were African-Canadians. Between 2009 and 2014, Peel police conducted 159,303 carding checks, with black people three times more likely than white people to be stopped.
In 2015, the police services board voted to advise the PRP to stop carding. Evans refused to comply. The force ended the practice only in 2017, after the Ontario government curtailed it. But earlier this year, Evans complained that not being able to card had led to a spike in violence in Peel, without furnishing evidence connecting the two issues.
The death of Jermaine Carby. In September 2014, Carby, a 33-year-old black man, was riding in a car driven by an acquaintance when two Peel police officers signalled the driver to pull over, apparently because they noticed a licence plate was loose. Carby had outstanding warrants from British Columbia and a criminal record, as well as a history of violence and mental health issues. When the Peel officer checked him out, he discovered Carby's parole violation. By this time, another police car had arrived, with two more officers. They asked Carby to step out of the vehicle, which he did. A shouting match ensued. The police later claimed Carby pulled out a knife and came toward them. After he refused to drop it, Const. Ryan Reid shot seven times; three bullets struck Carby, killing him.
When the SIU showed up to investigate the shooting, the knife Carby allegedly had been holding was missing from the scene. Standard procedure at crime scenes is that evidence is never removed. Yet the Peel officers did exactly that, handing over the knife hours later to the SIU. "This conduct is hard to fathom," the SIU noted in its report on the shooting.
Carby's family has since launched a lawsuit against the PRP, seeking $12 million.
Submit a correction about this story