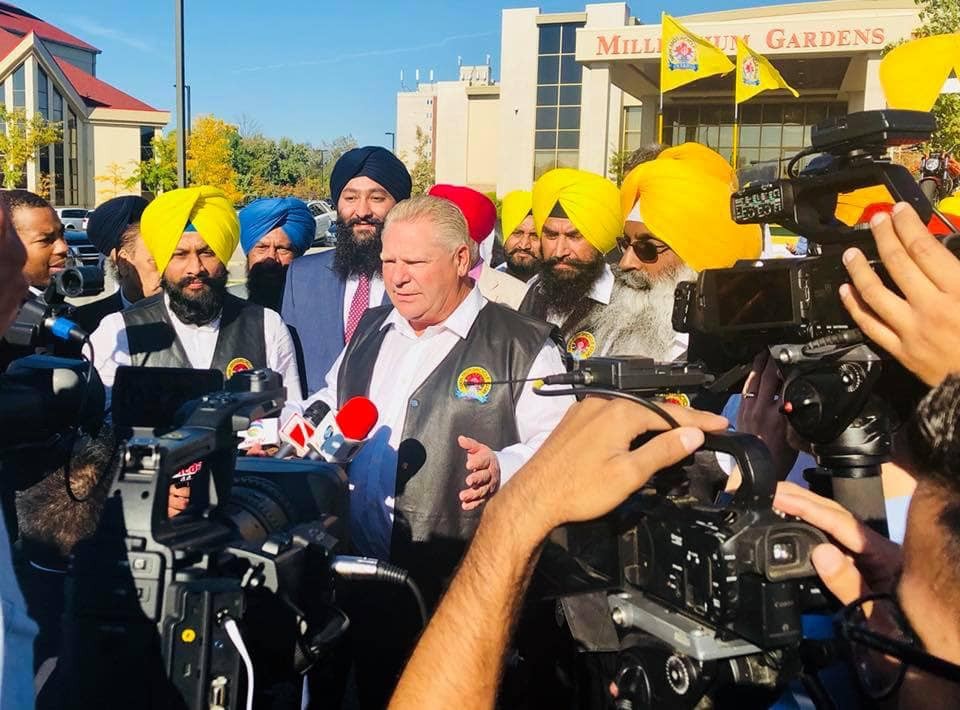 Photos courtesy of the Sikh Motorcycle Club of Ontario and flickr
Brampton citizens, politicians and experts respond to Ford government plan to exempt Sikh-Canadians from wearing motorcycle helmets
With the official announcement Wednesday of plans to exempt turbaned Sikhs from wearing motorcycle helmets by Ontario Premier Doug Ford and Brampton PC MPP Prabmeet Sarkaria, experts and Brampton residents respond to the provincial government's controversial move.
"I think the Ford government has done the right thing," said lawyer Sat Gosal, who has represented Sikh individuals over the past three decades in their fight for religious accommodation under Canadian laws.
"We promised to establish a helmet exemption for Sikh motorcyclists," Ford said yesterday, in Brampton. "Today we are taking action to fulfill that promise. We listened to the Sikh community and we intend to exempt them from the requirement to wear a helmet while riding a motorcycle."
Sarkaria brought his private members Bill 41—the Highway Traffic Amendment Act (Helmet Exemption for Sikh Motorcyclists), 2018—forward last week.
"I have been calling for a helmet exemption for turbaned Ontario Sikh motorcyclists for several years now," the recently elected Brampton MPP, a Sikh who wears a turban, said yesterday. "The wearing of the turban is an essential part of the Sikh faith and identity, and exemptions for Sikhs have been successfully implemented in other provinces in Canada and across the world."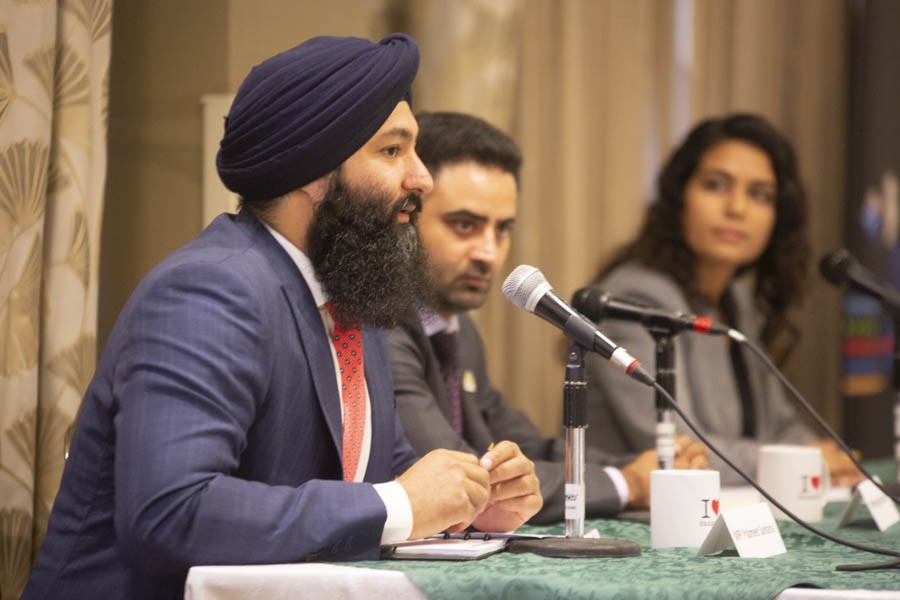 Brampton MPP Prabmeet Sarkaria
One of the main arguments against helmet exemptions in Canada, where three provinces have already passed similar allowances, is that the safety of riders will be put at risk, and the possible cost to the public for potential medical care as a result of accidents without the proper protection, is unfair.
Gosal, who practices out of a large Mississauga-based firm, says there is no evidence he is aware of that shows increased harm or associated costs, as a result of similar legislation in other places.
"As someone who has been following this issue for some time, over the last 30 years, I wonder what was it about other jurisdictions, for example in England where I grew up, and B.C., and more recently in Manitoba and Alberta, I wonder if any of those jurisdictions, after having done all the analysis, would have allowed the exemption to continue if there was any study of research that showed a detrimental effect of (Sikhs) not wearing a helmet."
The United Kingdom passed a similar helmet exemption for Sikhs in 1976, B.C. in 1999, Manitoba in 2000 and Alberta did so earlier this year.
Satinder Singh Goindi, a turban-wearing baptized Sikh, who has lived in Brampton for 18 years, strongly opposes the government's plan. "I know two Sikhs, my friend and my 18-year-old nephew; both would be dead if they weren't wearing a helmet." Goindi says they were involved in serious accidents over the past three months while riding their motorbikes. His nephew suffered broken ribs, had to have a kidney removed and had spinal cord damage, he says. "They would have died for sure. You should have seen their helmets after the accidents." Goindi says instead of their turbans they wore a helmet over a small "patka", a small piece of material that keeps unshorn hair tight and tidy, and is often used by practising Sikhs when they play sports. "They would have died. My nephew's helmet was badly cracked and scratched, but saved his life," says Goindi, adding that he has fought for workplace religious accommodation since 2004. "But that is different, safety is not a risk. If it's for a hobby that is dangerous, people have to be sensible."
Gurratan Singh, the recently elected Brampton East NDP MPP, said he's behind the government's move, which his party has tried to push, in the past.
"I look forward to getting my M licence (needed in Ontario to operate a motorcycle)…I look forward to riding a motorcycle with my turban." Singh points out that his brother Jagmeet Singh, the federal NDP Party leader, in 2016 as a Brampton MPP called upon the former Kathleen Wynne government to exempt Sikh-Canadians from wearing motorcycle helmets. "The NDP's position is pretty clear."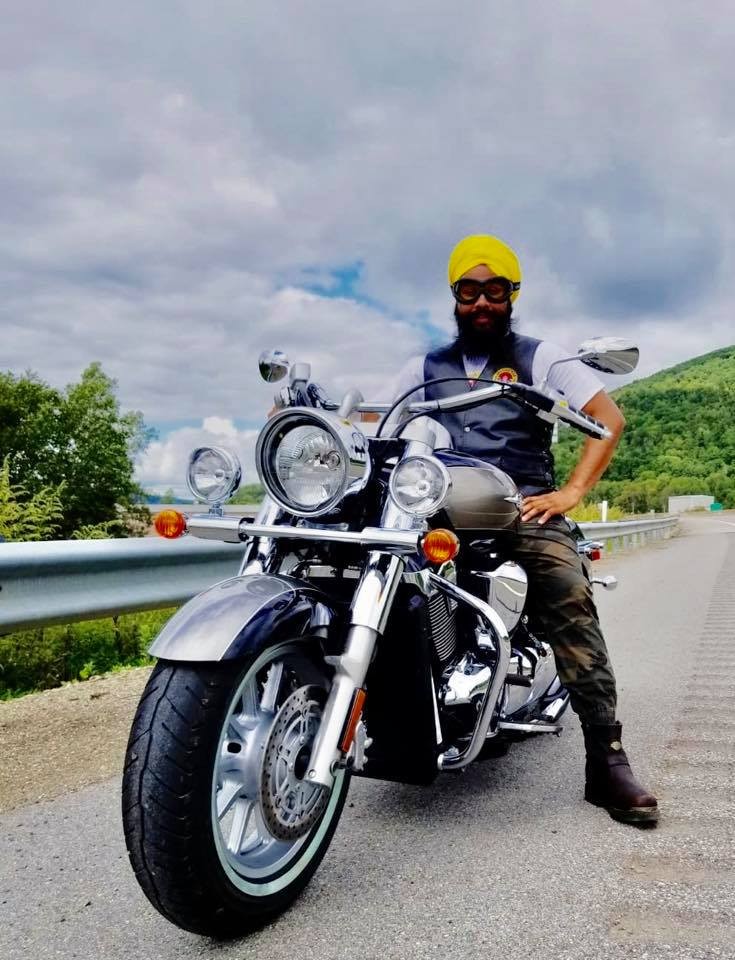 Asked about concern that, if he does ride a motorbike without a helmet, he could set an example to younger people who might also choose an option that clearly isn't as safe as a helmet, Singh said, "I think the argument is that we are acting within the scope of the law. This is not a radical idea."
He cited B.C., Manitoba and the U.K. as jurisdictions where the exemption has been law for a long time, adding that even Alberta recently made the move.
"This is something that the community has wanted for a long time. The community is excited to take part in this decision."
Motorcycle culture is a prominent feature in Punjab, the Indian state where most Sikh-Canadians trace their roots to and where the sight of turbaned-Sikhs on motorbikes is about as common as the bikers who gather on weekends in Ontario towns such as Port Carling and Bracebridge. The Sikh Motorcycle Club of Ontario has long advocated for the helmet exemption and has invited Ford out to events in the past.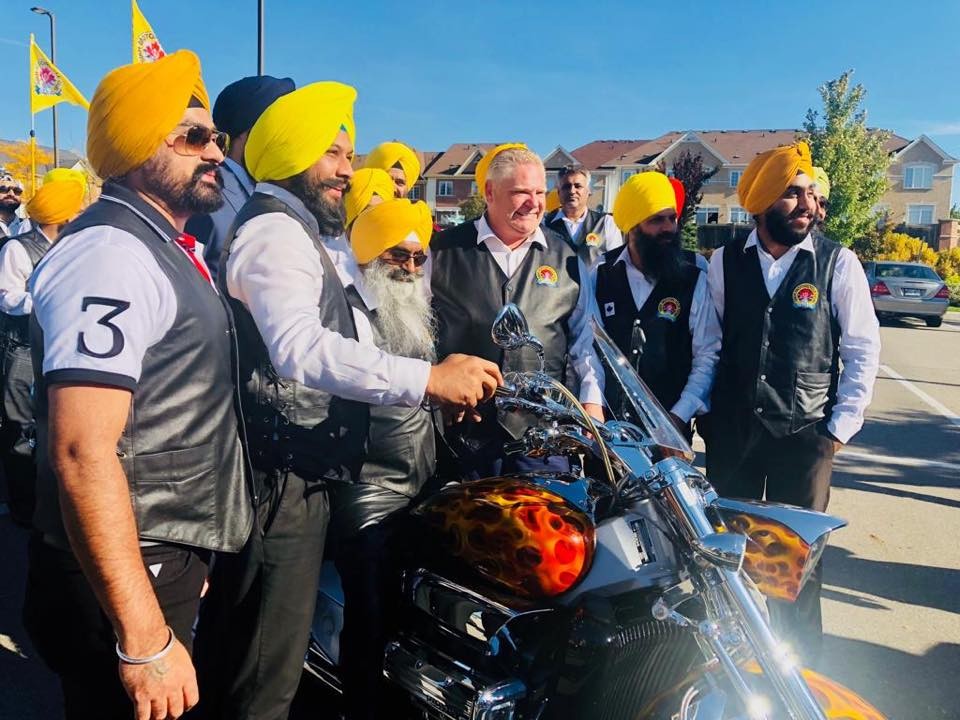 Ultimately, the helmet decision comes down to choice, but some wonder if that choice could impact others.
Long time Brampton resident George Startup, who has been involved on a number of community safety committees and special councils, and regularly addresses locally elected officials about safety issues, says concerns over helmet exemptions need special consideration here, because of Brampton's huge Sikh community, one of the largest in the world, outside India.
"I'm a very safety conscious individual. I've been involved in a number of safety councils over the years. I see this as a potential risk," Startup says.
Beyond the possibility of increased public healthcare costs, which he concedes might not be an actual issue if the data doesn't support the claim, Startup worries about the potential implication for automobile insurance holders in the city, where such insurance rates are already among the highest in the country. "We don't know how the insurance industry is going to react in places with large Sikh communities. It could be an incredible burden for anyone with insurance in the city. But we don't know, I guess."
According to the 2016 census there were 140,000 Brampton residents with a knowledge of the Punjabi language, the mother-tongue spoken by Sikhs, and it is estimated that approximately 20 percent of the city's roughly 600,000 residents identify as Sikh-Canadian. But the actual number of observant Sikhs who wear a turban (few women do, and many men do not) in the city is not known.
Balpreet Singh is legal counsel and spokesperson for the World Sikh Organization of Canada, which advocates for Sikh rights globally. He says there is no evidence that helmet exemptions for Sikhs lead to increased insurance costs.
"We allow people to make choices we may disagree with every day," he says. "We allow people to sky dive or to eat unhealthy foods or to smoke. If we don't exclude individuals who make those choices from health care coverage, there is no reason Sikhs who don't wear helmets should be excluded. That having been said, there has been no measurable impact on healthcare or insurance in other jurisdictions with this exemption, many of which have allowed Sikhs to ride without helmets for decades."
Asked if he believes legislation should stipulate that an exemption only applies to observant Sikhs who keep their hair unshorn and wear a turban, Gosal said that would be a good idea to prevent the law from being abused by others.
Both Gosal and Singh stated that Sikh religious code clearly specifies that a turban is to be worn as part of the practice.
Whether or not it is allowed to be covered, is open for interpretation, they said, responding to the common argument that a special helmet could be designed for Sikhs.
"At any rate, the law (in Canada) is clear that religious accommodation is based on sincerely held beliefs and not expert opinions or the corroboration of 'religious authorities'," Singh said.
Gosal, who has represented a number of Sikh clients in Canada that have fought for the right to have their religious beliefs accommodated, agrees, adding that the precedent is that if a belief is strongly held and clearly directly tied to religious practice, "the law is clear," such a belief should be accommodated, when possible.
"We have to go by the empirical evidence," he says. "There is just nothing in any of the other jurisdictions, over a long period of time, that shows there is increased risk to safety or to costs, because of helmet exemptions."
Brampton mayoral candidate Patrick Brown addressed the issue Thursday. "When I was in opposition (as a PC MPP at Queen's Park) I had raised the issue in the legislature (during the previous term of government)," Brown told The Pointer. "It (the helmet exemption for Sikhs) was a previous commitment made by the (former) Liberal government. It was never honoured. I asked them, 'You came to Brampton, you made a commitment in the Gurdwaras (Sikh temple). It's one thing to make the commitment (as early as 2013) when you're in Brampton, but you seem to forget about it when you're at Queen's Park.' I directly as leader of the opposition directed that question to the premier, Kathleen Wynne."
Brown says he thinks the move by the new government is the right one. "We say we support freedom of religion and the turban is integral to the Sikh faith."
Asked about the issue of potentially higher insurance costs for Brampton residents, Brown says insurance for motorcycles is already significantly higher and if an exemption leads to higher costs for individuals, "that's an individual choice. I believe personal freedom is something we have in Canada. I choose not to ride a motorcycle because I think it's risky."
Brown said the new provincial government will have to craft the legislation so that safety, insurance and healthcare considerations are in line with the expectations of Ontarians, to balance religious accommodation with personal responsibility and fairness.
Startup, who has lived in Brampton for almost 40 years, says he would like to see more dialogue in the city.
"I know the turban is closely tied to the Sikh religion but there's got to be a better way. A turban (which is usually made of cotton or, less commonly, out of silk) is not going to protect someone in a crash. I'm not against their religion but I am against them not wearing a better head protection. I can't imagine a helmet fitting over a turban but there has to be an alternative. I'm against this exemption purely for safety reasons, and possibly if there could be related medical and insurance expenses."
Startup wonders what would happen to insurance rates for a driver in an accident, in the event that an exempted motorcyclist is involved and sustains preventable injuries.
"I'm not sure how the insurance rules and policies work, but the government needs to make sure all of this is addressed. Look, for the safety of the motorcyclist, I just hope he or she has the good sense to wear a helmet. It's already dangerous enough."
Submit a correction about this story