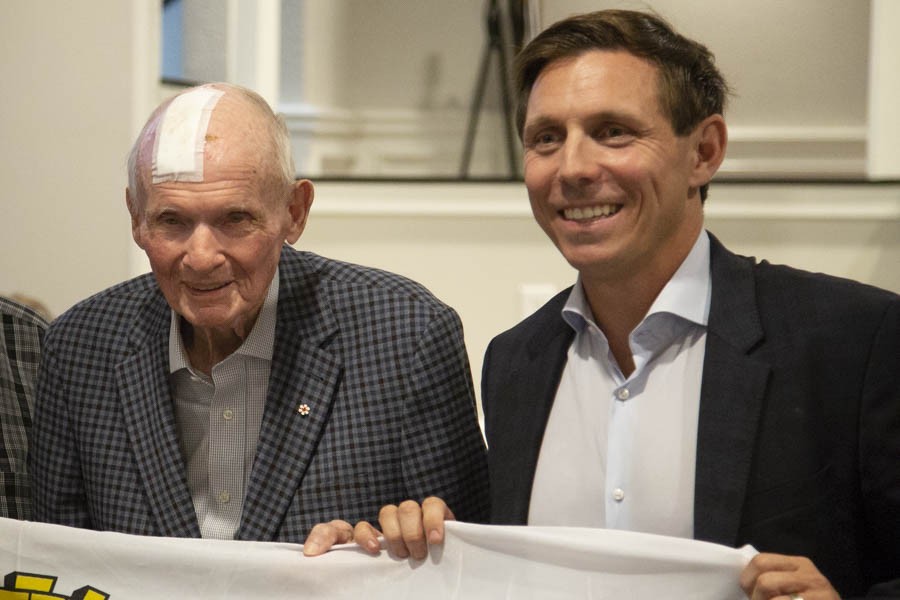 Photos by Mansoor Tanweer
Bill Davis throws his support behind Patrick Brown
A little less than four years after he stepped onto a stage on election night 2014 to introduce Linda Jeffrey as Brampton's new mayor, former Ontario premier Bill Davis has officially thrown his support behind mayoral candidate and main Jeffrey rival Patrick Brown.
The surprise announcement came Tuesday at a meet-and-greet hosted by Brown and former Wards 3 and 4 Regional Councillor John Sanderson, who also received support from Davis in his run to regain his old seat.
Davis declined to comment on the announcement, while campaign officials, volunteers and attendees were careful not to call the event a political endorsement. Instead, they characterized Davis' attendance as a show of "official support" of Brown's candidacy.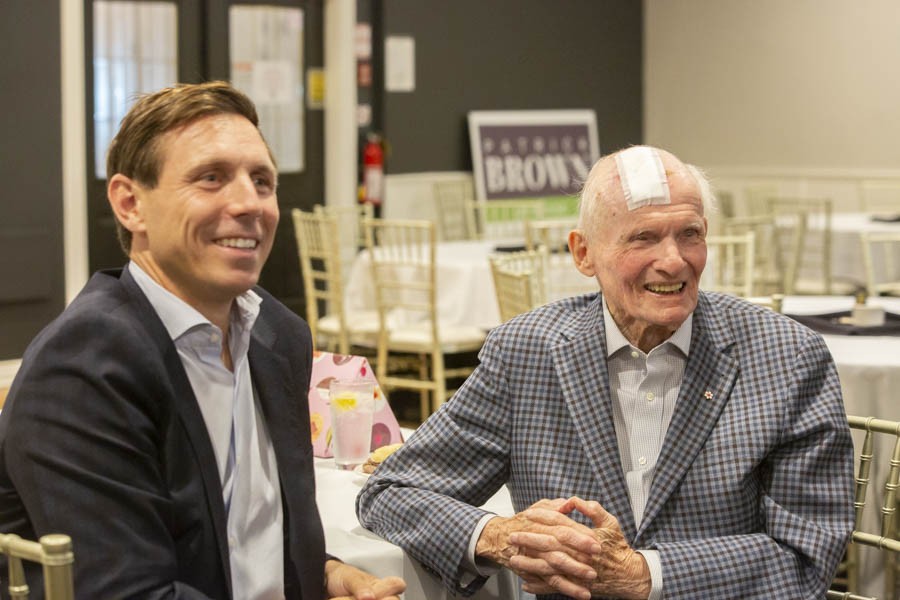 Patrick Brown and Bill Davis together at an event Tuesday evening
"I think it's significant. I think Patrick Brown has modeled his style of politics, his collegial style of governing after Bill Davis. I think that Bill Davis has come out is a show of significant support," said Elaine Moore, regional councillor for Wards 1 and 5, who was also in attendance and is openly supporting Brown. It's well known among city council observers that Moore has not supported Jeffrey's leadership and opposed almost all of the incumbent mayor's major initiatives over the past four years.
Sanderson says he arranged the meeting between Davis and Brown and that the "Davis family is a supporter of mine as well, and … they are coming out to support me as well as to support Patrick. I think he (Davis) sees a good leader in him (Brown). I think he believes in what he sees and what he hears coming from Patrick."
The nod comes on the heels of a recent event where Jeffrey, a former Liberal provincial cabinet minister, said she secured the backing of Progressive Conservative Party heavyweights Richard Ciano, Ken Zeise and Michael Diamond.
Jeffrey tweeted out photos of herself posing with former PC party presidents Ciano and Zeise, saying, "Enjoyed a wonderful evening at the Albany Club chatting with former #PCPO Presidents @richardciano and @kenzeise in support of my Mayoral campaign."
Brown commented Tuesday on Jeffrey's apparent support from individuals with direct ties to the provincial PC government.
"Whatever arrangement Linda Jeffrey has with Queen's Park, she would have to explain that. I'm not looking at any agreements with Queen's Park or Ottawa. I want to be able to criticize and advocate freely, and free of the constraints of any arrangements," Brown said, when asked if he was countering Jeffrey's move by seeking support from Davis, who is still highly respected within Conservative circles.
Brown has been trailing close behind Jeffrey in the polls. In an exclusive survey of 999 voting-age Bramptonians commissioned by The Pointer in late August, she held a lead among committed and ''leaning'' voters with 41 percent support, compared to Brown's 33 percent. With 12 days left to go before election day, Davis's support could offer a significant bump for Brown, as the former premier is still the best-known political name in the city.
At 89, Davis, colloquially known as Brampton Billy, still calls the city his hometown. He has been active in its politics since a very young age. He represented ridings covering his home turf in various forms (the riding map has changed often) since 1959.
Davis retired from politics in 1985; however, he has remained a centre of influence within government circles, often weighing in on crucial issues regarding this city and the province. His legendary battles with old foes, such as former Mississauga mayor Hazel McCallion, were always considered respectful, and his work across the aisle, cultivating his reputation as a small "c" conservative who often championed causes more closely tied to Liberals, such as the expansion of public education, is what many people in politics remember him for.
In 2014, Davis put his support behind Jeffrey, who had been minister of municipal affairs and housing under the government of former Liberal premier Kathleen Wynne. Jeffrey resigned to run against former mayor Susan Fennell, who had been embroiled in a series of scandals.
With the former premier's support, Jeffrey swept into office in a landslide victory with 49 percent of the vote. Fennell placed a distant third with roughly 12 percent of the vote. Sanderson was second with just under 22 percent of the vote.
Things between Jeffrey and Davis started off smoothly but quickly went downhill.
Jeffrey immediately appointed Davis to chair her blue ribbon panel to bring a university to Brampton. The role was meant to bring recommendations to council on how to establish Brampton as a university town. It seemed that Jeffrey's alliance with Brampton's favourite son was firmly cemented at that point, as the city and the panel, under Davis's leadership, worked toward the eventual deal to secure a new campus from the province in partnership with Ryerson University and Sheridan College.
The honeymoon between the two came to an end roughly a year after Jeffrey took office. In 2015, heated debates around the proposed route for the $1.6 billion provincially funded Light Rail Transit line split council and consensus seemed out of reach for the mayor.
Jeffrey supported the proposed route approved by the province, a straight line up Main Street to Brampton's downtown GO station, after the LRT entered Brampton from Mississauga up Hurontario Street. However, many on council opposed this alignment, which would have gone through the downtown's southern heritage district and the Etobicoke Creek area, on a corridor with low transit ridership.
Davis jumped into the fray and lent his voice to the debate. Shortly before the final vote, he penned an open letter to the mayor and city council challenging Jeffrey's claims about the Main Street route and much of the rhetoric around it.
He took particular aim at an assertion Jeffrey made that the Main Street alignment was a precondition for a university coming to Brampton, characterizing it as "not only unfounded but unhelpful . . . (and) patently untrue."
"Portending that a particular transit option and route is a precondition to our ability to be successful (in securing a university) is not only unfounded but unhelpful, as it suggests that this community is not committed to greater transit accessibility, which is patently untrue," wrote Davis in his open letter.
The move has been perceived by some residents as what helped kill the Main Street option for the new higher-order transit system.
City council defeated Jeffrey's proposed path for the LRT in 2015. The Wynne government withdrew funding for the Brampton portion of the project.
As of now, the planned route for the LRT will begin in Port Credit and terminate four kilometres south of the Brampton GO station at Steeles Avenue, next to Shoppers World.
Jeffrey, at the time, responded to the open letter saying, "The chair (Davis) has failed to grasp the gravity of the situation at hand and has done a disservice to the panel and the city."
She accused Davis of being personally motivated because he has a property on Main Street in the heritage area. Their relationship appeared to deteriorate after that.
The Pointer reached out to Jeffrey's campaign team for comment about Davis' tacit endorsement of Brown, however, they declined to comment.
Submit a correction about this story