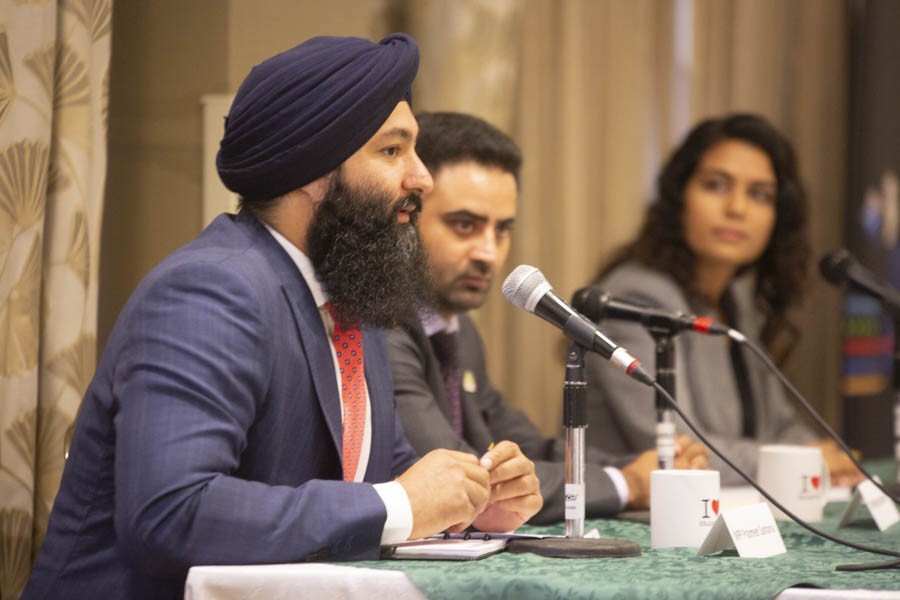 Photos by Mansoor Tanweer
City's Conservative MPPs silent on why their government's plan to fix hallway healthcare ignores Brampton
After the city that popularized the term "Hallway Healthcare" was left out of the Doug Ford government's plan to address "Hallway Healthcare", Brampton's two new Conservative MPPs had little to say when asked what they did to advocate for thousands of constituents who recently voted them into office, while the growing healthcare crisis was top of mind.
The Ontario's Government for the People Taking Immediate Action to End Hallway Health Care initiative seeks to, as the name would suggest, end hospital gridlock through the introduction of additional beds and funding. But during Wednesday's announcement by Ford and Health Minister Christine Elliott, they did not take questions about why the new funding scheme ignores Brampton.
Of the 1,100 new beds that will be funded under the plan, as the flu season begins, Brampton was left off the list of seven healthcare facilities across the province that will receive the additional beds. In 2016 more than 4,300 patients at Brampton Civic Hospital had to be treated in hallways, closets or other inappropriate spaces because of bed shortages. A health ministry spokesperson said Brampton residents could use facilities outside the city that are getting additional funding under the new plan, as demand for care increases during the flu season.
Absent on the issue were both Brampton Progressive Conservative MPPs. The Pointer attempted to contact Brampton South MPP Prabmeet Sarkaria and Brampton West MPP Amarjot Sandhu over two days. Neither they nor their staff provided answers to inquiries about efforts they made to get funding for the city through their government's new healthcare plan.
The Pointer also contacted the city's healthcare network, which oversees Brampton's hospitals, for comment about being left out of the new provincial initiative.
"(William) Osler, like many hospitals across the Greater Toronto Area, continues to be challenged to provide care to a growing and aging population. At this time, Osler has not received confirmation of new beds allocated to our sites. We are currently working with the Ministry of Health and Long-Term Care and the Central West LHIN to determine the full implications of the announcement for our organization," said a spokesperson for the William Osler Health System. The system is an umbrella network under which Brampton Civic Hospital, Peel Memorial Hospital and Etobicoke General Hospital operate.
When reached for comment about his government's new plan, Sarkaria said he is taking up a new post in the provincial legislature. (He has been appointed chair of Ford's Select Committee on Financial Transparency. The committee was assembled last month after the new Conservative government said, following an inquiry by Ontario's auditor general, the preceding Liberal government under-reported the province's budget deficit.)
On Wednesday, after the healthcare announcement, Sarkaria told The Pointer he was dealing with the new committee, but would respond after a meeting. He did not follow-up.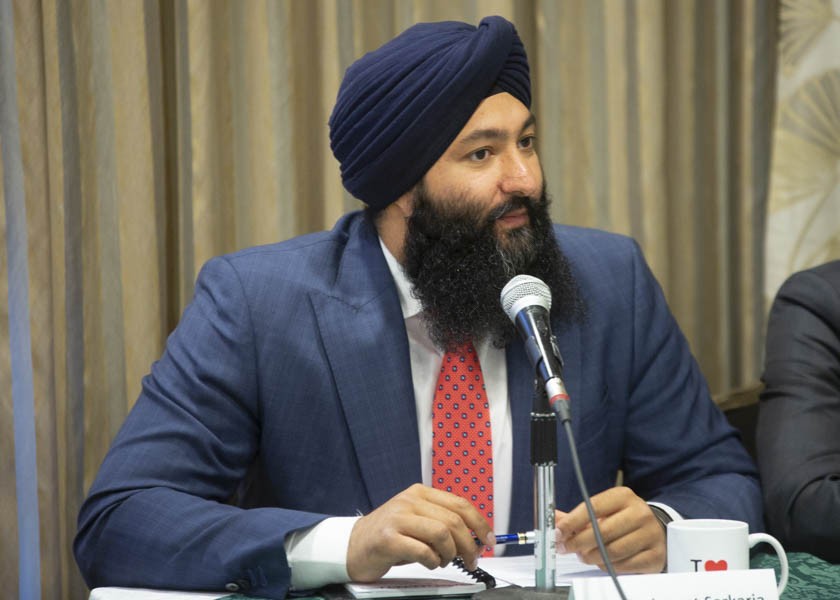 Brampton South MPP Prabmeet Sarkaria
Sandhu did not repond to requests for comment over two days.
Meanwhile, Brampton residents continue to look to city council and the province for help, to address the crisis of "hallway medicine," a term popularized in Brampton because of the city's notoriously gridlocked hospitals.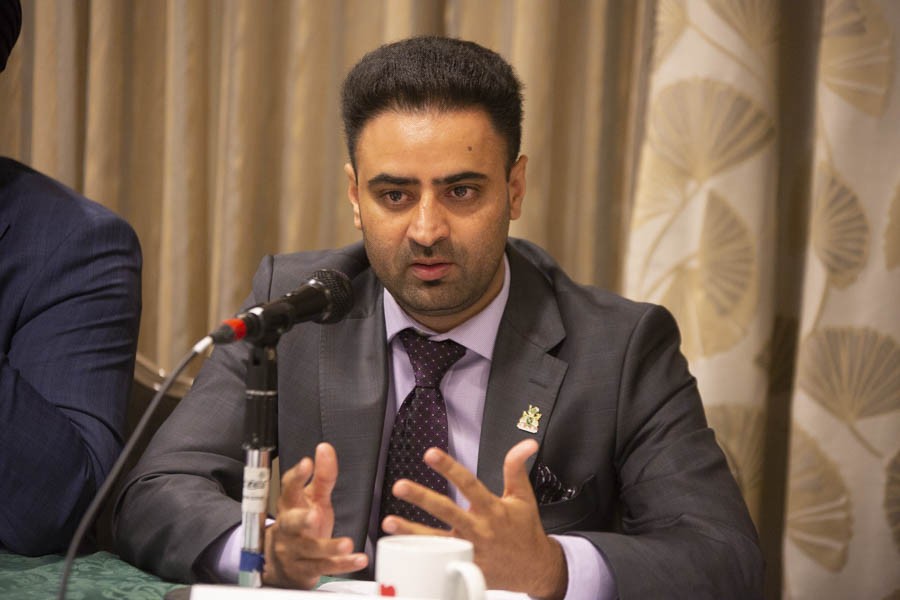 Brampton West MPP Amarjot Sandhu
During a recent barbecue in the city organized by federal Liberal party volunteers that included Prime Minister Justin Trudeau and Brampton's five Liberal MPs, none of the five local politicians directly addressed what they are doing to get desperately needed infrastructure funding for the hyper-growth city that has accommodated hundreds of thousands of recent immigrants over the last 30 years, partly as a result of federal immigration policies that have recently had a target of 260,000 newcomers to be allowed into Canada annually. The Trudeau government announced that will increase to 340,000 by 2020 under its new targets.
The latest bad news, after being left out of the province's new funding plan to address hallway healthcare, comes as Bramptonians wait for a sign that the three levels of government are taking the city's healthcare crisis seriously.
The new provincial initiative will provide $90 million and 1,100 beds for seven medical facilities of various types across Ontario to handle the influx of patients during flu season.
Despite the Ford government appropriating the phrase "hallway healthcare" from Brampton, nowhere on its list of the seven facilities getting funding to address hallway healthcare is there any mention of a Brampton hospital.
Instead, hospitals mostly located in Toronto, and in locales such as North Bay and Thunder Bay and a smaller facility in Mississauga were tapped to receive the funding and beds. Brampton was ignored despite a population growth rate between 2011 and 2016, according to census data, of 13 percent, compared to 1 percent in Toronto and a provincial growth rate of 4.5 percent over the same period.
Ford and Elliott did not take questions from media after the announcement Wednesday in downtown Toronto, opting instead to have staff respond to reporters.
A spokesperson for the health ministry did not provide any indication as to whether Brampton will see any substantive action in the near future, such as direct funding or new facilities, to help relieve the healthcare burden caused by provincial growth expectations that are not being met with the required infrastructure funding from Queen's Park. Instead, the representative said the new plan offered facilities outside the city as a short-term relief valve for Brampton residents requiring care during the flu season.
She said Humber River Hospital "will service the entire Greater Toronto Area, so that is not just for that particular LHIN. So patients in Mississauga and other parts of the Greater Toronto Area will be able to access those facilities."
The province's new framework to deal with bed shortages also created an 11 person panel of medical professionals who will examine the current healthcare situation in Ontario and provide the provincial government with recommendations.
Provincial opposition leader Andrea Horwath's office provided a previous news release that repeated the New Democratic Party's main criticisms on the issue.
"Ontario's hospitals say they need a minimum of $300 million in additional ongoing funding just to keep the hallway medicine problem from getting even worse," Horwath said in the release emailed to The Pointer.
Last year, Horwath brought to light the state of medicine in the municipality's only full-service hospital, Brampton Civic. She reported that there were "4,352 patients forced to receive their treatment in a hallway, supply closet or other inappropriate space."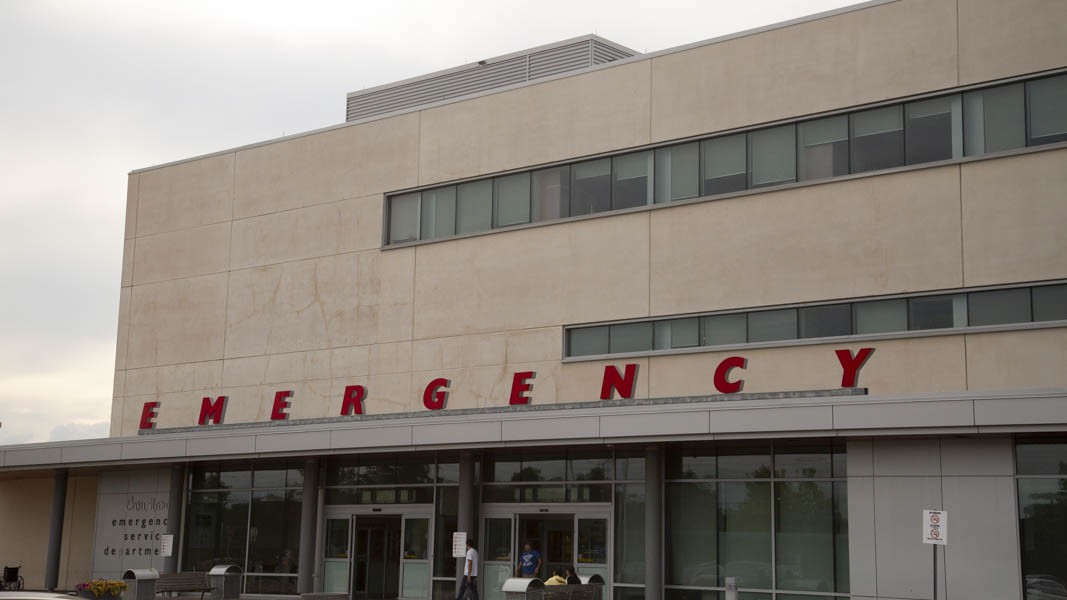 A major reason for the city's healthcare crisis is Brampton's explosive growth rate.
Incumbent mayor Linda Jeffrey says hospital services have not kept up with rapidly increasing demand.
"Historically Brampton's health care infrastructure and operational funding has not kept pace with Brampton's explosive growth…. Nearly every day our amazing doctors and nurses struggle to manage the extraordinary volume of patients that come through the door at both Brampton Civic and Peel Memorial," Jeffrey told The Pointer.
Jeffrey's main rival for the mayor's seat did not offer any criticism of Ford's initiative. On Wednesday Patrick Brown praised the creation of the plan, saying, "Any investment into Ontario's healthcare system that helps address hallway medicine and lessen wait times is great, and I congratulate the Premier, Minister Elliott, and Dr. Devlin and the Council for taking action today. This is a step in the right direction. We still have work to do to address the serious underfunding of healthcare and hospitals in Brampton."
Jeffrey criticized Brown's lack of concern over the province's decision to leave Brampton out of its new healthcare plan, but offered no words of her own, specifically, about the Ford government's choice to exclude the city. "I doubt that Patrick Brown knows what it's like to spend hours in the Emergency Room at Brampton Civic waiting with a frail parent - I do," she said.
Submit a correction about this story