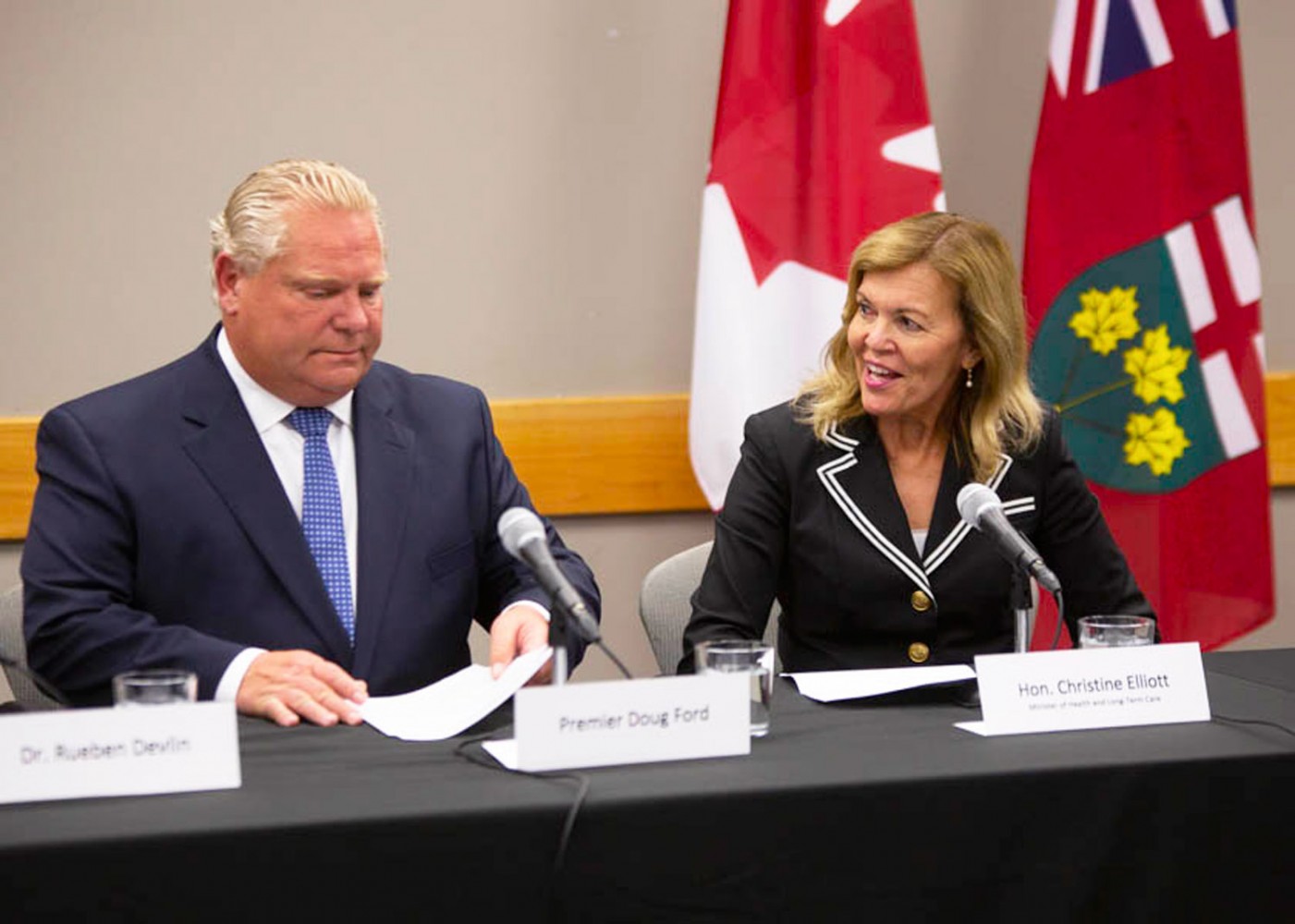 Photos by Mansoor Tanweer
Premier Doug Ford's healthcare announcement offers next to nothing for Brampton
As part of a key campaign promise, Ontario Premier Doug Ford and provincial Health Minister Christine Elliott announced Wednesday that additional beds will be provided for Ontario hospitals and long-term care facilities. But Brampton, the city that made hallway medicine a provincial election issue, isn't getting any serious relief.
"One patient treated in a hallway is one patient too many," Ford told media and colleagues present at the announcement in downtown Toronto. "It's not the doctors' fault, it's not the nurses' fault, it's not the frontline workers' fault, it's the system. The system is broken."
It may be that nowhere is the system more broken than in Brampton, where in 2016 more than 4,300 patients at the city's only full-service hospital had to be treated in hallways or other inappropriate spaces. Brampton Civic is the only full-service hospital, serving a population of more than 600,000, and is unable to keep up with the city's astronomical growth rate. The increase in patient load has meant hospital resources are strained and there are not enough beds and space to accommodate them.
Between 2011 and 2016, Brampton's population grew by 13 percent compared to Toronto's 1 percent.
"Hallway medicine" is a phrase used by people resentful of Brampton's overcrowded hospital and refers to the fact that a shortage of beds at Brampton Civic means patients are sometimes treated in hallways.
Expectations were high in Brampton that the premier might announce some much-needed relief for the local hospital. What was on offer, instead, was less than what was put forth by the previous Liberal government around this time last year, and did not address the key healthcare-related issues on the minds of Bramptonians.
Wednesday's move, called Ontario's Government for the People Taking Action to End Hallway Health Care, seeks to provide 1,100 hospital beds for the upcoming flu season and 6,000 new long-term care beds to ease hospital gridlock. The commitment to 6,000 new beds is the first wave of more than 15,000 Ford's government has pledged to provide over five years.
Neither Ford nor Elliot took questions from the media about the initiative, instead referring media to staff for follow-up.
According to the website Statista, as of 2015, Ontario was home to 463 hospitals. The 6,000 long-term care beds pledged works out to an average increase of 13 beds per hospital. The end goal of 15,000 beds would increase that average to roughly 32 beds per hospital.
There is no indication of how those beds will be allocated, but a member of Elliott's staff did say, vaguely, that high-demand systems like Brampton and Mississauga will get priority.
In addition, the plan commits a $90-million investment to supplement the 1,100 beds for flu season. The scheme would bring in an extra 640 temporary beds to the roughly 550 already in operation from a previous Liberal plan.
Health facilities that will benefit from that $90 million include Sinai Health Systems, North Bay Regional Health Centre, Thunder Bay Regional Health Sciences Centre, Pine Villa transitional home, Bayshore Home Health, Cooksville Care Centre and Humber River Hospital. But nothing for Brampton Civic Hospital.
A member of Elliott's staff suggested some of those 640 beds will remain in the system after the flu season ends, about 200 of them at the Humber River Hospital.
In October 2018, the Liberal government under Kathleen Wynne announced $100 million for 1,200 beds for the flu season.
Reporters in a scrum asked about why the government is actually reducing funding and beds this year compared with the last flu season. The health ministry representative had no answer.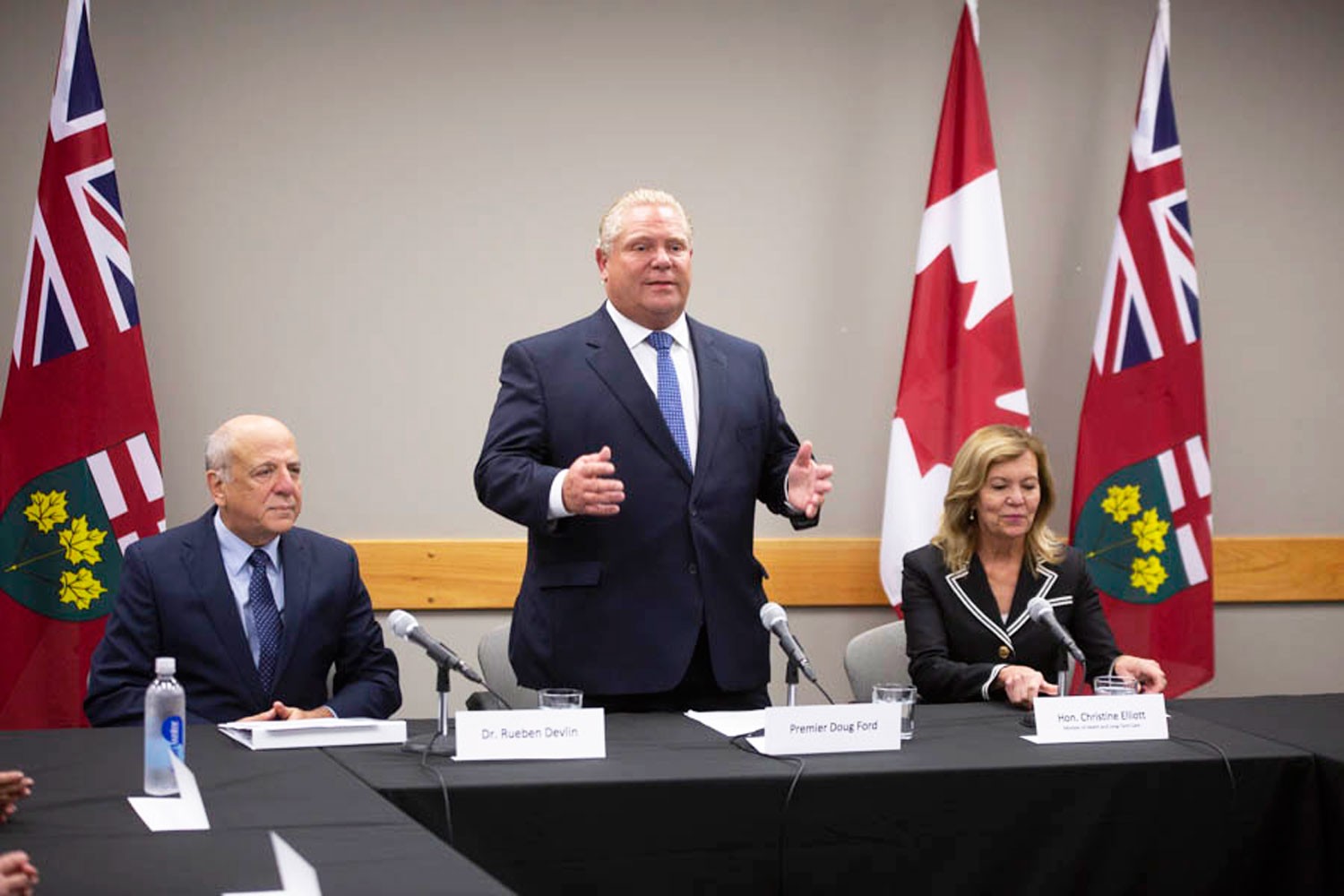 One glaring omission in the announcement was the fact there was no mention of any measures to relieve pressure on Brampton's health system, specifically. Not included in the list of institutions receiving the $90 million were any in Brampton, although a smaller Mississauga facility, Cooksville Care Centre, was included on the list. Nor was there any real commitment to easing Brampton's healthcare bottleneck.
A spokesperson for Elliott's office said a panel convened by Ford will address the needs of all municipalities, including Brampton, and "they're going to be bringing forward long-term recommendations for the (William Osler) health system."
The representative also mentioned that Humber River Hospital, one of seven facilities that will be receiving the $90 million, will "service the entire Greater Toronto Area, so that is not just for that particular LHIN. So patients in Mississauga and other parts of the Greater Toronto area will be able to access those facilities" during the flu season.
LHINs, or Local Health Integration Networks, are administrative networks responsible for overseeing regional delivery of healthcare services in Ontario.
In addition to the extra beds, Ford announced the creation of the Premier's Council on Improving Healthcare. The council will be chaired by Dr. Rueben Devlin, a former Progressive Conservative Party president and former CEO.
Devlin will be in charge of an 11-person panel made up of distinguished healthcare professionals such as hospital CEOs and other experts in the healthcare field, all of whom were present at the news conference.
Part of the panel's mandate is to get input from healthcare workers. "We know that the people who plan and work on the front lines of our healthcare system know the problems better than most. They live it every day," Elliott said. "This council is going to help put an end to 'hallway healthcare.'"
Ontario New Democratic Party leader Andrea Horwath has been a vocal critic of Ford's policies. When The Pointer reached out to her office to comment on the issue, her office emailed a June 5 press release in which she called the $100 million that Kathleen's Wynne's government allocated for the same function as "too little too late." Ford's allocation is $10 million less.
"Ontario's hospitals say they need a minimum of $300 million in additional ongoing funding just to keep the hallway medicine problem from getting even worse," Horwath said in the statement.
Last November, she commented on the 31 new beds the former Liberal government promised to Brampton Civic ahead of the provincial election, as Brampton's healthcare crisis was highlighted across Ontario. "But there were 4,352 patients forced to receive their treatment in a hallway, supply closet or other inappropriate space at Brampton Civic Hospital last year. Today's announcement is a small Band-Aid that fails to cover some very deep cuts," she said at the time.
Mayoral candidate Patrick Brown has been promising to push for changes in the city's health infrastructure throughout his campaign. In a debate hosted by Brampton Focus, he said, "we deserve more than accepting the worst healthcare in the province."
In an emailed statement to The Pointer, Brown did not offer any criticism of the new plan, instead saying, "Any investment into Ontario's healthcare system that helps address hallway medicine and lessen wait times is great, and I congratulate the Premier, Minister Elliott, and Dr. Devlin and the Council for taking action today. This is a step in the right direction. We still have work to do to address the serious underfunding of healthcare and hospitals in Brampton."
Jamie-Lee Ball is an advocate for patients in Brampton. She took up the mantle of speaking for patients when she experienced "hallway medicine" first-hand at Brampton Civic Hospital. When she was admitted with a potentially life-threatening internal bleed, in March 2017, she was left on a gurney in the hospital hallway for five days. She regards her recovery there as nothing short of a miracle.
Roughly two months after the incident, she said, "I'm speaking out and reliving my nightmare, because I am shocked and furious that the government is not doing more to stop this from happening."
Submit a correction about this story