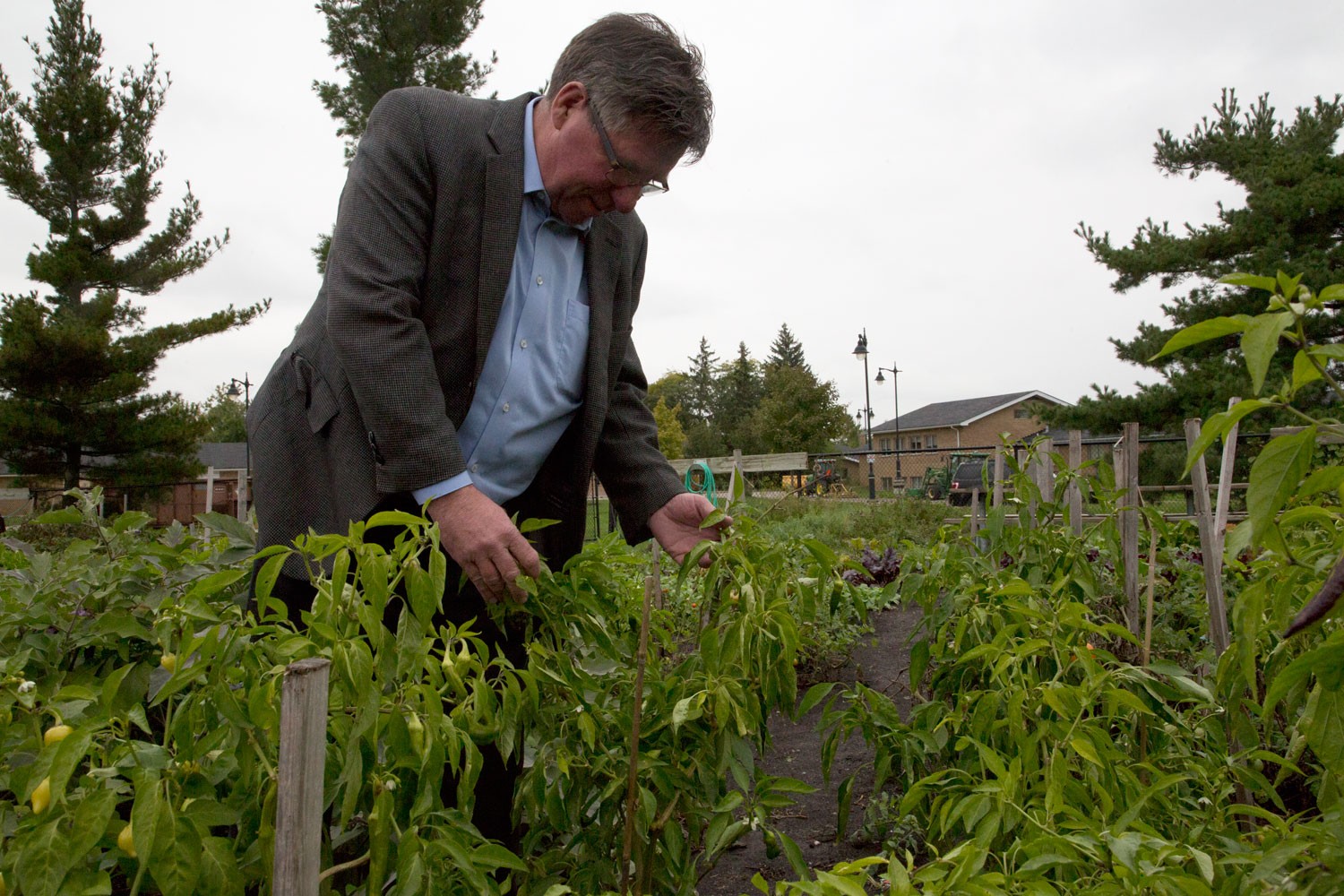 Photos by Mansoor Tanweer and Joel Wittnebel
The dirty, sweaty, political life of a municipal councillor as the job description evolves
He's a fixer. A man with a garage full of tools and a pickup truck that's ready for duty.
Whether he has specifically allowed it or not, there's pretty much an open-door policy at his home. He will sometimes find residents sitting at his kitchen table, even when he's just stepped out of the shower. Thankfully, he always covers up when coming out of the bathroom, he says with a laugh.
This is George Carlson. When asked to describe his job, he doesn't hesitate.
"Mostly, I fix shit," he says.
He's also a local councillor for Mississauga's Ward 11.
Doug Whillans is a local gardener. His green thumb has helped bloom community garden projects across the city; he even started his own small garden project atop Brampton City Hall.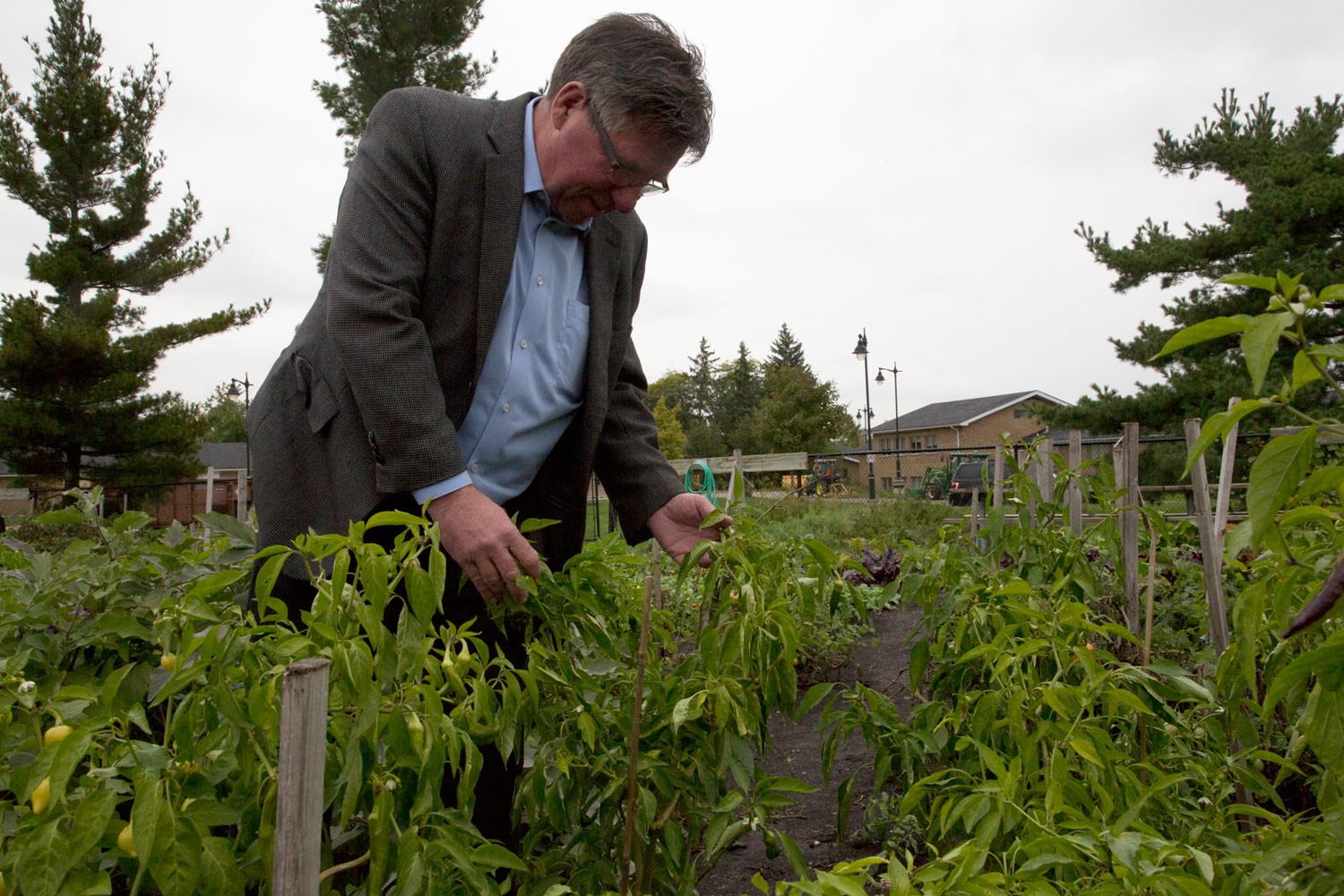 It's his way of connecting with the community. Turning dirt and planting seeds alongside his fellow Brampton residents helps slow down the crazy pace of life. It helps him to get to know the city, and more important, it lets the city get to know him.
He's also a local councillor for Brampton's Wards 2 and 6.
Amy McQuaid-England is an activist. In her home city of Oshawa, renters never seem to get their fair share.
The city's south end is a notorious hotbed for slum landlords, their buildings becoming home to more rodents and pests than human tenants, and slowly rotting away into piles of crumbling brick and yellowing cement, testament to the destructive power of greed and neglect.
McQuaid-England tries to help those suffering in the south end. Whether it's bringing needed information, helping to navigate the sometimes confusing web of municipal bylaws at city hall, or providing resources for childcare or healthcare, she's been there.
She's also a local councillor for the City of Oshawa.
All three individuals hold the same position. All three were elected in the same fashion. They sit down for the same types of meetings at city hall, and stand before residents in the same manner when voting on their behalf inside council chambers. However, all three of them view the job of representing the public and carrying it out very differently.
Amid a shifting municipal landscape, particularly in neighbouring Toronto, where council is about to shrink drastically—forcing major changes in the way councillors will serve their constituents—The Pointer takes a look at the role of city councillors facing a range of increasingly complex local issues, and what exactly it means to represent the public in this day and age.
—— By the Numbers ——
What it means to have "effective representation" is a topic that has appeared in Ontario media frequently in recent months.
With the decision of Premier Doug Ford to slice the number of councillors in the City of Toronto from 47 to 25, part of the debate centres on how well just 25 councillors, their wards now aligned with federal and provincial riding boundaries, can represent that number of people on the many day-to-day issues a municipality deals with. Based on Toronto's 2016 census numbers, each of the 25 councillors will be responsible for 117,000 residents, more or less, depending on the size of the ward.
Can one councillor effectively represent that many people? And by what criteria should that be determined?
Is effective representation all about retail politics, a more small-town idea of driving to a constituent's house when they complain about a broken water main or a massive pothole at the end of the driveway? Does that traditional view of what local government is all about, still apply for many?
Or, in the GTA — with staggering growth, massive demographic shifts, land-use issues, the desperate need for efficient transit and modernized policing — are all those smaller demands best left to staff so elected officials can effectively decide what's best for the future of these dynamic, complex municipalities?
According to the Municipal Act, the role of council as a whole is, put simply, to represent the public and to "consider the well-being and interest of the municipality," develop and evaluate policy and programs, determine municipal services, ensure proper and transparent policies are in place to guide the decisions of council, and finally, to maintain the "financial integrity" of the municipality.
With that in mind, one interpretation of effective representation is that each councillor must carry out these responsibilities on behalf of the population in their allotted ward.
In Brampton, with a council of 10, each councillor is responsible for roughly 60,000 residents (a city and regional councillor share responsibility for two combined wards). In Mississauga, that number jumps to almost 66,000 constituents per councillor.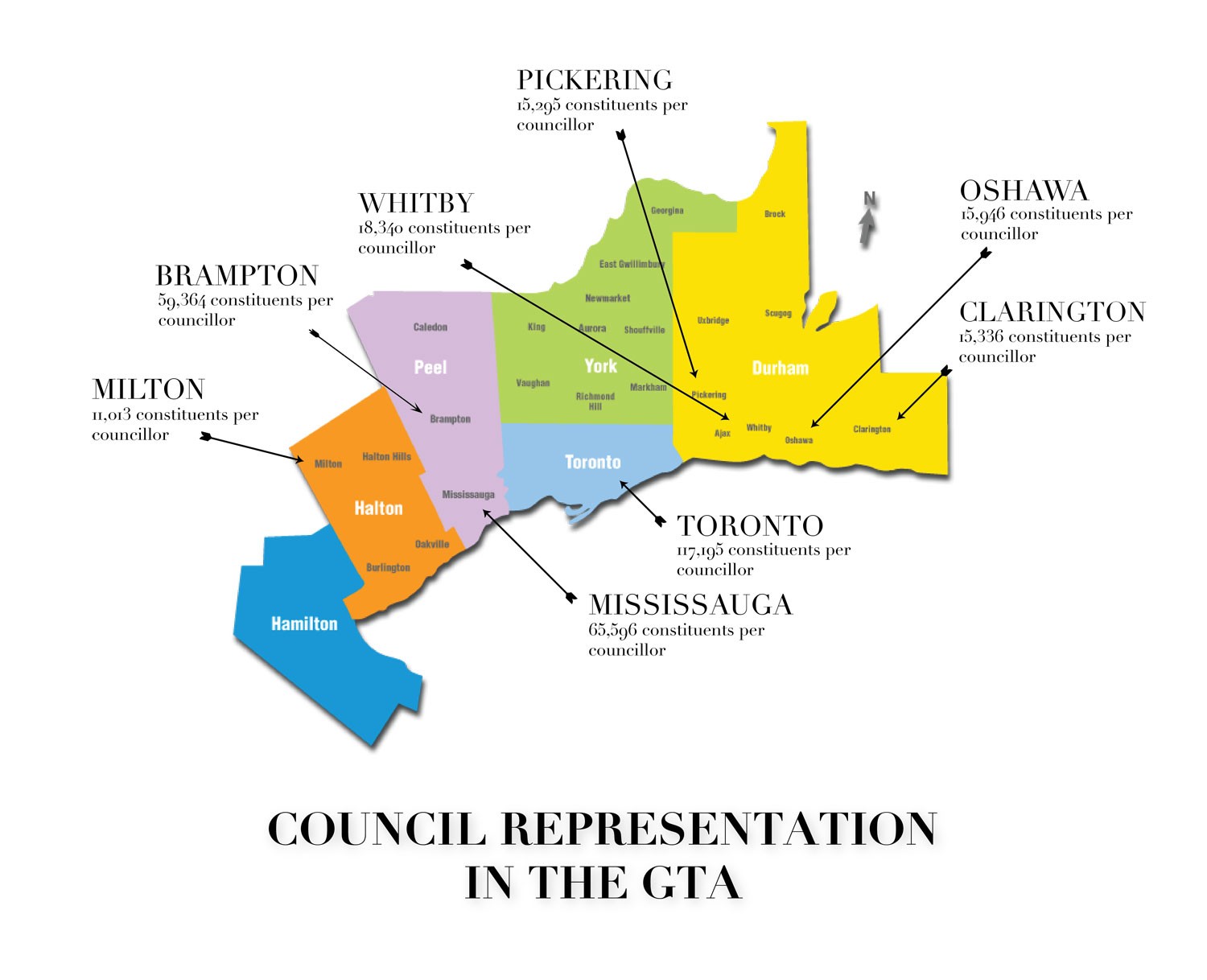 These numbers tower over those in nearby Durham Region, another fast-growing area in southern Ontario. In the region's largest municipality, Oshawa, with a total population of nearly 160,000 and a council of 10, the burden for each councillor amounts to just under 16,000 constituents. Similar numbers are seen across the region in Ajax, Pickering, Clarington and Whitby, where councillors are responsible for 15,0000 to 20,000 residents each.
For Robert Williams, an expert in municipal government who has assisted cities across southern Ontario in reviewing council composition and establishing new ward boundaries, one of the main goals is to ensure each member of the public is represented effectively. This involves taking into account a variety of factors, including population, existing neighbourhoods and a city's geography.
In Toronto's case, with the number of wards sliced in half, one councillor will be expected to represent more than 100,000 people. Can that be done effectively?
"In a word, no," Williams says.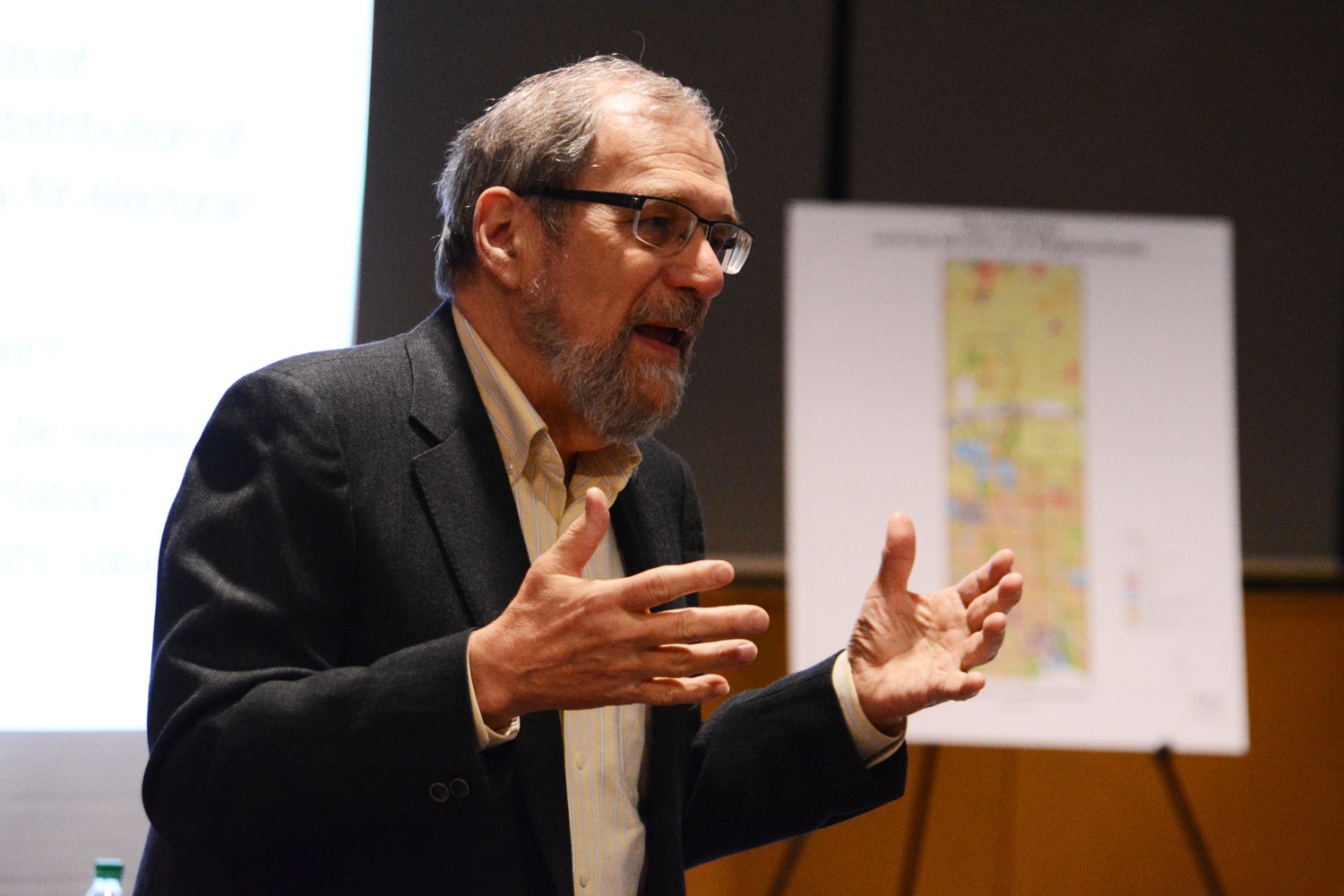 "For a municipal councillor, that is an unreasonable expectation… . A ward of that size is going to be enormously challenging and will not produce better local government."
While Toronto will soon stand far apart from its municipal neighbors in ward size, similar things might be said about them over the next 10 years, as the Greater Toronto Area continues to grow and cities like Brampton expand well beyond their current populations.
Prior to Ford's evisceration of the local Toronto political map, each councillor represented roughly the same number of constituents as their counterparts in Brampton and Mississauga. But Toronto councillors have more than twice the staff complement assigned to each member of council, compared to the average staff size of members in the GTA's next two largest cities.
Williams says the debate happening in Toronto right now, about whether one elected official can effectively handle the immediate needs of almost 120,000 constituents, is going to become far more common.
Ford's decision in Toronto and the failure of the court battle to stop it before the election sets a dangerous precedent for claiming that "smaller is better," Williams says.
"To say that it's smaller and therefore they're going to be more efficient — I'm sorry, efficiency is not what democracy is measured by. I would hope that there's pushback, because that, to me, is giving you the answer before you've asked the question."
—— The Personal Touch ——
Putting numbers aside, the role of a councillor can be understood more closely at the grassroots level, and by asking one question: What is a councillor's job description?
All members of staff who work with and around the sitting councillors will each have read, applied for, and been hired on the basis of a very detailed job description. But for councillors, that job description is nonexistent. Their qualities and qualifications for the position are all based on the opinions of a small percentage of voters who turn out for municipal elections.
For some councillors, appealing directly to those voters on the ground can have the greatest impact.
"It's not always just a number" that matters, Carlson says.
His heritage home in the northwest ward of Mississauga has become Carlson's command centre for dealing with an array of community issues and the individual problems that people come to him with on a daily basis.
Elected in 1985 as a school board trustee, before making the jump to council in 2000, Carlson has helped plant gardens at Mississauga senior centres, shovelled driveways, delivered electric heaters to homes whose gas was turned off, and trimmed bushes.
In one memorable incident, he shovelled a pile of dumped-out cigarette butts from the side of the road. He'd received a number of calls about the smelly mess and finally decided to take the problem into his own hands.
It's why his constituents continue to put their X beside his name, he says. "People seem to like it," he says of his work ethic. "They like to see you sweat."
Hopscotching across the GTA to Oshawa, Councillor McQuaid-England says much the same as Carlson. While she isn't running for re-election on Oct. 22, McQuaid-England spent much of her two terms in office on the street and interacting with citizens.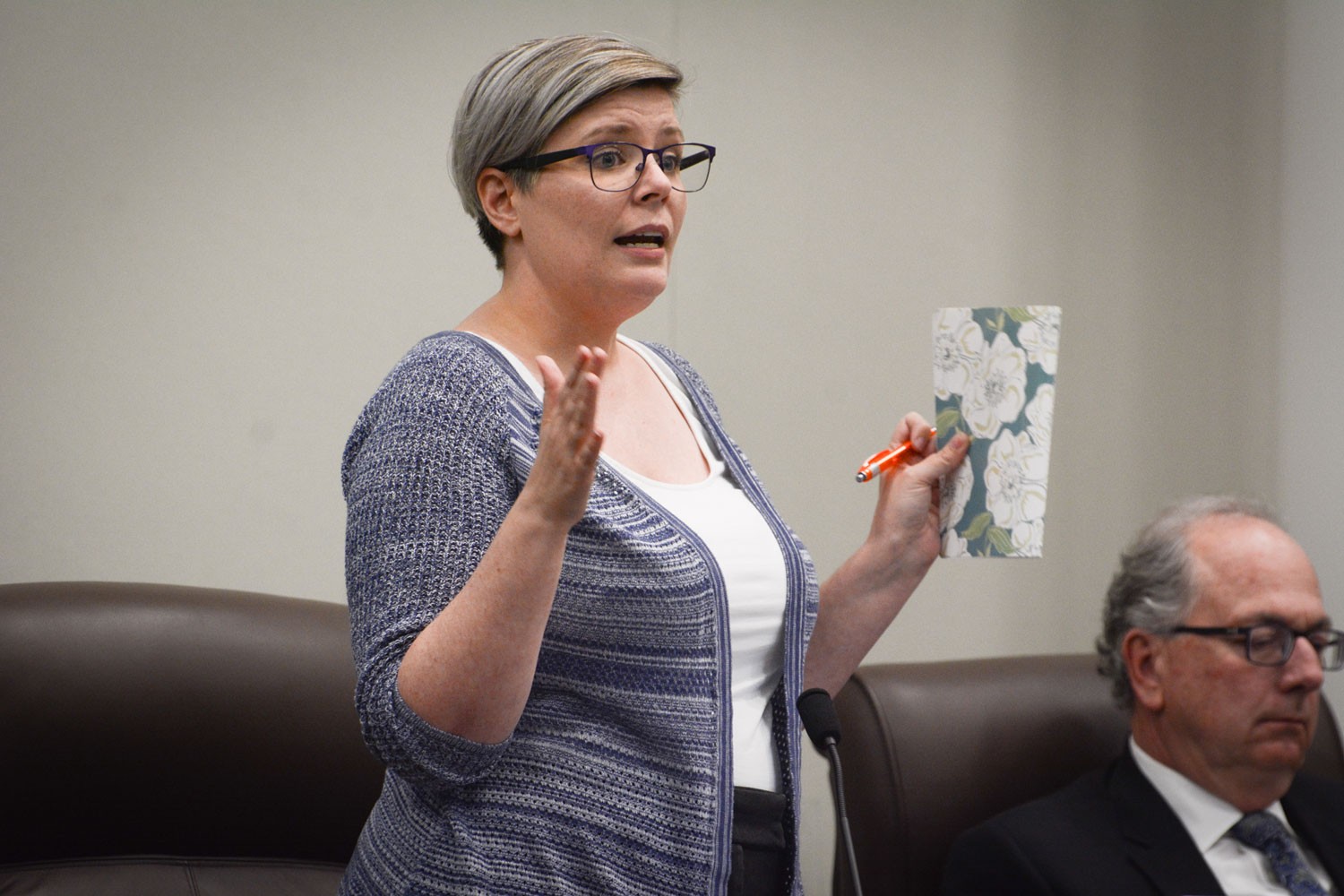 "Your boss is the public, and you always have to maintain that," she says. "Never forget they put you there."
In Brampton, Whillans says a councillor's job, plain and simple, is to deal with people. It's something he's been doing most of his life, working in sales. It's also the lesson he gleaned from his father, Ken Whillans, who served as mayor of Brampton between 1982 and 1990.
"That role came easy," he says. "I've always been a people person."
Often, the issues are fairly simple to deal with, Whillans says, whether it's settling disputes between neighbours or making sure sidewalks are cleared during the winter months. It's got to the point where Whillans sees councillors as almost an expedited 311 service.
"You definitely have to be a jack of all trades," he says.
For the most part, those calls are welcomed. Each of the municipal councillors spoken to by The Pointer for this story relished communicating with the public. As Carlson puts it, "You've gotta love working for people."
And for the most part, they felt able to accommodate the workload placed on them over the last term. But things are starting to reach a tipping point.
"If you're not tired at the end of the day, doing this job, you're not doing it right," Carlson says.
Work ethic aside, that's becoming the norm for many councillors, who say they're working themselves ragged to meet the growing needs of their constituents (and the growing number of constituents), who commonly expect an immediate resolution to their issues.
In the age of social media, where your city councillor is only a quick tweet or direct message away, many people expect equally immediate results.
"The demand is more," Carlson says. "The expectation of pretty much immediate answer and/or immediate action, it outstrips the infrastructure at city hall; (it) was not built for that level of work."
However, Whillans knows that for the public, it's the street-level issues — having clear sidewalks, clean parks and smooth streets — that people expect from their city above everything else. When those things aren't being delivered, they come to their councillors up in arms.
But constituents who approach councillors in Brampton may have different issues than residents in Mississauga or Oshawa or Milton or Toronto. It's the nuanced nature of municipalities and local expectations that makes judging "effective representation" at a high level so difficult.
There are no cookie-cutter criteria, says Williams, the municipal governance expert. "It's a matter of local calculus."
Taking a step back, here are a couple of lessons to be gleaned. Looking at the numbers, councillors across the GTA are representing more and more constituents every year. In Brampton, that number is nearly 60,000 people per councillor. It may be unrealistic to expect these councillors to be able to put their best foot forward on major, high-level issues while representing the day-to-day needs of that many people, in the expectation that all of their issues will be resolved quickly. Especially when the reality is that dealing with individual, grassroots complaints and concerns is only one portion of a councillor's job.
The workload can already be strenuous, depending on how seriously a councillor takes the hands-on role, and even more so for those who also represent their city at the regional level. But what happens when you add in all the complex responsibilities that are carried out inside the walls of city hall?
—— Policy and the Future ——
Stepping into the atrium of Brampton City Hall as a councillor for the first time, Whillans knew there were parts of his new gig that would require playing a bit of catch-up.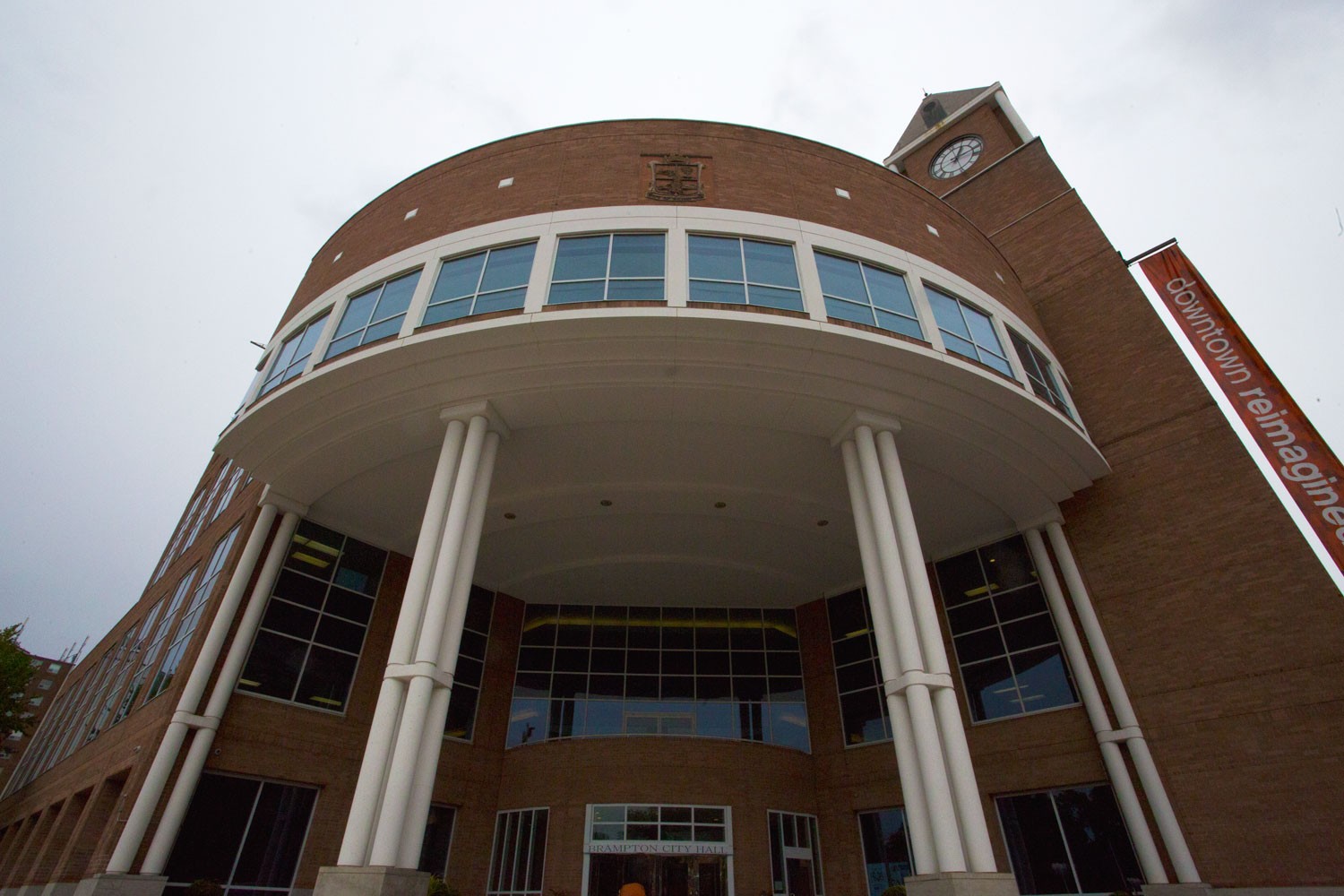 There were planning reports, budget documents, high-quality vision plans for Brampton's future, and decisions to be made on everything from playground equipment and attracting multinational employers to new transit infrastructure. The policy side was a lot to take in, he says.
"It's not just a matter of putting your hand up and saying, 'That looks great,'" he says. "You had to get right down into it and read your reports and read your agenda and understand how staff got there."
Anyone who is not an expert in the fields of finance, municipal planning or city infrastructure would have a hard time understanding technical documents in any of these areas, let alone all of them. Yet in Brampton, councillors must be knowledgeable about each and be prepared to make decisions when it comes to these items inside the city's $678-million operating budget.
"That takes work; that takes concentration," Williams says, adding that with the growing workload, time for deep thinking can sometimes evaporate when the public keeps knocking at the door.
"The idea that you can be informed thoughtfully and make a real contribution is really stretching it," he says.
While councillors are able to rely on staff for the majority of the groundwork, when it comes to the final decision, it's up to council, and it will fall on their shoulders if the public begins asking questions about why things were done a certain way.
Residents who don't experience a pressing need that would put them in direct contact with a councillor, but look to them for leadership on major, big-picture issues such as rising violent crime in the city, a hot-button topic in Brampton right now, might have limited knowledge about how municipal government works. So one misstep by council can be disastrous to the public's perception.
Over the last term of Brampton council, with an unbridgeable divide between two blocs of council members limiting the legislative agenda after the LRT debate devolved into an open war between not only the two sides of council, but also many of the people they represent, public approval plummeted.
According to a Forum Research poll commissioned by The Pointer, only 20 percent of the 999 eligible voters surveyed in late August said they approved of the job council did as a whole over the last term.
It's an alarmingly low figure.
Councillors, while effectively taking on the role of a 311 dispatcher, are also supposed to be thinking long-term, about how to keep the municipality on track for years ahead, beyond the current term. It can be hard to do, especially when your job depends on whether you can show tangible successes over a four-year period and not 15 years down the line.
On an issue such as public safety, councillors who establish the police budget, a huge responsibility with immediate consequences for the very fabric of their society — keeping streets safe, children protected, while ensuring the city's reputation doesn't scare families and investors away — often walk into the job with almost no knowledge about the complexities that surround modern day policing. How would someone from a construction background, such as Brampton City Councillor Pat Fortini, who is seeking election as a regional councillor and if successful would have to vote on the massive Peel Police budget, even know what to look for when deciding how to spend hundreds of millions of dollars provided by taxpayers to keep the public safe?
Nevertheless, Whillans says planning for the future can not be overlooked.
"You have to have something to look forward to; you have to have something to work towards," he says.
"I'm not only making decisions based on today," adds Oshawa's McQuaid-England. "I'm making decisions based on the people that haven't had kids yet …You have to be thinking about the long game."
It's another aspect of a councillor's job that requires considerable time and energy, and one that will only become more pressing as cities in the GTA continue to grow.
—— The Answer? ——
Unfortunately, the question of "effective representation" is one that has been struggled with for years, one experts will continue to debate. But one thing is clear: the workload of municipal councillors continues to grow, and with more and more people trying to get the ear of their elected representative, finding solutions to issues may become more difficult and time-consuming in the years ahead.
Carlson's office handled about 3,000 calls and emails from constituents in just the past month. He knows that if he's not in the office by 9 a.m., he may get so bogged down on his home phone or with people stopping by his house that he never gets a chance to head there.
Whillans says he's taken to referring constituents directly to his staff members, instead of the city's 311 call service, to ensure they get a quick resolution to any issues.
One solution for growing cities has always been to add more councillors. However, with Premier Ford's decision in Toronto, it seems the thinking may now be shifting in the opposite direction.
What does that mean for municipal politics and effective representation? Well, that depends on whom you ask, and where, because every municipality is different, and so are the roles of councillors within them.
As Carlson puts it, summing up the job, "It's so abnormally normal."
Submit a correction about this story