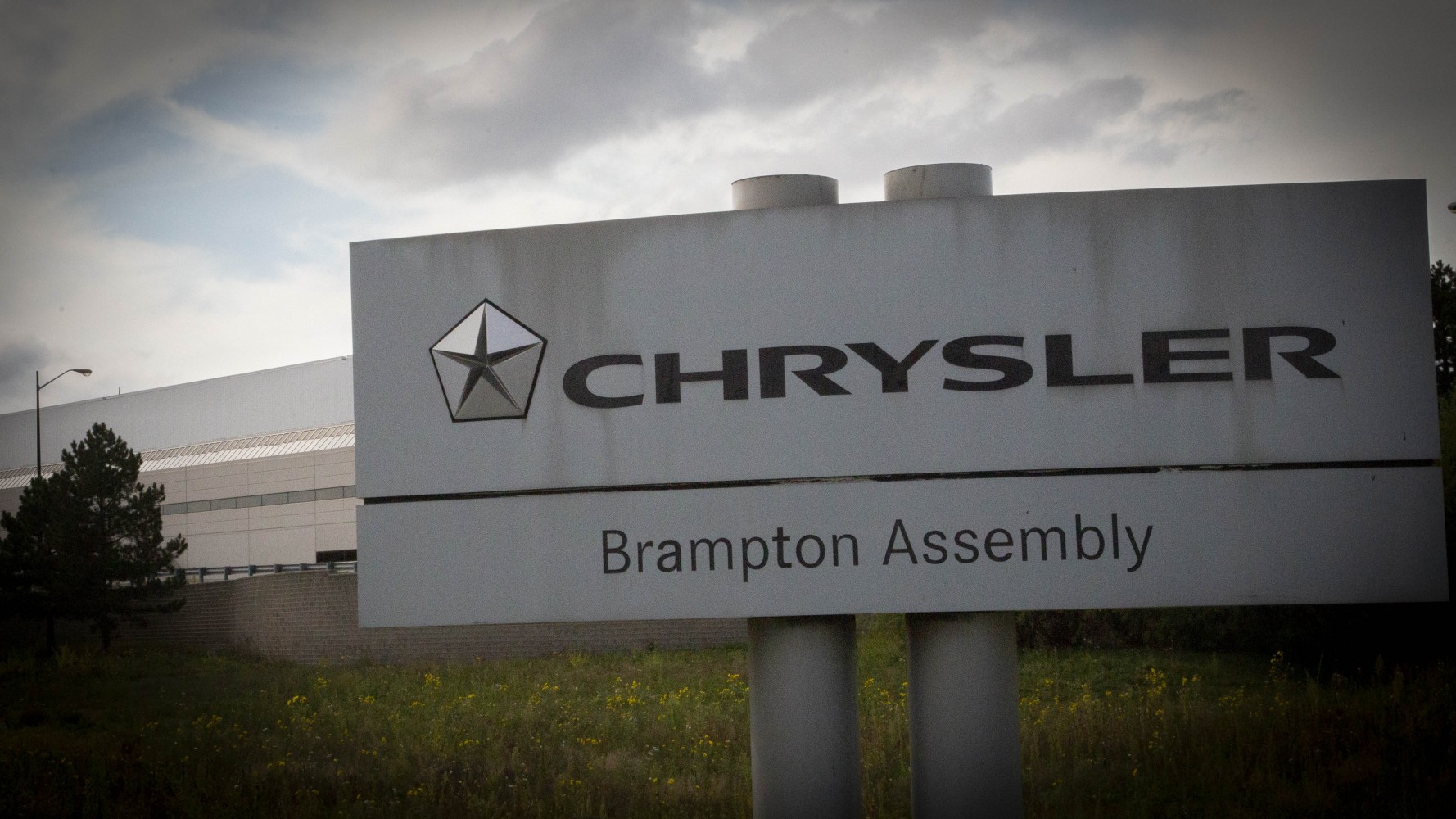 Photos by Mansoor Tanweer
The 'Trump Effect' on the NAFTA negotiations has spilled into the Brampton business community
It's clear any disruption of the massive $1.2 trillion NAFTA infrastructure network will have an enormous ripple effect across the entire North American business community. Brampton is certainly no exception, with a manufacturing sector that employs more of the city's workers than any other industry category.
The shaky future of the North American Free Trade Agreement is already impacting Brampton's business community as dozens of steel and aluminum firms, auto parts producers, metal fabricators and other businesses potentially impacted by tariffs like Fiat Chrysler, are hanging on every tweet from the Trump cellphone.
"Our members are concerned about this and other threats made by Trump, and we cannot take these kinds of matters lightly," says Jaspal Brar, president of Unifor Local 1285, which represents about 3,400 Fiat Chrysler autoworkers in Brampton (the plant employs almost 4,000 people in total). "We are keeping a close watch on the NAFTA talks and will see how the situation unfolds."
"If we don't resolve these issues, the impact [on our workers] will be great." Jaspal Brar, Brampton autoworker
---
As of the 2016 census, which tracks the industries Brampton residents are employed in, manufacturing, transportation, industrial operations and trades accounted for almost 30 percent of the work done by the city's residents (this does not necessarily mean that all such employment is in Brampton). Overall, 91,205 of the city's 310,435 workers were employed in these fields.
The Brampton Board of Trade offers up these numbers:
• Over 400 Brampton companies export to the U.S.
• The U.S. is the most important market for them. On average, U.S. sales represent 34 percent of total sales.
• 23,433 people are employed in companies that export to the U.S.
• The annual payroll totals more than $1 billion.
The data drives home the reality that the ongoing trade negotiations between Canada, America and Mexico, with daily updates about the latest salvos being fired across borders, have huge significance for tens of thousands of Brampton workers.
---
If the NAFTA really is the worst trade deal ever, as Trump claims, what will the next one look like?
If it includes an 'America First' thumbprint, then tariffs on many products, including cars built in Canada, could be next. The $50 billion auto business in Ontario is at stake, and vulnerable to new ground rules.
There's a high level of anxiety in car manufacturing cities like Windsor, Brampton and Oshawa, say those who represent workers.
The Fiat Chrysler plant on Williams Parkway barely withstood the economic meltdown in 2008. The U.S. government bailouts were assisted by taxpayer funds from the Canadian and Ontario governments, which contributed $13.7-billion (Canadian) to financing that helped the two auto makers go through a quick Chapter 11 bankruptcy protection in the United States, according to the Globe and Mail. The Canadian contributions saved tens of thousands of jobs in Ontario, including assembly plant jobs at Chrysler plants in Windsor and Brampton, and GM operations in Oshawa and Ingersoll.
The Fiat Chrysler assembly plant here was given a new lease on life in 2016 when the automaker committed to redoing its paint shop for C$325 million. In those talks, FCA agreed to invest in the plant over the life of a new four-year labour deal. Unifor President Jerry Dias characterized the move in Automotive News as life-saving for the plant, which was in dire need of a new paint shop.
But now, once again, after overcoming those painstaking recession-years, nerves are fraying.
"We've been doing well," says Brar, 61, who works on the line making doors. A former resident of the United Kingdom who once worked for Rolls Royce and trained under the General Workers Union, he says, now, there is a lot of "worry", among workers as they keenly follow the daily NAFTA news.
---
Dan Ujczo, an Ohio-based trade and customs lawyer who specializes in trade issues between Canada and the U.S., travelling to and from Canada each week to represent cross-border business interests, says the steel and aluminum tariffs show a global trade war is already underway. He told BNN Bloomberg recently that this has been the summer of disruption for Canada and the U.S., and predicts there will be no movement on the NAFTA until later this year.
Maybe Canada's Minister of Foreign Affairs, Chrystia Freeland, and U.S. trade representative, Robert Lighthizer can eventually find common ground in high-stakes talks on a new North American Free Trade Agreement?
Maybe a temporary agreement reached between the U.S. and Mexico will line up with a Canada-U.S. one, and a final trilateral deal will ease the anxiety being felt in business circles as the 24-year-old NAFTA deal might reappear in a different guise?
Maybe the bellicose rhetoric delivered by Donald Trump threatening a tariff on autos built here (a policy that will lead to the "ruination" of the Canadian economy, he said), is not official U.S. policy, but delivered to merely charge up his nativist base?
Maybe the nearly 4,000 employees working at the giant Fiat Chrysler plant on Williams Parkway have little reason to worry about their future job prospects?
Or maybe the Canada–U.S. negotiations are already poisoned by too many maybes?
Businesses abhor them. They don't help when formulating short and long-term business plans. Companies need to prioritize, set budgets, hire staff, form partnerships, increase production, firm up supply chains, and keep the flow of goods moving in a trusting relationship with their trading partners.
---
Todd Letts, CEO of the Brampton Board of Trade, represents a robust exporting community that includes metal fabricators and those in steel manufacturing and aluminum extrusion.
In 2016, Canada's trade relationship with the U.S. was worth $544 billion in total (two way) goods traded. Exports to the U.S. from Canada were valued at $278 billion. (Statistics Can does not track exports at the sub-provincial level.)
Letts says the annual value of exports to the U.S. from Brampton firms is a staggering $6.5 billion. (Statistics Canada does not track Imports or exports at the sub-provincial level.)
The NAFTA might be an international trade agreement, but its direct impact is local, and Brampton is bracing for any possibility.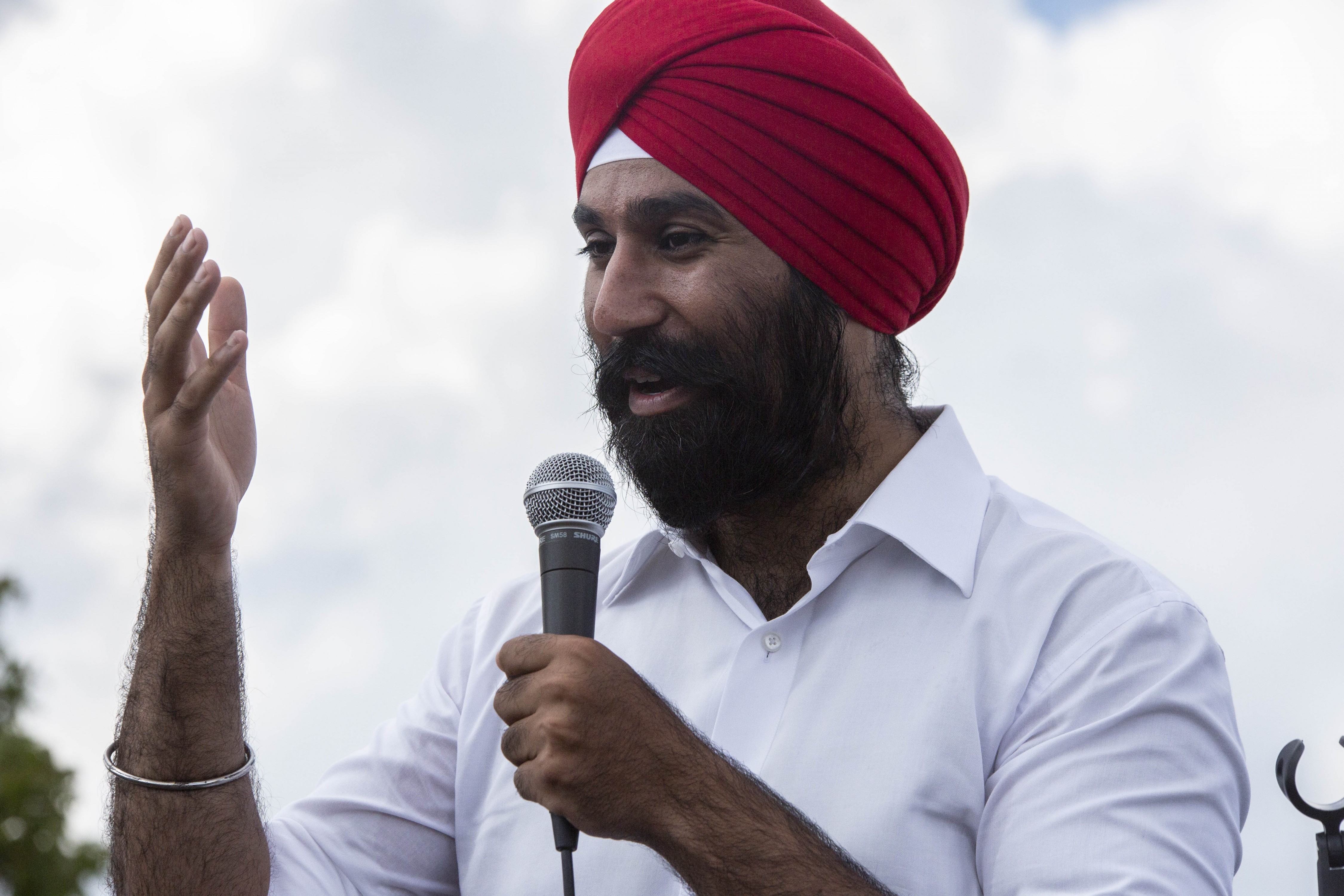 Brampton East MP Raj Grewal
So what are local MPs doing to represent the area's huge trade sector while future agreements that will directly impact thousands of their constituents are negotiated?
"I'm so proud of the job being done by Chrystia Freeland," Brampton East MP Raj Grewal said, during a community event last week. "Our party is right behind her. We won't capitulate on this issue. If we can't get a good deal, we won't do one."
Navdeep Bains, the MP from Mississauga-Malton, and Canada's Minister of Innovation, Science and Economic Development, agreed. "We are still at the table and the autos question is a big deal. We're going to take a Team Canada approach to the negotiations."
"We have their backs." Navdeep Bains, Minister of Innovation, Science and Economic Development, reffering to workers at Brampton's Fiat Chrysler plant
---
The Trudeau government had supported softwood lumber, Bombardier, and other industries in the past. As for the economic disruption that might be caused by the imposition of tariffs, Bains says of the Fiat Chrysler workers: "We have their backs."
Bains got his MBA at the University of Windsor and travelled numerous times across the Ambassador Bridge from Windsor to Detroit. He said if auto tariffs are imposed: "it will cost customers about $7,000 more for their cars."
So far, Freeland hasn't backed down to American bullying.
The Canadian government imposed dollar-for-dollar tariff "countermeasures" on up to $16.6 billion worth of U.S. imports in response to the American decision to make good on its threat of similar tariffs against Canadian-made steel and aluminum. Freeland told Canadian Press this summer: "This is the strongest trade action Canada has taken in the post-war era. This is a very strong response, it is a proportionate response, it is perfectly reciprocal. This is a very strong Canadian action in response to a very bad U.S. decision."
---
The BBOT has held roundtables for sectors in the city impacted by the trade war, and risks related to uncertainty – fueled largely by Trump. In his speech delivered at a rally in North Dakota recently, he incited worry by again claiming, "NAFTA has been the worst trade deal ever."
BBOT hosted a meeting in Montreal earlier this year through its involvement in the Canadian Global Cities Council. It is comprised of Chamber CEOs from Canada's eight largest markets who invited counterparts from the eight-largest U.S. and Mexican markets. The group signed a declaration encouraging its respective governments to move forward with a trade agreement.
The Ontario Chamber has reached out to state chambers in the U.S. and has facilitated a number of memorandums of understanding and joint advocacy on the importance of NAFTA. Sub-national and local business involvement is key, according to the chambers, many of which have pointed out that high-level trade talks at the federal level too often unfold without a direct, human understanding of impacts to communities and workers at the local level.
The NAFTA negotiations are sensitive, and so too must be the response from all outside parties until a deal is done. That's the message delivered by Mississauga-based Bill Kitay, executive director of AmCham Canada, a not-for-profit, membership-driven organization that is the American Chamber of Commerce in Canada. He's a cross-border legal specialist who is a member of the bar in both Canada and the U.S., and senior counsel at Pallett Valo, located in Mississauga and representing companies right across Peel Region, many that do business across the border.
He told The Pointer last week that, despite the international headlines, behind the scenes groups like his and others that operate more directly at the local, provincial and state level, are actively trying to make sure business between the two countries continues.
"The people in the consulates (in Canada and the United States) have been wonderful," he said, referring to visa applications for workers who travel across the border, suggesting there has been no disruption he's aware of in terms of the free flow of labour.
He said his group's recent meeting in Ottawa with U.S. Ambassador to Canada Kelly Craft also went smoothly, with no significant disagreements.
But he's most optimistic about the work that continues at the sub-national level, pointing out that his group has been involved with a number of recent delegations by state officials from New York, Wisconsin and many others who have been stepping up efforts in Canada to make sure companies here continue to do business with their states.
---
Unifor believes the local response to the NAFTA situation can feed the national and international dialogue, and Local 1285 is putting its faith in Jerry Dias, Unifor's national president.
"We believe there are competent people from both sides involved with the NAFTA talks and should be allowed to work out a fair and equitable agreement without any interference or threats from Trump," Unifor stated. "Our National union is more involved with these talks only because they also represent members from GM and Ford, too."
Another Brampton company impacted by trade negotiations is Maple Lodge Farms. It's supportive of Freeland's work in protecting Canada's supply-management system for dairy and poultry, which Trump has aggressively attacked, particularly during public events in the dairy-producing state of Wisconsin, which the President claims is being unfairly hurt by unfair trade advantages for Canadian dairy producers due to the NAFTA's protection of supply-management. Canada doesn't have free trade in these areas, and regulates their imports and prices.
In Ontario, over 3,800 food and beverage business companies are concerned with their current and future business prospects, said Michael Burrows, CEO of Maple Lodge. Food and beverage is a $40 billion industry in Ontario.
---
The BBOT encourages exporters to engage with the community, and that means taking part in The Trade Accelerator Program (TAP). Brampton is the first Ontario city outside of Toronto to provide a program focussed on exporters who want to develop an entry plan into other markets. A new program begins October 31st.
It leverages expertise and resources from program partners and sponsors like Export Development Canada (EDC), Global Affairs Canada (Trade Commissioner Services), and the Ontario Ministry of International Trade (OMIT), among others. About 250 participants have graduated from the program over the past two and half years, and Letts says the graduates increase sales and exports by at least 16 percent by helping open up to new markets.
It's believed that in its negotiation strategy, Freeland and her team are holding hard to a freer movement of professionals between the two countries, a continued protection on cultural exceptions (publishing and broadcasting), and the continuance of Chapter 19, which allows Canada to bypass the American judicial review process when the U.S. government imposes antidumping and/or countervailing duties on Canadian products imported into the United States – as with softwood lumber.
"Our products are in demand." Brampton Board of Trade CEO Todd Letts on the city's biggest strength
---
On these and other strategies, Letts believes it's best to let federal bodies and their staff handle the major policy directives, regarding trade.
"For a number of years now, we have been active in encouraging respective governments to reach an agreement," says Letts. "Because these organizations are the most representative, resourced and knowledgeable on trade policy, they are also the most trusted."
Letts says the U.S. Chamber of Commerce is the most relevant group on the NAFTA. It is a lobbying powerhouse, and very vocal on the need for the NAFTA. "It's critical for the national organization, the Canadian Chamber of Commerce, and regional counterparts in the U.S. to work closely with the American Chamber."
Re-negotiating agreements is tricky, and there's always the risk that trade with the U.S. will get more expensive and/or more complicated. However, Letts thinks there is very little risk that specific products made in Brampton won't have access. "Our products are in demand," he boasts.
The biggest risk for businesses is uncertainty. It's difficult to decipher a Trump tweet or an off-script bombshell dropped on supporters in a highly charged atmosphere.
But Brampton companies shouldn't only focus south of the border, Letts says.
The BBOT encourages Ottawa to invest in the foreign trade commission service and in technology for trade-enabling infrastructure at our borders and airports. It also processes certificates of origin and other critical export documents. Each month more than 200 export documents are authorized for Brampton businesses, and that allows products to be shipped around the world. The Board has established business facilitation agreements with chambers and trade councils in Turkey, Pakistan and India.
Politicians and administrations come and go. The 'Trump Effect' might dissipate over time. The Robert Mueller probe has still not issued a report. There's a mid-term election slated for this November. The NAFTA negotiations may change if Trump's power in the house and senate is weakened.
One thing businesses in Brampton find it difficult to prepare for is another round of Trump tweets, and the possibility they might signal a dire outcome on the trade front. "He's so unpredictable," Brar says. "You never know what he'll say. There's a lot of anxiety. If we don't resolve these issues, the impact [on our workers] will be great."
Submit a correction about this story