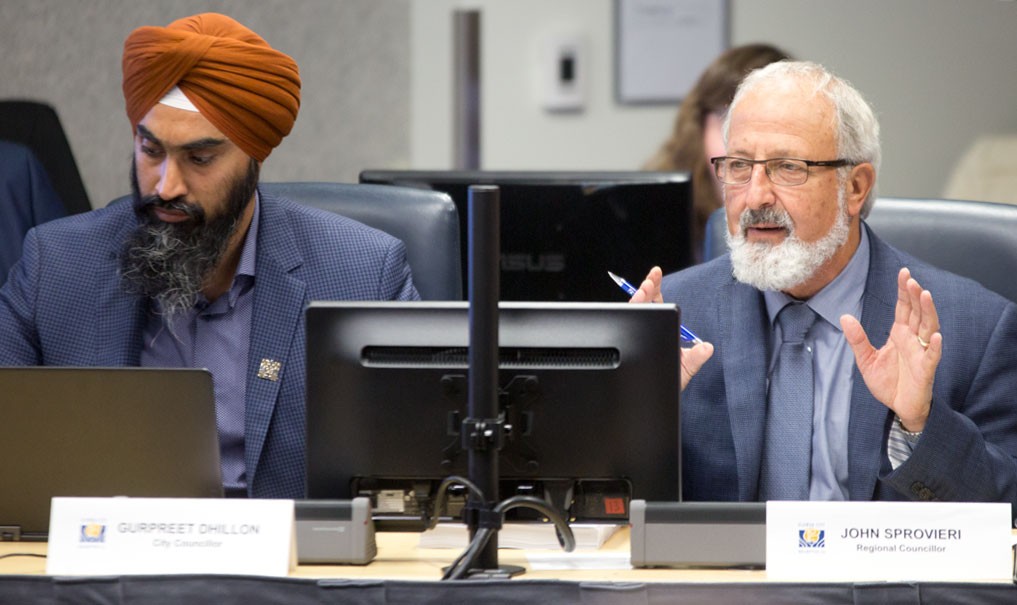 Photos by Mansoor Tanweer
Brampton council puts city business on hold to campaign for re-election
With Brampton's population growing at a staggering rate and a host of municipal issues begging for action, following a long summer break city council has no new business on its calendar.
Council and meetings of the committee of council – an advisory body that sends recommendations to city council for approval – were originally scheduled to meet this week and the next. However, all such meetings have been cancelled prior to the Oct. 22 municipal election, according to the city hall website. That means issues will be neglected for a longer period of time than intended when the 2018 calendar was approved.
"The late September meetings were cancelled to allow councillors to focus on the closeout of the term, and their campaign activities, should they be running in the election," according to Brian Stittle, senior media coordinator for the City of Brampton. "All necessary council business was dealt with at the meetings that occurred in the first two weeks of the month." A review of those two meeting agendas shows that many pressing issues were not dealt with, such as: a comprehensive crime reduction strategy, an update on a possible LRT route, council's role in providing housing for post-secondary students and what to do about the dire shortage of affordable housing in the city (all issues that incumbents, and their opponents, have been addressing in the election campaign.)
"I know it is an election year, but we need to grind forward with the business of the city." Regional Councillor Elaine Moore
---
Brampton Wards 1 and 5 Regional Councillor Elaine Moore believes the city missed out on some valuable time to get a lot done in order to tackle the population boom and the social ills that come with it. "I know it is an election year, but we need to grind forward with the business of the city," Moore said.
Moore, who chairs the Planning and Infrastructure Services committee, said she would have liked to have used the time to give some new businesses her attention during public meetings. "I have a particular interest in investments in our city and making sure their applications are moved through in a speedy manner."Three of the 10 incumbent councillors are not running for re-election, and a fourth, John Sprovieri, is running for mayor but not for his old council seat. The next council could look substantially different from the current one, especially if incumbent mayor Linda Jeffrey fails to hold onto her job in the election.
Some neighbouring municipalities, such as Mississauga and Toronto, are opting not to hold city council meetings during the campaign period but do allow some committees to carry on as usual. Others, such as Oakville and Milton, are still holding a few scheduled council meetings.
Another dimension is the number of weeks in which Brampton City Council does not gather at all for its two main regularly scheduled public meetings, when the bulk of decision-making happens. In 2018, council will not meet at all for about 20 out of the 52 weeks of the year – neither as full council nor as a committee-of-council – according to the 2018 meeting calendar. For Brampton residents, the absence of meetings will mean that no decision-making to move city business forward was conducted, other than minor committee meetings, for almost half of the weeks of the year.
In past election years, Brampton council has held one or two meetings during the campaign and also reserved the right to call special meetings on urgent matters.
There are arguably a number of urgent matters requiring attention in Brampton, including anxiety around crime in the city, "hallway medicine" at Brampton Civic Hospital, and the city's dire shortage of affordable housing, all of them in need of debate and action.
In an emailed statement to The Pointer, incumbent mayor Linda Jeffrey's campaign manager, Hasneet Punia, said the meeting schedule "was adjusted in consultation with CAO (Chief Administrative Officer Harry Schlange) and Council back in July, so as to allow candidates to fully participate in the election process and to avoid giving any advantage to incumbents who could use the Council meeting to advance their campaigns." It's not clear when that decision was publicly communicated.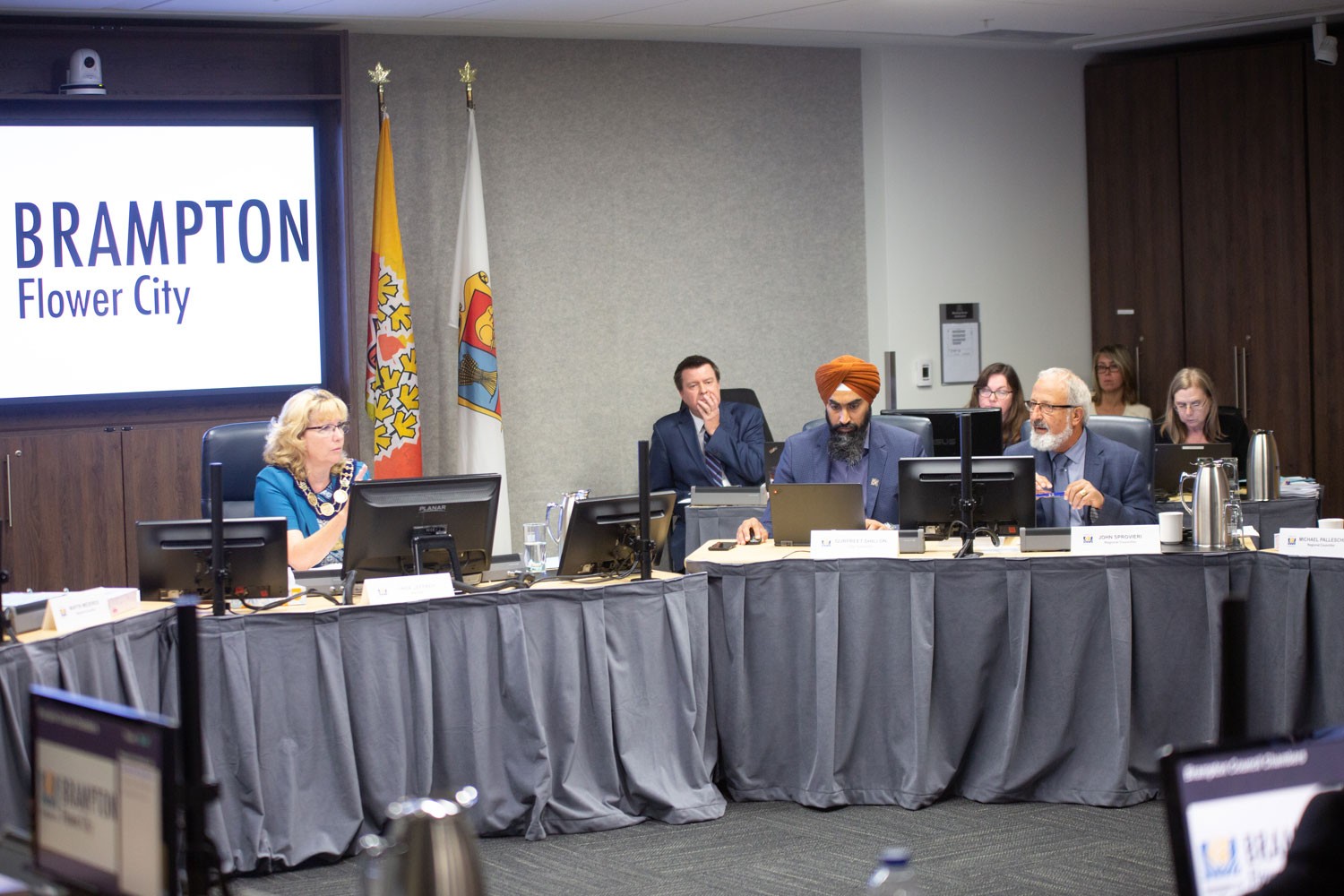 Punia said in the statement that pressing issues in Brampton "are now available to be discussed in open, at all-candidates meetings and at the door. This is a more inclusive approach than limiting to one or two council meetings. Residents now have an opportunity to personally engage candidates on the issues that are important to them without having to trek down to City Hall on a limited schedule."
One such opportunity will come Thursday evening, with a mayoral candidates debate hosted by The Pointer in partnership with Sheridan College. The debate, open to the public, begins at 7 p.m. at the Student Centre building at Sheridan's Davis Campus in Brampton, 7899 McLaughlin Rd. All seven candidates have confirmed they will take part in the debate, which will cover a wide range of topics.
While candidates are able to discuss pressing issues during debates and at the doors of residents while campaigning, no action can be taken to actually tackle the city's needs. Council debate on contentious issues, and the moving of motions and resolutions to enact bylaws or directives, generally happens at the committee of council meeting or the full council meeting. These are usually held every Wednesday, with the committee meeting one week and full council the next. All binding decisions have to be ratified during the full council meeting. It's unclear why council members felt they could not manage campaign demands without cancelling the public meetings.
Among the issues city council will need to deal with in the coming year is a fledgling initiative to bring a first university campus to the city. With a population of roughly 600,000, Brampton does not have the robustly developed institutions of higher learning that have long been enjoyed by smaller cities. Hamilton, for example, with a population of about 551,000, has six post-secondary institutions, including McMaster University.
Guelph and Waterloo, also much smaller than Brampton, have long-established universities that are doing cutting-edge work, for example developing self-driving cars at the University of Waterloo's Centre for Automotive Research.
Higher-order public transit is also a major issue. One unanswered question that could have been debated in a council meeting is the route a hoped-for light rail transit corridor would take, following council's rejection in 2015 of a plan that was approved by the provincial government and would have been fully funded by it.
Over the past weekend, Liberal Party members held a barbecue in Chinguacousy Park, with guests that included all five of Brampton's federal MPs and Prime Minister Justin Trudeau. The PM took no questions and made no promises for help to Brampton, nor did any of the MPs provide substantive suggestions for how they plan to help their ridings on the big issues facing Brampton. With the federal level effectively mum on city issues, residents are looking to municipal leaders for solutions.
The Thursday before that, Jeffrey's motion to send her Community Safety and Well-Being report to the Minister of Community Safety and Correctional Services, Michael Tibollo, passed unanimously in Region of Peel council. Further discussion of how to deal with rising crime that rattled the city over the long summer months will now have to wait until after the election.
Submit a correction about this story