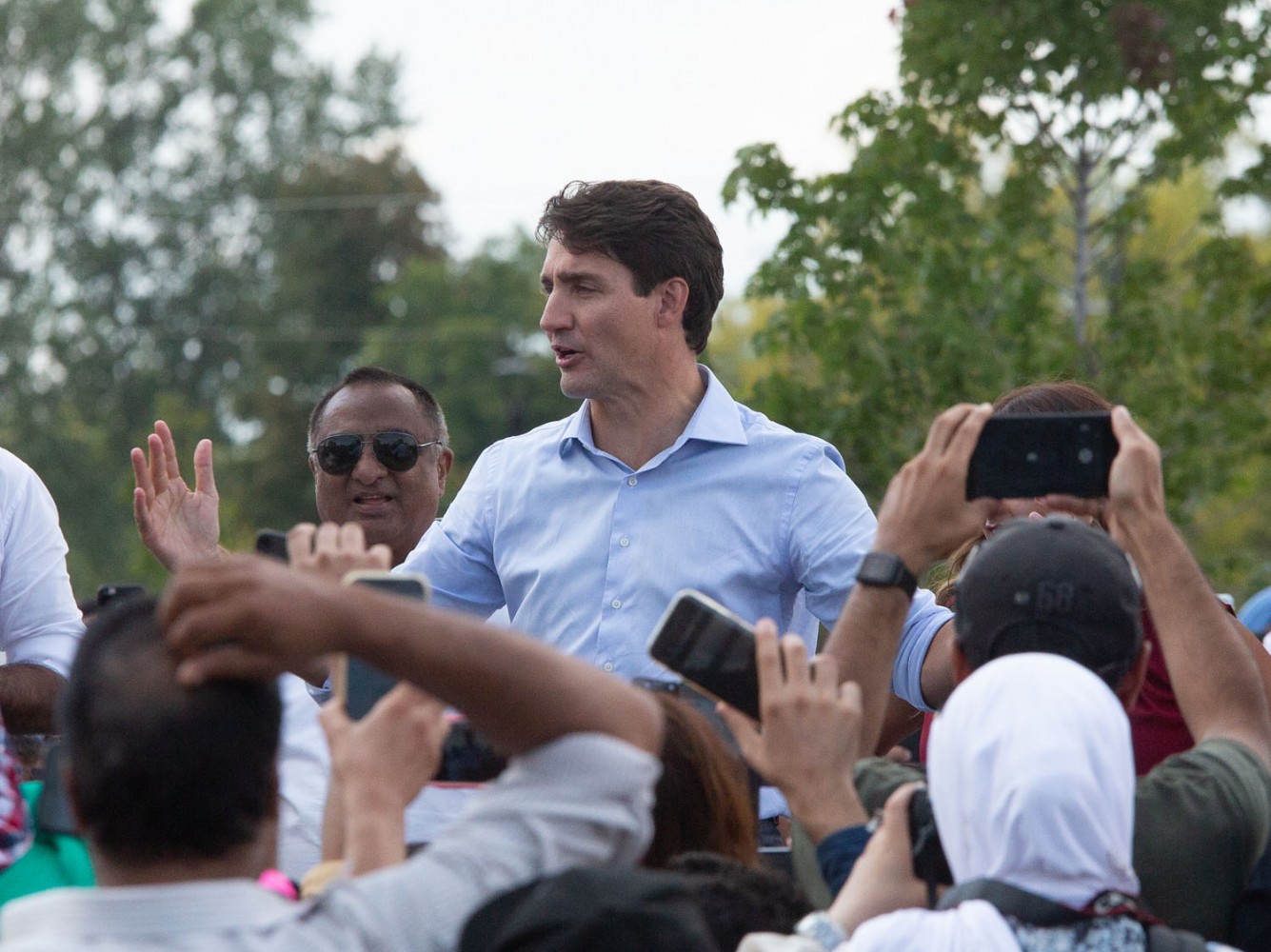 Photos by Mansoor Tanweer
PM's visit offers little on funding to cope with hyper-growth
Prime Minister Justin Trudeau was once again in Brampton on Saturday, offering greetings and good wishes at an annual barbecue he's attended since being elected. But there were no promises to help fund desperately needed additional services in the hyper-growth city, whose explosive population increase is largely tied to federal immigration policies.
Despite the hot, sticky weather, several hundred Bramptonians were buzzing with excitement about Trudeau's visit Saturday afternoon at Chinguacousy Park to attend the third annual Brampton Liberal Barbecue, hosted by local party volunteers. A little more than 400 days to the 2019 federal election, the Liberals are looking to Brampton as a vote-rich area.
The Prime Minister was accompanied by Brampton's five Liberal MPs. Trudeau took no questions from the crowd or the media, but did take the time to mention some familiar talking points, decrying divisive politics and touting his government's accomplishments over the past three years.
He spoke of the motives behind his election pledge to increase infrastructure funding for cash-strapped cities by $60 billion, but offered no details of what Brampton residents can expect from Ottawa to help deal with the city's myriad growth-related challenges (In 2016 the federal government announced $32 million in funding for Brampton transit initiatives, if the city matched the amount dollar-for-dollar).
"We've invested in infrastructure that is making a real difference in your lives every day and building a stronger economic path for the years forward," he told the spellbound crowd. "We've had the lowest unemployment rate in the past 40 years and the fastest growth in the G7 last year."
Absent from his five-minute speech was any mention of the issues plaguing Brampton. The city's exploding population has brought increasing anxiety that services are not keeping up: the city has not articulated a comprehensive plan for how a new Ryerson University campus will be paid for; council is still debating what route to choose for a proposed Light Rail Transit corridor, which currently has no funding commitment; hospital expansion has become a major concern for city residents, as "hallway medicine" can't keep up with growth; funding for public safety initiatives has fallen far behind the per capita dollars spent on other communities that are not growing at Brampton's rate; and the city's underfunded affordable housing sector has led to the proliferation of secondary suites, largely to provide extra housing stock for newcomers. (Responsibility for funding affordable housing was downloaded by the federal government onto the provinces in the '90s, and then, under Ontario's Mike Harris government, onto municipalities.)
Raj Grewal, MP for Brampton East
Meanwhile, the Trudeau government has introduced a robust immigration plan to increase the number of new arrivals from about 260,000 (the level under the Stephen Harper Conservatives) to 340,000 by 2020, a jump of almost 31 percent.
Of almost 600,000 residents In Brampton, about 52 percent were born outside Canada, according to the 2016 census. About 86 percent are either foreign-born or first-generation children of immigrants. Arguably, the city's rapid growth has been fuelled by generous immigration policies. But critics say Ottawa hasn't adequately funded the city to deal with needs related to the federal government's ambitious immigration plans.
When the new targets were announced last year, Immigration Minister Ahmed Hussen said that "Bringing a newcomer to Canada is half of the job … We have to make sure we have the absorptive capacity."
The laundry list of challenges Brampton struggles with is growing, fraying the nerves of residents looking to senior governments for solutions. Provincial projections show Brampton will grow by at least 50 percent by 2041, when its population is expected to surpass 900,000. Currently Canada's ninth biggest city, Brampton could vault into sixth position.
The Pointer asked Brampton's five Liberal MPs on Saturday about the growing funding gap between the federal government's immigration commitments and infrastructure demands in a city that is absorbing much more than an equal share of newcomers. There were no specific answers. They either answered vaguely or sidestepped the questions, providing little insight into how they intend to help tackle the city's issues.
On the topic of hospital overcrowding, Brampton East MP Raj Grewal suggested at the barbecue that this is an example of why people need to vote in the Oct. 22 municipal election. The hospital "is an issue that people talk about on a daily basis. We have a municipal election coming up. I tell residents all the time the turnout in the federal election was 68 percent, the turnout in the provincial election was 55 percent, and the turnout in the last municipal election was 30 percent. Yet all of these issues are municipally related."
He did not mention anything the federal government is doing to help fund badly needed hospital expansion.
One of the top issues on the minds of many in attendance Saturday is the recent wave of violent crime in the region, with shootings, armed bank robberies and, more recently, home break-ins becoming a fact of life in Brampton. On June 21, Brampton MPs Raj Grewal, Sonia Sidhu, Kamal Khera and Ruby Sahota—all present at the barbecue, along with Ramesh Sangha—issued a joint statement on the escalating violence.
In the statement, the MPs said they have directed Peel police to investigate whether international students were involved in acts of violence near Shoppers World and Sheridan College's Davis campus. This was in response to a perception expressed by Brampton residents, according to the MPs.
Brampton North MP Ruby Sahota let slip at the barbecue that she has been named to a position on the Standing Committee on Public Safety and National Security, a posting that was to be announced Monday.
"I think that issue is becoming a top priority for Bramptonians," Sahota said. "Hopefully there is some stuff that we can learn from the experts on that committee and put into process and come up with some solutions."
Solutions can't come soon enough for Bramptonians like Ward 10 resident Bernadette Reid, who was among the attendees at a community meeting with Peel Regional Police at the Springdale Library, with Superintendents Rad Rose and Scott Clair on hand to answer questions about two shootings in the Desert Sands area and any other public safety issues.
Reid, visibly frustrated, told Clair, "Yes, we do have amenities, but with those amenities we are one of the most densely populated areas in Brampton. I don't see the services reflected in that … Where are they (police)? ... I'm a 60-plus woman and I am not about to take on some young punk who is going to beat me up, over the noise of his muffler," Reid said.
Clair responded: "If you phone us about something, we are going to attend (the scene of the crime) … We want you to phone in the information, we don't want you confront the people. The best thing to do is have the licence plate and description."
Last Thursday, Brampton mayoral incumbent Linda Jeffrey, who also attended the barbecue, put forth a motion at Peel Region Council to send her Community Safety and Well-Being report to Ontario's minister of community safety and correctional services, Michael Tibollo. The report asks mainly for support for social programs to help curb crime, but a high priority was getting funding for more officers for Peel police. The motion passed unanimously.
There's also a growing perception that healthcare services in the city are being overwhelmed by the growing population. The city has only one full-service hospital, Brampton Civic. The strain on hospital resources means there aren't enough beds to cope with demand and overworked staff often resort to treating patients in the hallways—a phenomenon residents decry as "hallway medicine."
Alexander Miller is the owner of Hobby Studio, a shop and hangout for tabletop gaming enthusiasts. When Miller's pregnant wife went into rapid labour, an ambulance had to be called, which meant going to the closest hospital, Brampton Civic, instead of their preferred hospital in Mississauga. Miller complained to The Pointer that the staff were dismissive. "They treated it (the labour) as like, 'No, you just got here. Stop freaking out. The baby is going to come eventually. Nothing is happening with you.'"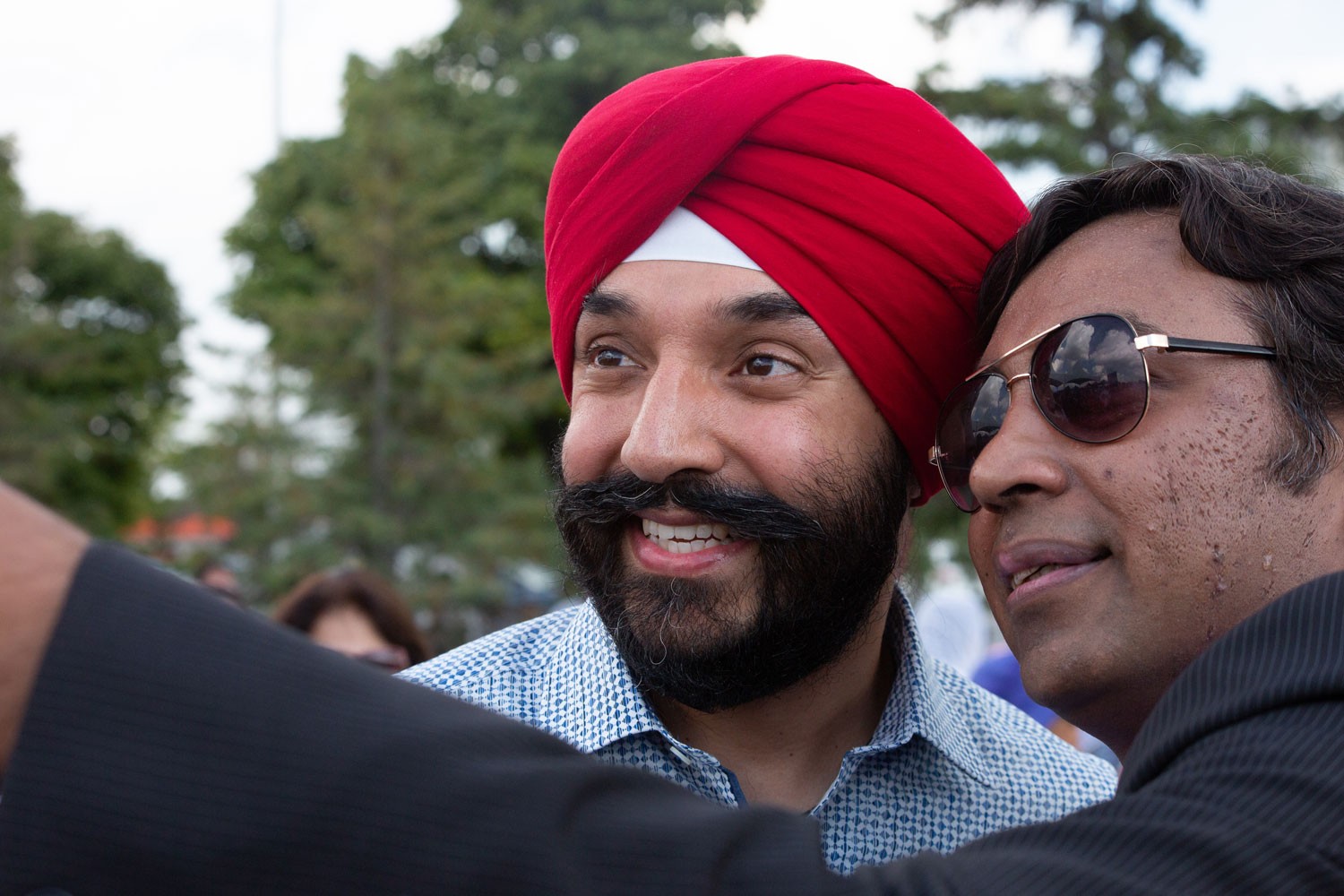 Navdeep Bains, MP for Mississauga-Malton and minister for innovation, science and economic development.
While he saw no beds in hallways, there were other clues to overcrowding, Miller said. "I don't know the codes, but whatever the code was for 'we have too many people,' it was called over and over again (on the intercom)."
A municipal issue front and centre for Bramptonians is affordable housing. Secondary suites, despite public ambivalence reflected in The Pointer's polling, have become a necessary evil in the city due to the astronomical 13.3 percent population growth rate and the lack of apartments in multi-unit buildings. Newcomers to Brampton often have no choice but to resort to cramming two or more households into a single-family home. But this type of housing stock is controversial because of the strain it puts on city services and because the majority exist outside of the new bylaws governing such units.
"We also need to talk about affordable housing. Those are big issues that the federal government has indicated they want movement on; I want some movement, and my federal colleagues want it as well," said the incumbent Jeffrey.
Major movement did occur on the initiative to bring a university to Brampton. Last April, the Ontario government announced that Ryerson University will be building a campus in the city, in partnership with Sheridan College. A likely location is southeast of the intersection of Church Street and Mill Street downtown. The province has promised to commit $90 million but there is no word on whether there will be a federal contribution.
Asked about the project, Sahota said Ottawa is keen to be involved even though "that is not a typical project that the federal level does. We don't necessarily build universities. But, I think that there is room for research, development and other ways to put the infrastructure funding to work."
In October 2015, plans to bring a provincially funded LRT line to Brampton were dealt a major blow after city council couldn't agree on the route. Jeffrey insisted the line should terminate at the Brampton GO station in the heart of downtown, as the provincial plan intended, but the proposal was defeated. The city is currently exploring other options.
For future students at the new Ryerson campus, there are poor transit options. Brampton West MP Kamal Khera, asked about the possibility of federal help with expanding higher-order transit into the city, said, "The challenge has always been to make sure to get our fair share of the funding. We've been able to accomplish a lot of that through the infrastructure money that we got for green infrastructure and public transit … . But I think a lot more work needs to be done."
Submit a correction about this story