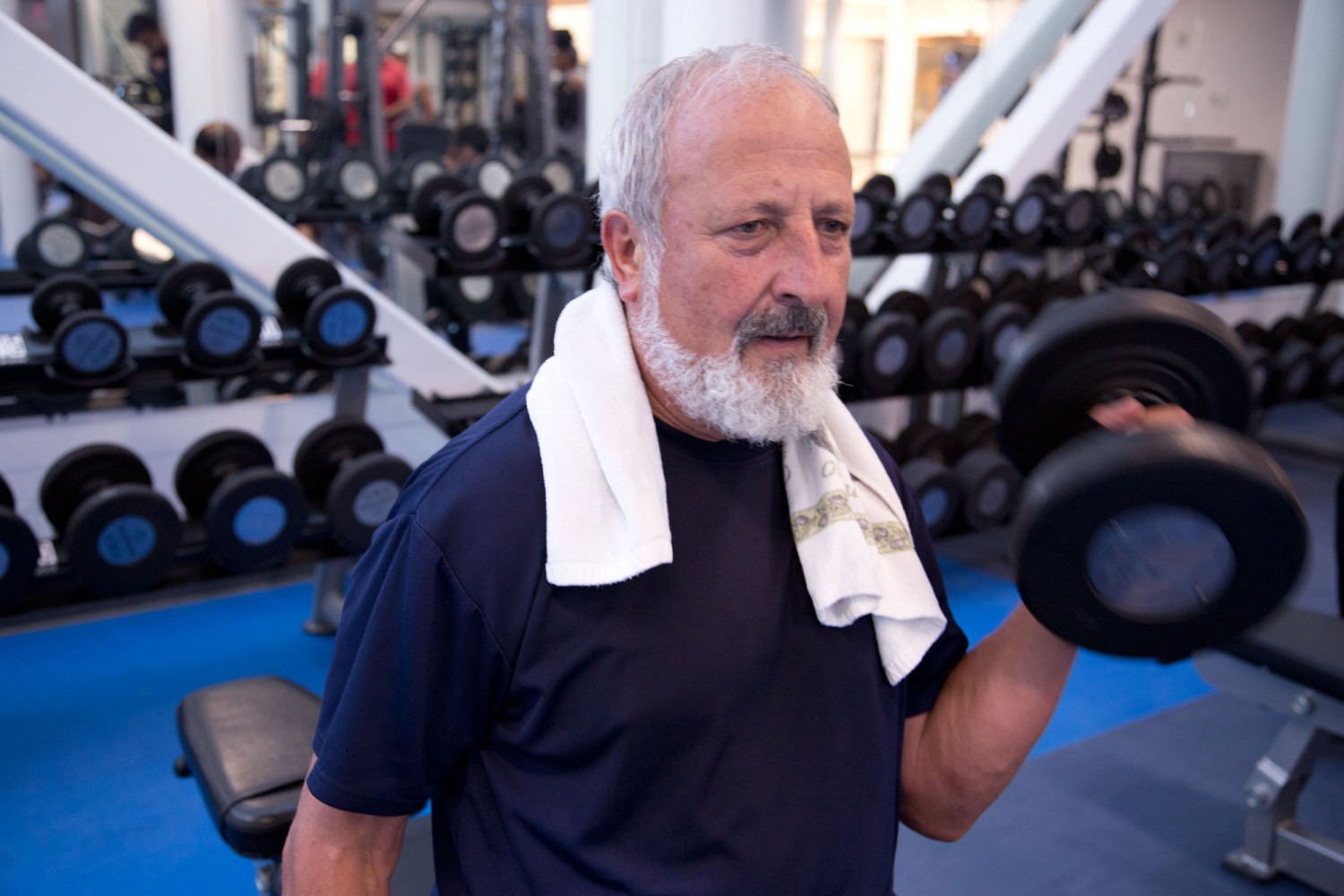 Photos by Mansoor Tanweer
He's fought developers and mayors, now he says he's ready to lead his city
It's a sizzling mid-August morning. John Sprovieri looks relieved to be inside as he sits down at a four-seater table in the air-conditioned comfort of a suburban-sized Tim Hortons at the Castlemore Village Plaza in the northeast section of Brampton.
The bearded 72-year-old with a wispy lock of grey hair is comfortable here, surrounded by some of the constituents he has represented over the past 30 years in Brampton – including 14 as regional councillor for Wards 9 & 10.
He's dressed casually, in a blue polo and jeans, and when he sits down, he plunks two cellphones on the table – like an aging gunslinger dropping his weapons to say he comes in peace.
One phone is used for his campaign to oust Linda Jeffrey and become the next mayor of Brampton in the Oct. 22 municipal vote. The other is his city phone, a postmodern-day tool for a lawmaker representing over 100,000 residents in Canada's ninth largest city. (He has steadfastly managed the exhausting number, while council members in some neighbouring municipalities complain about servicing half as many constituents.)
He's also armed with a manuscript that he pushes across the table to the reporter sitting on the other side. It's an eight-pager of heavily annotated, typed copy, with circles in red and black ink and marginal scribblings in what looks like syllabic script. Long paragraphs have also been yellowed over by highlighter, and it's clear that the councillor has done (or once did) his homework. The document was issued by city staffers responding to questions posed by Sprovieri way back on May 26, 1993. It was in reference to plans for the development of Bramalea East.
The manuscript has been disinterred like some long-buried bones from his home office on McVean Drive – and delivered upon request to this reporter. Sprovieri is a paper hoarder. The document refers back to a time when he represented an area of rural routes and sprawling farmsteads that was rezoned in the 1960s to usher in massive housing projects, which now fill those once comely acreages. Sprovieri wanted a series of 12 questions answered prior to the Bram East plan going before council, focused on a proposed expansion of Highway 427 that would veer through his ward and onwards toward Collingwood. It was hoped that, if completed, this would open up rich employment lands and attract some high-grade industrial, commercial and office development, something much needed in a city hoping to settle on a balanced mix of industrial/commercial and residential properties. That's far from the current residential-heavy mix of properties, evidenced by the vast tracts of city land swallowed up by builders who erected row-after-row of residential subdivisions that have come to define our city.
Had his goal been pursued by the rest of council, says Sprovieri, it would have enriched the tax base and ensured a brighter future for all residents. He often uses the wistful words "would have" when discussing Brampton's present-day circumstances. The staffers, eventually, concluded that a significant political intervention was needed by Brampton's ruling class to get the province to extend the highway through Brampton.
History lesson (1): The extension never happened. Sprovieri says there was no political will to lobby Queen's Park, and he thinks the staffers' answers to his questions were vaporous and disingenuous. It wouldn't be the last time he'd question a staff report and the motives behind it.
History lesson (2): The bad land-use policies that plagued Brampton then plague it still. While Mississauga has been realigning its industrial-to-residential mix, Brampton still checks in at a pitiable 27/73 (Sprovieri's numbers).
History lesson (3): This lack of employment lands has hamstrung the city in three ways: it has shrunk its tax base; about 60 percent of residents exit the city each day and drive to work; and since 2001, the city's population has exploded by 83 percent. Of its 173,423 dwellings, 76 percent are single-family homes. Brampton is the poster child for sprawl. With no sweeping plan to curb it. So, the empty-nesting continues. So too does the daily tedium for many of his residents, who fight gridlocked traffic in and out of the city.
"I promise to spend tax dollars responsibly and will propose Bus Rapid Transit through the city core that includes electric buses, which will be cheaper and cleaner than anything yet offered to Brampton, including the LRT."
---
Wards 9 & 10 is a vast residential area whose borders are now fixed: Mayfield Road (north), Highway 50 (east), Highway 410 (west), and Bovaird/Castlemore Roads (south) – except for a thin strip of land that runs like a divining rod (The Gore Road) farther south. In the eastern quadrant, it's saturated by super-sized estate homes (some as large as 10,000 square feet) on pastoral properties (two acres or more) that make it one of the most thoroughly high-end residential communities in Ontario, if not Canada. It may be high-end, but it's still sprawl, and it creates less a community than an agglomeration of houses, connected by cars, with little of the human fabric – sidewalks, corner dress shops, coffee klatches, or milling crowds – that makes a city expressive and a great place to live.
Richard Florida, the American urbanist, says, "We want to feel that our city offers up everything – from open civic squares, to lively open markets, to plentiful parks, to striking buildings with great streetscapes. We increasingly want to act like tourists in their own city."
Sprovieri, who was raised in the south of Italy till the age of eleven, on a farm, used to spend much of his time in the riverside city of Cosenza. It sits nestled among the hills, a medieval masterpiece that dares people not to get lost in its beauty. "You need beautiful spaces where people come together."
In Jane Jacobs' final book, Dark Age Ahead (2004), the urban icon writes a dark, brooding tome about the endless advance of asphalt into our suburbs and the blatant give-over to the car. She spends two pages on Brampton and notes that while the total number of farms in Ontario declined 11.5 percent between 1996 and 2002, the decline was even higher (24 percent) in the Region of Peel. Jacobs' book was a dire warning about ripping apart the spontaneous disorder that makes a city work.
Dark Age Ahead preceded by a year Queen's Park's "Places to Grow" legislation (2005), which, in effect, put in place a governor of growth in suburban cities like Brampton. It marked the first use of the term "smart growth" in Ontario and offered up this simple game plan: build up, not out.
To be fair, Sprovieri's wards are dotted with community centres, soccer pitches, libraries, parks, and all the fine-grained add-ons that make suburban life so agreeable. He's particularly proud of his work on the library board and getting three branches built for his constituents. He has spent a career working for them, getting roads paved, sidewalks cleared of snow, and erecting the first phase of the impressive 240-acre Gore Meadows Community Centre. This is where he kicked off his mayoralty run in late August. But there's a vast spaciousness here, and a quick drive-by from west to east begins at the giant Brampton Civic Hospital and ends with large tracts of farmland still visible along the western boundary of the city near Highway 50.
Commercial realtors such as Orlando Corp. and Prologis have erected huge signs there, and future development is coming, but it won't be employee-rich Fortune 500 companies.
Brampton doesn't need more warehouses and logistics buildings to eat up the last of its bucolic past. Sprovieri points out in his manuscript that an office hub of over 2-million square feet was proposed in The Gore Road area south of Castlemore. But office development needs 400-series highways to bring people to and from work. It's little wonder that just across Highway 50 in Vaughan, vast swaths of rich employment lands are now filled and connected fully to the nearby 427 and 407.
"Our current land-use mix is unsustainable," says Sprovieri, who promises that as mayor he'll recalibrate the numbers and push for more office development.
Wards 9 & 10 are vastly different from when he took his city council seat 30 years ago. Back then, the area was lightly populated, with more farms than houses, and more farm animals than people.
He says he represented about 8,000 voters as a city councillor. His first political accomplishment was cutting down car accidents on country roads by introducing all-way stops – reducing collisions by 80 per cent. He also found a solution to the problem of visitors from other built-up areas of the city dumping garbage, everything from large appliances to rusted drums and old auto parts, in his ward.
He decided that putting bins out at the city's works yard at Chrysler Drive and Williams Parkway, and publishing drop-off days in the newspaper, would solve the problem. It did, and the spot is now home to one of the largest regional recycling facilities in Peel.
Sprovieri was born on a 10-acre farm not far from Cosenza. When his father, Salvatore, left to set up a life for his family in Canada in 1953, 7-year-old John stayed behind with his mother and siblings and was placed in charge of the flock of goats and sheep. It was difficult to stop the animals from running away, so he concocted a solution: he hung a rod over the animals' front legs, and it slowed down their wild ways.
Being in charge at such a young age filled him with confidence, as did the inner knowledge that he could get a job done. It's one reason he would later yearn to enter politics – to work for people, especially at the local level.
When his family moved to Toronto, he was never without a part-time job. At age 18, he got a full-time position at Ford (Dixie and Steeles) in 1964. He eventually married Angela, his wife of now 45 years, and they began a family: Sal, Marco and Paul. They built their home on a two-acre site on McVean Drive.
When Susan Fennell upset Peter Robertson and won the mayor's chair in 2000, he left his job at Ford and committed full time to politics. He welcomed the regime change and was awed by the new mayor's energy. He was the only councillor to endorse the Fennell candidacy.
By 2014, when she was ousted by Linda Jeffrey, he was a noisy and unrelenting critic. Fennell had become a synonym for executive bloat: big staff, excessive spending, too much travel, a huge salary, limo service and a luxury vehicle, and it was all topped off by her push to complete the Southwest Quadrant project (a city hall expansion) on George Street.
Sprovieri's voice of protest grew louder each year, but not loud enough when Fennell was raising money from her annual gala and golf tournament in the mid-2000s. He says only a small percentage of it went back to community arts programs, and there was no accountability for the rest, which he estimates was 75 per cent of the total revenue.
The controversial plan on George Street caused him to erupt – but not for the obvious reasons: its huge price tag ($205 million), the delays in construction (over a year), and the controversial "competitive dialogue" Request for Proposals process, which drew a paltry three entrees and one dismissal (Inzola Group).
When the building rose, it pinched the area's already narrow sidewalks – his personal peeve. It didn't follow the strict guidelines set out in a 2006 city study that directed builders to leave greater setbacks and make room for wider, more pedestrian-friendly sidewalks. He voted yes for the project, but said much later that he had been duped by staff.
Over time, he grew more appalled by the project's price tag. He also learned it was the city, not the builder, that was taking most of the financial risk. He did his homework, too, and followed the Hanscomb guide on cost predictability in Class A, B, and C buildings. He cross-referenced the George Street project with a similar sized one just completed by the Region of Peel. In the end, he called it a "tragic mistake." Coupled with Inzola's $28.5-million civil lawsuit alleging widespread staff misconduct (the city denies all the allegations), "this was just another black eye for Brampton," he says.
The Fennell regime was in decay. The overspending by the mayor and her staff (without financial disclosures), turned Gentleman John into Raging John. He was like the elderly knight-errant on a white steed, tilting at windmills. But his targets were real, not imaginary.
A telling anecdote makes a point about how he finally found his voice. A shouting match between Sprovieri and Fennell at an in-camera session over city hall expansion spilled through the walls and out into the hallway. When he stepped outside, he was confronted by fellow councillor Gael Miles. He says Miles looked at him and asked: "What happened to you, John? You used to be such a nice guy!"
Linda Jeffrey defeated Fennell and rode a wave of hope and goodwill into office, but her embrace of a Main Street option through the downtown core for a proposed Light Rail Transit line led to more poisonous debate, and a council stymied by polemics. Over the next four years, meetings devolved into a soap opera.
Important issues that needed resolving – where to put a new university campus, how to plan for an influx of new residents coming to the city over the next decade (Brampton is the fastest growing mayor city in Canada, according to the last census), and how to revitalize the downtown core – went unaddressed.
"Our current land-use mix is unsustainable," says Sprovieri, who promises that as mayor he would recalibrate the numbers.
---
Sprovieri was particularly irked by the mayor's inability to stem the costs of a probe into the procurement process that led to Dominus's winning bid. He questioned the credentials of the interim auditor, George Rust-D'Eye, and grew more alarmed when the report was delayed and came in with an exorbitant price tag – $260,000 more than first proposed. He called the conclusion of that audit, which exonerated staff, a "whitewash." He still wonders why Jeffrey was so intent on owning a problem that wasn't of her making. And, he said, the lawsuit against the city was a cancer not only on the Fennell mayoralty, but Jeffrey's as well.
All of this eventually led Sprovieri to announce his run for mayor this year. "I think the people of Brampton deserve options in this election," he says.
Two of those options, Jeffrey and Patrick Brown (who sit one-two in the exclusive poll commissioned by The Pointer), are compromised if they think they can work with Ontario's new premier, Doug Ford, he says. The former is inextricably tied to the Liberal Party that Ford vanquished in the June Ontario election, and Brown was rudely replaced by Ford as PC leader.
Sprovieri is a big-C Conservative who ran (and lost) in the federal election of 2006. During the interview, he shows a picture of himself attending the Ford family barbecue.
"I promise to spend tax dollars responsibly, and will propose a Bus Rapid Transit through the city core that includes electric buses, which will be cheaper and cleaner than anything yet offered Brampton, including the LRT," he says.
He seems unfazed by what seems to be a low chance for success (he stands in third place in The Pointer-commissioned poll, with a meager 10 percent support). Is it because he has a fallback plan? He has started pouring the footings on a new home on a rustic 50-acre site near Flesherton. He dug a well that, he's happy to report, hit limestone and pure water. Yes, he loves water that is free of fluoride. His work with the Water Fluoridation Review Committee during his long tenure at regional council is well documented. He has doggedly fought to eliminate what he calls a dangerous toxin from our drinking water, a "poison" that he believes might have killed or sickened millions. @JohnSprovieri is constantly tweeting updated information from his Fluoride Free Team. He's doing it for his four grandchildren, he says.
If Sprovieri found his voice late in his council career, there are some who wish he'd kept quiet, or had chosen his words more carefully. In 2017, he replied to a constituent's email asking him, "Why are white people still planning Brampton's future?" by writing that white people and their values are to be credited for Canada's development. The response was clumsy and, some said, racist. He eventually penned an open letter of apology to his constituents, in which he said he wasn't referring to "white values" but "Canadian values."
Today, he is far from contrite or remorseful about it, and bristles when asked about Jeffrey's orders at the time that he and other councillors take diversity training. He points out that he has worked well with his constituents, which are a very diverse lot, including 70 percent South Asian.
Sprovieri says he's been blessed to serve Brampton residents since 1988, and his work with youth soccer since the age of 18 is one of the great joys of his life. But he's had his share of heartache, too, especially the death from leukemia of his teenage son Sal. "It is something our family will always struggle with," he says. "Statistics show that about 80 per cent of couples who lose a child eventually break up, but we leaned harder on each other to get through it. We learned to carry the weight."
The interview is over. In over an hour, we've covered a ton of topics: the history of Brampton, the lack of transparency at city hall for the past 30 years, the evils of hyper growth, and what he wants to do as mayor. During that time he's passed through many emotions, from sadness to regret to resignation and anger and then hopefulness. He says he is still passionate about politics and wants to play his part in Brampton's future. He is worried that the city is being left behind while vibrant communities like Mississauga and Kitchener-Waterloo fix their sprawl and invent new ways of creating 21st century business economies.
He'd like to remake Brampton's downtown, fix the city's healthcare deficiencies and untie its dependence on the car. He says Brampton is politically stuck. He thinks he still has the skill, the energy and the experience to get it unstuck.
Finally, he collects his cellphones and loads them into his pockets. A quick peek outside reveals a shuffling of people and cop cars filing in and out of the parking lot. Something has happened during our time talking. There seems to be a heightened anxiety.
The doors of the nearby RBC branch are wrapped in yellow police tape. Officers are everywhere, moving in double-time. When the councillor leaves the coffee shop, a middle-aged man is standing at the curbside, with his two teenage daughters clinging tightly to him. Everyone is in shock, shivering, bug-eyed, and the daughters are on the verge of tears. Only a few minutes earlier, the father had felt a gun jammed into his ribs during a bank robbery.
In our interview, one of the many questions not directed Sprovieri's way was what he might do to reverse what looks like a serious uptick in violent crime in the city. [He'll say later on that while Jeffrey and Mississauga Mayor Bonnie Crombie favoured eliminating "carding" by Peel Police, the police got nothing in return to help them stop criminals from transporting guns across the region.]
Now, in the parking lot, violent crime is all there is to talk about. In a few short minutes, in a mall serving one of the most affluent communities in Brampton, the issue has lapped up to the feet of its councillor. [We learned much later that a 22-year-old man was arrested and charged with two bank robberies, this allegedly being the second robbery by a single person within 40 minutes.]
For Sprovieri, the incident is a not-so-gentle reminder that in an area and a city he has represented for 30 years, things have changed profoundly – perhaps forever.
Submit a correction about this story