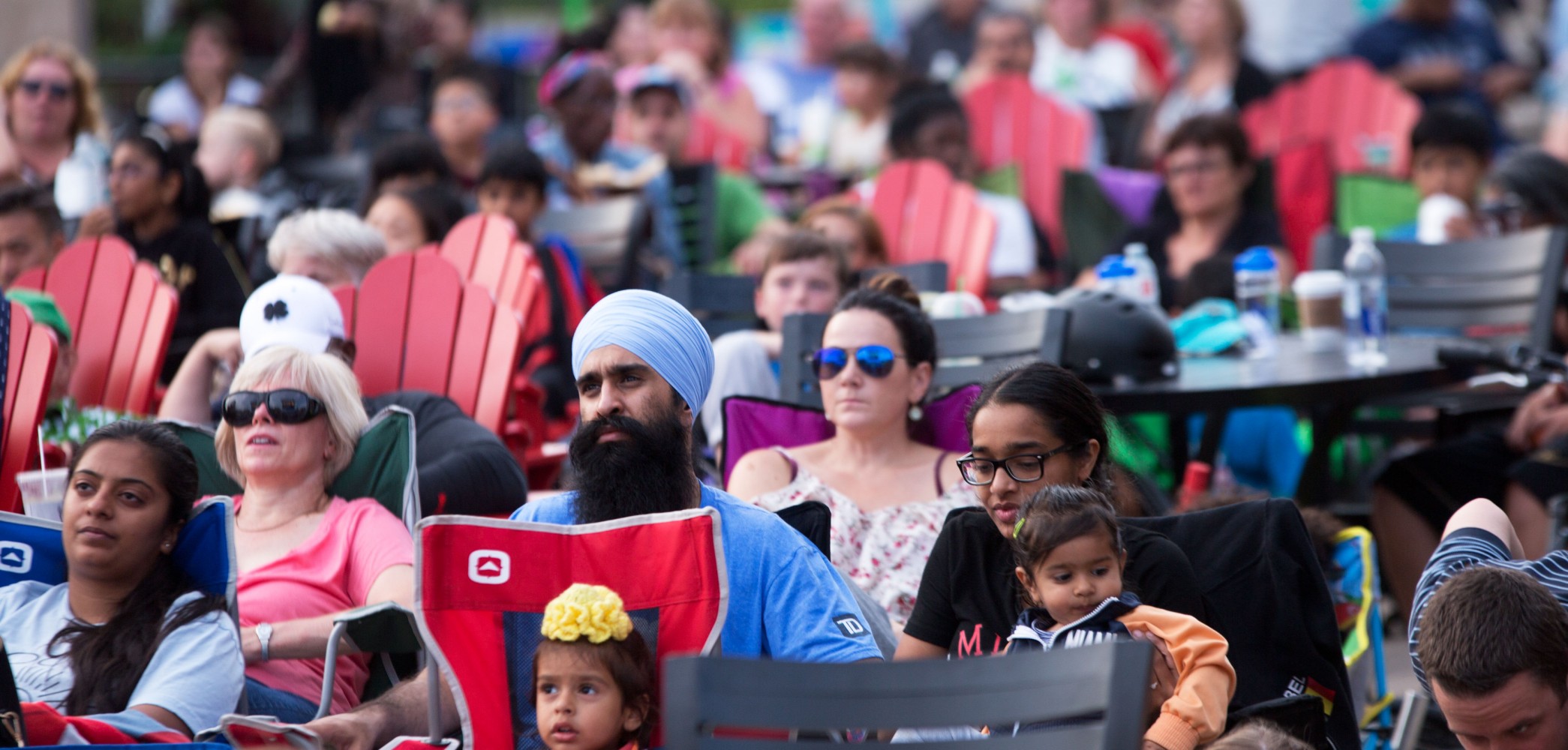 Photo by Mansoor Tanweer
Exclusive: Brampton Votes
Linda Jeffrey has single-digit lead over Patrick Brown in race for Brampton mayor's job
With Brampton's mayoral race already arousing national attention as perhaps the hottest municipal election story in the country, an exclusive new poll commissioned by The Pointer provides even more intrigue.
Patrick Brown is within reach of the political deliverance he's seeking in the country's ninth largest city. But incumbent Linda Jeffrey, is not about to quietly step aside for her high-profile challenger.
According to a survey of 999 eligible Brampton voters conducted by Forum Research, if the election were held at the time of the survey (conducted the last two weeks of August), Jeffrey would keep her job as mayor, with 41 percent of decided and leaning voters willing to place an X next to her name on the ballot; 33 percent have either decided for Brown or are leaning in his direction.
Jeffrey's eight percent lead is a stark departure from the margin of support she enjoyed during the 2014 election. She comfortably won the mayoral race with 49 percent of the vote, 28 points more than her closest contender, John Sanderson, and way above incumbent mayor Susan Fennell's 12.5 percent.
Like any great political intrigue that emerges during an election, the poll results show Brampton's mayoral race is clearly a two-person affair. It pits a former provincial Liberal cabinet minister against the recently deposed leader of the Ontario Progressive Conservative party. This in a city that has recently flipped between red and blue more often than an American cable news junkie who habitually monitors Fox and CNN.
Brampton has become a political bellwether, one of the most common stops for federal and provincial party leaders during recent elections. Their frequent visits are a recognition that voters here are less prone than most to decades-long spells of almost blind allegiance to a particular party. The federal Liberals won all four of Brampton's seats in 2008, only to lose all of them in 2011 to the Conservatives, before regaining all of them in 2015. By June's Ontario election the Liberal wave had ebbed again, as the decimated provincial party couldn't retain any of its four seats here. This time, with a new riding added, the PCs won three and the NDP gained two.
The mayoral race could very well come down to a similar referendum between left and right, as other candidates have begun to paint Jeffrey as a leader cut from the cloth of the Liberal governments of Dalton McGuinty and Kathleen Wynne. Brown, not surprisingly, has been characterized on social media as a Conservative who happens to be running for the Brampton mayor's job.
The other five candidates in the race currently divide up about a quarter of the remaining decided and leaning voters, with veteran council member John Sprovieri at 10 percent; Wesley Jackson, 6 percent; Bal Gosal, 5 percent; Mansoor Ameersulthan, 3 percent; and Vinod Kumar Mahesan, 2 percent.
The recent Forum Research poll is considered accurate within plus or minus 3 percent.
The numbers beg a second look. The large proportion of respondents who remain undecided so far (some 37 per cent) suggests the race is far from over. This is especially true with this year's shortened campaign period that, effectively, begins after Labour Day. A good or bad campaign by either frontrunner over the next seven weeks could swing the result.
They are in a virtual dead heat when it comes to decided voters. Some 24 percent of respondents are definitely planning to vote for Jeffrey; 23 percent for Brown. Considering the margin of error, Brown could be slightly ahead, but Forum stresses the more accurate scenario includes the leaning voters, which suggests Jeffrey has a little breathing room.
It's no surprise Jeffrey and Brown have surged ahead. Numerous studies have shown that name recognition is a powerful factor in the municipal vote, one reason incumbents, according to municipal election data, are so likely to win.
With Brown now in the mix, voters have two leading candidates with broad name recognition, meaning the final result could come down to deeper issues at play across the city when voters hit the polls for real on October 22.
A host of top-of-mind concerns (Brampton's ongoing crime wave, or its congested roadways, or recent property tax spikes) could determine the outcome.
While political parties don't exist officially at the municipal level, the Brampton mayoral race could be a fight between two candidates who represent the increasingly polarized sides of our political time.
Jeffrey is a former Brampton councillor who became a Liberal MPP, then moved into a number of cabinet posts before retiring from Queen's Park in 2014. She won easily in the last municipal election and has since pushed a Liberal-style agenda inside City Hall while trying to make government more transparent and accountable.
Jeffrey and her team have expended considerable energy engaging the city's large number of rapidly growing ethno-cultural communities that historically haven't been well represented at City Hall. She is also highlighting the benefits to the city from the future Brampton Ryerson campus, to be built in the coming years.
Brown, the former federal MP for Barrie who went on to lead the Progressive Conservative Party of Ontario, is promising change. His priorities: building council harmony to get work done, a tough-on-crime pledge, and economic development, selling Brampton as a city eager to attract business investment.
The mayor's race has been quietly simmering over the sleepy summer months, with only minor jabs being thrown between the leading candidates.
However, with the city now past the 50-day mark until the election, that may soon change. The tossing of sticks and stones will inevitably begin as both candidates look to take the ground out under from their opponent.
Forum's poll results suggest the leading candidates will have to convince a populace unsure about either of them.
Perceptions of Brown are evenly split. Some 34 percent of respondents said they have a positive perception of him; 34 percent hold a negative view. The rest are unsure.
For Jeffrey, it's a similar problem: her positives are only a sliver higher, with 36 percent saying they have a positive perception of her, and 34 percent negative. That's a fairly low approval rating for an incumbent who has led the city the past four years.
About one-third of respondents aren't sure how they feel about the leading candidates, making them low-hanging fruit for Jeffrey and Brown, who can sell their own appeal while depicting their opponents as untrustworthy and ineffective.
Jeffrey has already noted that the mayoralty of Brampton is not a "consolation prize" hitting a sore spot for Brown in his failed bid to become premier earlier this year.
He was cut off at the knees when a CTV News story broke with sexual misconduct allegations brought forward by two women who worked for Brown during his time as a Barrie politician.
He has vehemently denied the allegations, and a number of online polls showed a healthy majority of Ontarians believed they were part of a politically motivated strategy to bring down a rising star who had surprised many observers by winning the PC leadership.
Brown fell fast from those heights. In early January he had a ten-point lead in the race to become premier. By the end of the month, on the urging of party leaders, he had resigned.
Brown is now suing CTV, seeking $8 million in damages.
He is hoping to resurrect his political career inside the walls of Brampton City Hall. For Jeffrey, the allegations against Brown may not be the only baggage he carries, as the incumbent tries to point out what she's already described as a parachute on his back and a lack of knowledge about Brampton's "bigger issues."
"The ink barely dried on his lease before he decided to seek our city's highest office," Jeffrey tweeted to her more than 10,000 followers. "Compare this to my 35-plus years of living, working and volunteering in Brampton.
"If Mr. Brown was serious about representing the people of our city, he should have invested some time to get to know and be involved in our community instead of using the mayor's office to rehabilitate his political career."
It's unclear whether the strategy will strike a chord with undecided voters or is just preaching to the choir.
"I think I kind of share concerns about Patrick Brown, I find it weird that he appeared out of nowhere," says Kevin Montgomery, a lifelong Brampton resident and father of three who has supported Jeffrey in the past and been actively involved in some issues she championed during her first term as mayor.

Brown has since fired back against the criticisms Jeffrey first made publicly in a lengthy statement and Twitter thread on the day Brown tossed his name into the hat.
In his own statement, Brown defended his Brampton street cred, noting that his family "has roots in Brampton for over forty years" and pointing to his time working as a lawyer in the city before becoming an MP and then MPP for the Barrie area.
Jeffrey has faced criticism from other candidates as well. She's been characterized as a Liberal insider during the scandal-plagued years that led to the party's devastating collapse in this spring's election, in which it didn't even retain official party status inside Queen's Park.

Brown's campaign depicts Jeffrey as a mayor who has failed to exercise strong leadership over a deeply divided council, and the past four years as an alarming display of dysfunction, with little achieved by the city's elected officials. The inertia, many of Jeffrey's critics have claimed, was caused in large part by her unwillingness to work with certain council members whom she denounced during the last campaign.
She stepped up her attacks against those same council colleagues during the term as they piled up victories over her on key council votes. Most devastating for Jeffrey was her defeat after pushing hard for an LRT route up the city's Main Street from Steeles Avenue, a route backed by the provincial Liberal government.
Rival council members, who had demanded a "made in Brampton" route that would not be decided by Queen's Park, successfully defeated a concerted, year-long effort by Jeffrey to get the provincially endorsed and fully funded plan approved.
The rival councillors received province-wide criticism from transit proponents, who said the council vote to reject the route was a short-sighted decision that cut Brampton off from higher-order transit planning and funding that could have connected the city to the province's regional master plan for integrated transit service across southern Ontario.
The polarizing vote by council was cast near midnight in late October 2015 at the Rose Theatre, before a crowd of hundreds of residents divided on the issue and set the tone for a dysfunctional four years that saw Jeffrey and a bloc of rival councillors battle fiercely over every major issue they dealt with.
Forum's poll for The Pointer shows a split between respondents asked if they approve of the job Jeffrey did in her first term as mayor: 37 percent said they approved, 34 percent disapproved, and 29 percent indicated they were unsure.
Relative to political approval ratings for the performance of other Canadian mayors, Jeffrey's numbers are very low.
A Mainstreet/Post Media poll released last year highlighted approval ratings for mayors of 10 large cities in Canada, with Ottawa's Jim Watson topping the list at an approval rating of 79 percent, followed by Charlie Clark (Saskatoon) with 72 percent, Naheed Nenshi (Calgary) with 65 percent, and Denis Coderre (Montreal) with 62 percent. Lower on the list was Toronto's John Tory who received a 55 percent approval rating, while Vancouver's Gregor Robertson bottomed out the list with a 50 percent approval rating. Had Brampton been included in the Mainstreet/Post Media poll, the Forum survey commissioned by The Pointer suggests Jeffrey's current approval rating would be 13 percent lower than the worst performing mayor on the list.
However, it's unclear if her anemic approval rating is a reflection of her individual leadership or the performance of council as a whole.
Forum's survey results show a significant increase in dissatisfaction when looking at the performance of council overall, with around 20 percent indicating they approve of the job council did as a whole and half of respondents reporting they disapprove of the job done by Brampton's slate of locally elected municipal officials over the last four years.
"(Having) a supporting council (has) probably been one of the biggest challenges for her," says downtown business owner Rupinder Sahota, of Jeffrey.
While many voters remain uncertain, judging by both candidate's social media platforms many have made up their minds. Brown's Twitter feed is populated with photos of supporters who have welcomed him into their homes and backyards for meet and greets.
Jeffrey's feed is filled with photos from cultural gatherings and charity events.
One dynamic that could swing the election result is the possible endorsement by any of the other candidates, who have to keep their name on the ballot under municipal election rules, but can direct their supporters to cast their vote for another candidate. Sprovieri, a thirty-year veteran of council, has considerable name recognition. Jackson, a local lawyer, has garnered six percent support, according to Forum's survey, despite no past experience in elected office and not much of a visible campaign infrastructure, at least till now. Bal Gosal, the former local Member of Parliament who is trailing far behind in the mayoral race, according to the survey commissioned by The Pointer, could be an obvious endorsement target for either Jeffrey or Brown, especially if the margin narrows closer to October 22.
Reach Joel Wittnebel at:
Submit a correction about this story