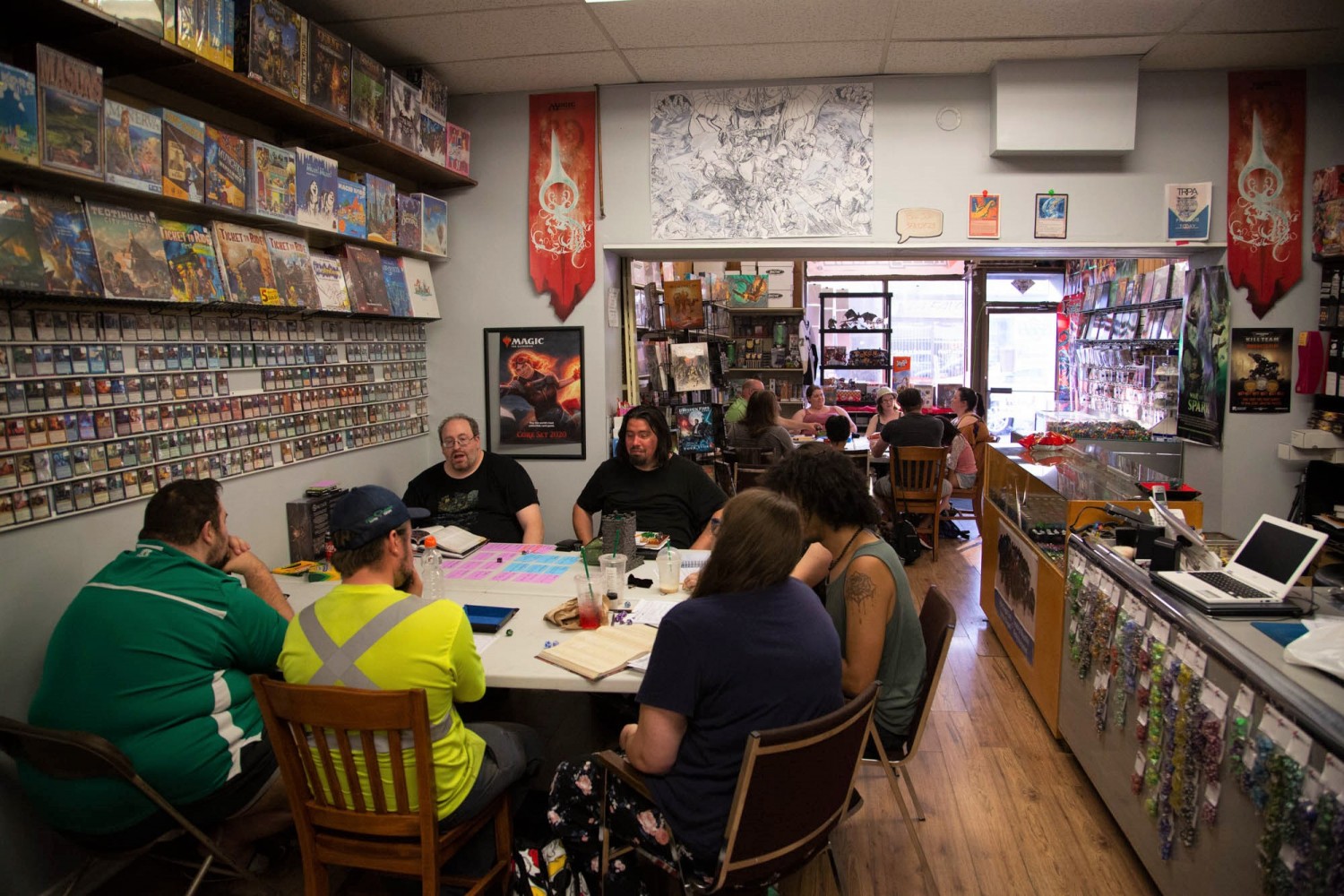 Photos by Mansoor Tanweer/Rick Drennan/Herman Custodio
Gaming business wants to stay in downtown Brampton 
Customers entering Hobby Studio, on Queen just west of Main Street, are often greeted with sincere enthusiasm by Alex Miller and Colette Chappell. The engaged couple, parents to nearly 2-year-old Gabe, have forged a strong business and an equally strong community around their love of table-top gaming. The store is packed with board games, card games, plastic figurines, ornately crafted dice and books of fantasy lore.
The business, open only three years, is booming, thanks in large part to nightly gaming meets hosted by the shop, which draws a younger crowd looking to spend after-work time entering into a world of fantasy storytelling.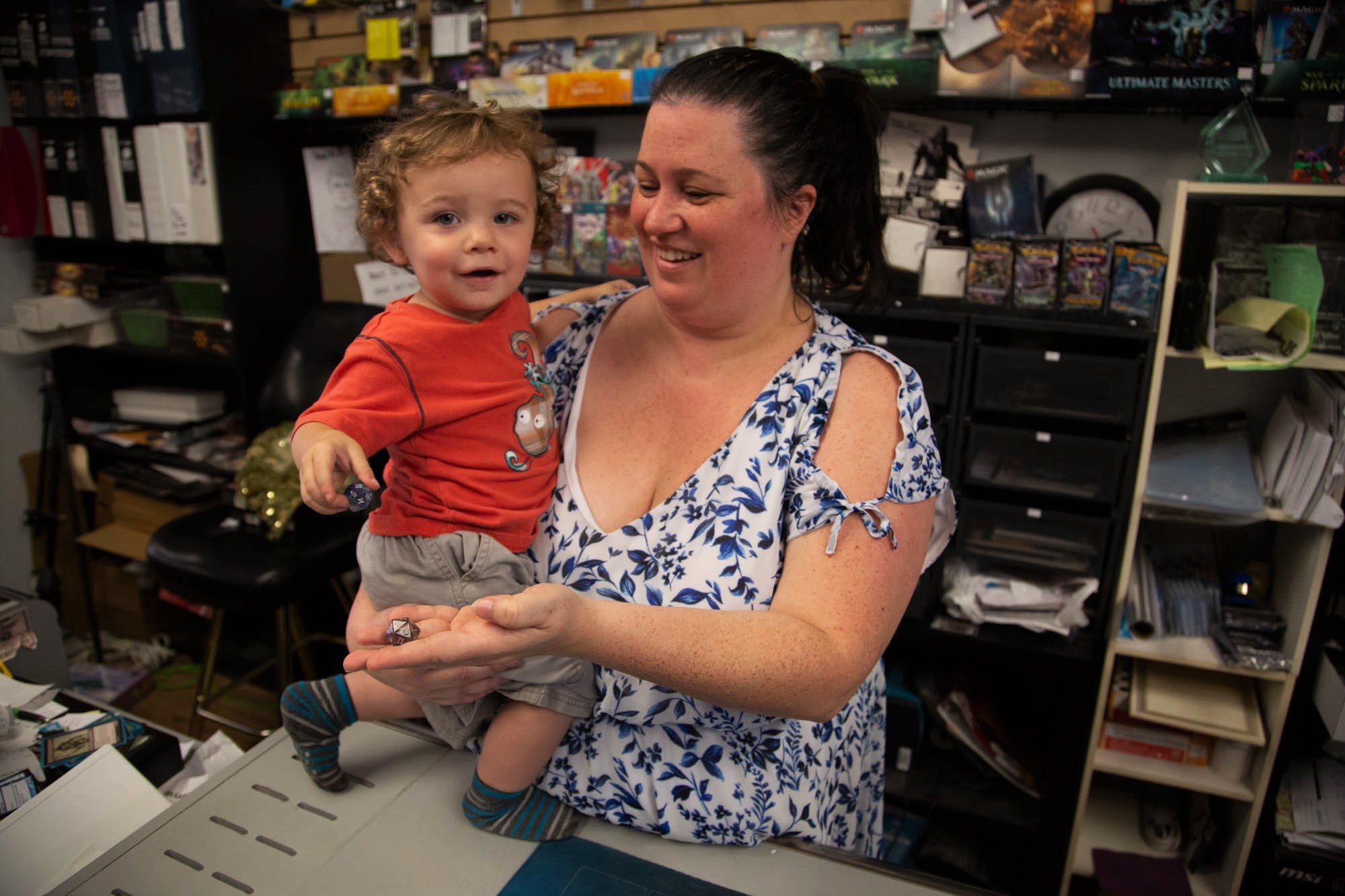 Colette Chappell holding her son Gabe
Dungeons and Dragons, Warhammer 40K and the card game Magic the Gathering are just some of the games on tap for the diverse patrons from across Brampton who pack the store. The time is now for them to expand and take their business to the next level. But they can't.
Miller and Chappell don't own the building the shop is in, at 21 Queen St. W.; they lease it. To one side of their shop is the African Market grocery store; on the other is the entrance to Russell Lane, an alleyway leading into a parking lot used by City of Brampton employees and other businesses.
Knocking down a wall to expand and renovate is not an option for Miller, the official leaseholder of the storefront. He has to look elsewhere for a larger space suitable for his growing clientele. But even that is proving difficult, as rents downtown, where they'd prefer to be, are often surprisingly high for an area that lacks a lot of the features of a typical big-city downtown, such as higher-order transit, underground parking, major retailers and other commercial and cultural amenities. Rents that don't match the revenue potential is one reason for the high turnover rate in downtown commercial spaces.
"I hate dealing with realtors when it comes to trying to rent a place, because their main goal is to try to get their person (the property owner) as much money as possible. So if there is a realtor whose job is to rent out a place, they get a cut, so they want you to pay as much money as possible," Miller told The Pointer in his shop.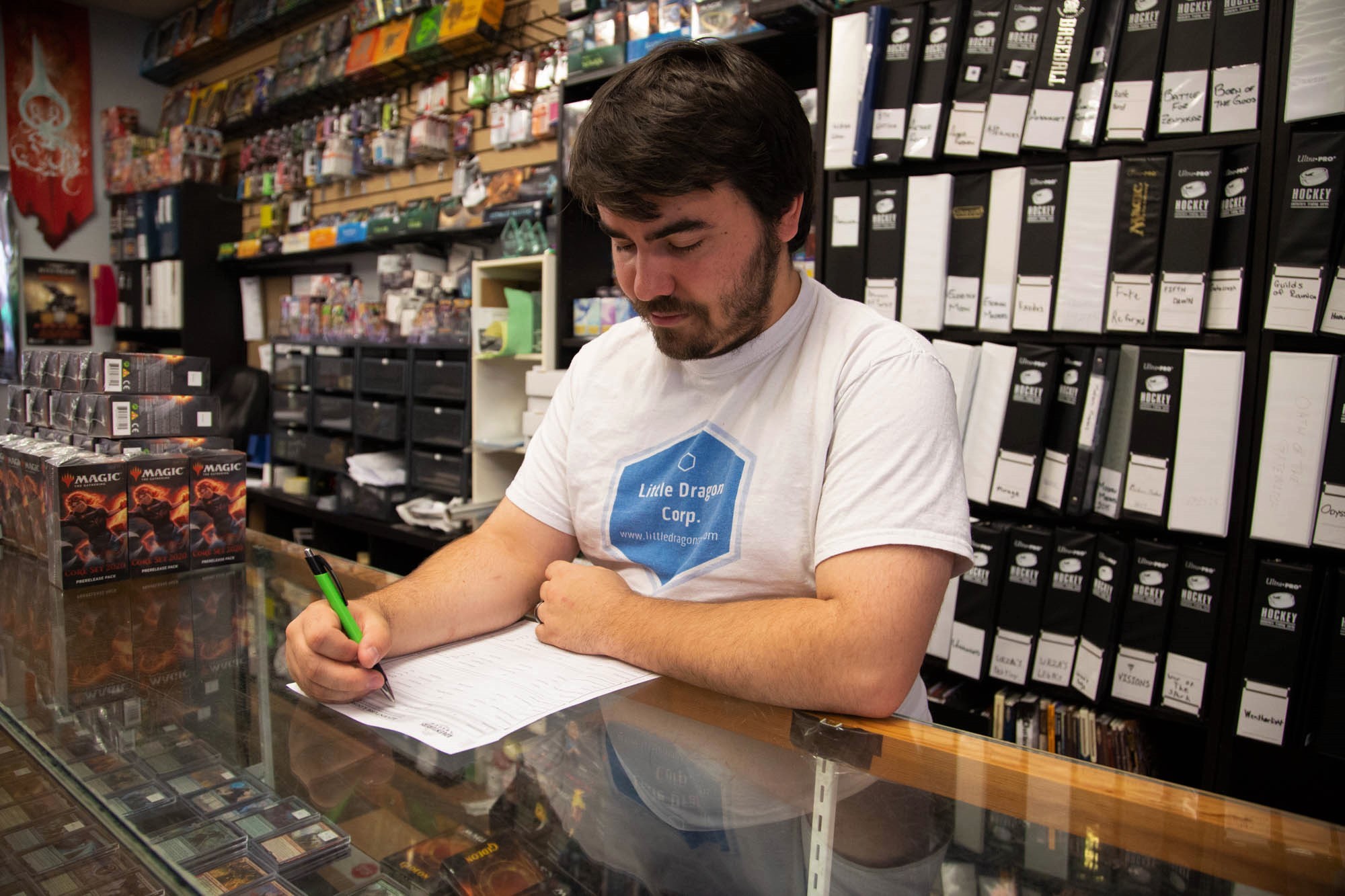 Alex Miller at the counter of Hobby Studio
Last April, restaurant Poutine Dare to Be Fresh closed its doors. A month after that, Eat at Joey's Deli, an eatery less than a minute's walk from Hobby Studio, specializing in Montreal-style deli sandwiches, also went out of business, giving way to a future Indian restaurant. That came on the heels of some higher-profile closings of downtown landmarks. Carve on Lot 5, a bistro, closed down last January, and the following month, David-Andrew Gentlemen Clothiers closed after 40 years of dressing city residents.
"That's just how rental units work. Every year, your rent is going to increase just a little bit. So for example, the poutine place … if every year the rent increased 50 or 100 bucks, that rent got to about a ridiculous amount for that place. So you just have to move," Miller said, referring to a business that had been operating downtown for close to a decade.
Miller estimates that his shop is roughly 2,900 square feet. Rental prices downtown, according to the website LoopNet, are comparatively lower than many parts of Brampton. The cheapest listing in the area surrounding Main Street is $8 per square foot per year, and the most expensive is $22.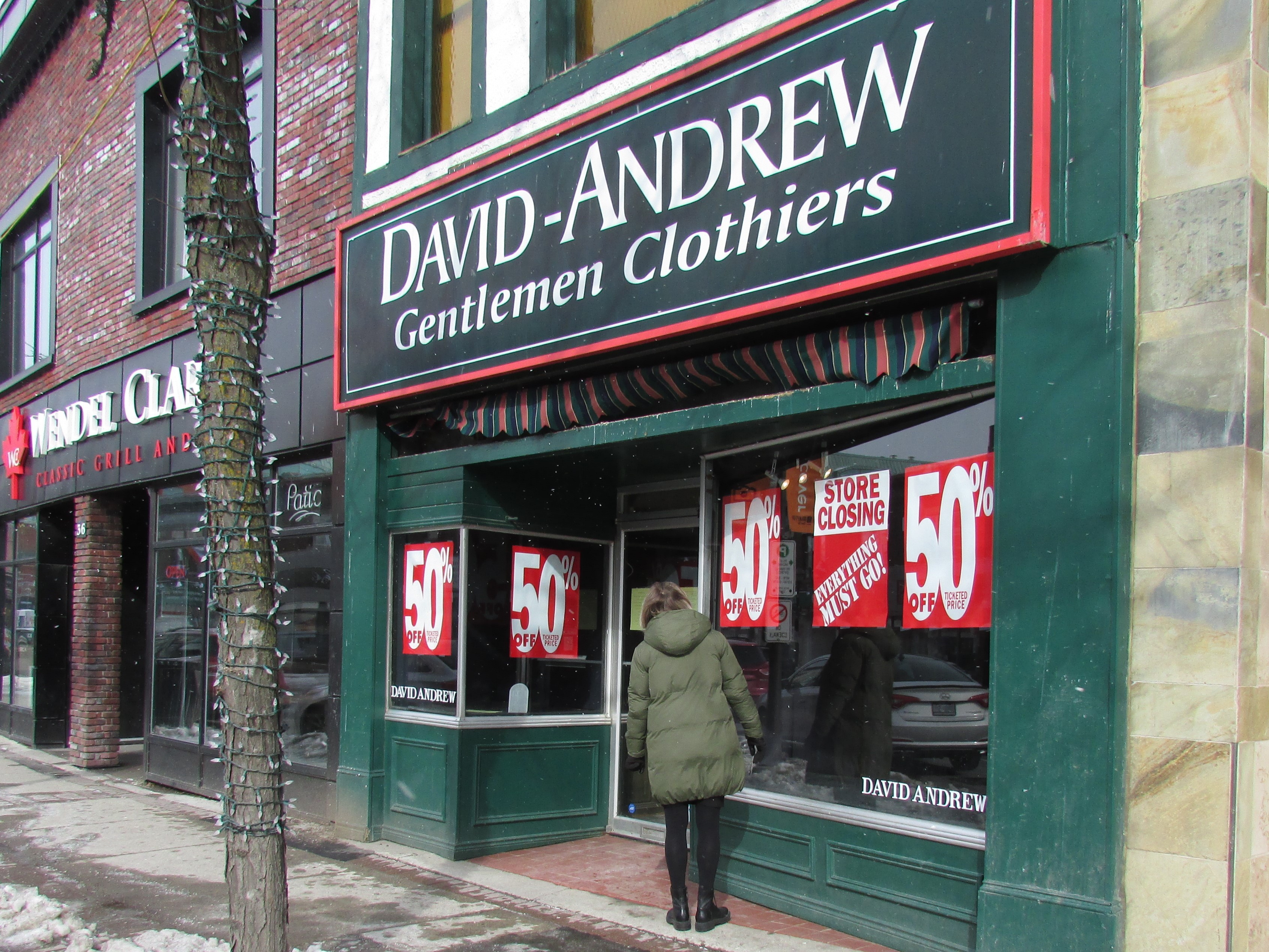 Parts of Brampton have retail rents as high as $30 per square foot per year. If you apply the pricing scheme of a nearby property at the Four Corners location to Miller's square footage ($13 per square foot for 2,900 square feet) the rent would amount to $37,700 per year, or $3,141 per month. At $30 per square foot, that same size of retail space would cost $87,000 per year.
Other factors affecting downtown businesses include the lack of parking and general decay. Herman Custodio, who owns Custodio's Photography Studio, feels the neighbourhood just isn't the same as it was when his father, Herman Custodia Sr., opened the business in 1987. He has watched the once-vibrant community that served as a template for Orangeville's downtown revival become known for crime and extreme poverty.
"A lot of people don't know that a downtown [Brampton] exists," Custodio told The Pointer. "The sense of community has also changed, where we used to support each other, and it's not there like it was before."
Custodio said many people who go downtown feel intimidated by the homeless people that tend to be a fixture in the area. While recognizing that these people need help, he feels potential customers are deterred from going to his shop once they realize it's located near the Four Corners. His profits have taken a hit, and he worries about the future of the business his family built.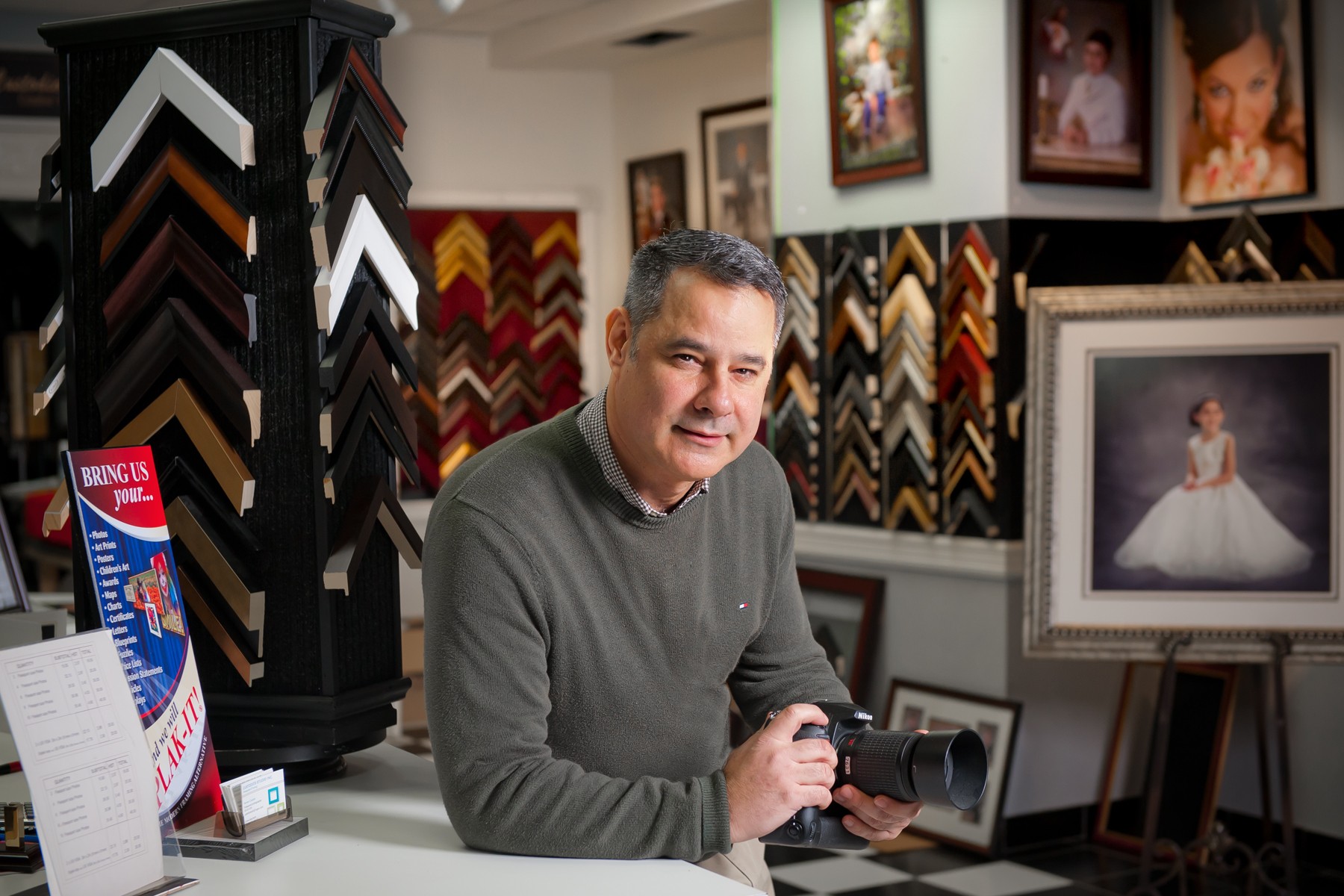 Herman Custodio
"I have customers telling me, 'Oh, you're in the downtown? I'm really not comfortable going there at that time of the day.' Parking is becoming an issue. They don't want to use municipal parking, even though we encourage them because there is a good incentive going on where the first hour is free," he said.
"We own the building, but we are struggling to maintain our roof, to keep to standards. For example, we've had to replace a furnace, and the cost of a furnace in a business unit is not the same as a residential [property]. Sometimes, it's three times the amount. We feel the pinch."
That is a far cry from the business Miller and Chappell built. Table-top gaming is an activity with great emphasis on human interaction, storytelling and competition. The two quickly realized they could foster community building through their shop and have that constant flow of people going in and out, making Hobby Studio largely immune to the issues facing downtown. In the winter of the first year the business was open, a car smashed through the front of the shop after it came loose from a tow-truck, damaging the facade and making the entrance door stick persistently, even after repairs were done. Despite difficulties keeping the play area heated, the business still ran strong.
"I think Brampton has the potential for it [gaming culture]; they don't have many good community centers for gamers to go to … I don't think there are many areas for people that are more introverted and not so athletically inclined to go and meet together and play and to enjoy things," Chappell says, as young Gabe tries to get his mother's attention. The business has the feel of a true family affair, the type of independent shop that helps create a real community vibe in commercial areas that attract a regular flow of customers. It's an identity that Brampton's downtown, with its rapid turnover, has struggled to maintain.
Chappell opened her own dice-making business with help from a $5,000 grant from the city's Entrepreneur Centre and a Kickstarter campaign. She designs beautifully made dice using various materials and artistic inspirations. Her latest line of dice will feature some made of metal. While she does sell her products in her fiance's shop, most of her sales are made at her online store, Little Dragon Corp.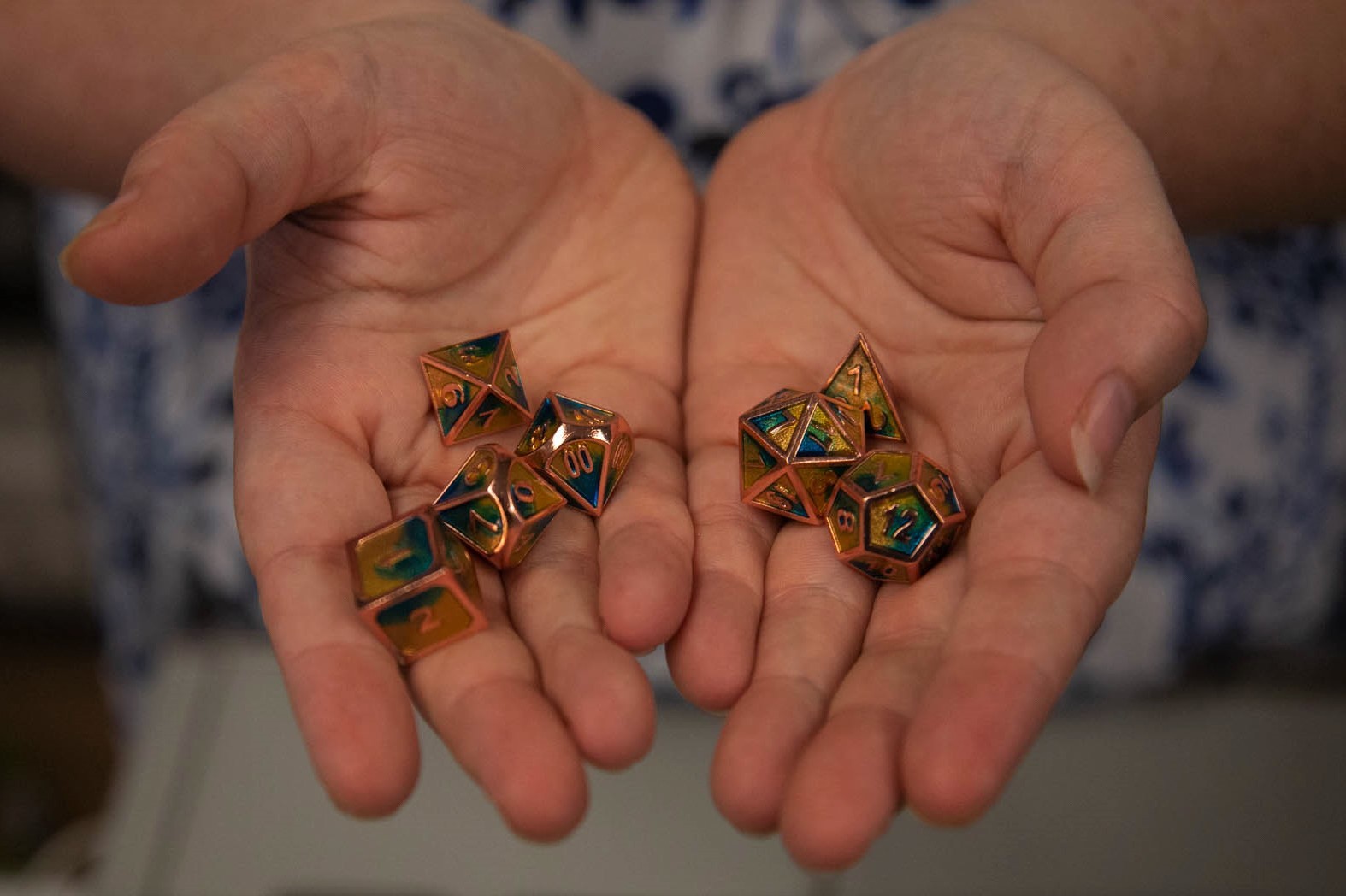 There is growing recognition in the retail sector that online purchases are rendering brick-and-mortar shops obsolete, forcing many of them to go out of business.
"Everyone is saying it: Shops are closing down because it's just easier to buy online. But for some reason, the retail market and the rent is going up. I don't understand how people are not looking at this," Miller said.
The pair do hope to stay in the community, but the irony is that even successful businesses are unlikely to stick around.
Email: [email protected]
Twitter: @mansoortanweer
Submit a correction about this story